With Toronto Maple Leafs general manager Kyle Dubas all-but-guranteeing the team's big three of Auston Matthews, Mitch Marner and William Nylander being Maple Leafs for the foreseeable future, there's an inevitable cap-crunch on the horizon.
The key for a team like the Leafs, who could be allocating roughly 40-45% of their cap to John Tavares, Auston Matthews Mitch Marner and William Nylander alone, is building a solid, cost-efficient, supporting cast.
The Leafs have already started bracing for the three mega contracts, locking up established role-players like Zach Hyman (2.25 mil per until 2021/2022) and Connor Brown (2.1 mil until 2020/2021) for the next little bit.
Then there's young-promising forwards like Kasperi Kapanen ($863,333 cap hit until 2019/2020) and Andreas Johnsson ($787,500 cap hit until 2019/2020).Kapanen and Johnsson are two of the Leafs most intriguing youngsters, and if they continue down the path their on, their production could well-exceed their pay-grade, calling for hefty raises that the Leafs just may not be able to afford.
Obviously, the sheer possibility of losing Johnsson and Kapanen–speedy and skilled two-way forwards–is bad news.
But this years rookie tournament is a reassuring reminder to the Leafs that there is plenty of talent waiting in the wings that could put a bandaid on any cap causality down the road.
The tournament consisted of two games for Toronto, one against the Ottawa Senators, where they were defeated 6-5 (OT), and one against the Montreal Canadians, which they defeated 4-2. In games like these though, the scoreboard is hardly of any value, as the progression of the team's prospects takes up all the oxygen surrounding the tournament
Let's dive into some takeaways from the tournament, shall we?
Timothy Liljegren
Liljegren looked like a complete different player at this years rookie camp, a far-cry from the player that suited up in the Leafs rookie tournament 12-months prior, where he struggled mightily in his first few games as a Leaf.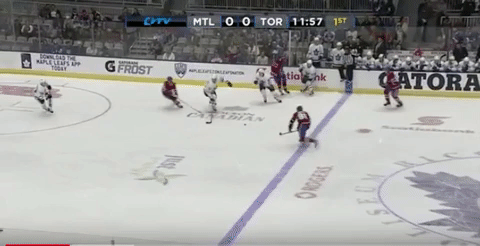 It should be noted that at last years rookie tournament, where Liljegren looked out-of-sync, he was coming off a nightmare season. The Kristianstad Sweden native was highly regarded as a top-five talent in the early stages of the 2017 draft hype, but Liljegren contracted mono, derailing his season and as a result, slipping to the Leafs at pick #17.
But after an impressive rookie campaign with the Calder-Cup winning Toronto Marlies, there's hardly any skepticism surrounding Liljegren, but rather, a beaming optimism.
Liljegren, the AHL's youngest defenceman last season, potted one goal and tallied 17 points in the 2017-2018 regular season, the second hight point-total by an 18-year-old AHL d-man since 1993-1994. As the year went on, Liljegren gained more confidence with the puck at the AHL level, improving his zone-entries and decision making in the process.
This year, Lilijegren had a strong outing at the rookie tournament, controlling the pace of play for the Leafs, while executing effective breakouts and zone entries. He quarterbacked the team's power play, too.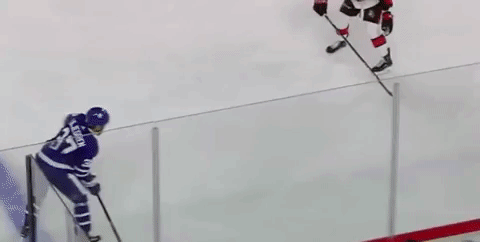 Plus, he was a matter of inches away from scoring the game-winner in OT against Ottawa.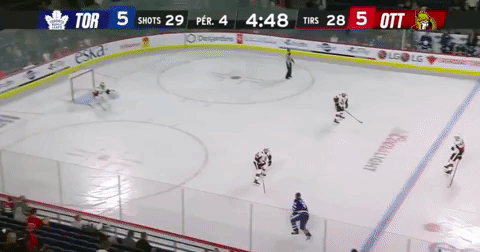 Marlies head coach Sheldon Keefe is going to take the training-wheels off Liljegren this season. By the looks of this weekend, it appears he's poised for an increased workload, as he's a step-above the players his age.
Barring a 10-game stint in the NHL this season, Liljegren's entry-level contract won't kick in until 2019-2020–and that's a huge bonus for the Leafs.
Grundstrom-Brooks-Bracco
Carl Grundstrom, Adam Brooks and Jeremy Bracco formed the Leafs second line at the tournament, and the three fed off each other quite well.
Brooks and Bracco are great playmakers, and Grundstrom is an offensive-specimen who goes hard to the net and grinds hard for goals.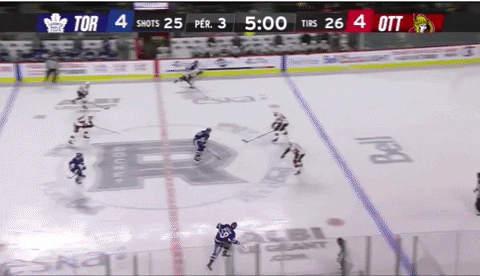 While Grundstrom could certainly contend for a spot on the Leafs roster this year, chances are he'll be with the Marlies so he can gain some confidence and get a full-year of North American hockey under his belt, before making the leap to the big leagues. Nevertheless, it won't be long before the 20-year-old Swede is knocking on the door for an NHL spot.
Brooks and Bracco took a huge step forward in their development last season. Playing on the AHL's deepest team led to young-guns like Brooks and Bracco being on the outside-looking-in times, but that also led to some extra time in the weight room, which payed dividends for both. After Andreas Johnsson was recalled by the Leafs on March 12th—Brooks and Bracco were given more ice-time and opportunity, and as a result, they both saw a spike in their offensive production.
After Andreas Johnsson's March 12th call-up
| | | |
| --- | --- | --- |
| Jeremy Bracco | 15 PTS in 13 GP | 1.15 p/pg |
| Adam Brooks | 12 PTS in 13 GP | 0.92 p/pg |
With Ben Smith and Andreas Johnsson departing from the Marlies top-six, there's a legitimate opportunity for both Brooks and Bracco to claim a spot on one of the Marlies top two lines, and evolve into big-time contributors.
The clock is ticking for Andrew Nielsen
Time is running out for third-year pro Andrew Nielsen to make an impression with the Leafs.
And laying a predatory hit in a rookie-tournament game isn't going to help.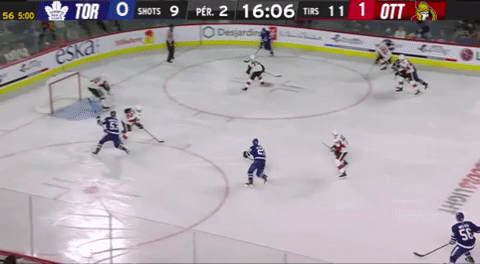 Less than five minutes into the second period of the team's first game against Ottawa, Nielsen was ejected after laying a chicken-wing elbow on Senators prospect Alex Formenton.
The recklessness in Nielsen's game has been long-known, with the 21-year-old defenceman tallying 225 minutes in the sin-bin over his last two AHL seasons.
The offensively-minded defneceman was able to overshadow his penalty problems with a strong rookie campaign in 2016-2017, where his 39 points led all Marlies defenceman in scoring. But after a sophomore slump last season that saw his point totals drop to 26 points and a whopping 143 minutes in the penalty box, his defensive shortcomings and poor decision making came to the forefront.
Nielsen still has a shot to become a full-fledged NHL player, if he gets his act straight–but don't bet on it being with the Leafs, who have plenty more options to consider.