♫We've only just begun♫: What to expect from the Leafs this week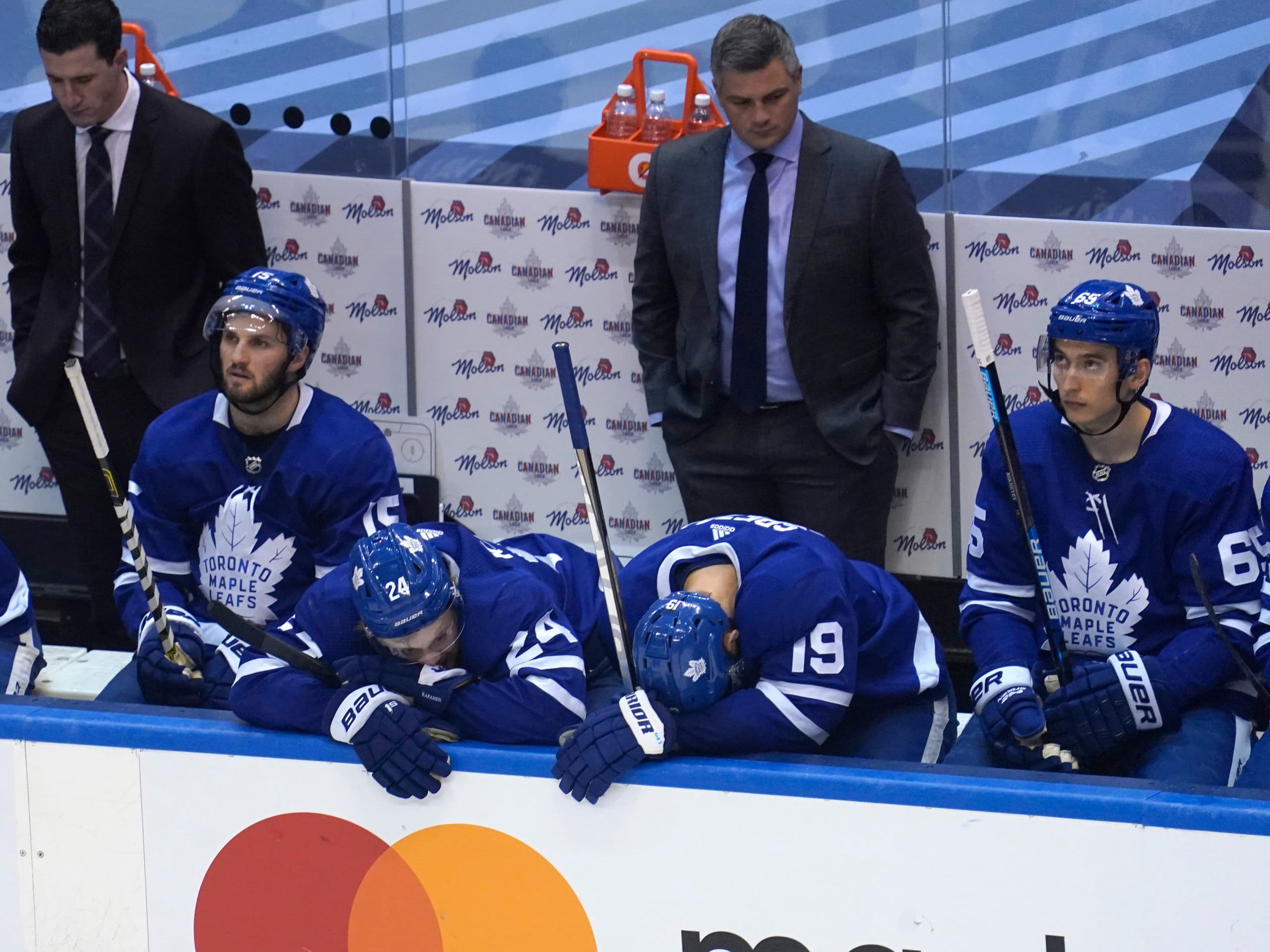 Photo credit:John E. Sokolowski-USA TODAY Sports
On the surface Sunday is a day of rest. No drafts, No roster freezes or unfreezes, and free agency is still a few days away. In fact you could incorrectly interpret the next three days as potentially slower ones leading up to the opening of free agency. That's probably not the case at all and while today is an empty day on the NHL calendar, I imagine Kyle Dubas will want to keep his phone charged anyway. Here's what the rest of the week looks like.
Monday: Qualifying Offers for Restricted Free Agents Due
This requires a bit of leg work for the Maple Leafs as they do still have a few restricted free agents that need to be dealt with. @Denis Malgin, @Nic Petan, Joseph Duszak, and Veini Vehviläinen will all need qualifying offers if the Leafs wish to retain their rights and not have them join unrestricted free agency. The catch. All four of the remaining restricted free agents have arbitration rights. Given that all four were primarily in Europe or the AHL last season, there's absolutely no reason to believe the Leafs would be stuck with a steep price on any of these players if they go to arbitration, but all four would have a deal the Leafs would be required to accept in the ruling. Even if it is cheaper deals, that might not be something the Leafs want to do, and it's entirely possible the Leafs want to go another route when it comes to AHL/tweener depth. Still, given the question marks around goaltending, Malgin's affordable possession game, the still untested upside of Duszak, and the fact that Petan has been serviceable when he's played, a case could be made for keeping any of them (although Petan requesting a trade last season probably means the Leafs will let him walk.) For the most part, the qualifying offers on the Leafs side seem unnecessary, and if Toronto wants to skip the potential arbitration process, they can just double back around to these players in unrestricted free agency. Toronto's free agents aren't what make the day an important one, it's everyone else's free agents.
We've already seen the Carolina Hurricanes make a terrible trade because they were afraid of what @Alex Nedeljkovic would get in a potential arbitration ruling. That's a pretty big name to walk away from, although they made a deal so they didn't need to completely walk away. It's pretty reasonable to think a few steps below the talent level of Nedeljkovic there are potentially RFAs that teams will simply cut their ties with and Monday evening is when we'll know who exactly is hitting free agency.
Purely from a point of speculation, there are 159 arbitration eligible RFAs in the NHL. And some of them are interesting options. @Michael Dal Colle has never found his footing with the Islanders and could be an interesting buy low, Jimmy Vesey style acquisition. @Julius Honka is a RHD that has never been given much of a chance at the NHL level either, and it could be time for the Stars to walk away from him. He'd be a cheap offensive defenseman option. @Mark Jankowski is a low event center with some physicality that could be part of the new look bottom six for the Leafs. It's not too difficult to imagine he'd be available. @Tyson Jost is another player like Jankowski that could be a fit for Toronto, and considering the Avs need to control costs this offseason, any potential arbitration driven raise to Jost might put them off bringing him back. @Cooper Marody hasn't received a chance in Edmonton, and he could be cut loose, although @Jujhar Khaira might be the more intriguing option, even if his underlying numbers are concerning (he has played on non-Connor McDavid/Leon Draisaitl lines his entire career, what do you expect?) @Adam Gaudette was left unprotected in the expansion draft and that could be a sign the Blackhawks don't want him back, the same could be said of @Ondrej Kase, and @Nick Ritchie in Boston, and @Danton Heinen in Anaheim. While there isn't any guarantee that teams are done with these players, they certainly have the potential to be cut loose, and wouldn't be bad buy low-ish options for Toronto.
The other interesting name to watch is @Tyler Bertuzzi, who is arbitration eligible and has a pricey qualifying offer to begin with. While it doesn't seem likely that Steve Yzerman will let Bertuzzi walk for nothing, he could be looking to deal him to avoid having to live with an unfavourable arbitration ruling or tougher contract negotiation because of his arbitration eligibility.
Tuesday: Last call for buyouts (for now)
It made sense that we saw a hold off on buyouts heading into the expansion draft. Even if there wasn't any chance that Seattle was picking one of these buyout bound players, they were players that teams could leave exposed, which I'm sure was still somewhat helpful.
Now that the expansion draft has passed, and the entry draft no longer is the priority, teams can get back to the business of cutting players.
Much like restricted free agency, this isn't really something that will be a huge worry for Kyle Dubas. Unless he acquires a player for the purpose of buying them out, which seems unlikely because you generally need cap space to do that. It's also possible that Dubas could be shopping some teams for situations where if that team retains half the salary in trade it might be more favourable than a buyout for the team. It could happen, but what definitely doesn't seem like it will happen is that Kyle Dubas will buy anyone on the Leafs out. As frustrated as we might be with the Leafs, there really isn't a contract that Toronto should buyout.
No, it's about shopping other buyouts, and @Ryan Suter would already be an interesting target if I wasn't positive the Leafs will leave their defense alone. Expecting the Oilers to be busy with @James Neal and @Mikko Koskinen is a start. Neal could be an interesting option on a short term, very low cap hit as he could possibly work in sheltered scoring situations. There is always a looming thought that @Jeff Skinner could be bought out in Buffalo, and with the overhaul there, they might take the cap hit to move on from a roster they've received nothing but frustration from. Skinner could be a fun reclamation project for any team that wants to explore how much good hockey is left in him. @Paul Byron and @Tyler Johnson are other names that seem to be thrown about, and like the other players mentioned, they could be fun fits in Toronto at the right price.
Wednesday: Welcome to free agency
I don't think this one needs a lot of explaining. This is the day. Between May 31st and now there haven't been any of the changes that many Leafs fans have been calling for and now something finally is going to give, and it seems unlikely the day will end without at least a little change. We'll see @Zach Hyman confirmed to Edmonton. We'll see if @Frederik Andersen is still viewed by anyone as a $5M AAV goaltender.
Dubas seems to be putting emphasis on reforming the way the bottom part of the roster works. It seems that Kerfoot may have inherited a top six wing role out of his struggles as a 3rd line center, so it seems likely the focus will be on an affordable goaltender that can compete with @Jack Campbell, a top six winger with some edge similar to what @Zach Hyman or @Nick Foligno brought, and perhaps most importantly, a legitimate 3rd line center and at present, @Phillip Danault looks to be the premium option available.
Now there's nothing to guarantee that Brooks will be in. There's nothing to guarantee that trades won't be made. And who knows, the Leafs could boldly believe that Nick Robertson and Joey Anderson can fill those vacancies, and that leaves the Leafs a small fortune to spend on another goaltender. The reality is this picture will change even if Kyle Dubas wants to assure us it won't. This picture leaves Toronto with approximately $9.3M to address three positions, not include reserve spots on the roster and realistically if they stick to a $2.5M-$4M on each of these positions, there's no reason to believe the team won't look solid.
And beyond:
Free agency will be a storyline for about a week or so. As long as there is one name brand player who isn't signed we'll keep on hearing about it, but Dubas is a planner. I can't imagine he's wanting to prolong this process, and as soon as he can comfortably check something off his to do list, he'll do it.
The Leafs also seem to have put themselves in a position where they don't want to deal with the hassle of arbitration. I'd wager Dubas would rather deal with his RFAs as UFAs than deal with arbitration hearings on bubble players, but in the event that I'm wrong, or that the Leafs trade for someone who does require arbitration, that's going to come up in August.
There's also NCAA rights expiring to watch for on August 15th. For the Leafs that means potentially losing the rights to James Greenway, but there are bound to be a few other players around the league of note on this small, but noteworthy date on the calendar.
Then the quiet stretch until training camp, save for the camp invites. It seems like most of the summer is being condensed into this week, and for a team that drastically needs to be better, the bar is set high while the organization isn't promising much. Come next week at this time, it will be interesting to see how Leafs fans view this team.