After a poor start in Game 4, the Maple Leafs need better from everyone, including John Tavares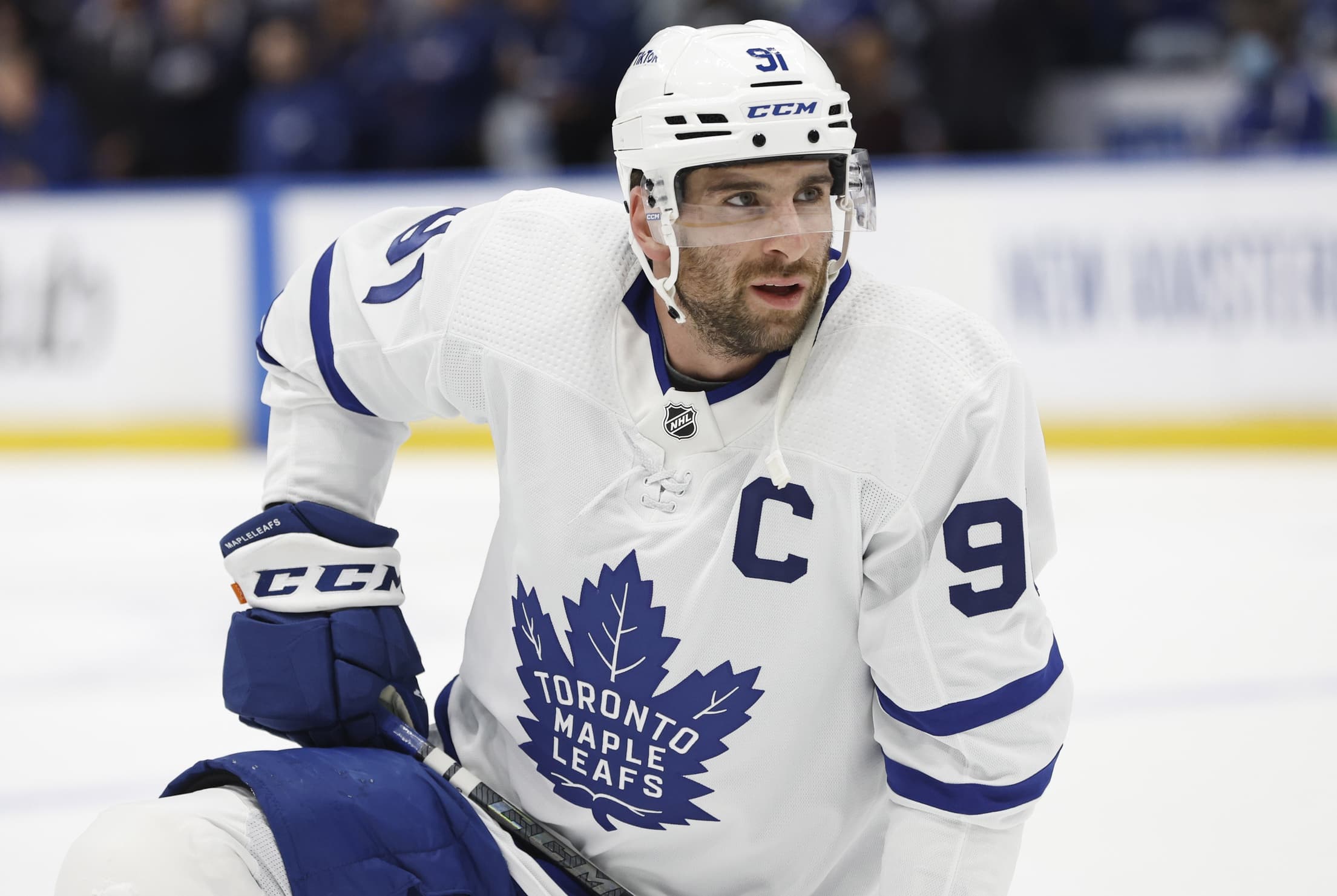 Photo credit:Kim Klement-USA TODAY Sports
TAMPA, Fla. — John Tavares is well aware that his offensive play hasn't been up to par.
And although some production from the captain probably wouldn't have been enough to stave off the onslaught put forth by the Tampa Bay Lighting on Sunday, the embarrassing 7-3 loss has put the spotlight on the team's leader as the first-round, best-of-seven playoff series has suddenly become a best-of-three.
"Obviously I'd like to create more and generate more," Tavares said. "You just got to continue to keep working and competing and understand the responsibility you have by playing against the guys you are playing."
Tavares' play at even strength has been a source of much scrutiny throughout the regular season. Through 79 games, he finished sixth in team scoring with 39 even-strength points (15 goals, 24 assists). And while that isn't nothing, it's not what they've come to expect from the player they signed back in 2018 to a seven-year, $77 million contract on Jul. 1, 2018.
But he's had the chance to redeem himself in the playoffs. While he's been great in winning face-offs (71 per cent) and has some progress from a defensive standpoint, his inability to generate much offence through four games against the two-time defending Stanley Cup Champions is becoming a problem.
"He's working, he's trying, it's tough," Maple Leafs head coach Sheldon keefe said. "It's a tough series out there."
Up 2-1 in the series heading into Game 4, the Leafs missed out on a chance to go home to Scotiabank Arena on Tuesday with a shot to advance past the first-round for the first time since 2004. But it wasn't just an opportunity missed against a Lightning team that improved to 16-0 following a loss in the playoffs since 2020, but the fact that they were flat out of the gate.
"Tonight we just weren't on our toes as much as we'd like to be," Tavares said. "It's a very fine line, they were extremely aggressive pressing up extremely hard early, and our level of detail and execution needs to be strong through that."
The Leafs gave up the first goal of the game on the opening shot. Keefe elected to start Sunday's game with his third line of players, but it was the decision to start a defensive pair that included the hotly debated Justin Holl that put the Leafs behind early. Tampa swarmed Toronto's net, forcing the players to stay out for a long shift. That's when Steven Stamkos scored his first goal of the post-season, a shot that was screened by teammate Victor Hedman that beat Toronto goaltender Jack Campbell.
Minutes later, Pierre-Edouard Bellemarre put Tampa on top 2-0 by swooping in after Leafs defenceman Jake Muzzin had a hard time handling the carom of the puck behind Toronto's net.
"We knew they were going to come out hard and we just weren't ready for it," Muzzin said.
Pat Maroon capped off three lightning goals in the span of 6:58 to put Tampa up 3-0. Toronto had mustered just one shot on goal in that span.
Any hopes to try and mount a promising comeback were dashed by Toronto's parade to the box that quickly ensued. They took 16 minutes worth of penalties through the first two periods. After Ross Colton scored his first of two goals on the night at even strength. Tampa made it 5-0 when they scored on a lengthy two-man advantage after a hooking penalty to Tavares followed by a puck-over-glass call to David Kampf.
"Some of the obstruction is getting called tighter than probably we've been used to in the past," Tavares said. "It's something we have to adapt to."
Down 5-0, Keefe pulled Campbell out of the game after just 26:49 of work in goal. But the change became evident after a lengthy chat on the bench during a TV timeout, something the coach has not done in this season with his starter.
"I'm just trying to get a sense of where he's at," Keefe said of the chat. "He's battling and I know he's going to continue to battle. We need him to be good for the next game."
Campbell's preference was to stay in the game, but ultimately relented.
"I always want to battle, but I respect the coach's decision," Campbell said.
Given how hard Campbell took last year's first-round playoff exit against the Montreal Canadiens and his volatile regular season that the goaltender's play dip after a solid start to the season, Keefe felt the need to take the temperature of the situation.
The goaltender allowed five goals on 16 shots, but the inability to contain Tampa's attack, especially early, is what was led to Toronto's demise in Game 4.
The Leafs did some line juggling again in the third period and will need to figure out the right mix to get the offence going. And while they have seen Auston Matthews and Mitch Marner contribute with a pair of goals in the series, they must get a some production from their captain. He has just two assists in four playoff games. Only one of those assists is at even-strenth, and it came in the third period when factored in on William Nylander's second goal of the game that cut Tampa's lead to 5-2 midway through the third period.
Before the game, Sheldon Keefe said he hadn't seen his team play it's best hockey in the playoffs yet. He also asked for his team to be "greedy".
Instead, it was the Lightning who took that advice.
POINTSBET IS LIVE IN ONTARIO
PointsBet Canada has officially launched in Ontario! Get a $25 free bet just for 
signing up right here!