Alter: It's way too early to panic about Jack Campbell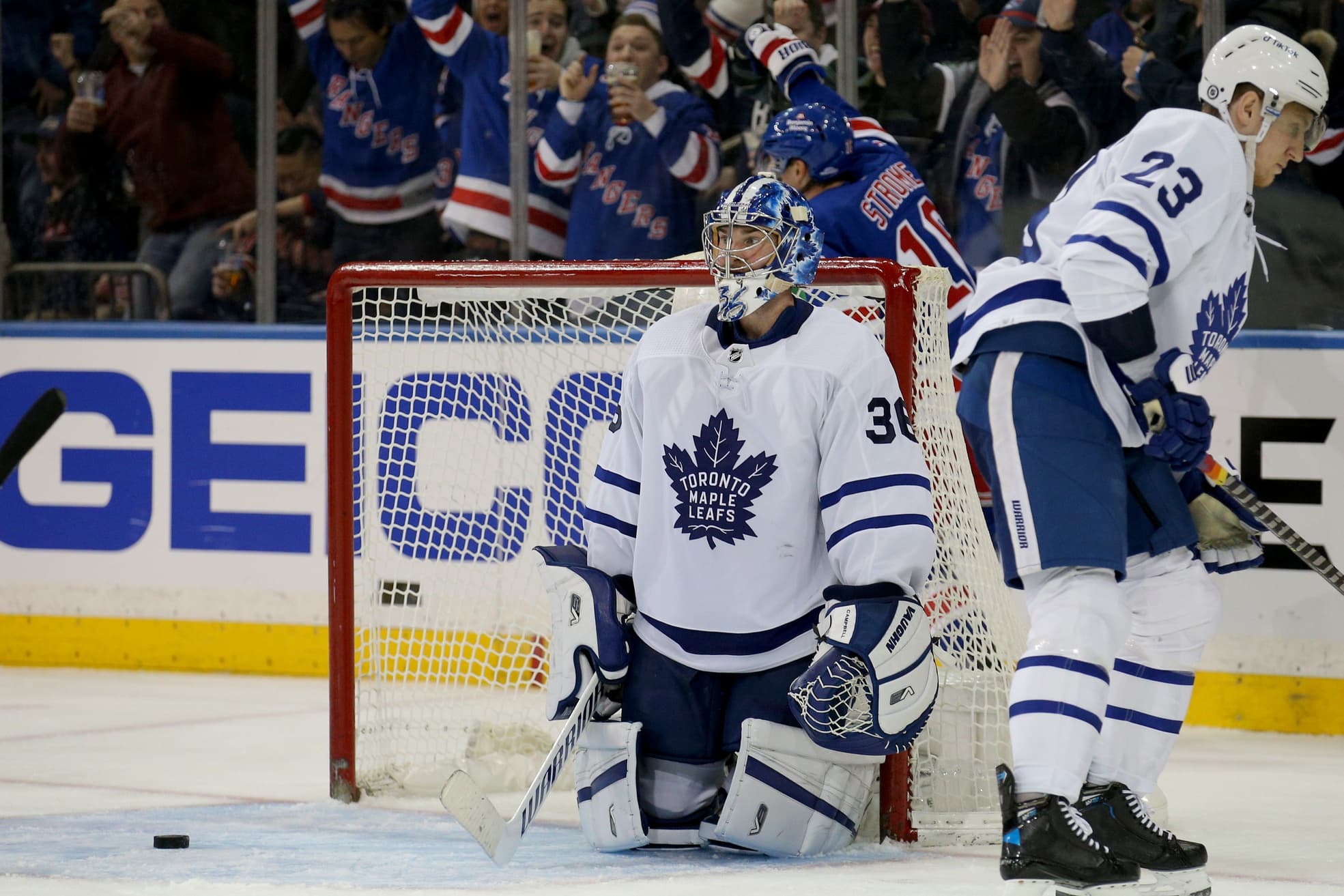 Photo credit:Brad Penner-USA TODAY Sports
For Jack Campbell, January couldn't end soon enough.
On Monday, the Toronto Maple Leafs goaltender was pulled after he allowed three goals on nine shots against the lowly New Jersey Devils. That capped a month in which the team's starting goaltender finished with a save percentage of .880 and a goals-against average of 3.57.
But thanks to the goal support of an offensive-loaded team, Campbell still pulled off a 5-1-0 record.
Admittedly, Campbell's appearances in the net have gotten worse over the last stretch of games.
The goals he allowed on Monday weren't pretty.
The first goal saw Campbell track a pass to his right side. He got a piece of Pavel Zacha's shot but it squeezed through him and into the back of the goal.
The argument can be made that perhaps Campbell doesn't allow the goal if he didn't cut across too his right side so aggressively.
On the second goal allowed, Campbell gave up a rebound in front of the net. Jesper Boqvist scooped it up and beat the Toronto goaltender.
Campbell's night came to an end on a 2-on-1. After defenceman Timothy Liljegren coughed up the puck in New Jersey's zone, he was unable to get back and left Travis Dermott as the lone defender. Campbell, while taking the shooter on the right side, left part of the next exposed over his right shoulder, possibly anticipating a pass to the left side. Former Maple Leaf Andreas Johnsson had no problem finding  the hole as he made it 3-1.
There's no doubt the recent stretch of games have some worried that Campbell is regressing from the Vezina Trophy-like numbers he posted earlier in the season.  In November, Campbell posted a .959 save percentage and had three shutouts. He was named the NHL's second star for the month. But those numbers over the course of a season weren't sustainable.
"Jack hasn't played to the same level 
that he's established for himself, but our team has not played at the same 
level in front of him," Maple Leafs coach Sheldon Keefe said of Campbell's play. "We've got a 
goaltender that's been the backbone of our team. and he's 
trying to get back in that groove here."
Campbell's confidence issues have been well documented. A late bloomer after he was drafted 11th overall by the Dallas Stars in 2010, it wasn't until the 2018-19 season that the goaltender landed an everyday backup role in the NHL with the Los Angeles Kings.
In 2021, he unseated goaltender Frederik Andersen as the starter in Toronto after enduring a heavy workload down the stretch.
This season hasn't been much different. Expected to play in tandem with newcomer Petr Mrazek, injuries to the latter have thrust Campbell into more starts than originally expected.
And now going from playing games on a seemingly regular basis to long gaps, thanks to a COVID pause in December and rescheduled games that led to multiple days off between games, has proven to be a tough adjustment.
There's no doubt that Campbell's recent performance casts a show on his All-Star appearance he will make this week, the first one of his career. But the way he played through all of 2021 under exceptional circumstances can't be overstated.
Even after his recent malaise, he still sits 10th in goals saved above above expected this season (10.2), according to
Moneypuck.com
.
The team in front of Campbell has not been great recently. In the last month with the exception of a handful of games, the Maple Leafs found themselves taking their foot off the gas after a hot start or struggling to start games only to battle back and erase early deficits.
Monday's start was an example of the latter.
The Devils had the Maple Leafs pinned in their zone for the early part of the first period. It wasn't just a straight pull of Campbell, but a full pep talk by Keefe to the team, which he has had to do a lot lately.
"(Campbell) didn't play bad we just gave up such grade-a chances for them and they capitalized on them," Maple Leafs star Auston Matthews said. "It's more of a wake-up call for the guys that are out there playing and not necessarily our goaltender cause we weren't really helping him out much there at the start."
The good news is the recent struggles have opened the door for Mrazek to get more reps. After winning his start against the Detroit Red Wings on Saturday, Mrazek came on in relief and made 19 saves out of 20 shots to help his team come back to defeat the Devils on Monday.
Certainly it's an adjustment for Campbell, who will no doubt continue to see his work load decrease. But the argument here is that the goaltender should have never been in this position to begin with.
He far exceeded expectations when Andersen went down to injury in the 2021 season. He answered the bell again when Mrazek was out for two long stints with a lingering groin injury.
The plan was always for Campbell to get a majority of the starts in a tandem role. The way the Leafs got there wasn't expected. But expectation and reality is a funny thing in the world we live in now.
":He went from playing basically every other night 
through the first 30, 35 games or whatever it is up until Christmas and 
since then there hasn't been a lot of games and the rhythm has been really 
disrupted," Keefe said of Campbell. "He's had lots of rest, lots of time between games and he's trying 
to find his game and he will find his game.
"But our guys have got to help 
him out. We have just not done that and that's disappointing."