Alter: Leafs "don't have a whole lot of bullets in the chamber"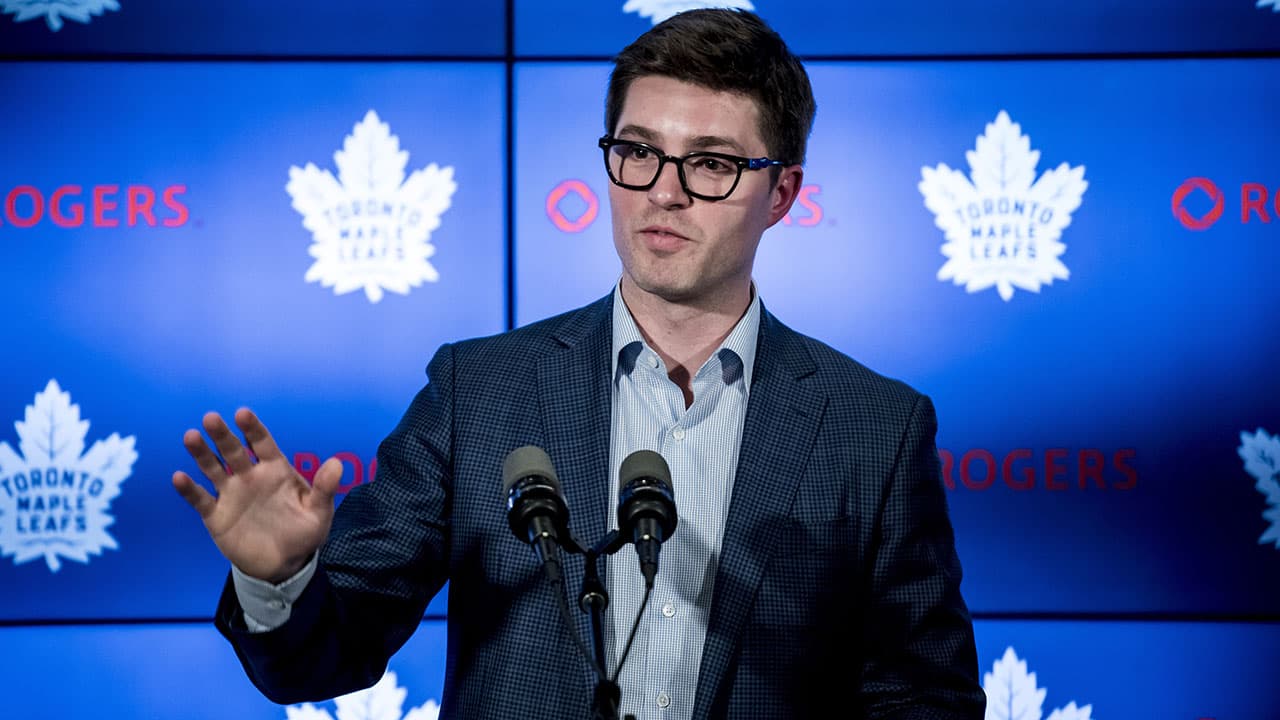 With six weeks remaining until the NHL trade deadline, Toronto Maple Leafs general manager Kyle Dubas isn't in any particular rush to add depth to his team.
In fact, this week may be the first chance he gets to see what a fully healthy lineup can do against some tough competition.
Jake Muzzin is the only injured player on the club right now and although it's unlikely he plays on Monday against the Carolina Hurricanes, his return appears to be imminent after missing the last six games with a concussion.
So while many feel a depth defenceman is Toronto's biggest need, that could change between now and the Mar. 21 deadline.
"I want to take as much time as we possibly have to find out what exactly it is we need. I have my opinions and they change all the time," Dubas said following his team's practice on Sunday. "We probably don't have a whole lot of bullets in the chamber here. We're going to have to pick and choose as we set our sights."
Last season, the Leafs made a plethora of deals at the deadline without giving up any everyday players on their roster. They loaded up on depth at all positions in exchange for draft picks. The most notable acquisition saw the club acquire veteran forward Nick Foligno from the Columbus Blue Jackets in exchange for a first-round draft pick.
But that was a pandemic-shortened 56-game season. The NHL's salary cap remained flat and the Leafs also had the luxury of exceptional cap space, made possible by former Leafs goaltender Frederik Andersen's stint on long-term injured reserve.
Based on current cap calculations, they have approximately $1 million in deadline cap space. If the team stays healthy, they have no choice but to wait until the latest possible moment to add to their team to maximize their return without offloading some money in the other direction.
The key term in the above paragraph is "deadline" space. That number is actually smaller now and it won't reach the optimal number until Mar. 21.
But if the Leafs stay healthy where can they get their depth from?
Maybe it comes from within.
It's no secret that Josh Ho-Sang has had an incredible turnaround year in the Toronto organization. Signed to a professional tryout before camp, the Thornhill, Ontario native spent most of the summer working out in the team's training facility in Etobicoke.
With 11 goals and 20 points in 27 games with the Toronto Marlies, Ho-Sang's play earned him a spot with Team Canada at the 2022 Winter Olympics in Beijing.
"I think we've got a few guys down there that are pushing Josh. Obviously, he has a much longer pedigree and has been in the public eye for a long time so he gets a lot of the conversation and he'll be in that mix as we head towards the deadline," Dubas said. "But there are a few guys on AHL-only deals that have played very well. Josh, Joseph Blandisi, he's on a tryout, Antti Suomela, Curtis Douglas. They've done a good job there with the Marlies getting those guys up and running. They are all different players. Josh is the most individually talented of the group as we all know, but the others have different elements that I think can help the team as well. So we'll continue to monitor that we make those decisions closer to the deadline, I'd say."
Again, due to cap constraints, it's not a surprise to see the Leafs temper expectations of Ho-Sang. Unless there is a major injury between now and the deadline that makes some additional cap space, the Leafs can only wait.
Once Ho-Sang signs an NHL deal, he has to stay up there occupying salary cap space. If he were to be sent down to the AHL, he'd have to clear waivers first.
There's also that chance that another NHL club could go after Ho-Sang and sign him to an NHL contract before the Leafs are ready to make that move.
The Leafs have used draft picks to make deals with short-term goals in mind. They only have their first two picks in the 2022 NHL Draft, with the rest committed to other clubs.
Dubas isn't against moving those picks even though he doesn't want to mortgage the team's long-term future.
"We're in a mode now where we're trying to win now," Dubas said. "We're trying not to be short-term or confine ourselves to any window and we're not going to be able to just pick in the second and fifth-round every time and find players that produce."
Anything can happen between now and Mar. 21 where the team's fiscal situation could change in the blink of an eye. To do anything right now without having a clearer picture wouldn't make a lot of sense.