Auston Matthews scores twice and earns Hart Trophy praise from the coach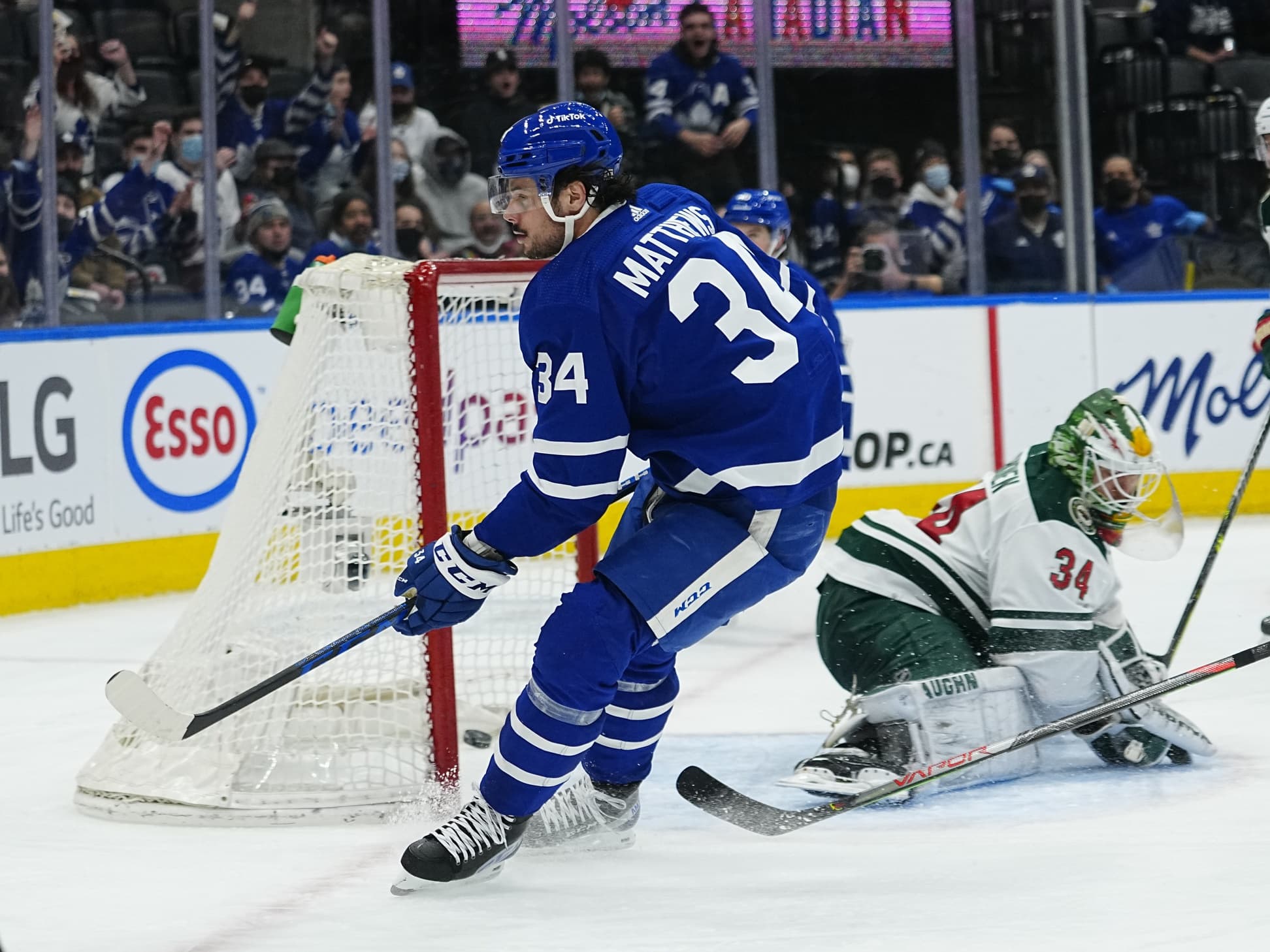 Photo credit:John E. Sokolowski-USA TODAY Sports
Toronto Maple Leafs forward Auston Matthews is no stranger to scoring goals. The reigning Maurice 'Rocket' Richard Trophy winner scored twice to move into the NHL lead in goals with his 36th goal of the season in a 3-1 victory against the Minnesota Wild at Scotiabank Arena on Thursday.
A two-goal performance on its own is impressive, but it's how Matthews is scoring the goals and when he does it that continues to impress with each passing season.
In a game that featured two of the top four teams in goals scored this season, both teams played tight.
After Frederick Gaudreau opened the scoring for the Wild at the 8:37 mark of the second period, Matthews scored his first of two goals 27 seconds later. He fired a shot through a Wild defenceman Dmitry Kulikov and over the glove of goaltender Kaapo Kahkonen to tie the game 1-1.
Matthews followed this up with an excellent steal in the defensive neutral zone. He stripped Minnesota's Brandon Duhaime and finished off a pass from Mitch Marner and scored the game-winning goal at 10:22 of the third period.
"Bunts made a really nice to play to get on side," Matthews said of his initial possession. "Then I tried to get the puck in Mitchie's hands. I just tried to get open and he made a really nice play deep and I had the whole net to shoot at."
From that point on, the game continued to be a low-event affair where both teams didn't give each other much space. For Toronto, that was a welcomed change given that their last stretch of games involved many odd-man rushes against which have resulted in goals allowed.
"I remember looking up at the shots on net and it was 0-3 halfway through the first," Matthews said. "I think when you play games with a really good stretch there it's really important to not get frustrated. It's a long game. Just because you're not getting some chances in the first period doesn't mean you're not going to get them later on in the game."
This is a stark contrast to earlier in the month when the team was in Seattle to wrap up a three-game road trip out west. The team shot the lights out against Calgary Flames and Vancouver Canucks after they found themselves trailing and got burned by scoring chances off the rush in both contests. In each game, the Leafs were too aggressive offensively.
"Even when it's time to defend, your hesitating just a bit because you're hoping you're going to win the puck back quickly and tie to the game," Keefe said on Feb. 13. "The challenge, and what we've been talking about as a group is to stay with it. We have to trust that we will score and we will be able to come back and tie the game or win games or whatever it is, but not let things compound."
After the last three games saw this issue linger, the Leafs appeared to nip this one in the bud. And Matthews' two-goal performance was critical in allowing the team to follow the template.
"Auston earned it," Keefe said after the game on Thursday. "That's what we've been talking about. When you work defensively and you're in good spots and you earn a puck and it goes the other way, that's three goals now. You look at Bunting's goal in Columbus, Auston's goal in Columbus and now his second goal tonight again here today, all three of those goals are a result of good defensive posture."
As exciting as the high-octane offence games have been, it's clear that these are the type of games the coach likes seeing his win. They stayed responsible defensively, something that needs to be replicated for any chance at playoff success.
With a Calder Trophy (2016-17) and Rocket Richard Trophy (2021) in his young career, Keefe was asked if Matthews has earned consideration for the Hart Trophy, which has been handed to the franchise just twice in the team's history.
"Without a doubt," he said. "He finds a way to come through huge goals at big times in the game and he's done that all season; He doesn't get enough credit for how he plays defensively."