Auston Matthews ties Maple Leafs record for goals in season with 54, remains all business in statement win against Lightning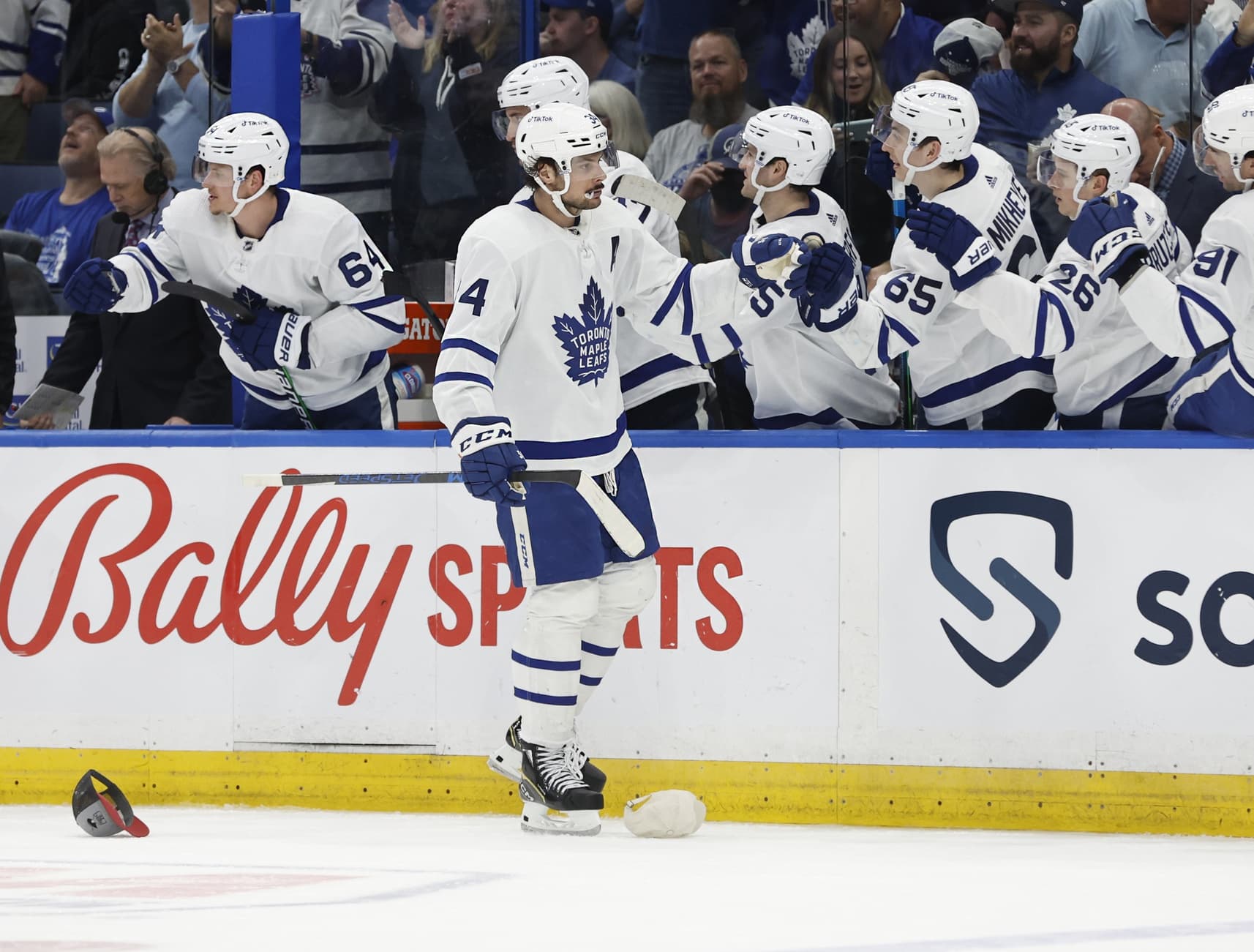 Photo credit:Kim Klement-USA TODAY Sports
TAMPA, Fla. — If Auston Matthews is excited about setting new records with every record-breaking goal, he's not showing it.
Instead, his teammates will do that for him.
"I feel like a proud brother to be honest," Mitch Marner said of Matthews. "Even when he scored that 50th, I was trying to keep my energy pretty low but I was quite fired up when he got 50."
Matthews continues to light the lamp at an incredible pace. He recorded his seventh career hat trick on Monday and matched Rick Vaive's franchise record for goals in a season with his 54th as the Maple Leafs defeated the Tampa Bay Lighting 6-2 at Amalie Arena.
But much like when reached the 50-goal mark for the first time last week, Matthews didn't indulge in the personal accomplishment. Instead, he focused on the team's effort of defeating the two-time defending Stanley Cup Champions on the road.
"This is a big game for us, they're a really good team and know how to win," Matthews said.
Apart from saying it was "humbling"' to match Vaive's record set during the 1981-82 season, Matthews kept most of his expanded comments on the performance of his teammates and focused on the game ahead in less than 24 hours against another tough team in the Atlantic Division, the Florida Panthers.
"No hesitation, he's onto the next thing," Maple Leafs coach Sheldon Keefe said of Matthews. "His focus remains on leading this team and that's the best part about him. He just stays humble and continues to work. He knows he's a great player, knows that goals are going to come as part of what he does for our club. But he's leading our team in lots of different ways and that's what I'm most excited about."
The pace of Matthews' scoring has been extraordinary. as he has scored 47 goals in his last 47 games. Before the game, Tampa Bay Lightning head coach Jon Cooper said he felt Matthews could reach the 70-goal mark someday. While that's unlikely to happen this season since he'd need to score 16 goals in the 13 games remaining on the Leafs' schedule. It's hard to put anything past him given the acceleration in which he has scored goals.
'I mean, he just, it's not even, like, it's crazy, I don't even have words for it,' an amazed Jack Campbell said. "It's amazing and we're just blessed to have him on our team along with so many guys on this team."
Matthews is on a six-game goal-scoring streak (eight goals in total) and has scored a goal in 12 of his last 13 games (15 total).
He scored his first goal of the game when his wrister from the left circle blew past Lightning goaltender Andrei Vasilevskiy.
.
His second goal of the game came later in the period when he redirected Mitch Marner's pass toward the net.
Both were go-ahead goals following Lightning equalizers.
With the Leafs up 4-2 in the third period, Matthews found a loose puck in the slot for his third goal of the game. The many Leafs fans in attendance littered the ice with hats.
There was over ten minutes left in regulation time for Matthews to perhaps break the record and it would have been quite fitting had the Arizona-born phenom managed to do that with a fourth goal in a game. Instead, he found Mitch Marner on an excellent pass that made it 5-2 Leafs.
"It's great, he's going to break it (Vaive's record) and it's going to be even better when that happens," Marner said of Matthews. "He's not looking for goals or cheating for goals. He's earning them. It's a proud brother kind of feeling. We're real tight and it's great to see him get rewarded out there."
In what was a potential preview of a first-round playoffs series, the Toronto Maple Leafs certainly passed the test. They come up with big wins against the Lightning, Panthers and Bruins over the last nine days.
Matthews has all the elements of what makes players elite. But he knows team successes are very much a part of that and that's where his focus has remained throughout what has been an exciting personal achievement.
"At this point in the season, this is where you really want to start building momentum," Matthews said. "We've got another tough team tomorrow and got to stay focused on the task at hand."
POINTSBET IS LIVE IN ONTARIO
PointsBet Canada has officially launched in Ontario! Get a $25 free bet just for 
signing up right here!