Best guesses at what the Rasmus Sandin contract could look like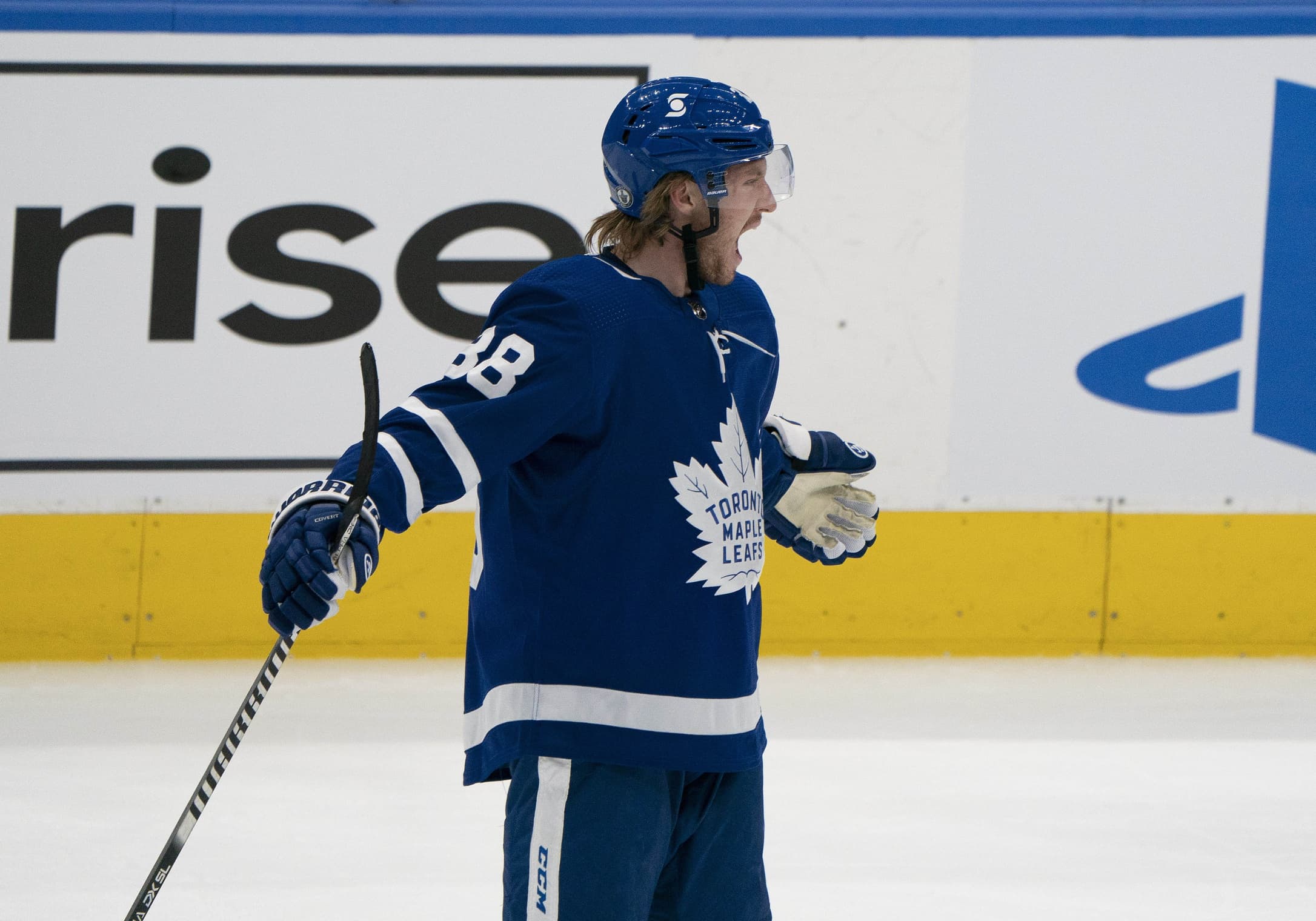 Photo credit:© Nick Turchiaro-USA TODAY Sports
It seems like the last thing standing between Kyle Dubas and vacation is the Rasmus Sandin contract. That's not entirely true, but it could be what's standing between Brandon Pridham and vacation. The Leafs very much established what they were looking for when Timothy Liljegren was signed to a 2-year $1.4M AAV deal, but it doesn't seem to be what Rasmus Sandin has in mind.
From the 32 Thoughts podcast,
Elliotte Friedman suggested that Sandin would be looking for a deal similar to Adam Boqvist's 3-year $2.6M AAV deal.
The truth could lie somewhere between the Liljegren deal and the Boqvist deal, or we could be looking at something completely different. Sandin is represented by
Lewis Gross
, who you will best remember from the William Nylander contract saga. So whatever it is Sandin wants, there is the potential that his agent will advise him to wait until December to get it.
Up until now, we've largely focused on what 2-3 year contracts would look like for Sandin, and when it comes to defensemen under the age of 24, the 2 or 3-year contracts are by far the most popular option. That shouldn't exclude the possibility of a one-year, let's come back to this next year when the Leafs have a money deal or the fact that Sandin could be looking for a locked-in long-term contract now. All three present different pros and cons, and here's what some of the comparisons look like.
One year deal
A one-year deal certainly projects to be the cheapest option for this season, but it also would make whatever comes next potentially a lot more expensive. It's hard to imagine Sandin taking less than Liljegren, but since he's giving up absolutely nothing to the Leafs and there isn't any incentive to pay for potential, he'd get paid as how he's likely to be used, a sheltered third pairing LD that might get moved up the lineup later in the year.
The two times in the past five years the Leafs have offered a one-year deal to RFA defensemen under 25, they signed Travis Dermott to an $874k show me deal, and a $1.3M contract for Connor Carrick. The Dermott one didn't turn out too badly and earned a nice raise for the next two years, but Carrick's deal was it for him.
When it comes to bigger payments on one-year deals for young defensemen, Jacob Trouba, Cody Ceci, Ryan Murray, and Nikita Zadorov are the only players to make more than $2M on a one-year deal. All four of them were older and more established than Sandin at the time of their contracts as well.
The Vince Dunn $1.875M deal represents the next highest, and might be the reasonable overpayment option, but generally, the one-year deal should be to keep the player around $1M. Both Mackenzie Weegar and Brett Kulak took $900k one-year deals that lead to them establishing themselves and earning more.
Using Evolving Hockey's projections, Rasmus Sandin would be a $1.016M player on a one-year deal.
The two-three year bridge deal
This seems to be the gold standard for NHL defensemen under the age of 25. 62 of these deals have been signed since 2018 as compared to 28 one-year deals and 19 long-term contracts. This is where
Evolving Hockey
has Sandin landing, with a 2-year, $1.5M AAV deal. Unfortunately for the Leafs, that number seems like it's going to be higher.
The purpose of a bridge deal should still be about paying a player close to the level they are at, not factoring in the potential of what they may achieve, so when Sandin still has a fairly short resume thanks to his injuries, that probably puts to rest the Dahlin, Sergachev, and Nurse level comparables, but at the same time it also looks like a small miracle the Leafs got Liljegren at what they did, as the majority of comparables like Jake Bean ($2.33M AAV), Ethan Bear ($2M AAV), and Ryan Pulock ($2M AAV) fall at the $2M mark or slightly over it.
| | | | |
| --- | --- | --- | --- |
| Player | Age | Years | AAV |
| Ryan Lindgren | 23 | 3 | $3,000,000 |
| Erik Cernak | 23 | 3 | $2,950,000 |
| Brandon Carlo | 22 | 2 | $2,850,000 |
| Vladislav Gavrikov | 24 | 3 | $2,800,000 |
| Adam Boqvist | 21 | 3 | $2,600,000 |
| Phillippe Myers | 23 | 3 | $2,550,000 |
| Henri Jokiharju | 22 | 3 | $2,500,000 |
| Dante Fabbro | 23 | 2 | $2,400,000 |
| Jake Bean | 23 | 3 | $2,333,333 |
| Troy Stecher | 24 | 2 | $2,325,000 |
| Ryan Pulock | 23 | 2 | $2,000,000 |
| Ethan Bear | 23 | 2 | $2,000,000 |
| Matthew Benning | 24 | 2 | $1,900,000 |
| Juuso Valimaki | 22 | 2 | $1,550,000 |
| Travis Dermott | 24 | 2 | $1,500,000 |
| Steven Santini | 23 | 3 | $1,416,667 |
| Timothy Liljegren | 23 | 2 | $1,400,000 |
| Matt Grzelcyk | 24 | 2 | $1,400,000 |
| Riley Stillman | 23 | 3 | $1,350,000 |
| Haydn Fleury | 23 | 2 | $1,300,000 |
Dubas hasn't had a history of opening his wallet for RFA defensemen, so Sandin will be an interesting new challenge. And despite the one-year or 4+ year options being a possibility, the strongest likelihood is the traditional defenseman bridge deal.
Long term contract
The Leafs aren't in any position to do this at the moment, so to some extent, this is what Sandin should be pushing for to leverage a better bridge. The long-term deals start factoring as possibilities if an offer sheet comes into play.
For the most part, these deals seem to be limited to the elite. Quinn Hughes, Adam Fox, Thomas Chabot, Miro Heiskanen, Cale Makar, and Charlie McAvoy are the biggies and they all got over $7M AAV. No one is trying to do that with Sandin. Nor are they likely to take Dumba or Provorov type risks over the $6M mark. Jakob Chychrun, Noah Hanifin, Samuel Girard, and Shea Theodore are all 21-22 years that landed long-term deals in the $4.5M-5.5M range. If there is a believer in Sandin out there who wants to offer that, the Leafs would be wise to take the 1st and 3rd round picks with a smile on their face and move on. Not that it isn't a bad contract for a defenseman you believe in, but the Leafs aren't in a place to be offering term and when it comes to long-term deals the term seems to align with the Leafs getting better than a second-round pick.
When it comes to long-term deals, Evolving Hockey projects Sandin's AAV between the $3M-$3.7M range. Like most of their projections around Sandin, this might be a bit more pro-Team than Lewis Gross would be willing to accept.
So where exactly do the Leafs and Sandin land, well…it feels like it is very much going to be somewhere in the $1.8M-$2.5M range, and if that's the case it's up to the Leafs to get that third year out of Sandin to make it worth their while.
Sandin at anything over $2M means that Toronto needs to explore the idea of moving someone other than Holl or in addition to him. Moving Holl and signing Sandin to a $2M deal means going with a 20-player roster to start the season as well, and possibly would require Nick Robertson to start the year in the AHL. It seems that Kerfoot needs to be the odd man out.
When it comes to the offer sheet concerns, the NHL's risk aversion seems to be taking care of that for us. If something suddenly changes, the Leafs have some flexibility to accept if it's a minor overpayment, but anything in the $4M AAV for shorter term probably means biting the bullet and walking away with just a second-round pick. It certainly looks like it won't come to that, but will need to be considered as well.
The most likely situation is that we're just impatient. Sandin's camp is quite possibly just making things a bit more difficult because they want a roster spot for him that puts him in his best place to be successful. Seems to be easier said than done on that front too.