Dreger reporting that the Leafs have interest in Jakob Chychrun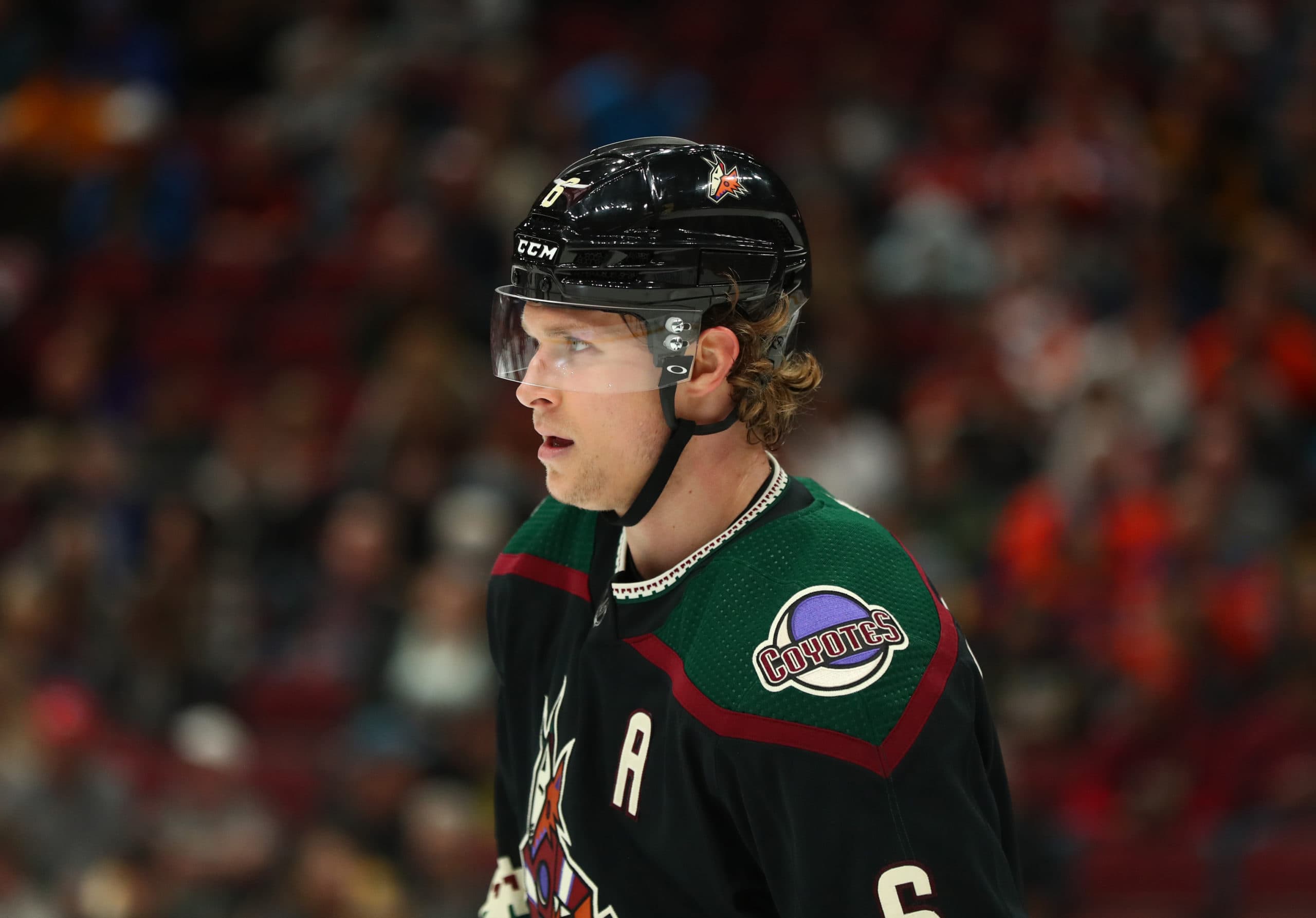 Photo credit:Mark J. Rebilas-USA TODAY Sports
The preseason is nearly halfway done and the Leafs have been hit hard by the injury bug.
Guys like John Tavares, Timothy Liljegren, Pierre Engvall, Jake Muzzin, and Jordie Benn have been put on the sidelines with various ailments that will keep them out of commission for the next little while. And Rasmus Sandin only yesterday signed his extension with the Leafs after Alex Kerfoot and Calle Jarnkrok were forced to fill in as defencemen during Wednesday's game against the Canadiens.
Toronto's depth is already being tested and while it is too early to tell how the likes of Victor Mete, Filip Kral, and Mac Hollowell will fare in a larger role throughout the final four preseason contests, getting more reinforcements would certainly help.
Luckily for them, a talented young blueliner reportedly wants out of his current club and he could be even more than what they seek. Darren Dreger is reporting that trade talks for Jakob Chychrun are intensifying and Toronto is one of the teams with interest.
Chychrun admitted
at the start of training camp that he told the Coyotes' front office that he wanted to be traded so he could play for a competitive team and not endure a rebuild leading up to the 2022 trade deadline. Dreger said that while those desires are still there, the Coyotes are not rushing to ship him elsewhere.
He also said that Arizona has seemingly softened its asking price on Chychrun but it remains high at one or two contracts, a first-round pick, and a prospect. Other teams that have expressed interest include the Senators, Oilers, Blues, Kings, and Blue Jackets.
The potential return package is going to be quite hefty and fitting his cap hit will create some additional hurdles needed to overcome, but Chychrun would be a great addition for the Leafs in the immediate and long-term future.
Blessed with incredible size and entering his prime, he is only two seasons removed from getting Norris Trophy votes in the 2021 shortened season. That campaign saw him finish 10th among all NHL defencemen in scoring with 41 points (18 of them being goals and 65% of his points coming at even strength).
Last year, he was limited to 47 games due to an ankle injury he suffered during a game against the Bruins on March 12th that prematurely ended his season. It likely stings more for him because he recorded 11 points (at an impressive rate of 1.1 points per game) in his final ten games before the aforementioned injury and helped his team to a 6-4 record in that span. In all, he produced seven goals, 14 assists, and 21 points in that span.
One knock against Chychrun is that his underlying metrics have been below average throughout his career thus far and the 2021-22 campaign saw those numbers take a noticeable dip at 5v5.
| | | | | | | | | |
| --- | --- | --- | --- | --- | --- | --- | --- | --- |
| CF% | FF% | SF% | GF% | XGF% | SCF% | HDCF% | HDGF% | PDO |
| 47.19 | 47.01 | 52.04 | 37.66 | 45.23 | 45.57 | 45.04 | 40.48 | 0.971 |
Indeed, Arizona has only made the playoffs once since he entered the league, with the sole appearance occurring in the bubble, and is coming off a season where they finished the second-worst record in the league.
Having said that
, Chychrun has yet to have a season where his team generated more scoring chances with him on the ice and has only twice helped his team get more shots on the net.
The lacklustre play of the Coyotes over the six years is
certainly impacting his underlying metrics
, but Chychrun hasn't done himself any favours in helping turn things around. Perhaps a change of scenery could help see improved results, yet it remains to be seen if that will occur once he gets dealt.
Despite his mediocre results in terms of the underlying metrics, Chychrun should still be a high priority for the Leafs to try and nab away from the desert.
He won't turn 25 until March, should be in for a further increase in production, and perhaps more Norris Trophy recognization should he stay healthy (although he has yet to make an appearance in the preseason
due to him recovering from wrist surgery
).
His cap hit is also manageable for many teams with a $4.6 million AAV and two seasons remaining beyond the upcoming campaign, which would make him the fourth-highest paid defenceman on the Leafs. Money would almost certainly need to be shipped out for a potential trade to go through since Toronto is nearly $3 million of the cap hit following Sandin's extension. This means one of Kerfoot, Muzzin, or Justin Holl would need to be one of the key roster pieces going the other way to fit Chychrun into the fold.
An aspect of his contract that will add some pressure from teams like the Leafs to try and get a deal done is the fact that Chychrun will have a 10-team no-trade clause kick in before the start of the 2023-24 campaign. Having this be the last season where he doesn't have trade protection will make a potential swap easier to execute, so the market to acquire him will almost certainly be competitive.
If Toronto wants to nab the former 16th overall pick, they will need to give up quite a bit while also shedding some salary. A potential trade could look something like this:
Coyotes receives: Jake Muzzin, Alex Kerfoot, Nick Robertson, 2023 1st

Leafs receive: Jakob Chychrun
While the reported asking price remains high and his underlying metrics have never been solid, it makes total sense why the Leafs are one of several teams that are interested in acquiring Chychrun's services. He has remained a productive blueliner throughout his career, is not far removed from receiving Norris Trophy votes, and was producing at an impressive rate last year before suffering an injury.
He will be granted a large role in the top-four, get plenty of reps on the power play, and will grow alongside the rest of the team as they look to get closer to their aspirations of a deep playoff run. And over time, he could help solidify the core alongside Sandin and Liljegren in the years to come.
They will certainly need to give up a lot to bring him to Toronto, but the Leafs should try and acquire Chychrun.