Erik Kallgren earns first NHL shutout for Maple Leafs, who desperately needed a solid goaltending performance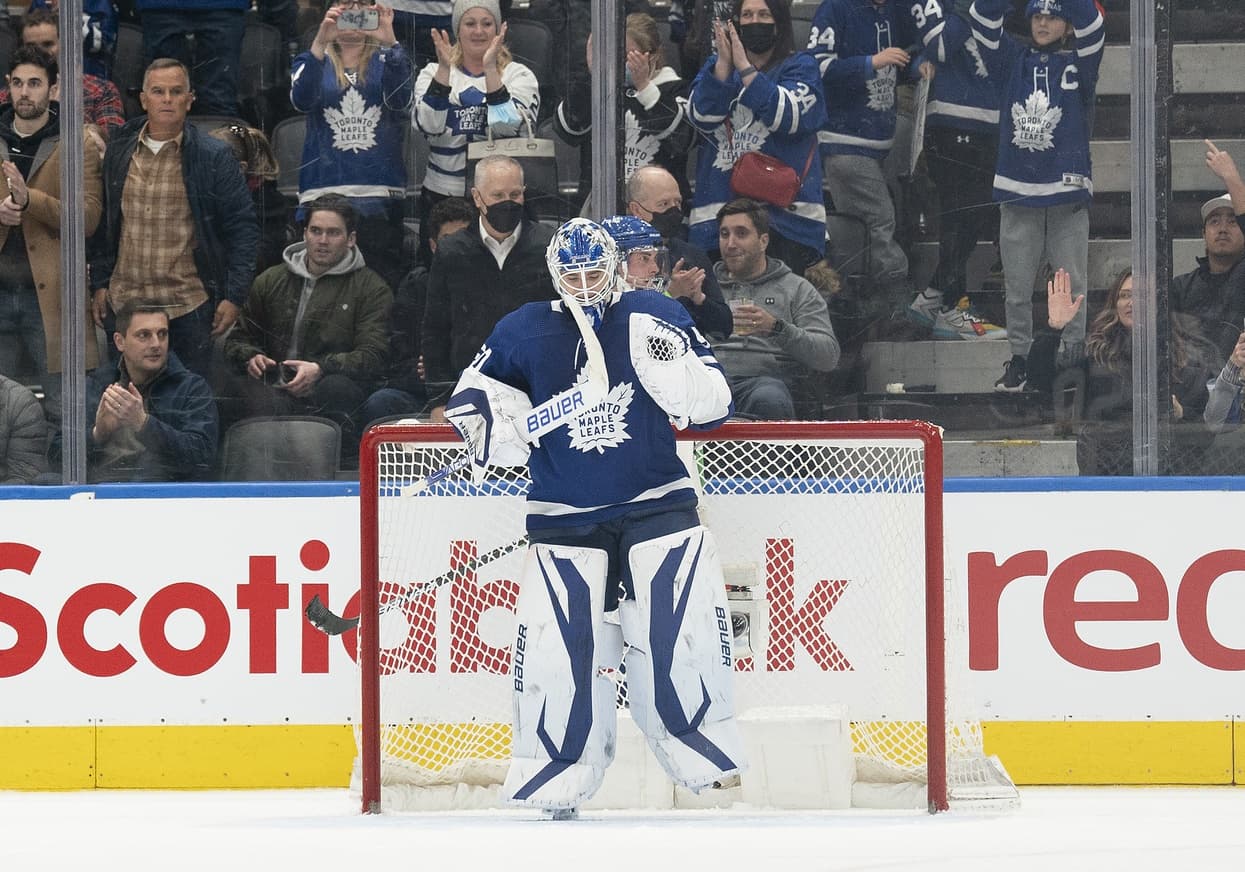 Photo credit:Nick Turchiaro-USA TODAY Sports
It wasn't just about how Swedish rookie goaltender Erik Kallgren played in his first NHL start but also how his team performed in front of them.
"I think they played great," he said. "We had a great PK, they played great."
Kallgren made 35 saves for his first NHL shutout as the Toronto Maple Leafs defeated the Dallas Stars 4-0.
It was a performance the Maple Leafs were clamouring for after a shaky few months in the crease. The 25-year-old was thrust into action in relief of goaltender Petr Mrazek on Thursday against the Arizona Coyotes and helped his team dig out of a 4-1 deficit to salvage a point in the standings in a 5-4 overtime loss.
Given a proper opportunity to play a full 60 minutes, Kallgren didn't disappoint.
"He just picked up where he left off," Keefe said of his goaltender's performance. "Pucks came to him and for the most part, they stuck to him."
Much like he did following his NHL debut, Kallgren showed the "poise" that many of his teammates said before the game about their goaltender.
"I felt calm and I've played in some big games before, but obviously not in the NHL," Kallgren said.
A backup in the Swedish Hockey League before earning the starter's net, Kallgren helped the Vaxjo Lakers win a championship last season. He's found himself in a somewhat similar position but wasn't prepared to make any short or long-term predictions about his time with the big club.
"I'm going to take this very day-by-day," Kallgren said. "I've been called up less than a week ago. I'm still just trying to enjoy this and try not to think too much."
Although he looks stoic on the ice, Rasmus Sandin says Kallgren smiles a lot and is the nicest guy off the ice. The two skated together in the offseason in Stockholm.
"He was ok," Sandin said about Kallgren's play rather facetiously. "He looked really calm out there and I'm super happy for him."
The Stars controlled the pace of play for the opening five minutes of the game and Kallgren had to be sharp by making some difficult saves early, including a partial 2-on-1 from Stars forward Michael Raffl.
"He stands his ground(on that chance) and from there I just thought he was solid," Keefe said.
With his team up 2-0 thanks to first-period goals from Sandin and John Tavares, Kallgren was thrust into another familiar situation for Leafs goaltenders this season: Killing bench minors.
Toronto was called for too many men and things could have easily gone off the rails as Dallas poured seven shots on goal on Kallgren. But he saved them all.=
The Maple Leafs lead the NHL with 11 bench minors this season.
From there, Toronto didn't give the Stars — who came into Tuesday's game just one point out of a playoff spot — much in terms of quality scoring chances.
Ondrej Kase added an insurance marker with a power-play goal in the third period and Ilya Mikheyev iced the game with an empty netter.
With Jack Campbell unavailable for at least another week-and-a-half and Mrazek struggling the Leafs needed a goaltender who could check all the boxes one comes to expect from a good goaltender.
As the goaltenders struggled over the course of the last month, Keefe stressed better defence as a solution. That meant preventing tipped shots from getting to the net.
Kallgren stopped those, too.
Kallgren improved to 1-0-1 this season in his two appearances and has posted a .978 save percentage. He became the first Maple Leafs goaltender since Garret Sparks to record a shutout in his first NHL game. And while they are still questions about Toronto's goaltending depth at the top, Kallgren has earned himself another look after shutting the door against the competition.
Beyond anything else, the Leafs looked really comfortable playing in front of him. For a team that had given up four or more goals in six straight games for the first time in 16 years, a shutout was exactly what the Leafs needed.
"It's a hard game to play when you're pulling the puck out of the net all the time," Keefe said.
And the team delivered the offence for one of their most complete efforts in a long time.