Goaltending allowed for a certain Maple Leafs victory to nearly slip away and that is worrisome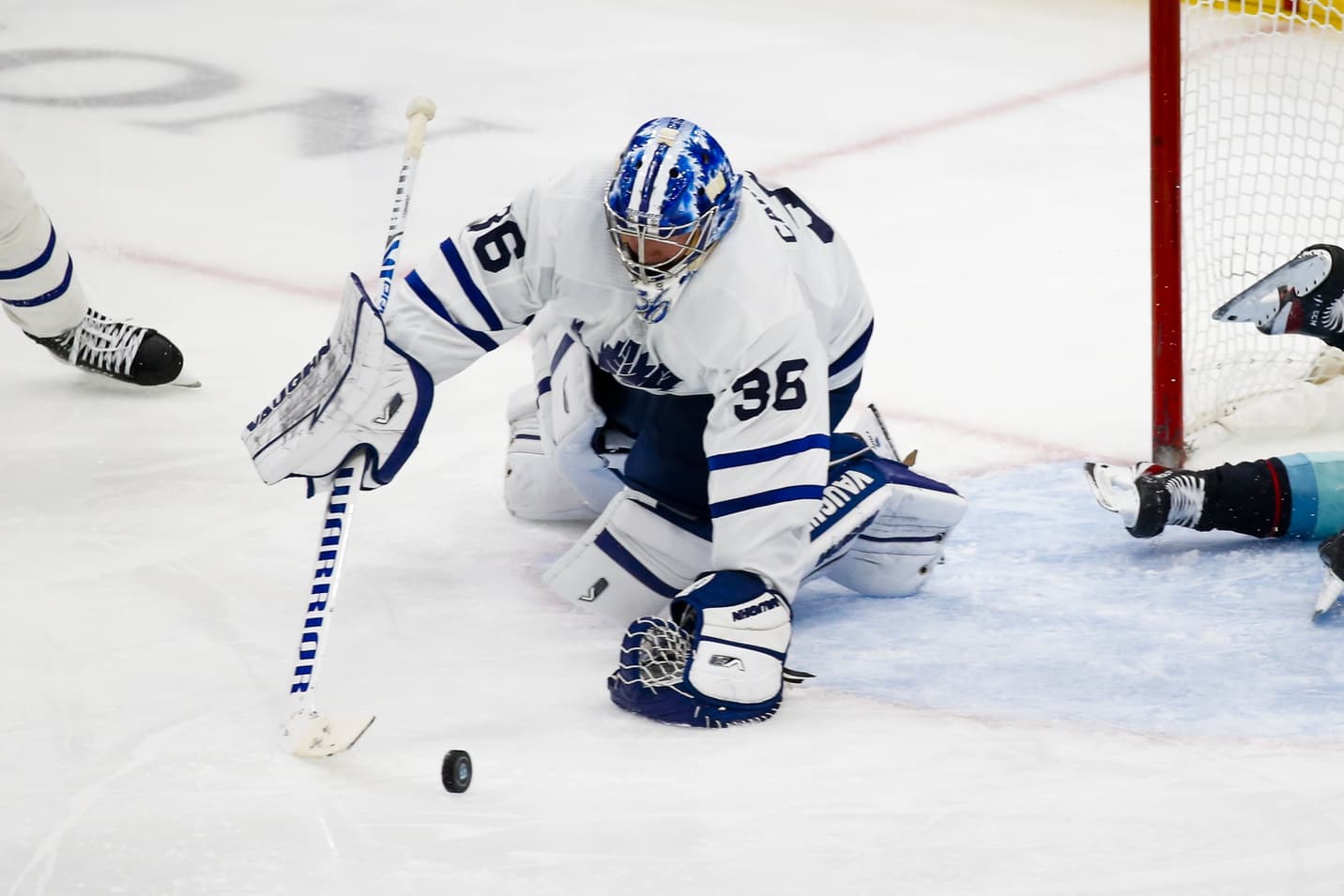 Photo credit:Joe Nicholson-USA TODAY Sports
DETROIT — The Toronto Maple Leafs won a hockey game against the Detroit Red Wings on Saturday. But a dominating performance nearly turned into a nightmare when the club gave up four goals early in the third period in a span of 4:46.
Just like that, a five-goal lead was down to one and as things got really ugly in goal for the Maple Leafs, but they hung on and defeated Red Wings by a head-exploding score of 10-7.
"Let's not let the craziness of the third period take away from the fact that we played an excellent
game," Maple Leafs coach Sheldon Keefe said. "Even in the third period within all of that nonsense. I like the way (Ilya) Mikheyev responded on his goal, the way the penalty kill responded in a key moment."
Indeed the Maple Leafs pushed back and managed to pull away from the Red Wings, who made brought Toronto's lead down to 8-7 and had a power play with a chance to tie it before Ondrej Kase scored a shorthanded goal to keep the Red Wings at bay.
But the silliness of that third period almost took away from some impressive accomplishments for Toronto's top line.
Mitch Marner recorded his first NHL hat trick (a natural one at that) before finishing the night with four goals and two assists. Michael Bunting had a goal and four assists, while Auston Matthews rounded out the offensive trio's punch with a goal and three assists.
Marner's offensive explosion has been something to behold as of late. Intent on showing that he can be a goal-scorer, he picked up his first three goals in consecutive fashion in the second period.
"It was pretty cool, I won't lie," Marner said of hitting the three-goal mark. "I've had a couple of chances to get in and they haven't fallen for me. So tonight, that third one. I tried to keep it calm, but it was a cool moment for sure."
In the first period, the Maple Leafs dominated the pace of play and eventually forced out starting goaltender Alex Nedeljkovic when they took a 3-1 lead. Thomas Greiss also had a hard time against Toronto's offence and allowed Marner's first three goals and Matthews' loan goal of the game.
Through 40 minutes, Maple Leafs starting goaltender Jack Campbell wasn't tested much, but allowed some questionable goals to Detroit. That snowballed in the third period when he allowed a shot from the point by Filip Hronek to slip through. After Carter Rowney cut Toronto's lead to 7-4, Joe Veleno made it 7-5 with a sharp-angle shot that Campbell couldn't track.
"He's got to be better," Keefe said of Campbell. "That goal to start the (third) period, it's a nothing play, really it's a routine save that he can make there and he doesn't and then it kind of snowballs from there. That's a tough one that he's got to have and he will have."
Petr Mrazek finished the game for the Maple Leafs and allowed two goals, one of which went right through his pads that cut Toronto's lead to 8-7, but they eventually pulled away with a shorthanded goal from Ondrej Kase and Marner's fourth goal as insurance.
And while it's great for the Maple Leafs that managed not to succumb to the wild comeback attempt by the Red Wings, the play of Campbell is a bit alarming.
The goaltender has really struggled to put up the dominating performances he had exhibited earlier in the season and much of last year. Provided Mrazek gets the nod in goal on Monday against the Washington Capitals, this will mark the second consecutive month where Toronto's starter has posted a save percentage below .900.
During the first TV timeout after Campbell was pulled on Saturday, Marner was seen talking to the goaltender on the bench. Marner wouldn't share what was said but reiterated his support for the netminder.
"Jack's been our guy the entire year, "Marner said. "He's been there when we're at our low of making some massive saves and getting us big wins.
"We all expect the best, but we just want to make sure he believes in himself and he is that guy. That's the thing. He's that guy and he's just got to believe in it."
It's clear Campbell's confidence is at its lowest it has been in quite some time. With Toronto getting ready to load up before the Mar. 21 trade deadline, is it time for club to start looking at solutions in goal, or at minimum, some depth in case Campbell or Mrazek don't end up being the solution?
Goaltending was the reason a dominating performance by the Maple Leafs nearly slipped away. One thing seems certain. If Mrazek has a solid effort in his next start, that may open the door for Mrazek to challenge for more games than expected.
But is the current tandem the one that can guide the Leafs to post-season prosperity? That question hasn't been more pressing than it is at the moment.