Gophers advance to Frozen Four, Robertson skating, CHLers finish strong : Leafs Prospect Roundup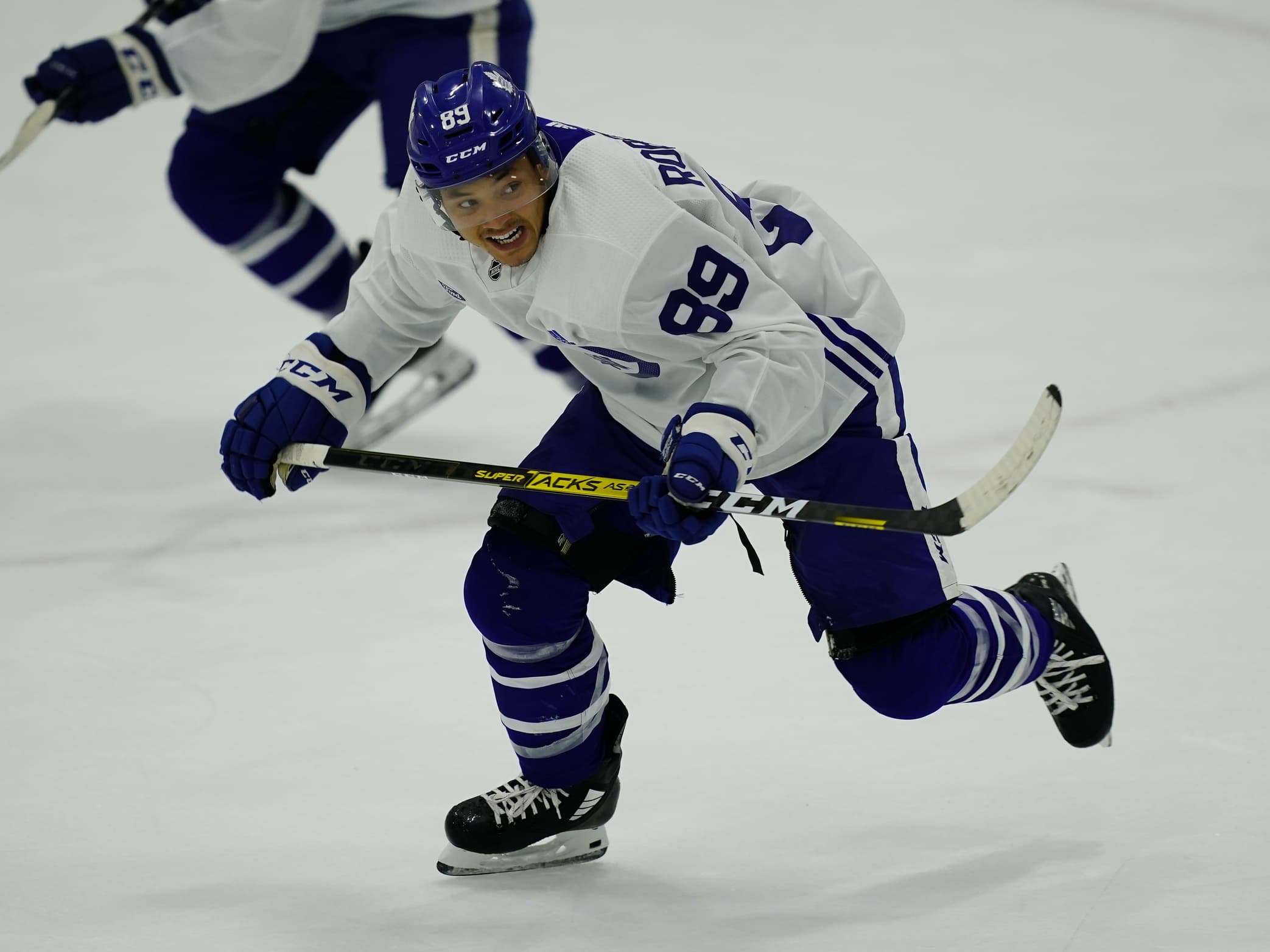 Photo credit:John E. Sokolowski-USA TODAY Sports
#KniesWatch is officially on hold for a couple of more weeks after Leafs prospects Matt Knies and Mike Koster helped Minnesota advance to the Frozen Four over the weekend, ending fellow Leafs prospect Veeti Miettinen's season in the process.
The Golden Gophers overcame an early scare in Thursday's regional semifinal against Canisius, mounting a comeback and then some to come away with a monstrous 9-2 victory. Down 2-1 early in the second period, Minnesota answered in short order as Sabres prospect Aaron Huglen fired in a wrister from the high slot that found the back of the net to tie the game. In the dying minutes of the middle frame, they pulled ahead for good, with Koster picking up his second assist of the game on a sweet backhand dish to Lightning prospect Connor Kurth.
What had been a tightly contested game up until that point fell apart for Canisius early in the third period when forward Stefano Bottini was assessed a five-minute major for a check to the head of Ducks prospect Jackson LaCombe. The Gophers took advantage of the opportunity, extending their lead with a couple of powerplay goals before eventually blowing the doors wide open with four more goals in the closing frame.
Oddly enough, most of the damage was done by Minnesota's supporting cast, and Matthew Knies was held off the scoresheet in the blowout victory. Despite not registering a point, Knies showed flashes of his high-end skill throughout the contest and nearly put the Gophers out in front just over halfway through the first period.
After disposing of Canisius on Thursday, the last hurdle standing in Minnesota's way of a spot in the Frozen Four was the St. Cloud State Huskies, who were sure to provide a stiffer test. The Huskies were coming off a tidy victory of their own over Minnesota State, whom they defeated by a score of 4-0 in their regional semifinal matchup. Miettinen, selected by the Leafs in the sixth round of the 2020 draft, helped lead the charge with St. Cloud's opening marker on the powerplay before adding an assist on a third-period insurance marker from Zach Okabe.
Saturday's regional final between Minnesota and St. Cloud State was a back-and-forth contest early on, and Knies made a spectacular play while shorthanded that almost put the Gophers up 2-0. Once again showing off his slick hands and supreme puck protection ability, he pulled the puck off the wall between three defenders and barely missed connecting with Huglen on the doorstep.
All three of Knies, Miettinen, and Koster were held without a point on Saturday, but Knies did play a part in Minnesota's insurance goal that came with under ten minutes left to play in the third period. Logan Cooley won the offensive zone faceoff cleanly, allowing LacCombe to step into a blistering shot that beat the Huskies' netminder, with Knies providing a perfect screen at the top of the crease.
The Gophers would go on to add an empty netter in the dying moments, securing the 4-1 victory and a berth in the Frozen Four. Minnesota is slated to take on Boston University in the national semifinal on April 6th, and if they are able to advance, they will play for the NCAA Championship on Saturday, April 8th.
Fans eager to get a look at Knies in NHL action will have to wait at least a couple more weeks, but these high-leverage games are providing great experience for the young forward as he prepares to potentially step into a Leafs lineup that has Stanley Cup aspirations.
As for Miettinen, he is expected to return to St. Cloud State for his senior year, and an entry-level contract with the Leafs doesn't seem to be in the cards for him in the immediate future.
Notes from the rest of the prospect pool:
Nick Robertson has been out of action with a shoulder injury since early December but was back on the ice this past week. After initially attempting to rehab his injury without surgery, Robertson went under the knife a couple of months ago and was subsequently ruled out for the remainder of the season. That prognosis hasn't changed, and he is still skating separately from the team, but getting back on the ice in any capacity is a positive development in his recovery.
As of yet, there has been no word on Topi Niemelä's potential arrival in North America. Niemelä's club was eliminated from the Liiga playoffs over a week ago, and a pair of his Kärpät teammates made the trip across the pond to join their AHL clubs prior to the weekend, so expect some clarity on his situation in the near future. It is still possible that the Leafs opt to have Niemelä begin his offseason early after a full Liiga schedule, with an eye towards his first NHL training camp next fall.
Fraser Minten and the Kamloops Blazers closed out their regular season last week with a 6-5 win over Seattle – their 21st victory in their last 23 games. Minten scored his 31st goal of the season in the contest, bringing him to a total of 67 points in just 57 games on the season. Kamloops finished second in the WHL's Western Conference with a record of 48-13-7 and are expected to make some noise in the playoffs before hosting the Memorial Cup later this spring.
Roni Hirvonen has had a few quiet games after a two-goal performance in game one of HIFK's opening-round playoff series. He notched an assist on his club's only goal in a game-five loss for his first point since game one, and he will be looking to get back on the board with HIFK hoping to clinch the series in game six on Monday.
Nick Moldenhauer continued his impressive season with a two-goal effort in a 5-4 shootout win for the Chicago Steel on Saturday. The goals were his 24th and 25th of the season, and he now has 14 points in his last 10 games. With eight games remaining on the Steel's regular season schedule, Moldenhauer is fourth in team scoring with 25 goals and 35 assists in 47 games despite missing seven contests earlier in the season due to injury.
With Sarnia's place in the standings locked, Ty Voit was held out of Sunday's season finale. It closed the book on a fantastic regular season for the Leafs' 2021 fifth-rounder that saw him finish second in OHL scoring with 24 goals and 81 assists in 67 games. Voit will begin the postseason on a 10-game point streak, with seven goals and 10 assists over that span, and he will be a key component in any success the Sting have in the playoffs.
William Villeneuve has shown steady improvement during his first full season with the Marlies, and looks primed to play a significant role in their push for a Calder Cup. He scored his third goal of the season on Wednesday, showcasing his heavy shot with a one-timer blast from the point on the powerplay. Through 49 games in his AHL rookie season, he has tallied 21 points while displaying growth in his mobility and off-puck play.
Alex Steeves is back with the Marlies and got onto the scoresheet with a pair of assists in Friday's 3-2 overtime loss. He was dangerous throughout the contest, firing seven shots on goal in a losing effort. Steeves has just about matched his point total from his rookie season, but it doesn't feel like he has taken a huge step forward in 2022-23. He is still an important player for the Marlies, and could work his way back into the Leafs' lineup if injuries start to mount up front.
Brandon Lisowsky is another Leafs prospect who ended his regular season on a high note, scoring a pair of goals in Friday's 3-2 win over Connor Bedard and the Regina Pats before tallying another and adding an assist in Saturday's season finale. The Leafs' 2022 seventh-rounder had a great season, finishing with 38 goals and 33 assists in 65 games, and will look to carry his strong play into the playoffs after leading the Blades to a third-place finish in the WHL's Eastern Conference.
Joe Miller and his Harvard teammates were eliminated in blowout fashion in their regional semifinal matchup, falling to Ohio State by a score of 8-1. It was a disappointing end to a strong freshman season for the 2020 sixth-rounder, as he finished with 13 goals and 15 assists in 33 games. He will take on a more prominent role as a sophomore with Harvard's top three scoring forwards, Sean Farrell, Alex Lafferriere, and Matt Coronato, signing with their NHL clubs over the weekend.
(Statistics from EliteProspects.com)