How should the Maple Leafs approach Jack Campbell and their goaltending situation?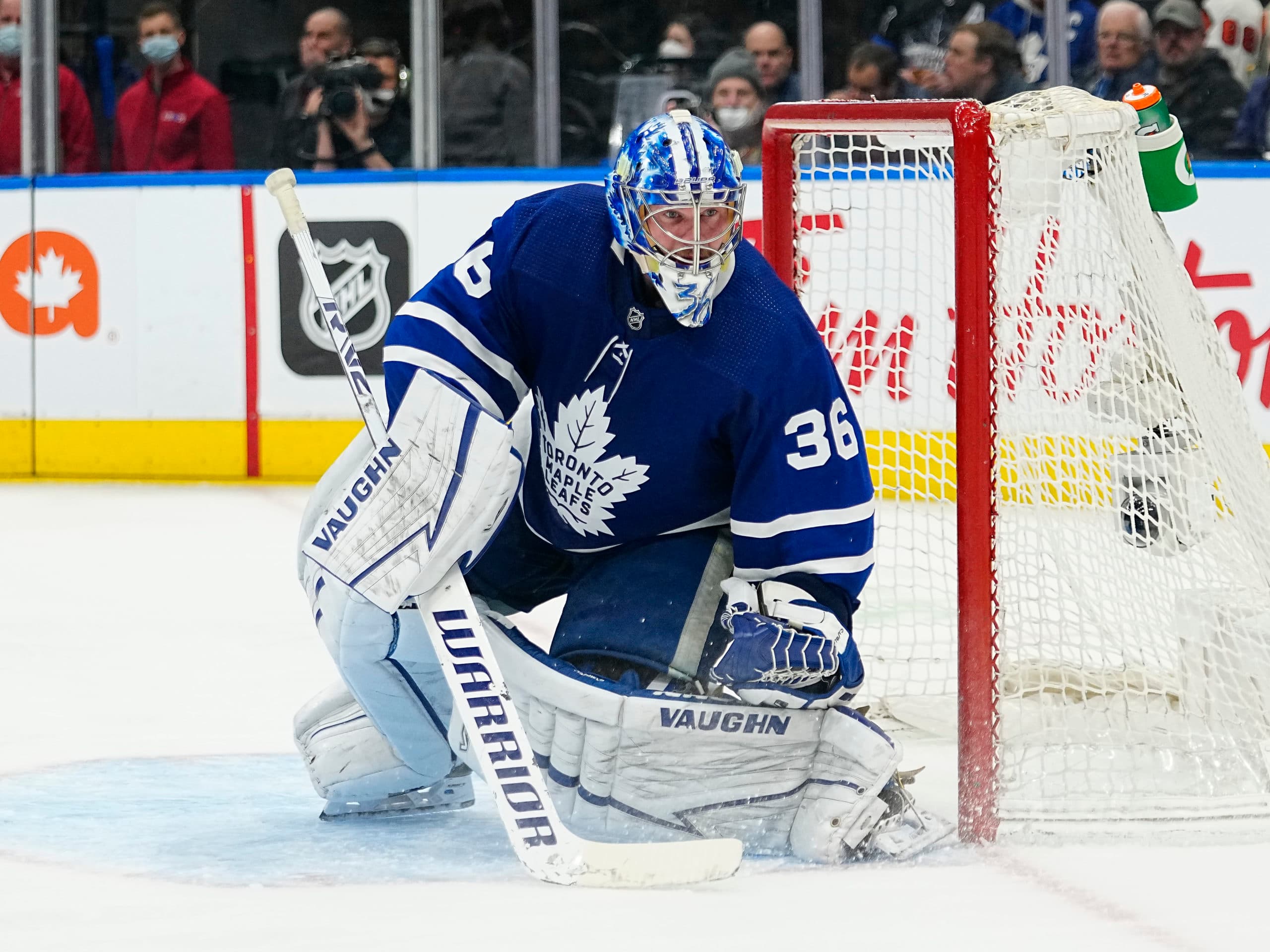 Photo credit:John E. Sokolowski-USA TODAY Sports
It is the biggest decision looming for the Toronto Maple Leafs heading into this summer. Do they retain pending unrestricted free agent goaltender Jack Campbell? If so, how much are they willing to pay? If not, what is Plan B?
These are the questions the club has to ponder just days after yet another first-round Stanley Cup Playoffs exit, this time at the hands of the two-time defending champion Tampa Bay Lightning. To be fair, this was going to be an issue for the Maple Leafs regardless of what happened in the post-season, but a successful run would have possibly provided more clarity on the situation.
Entering his first full season as the Maple Leafs' No. 1 option in goal, Campbell's year was mixed. He got off to a great first couple of months and was named the NHL's second star for the month of November after posting a 9-0-2 record in that span with three shutouts and a .959 save percentage. The performance helped him earn his first NHL All-Star appearance.
But when the calendar flipped from 2021 to 2022, Campbell's game began to slip. He posted consecutive months of save percentages below .900 in January and February. He played in two more games in March before he was shut down for over a month with a rib injury.
In April, he was shut down for another week with another undisclosed ailment and seemed to find his game again in time for the playoffs.
Although he played in a career-high 47 games, the Maple Leafs had hoped to see him play more. Campbell, who dealt with various injuries during the 2021 was thrust into a higher workload early on when newcomer Petr Mrazek — signed to a three-year, $11.4 million contract last summer — injured his groin in his very first start with the Leafs.
And while that might account for some of Campbell's troubles, the truth of the matter is the stability of the team's goaltending headlines the team's concerns in the latter half of the season.
In the playoffs, Campbell's results largely replicated his season (with the exception of injury). He had his moments, both good and bad. He  finished with an .897 save percentage.
Leafs organization needs to find what they want out of their goaltending situation
To say the Maple Leafs grossly miscalculated on their signing of Mrazek to a three-year deal would be an understatement. With approximately $7.8 million to spend under the salary cap and just 17 players committed for 2022-23, finding a way out of this mistake of a contract should be the first priority this summer. The Leafs placed Mrazek on waivers Mar. 20 and there were no takers, so giving him away for nothing doesn't appear to be an option. Toronto could buy out the goaltenders' contract. That would open up $2.767 million in cap space for this season. But by taking this course of action, the Leafs would see cap charges of $1.43 million in the two seasons following the original expiry of the goaltender's contract in 2024. The other option would see the Leafs part with an asset or draft pick to help ease the burden of having another team take on the contract. In any situation, there doesn't appear to be an ideal spot where having Mrazek on the roster at $3.8 million AAV makes any sense.
Give Campbell market value
The price for 1-A tandem goaltenders has skyrocketed in the last year. Boston Bruins goaltender Linus Ullmark signed a four-year, $20 million contract following a season where the 27-year-old played just 27 games and posted a .917 save percentage. Los Angeles Kings goaltender Cal Petersen signed a three-year, $15 million deal after playing in 25 games and posting a .911 save percentage.
Going by market value, an argument can be made that Campbell is deserving of a higher AAV, but perhaps would come down to that same number if he were to give Toronto a retaining discount.
"I just love being a Leaf," Campbell said in his season-ending media conference
Pursue other options
If the Leafs decide that they want to break the bank on new goaltender. Perhaps the trade route might be worth exploring. But that again comes with the parting of assets. Looking at the list of unrestricted free agents, one name that sticks out is Colorado Avalanche goaltender Darcy Kuemper. In the midst of completing his first season with the club after a trade from the Arizona Coyotes, perhaps a big money offer could be made to the pending unrestricted free agent that is coming off a contract that paid him $4.5 million per season.
What the playoffs told us about Campbell
Although Campbell had an excellent 2021 playoff debut, his numbers dropped in 2022. While they quality of the opponent was more difficult, there was one particular stat that stood out.
Through the seven-game series. Tampa had a 5-on-5 high-danger save percentage of .969. Toronto had .909. That number includes the 24:03 of even-strength shutout hockey that Erik Kallgren played in Game 4, meaning Campbell's actual number might have came in a touch lower than .909, per NaturalStatTrick.com.
***
Campbell is a fine 1-A goaltender, but we've come to the point where the Maple Leafs have to take a hard look and decide if a 1-A goaltender is good enough, or if they have to look harder at getting an established top-5 or top-10 goaltender in this league. The organization was afforded a mistake when they moved on from Frederik Andersen last summer as the change allowed them to clear a lot of short-term salary cap space. Now the Leafs don't have much of it left and their most vulnerable position still needs to be addressed.