Jack Campbell gave the Maple Leafs exactly what they needed to win Game 3 over the Lightning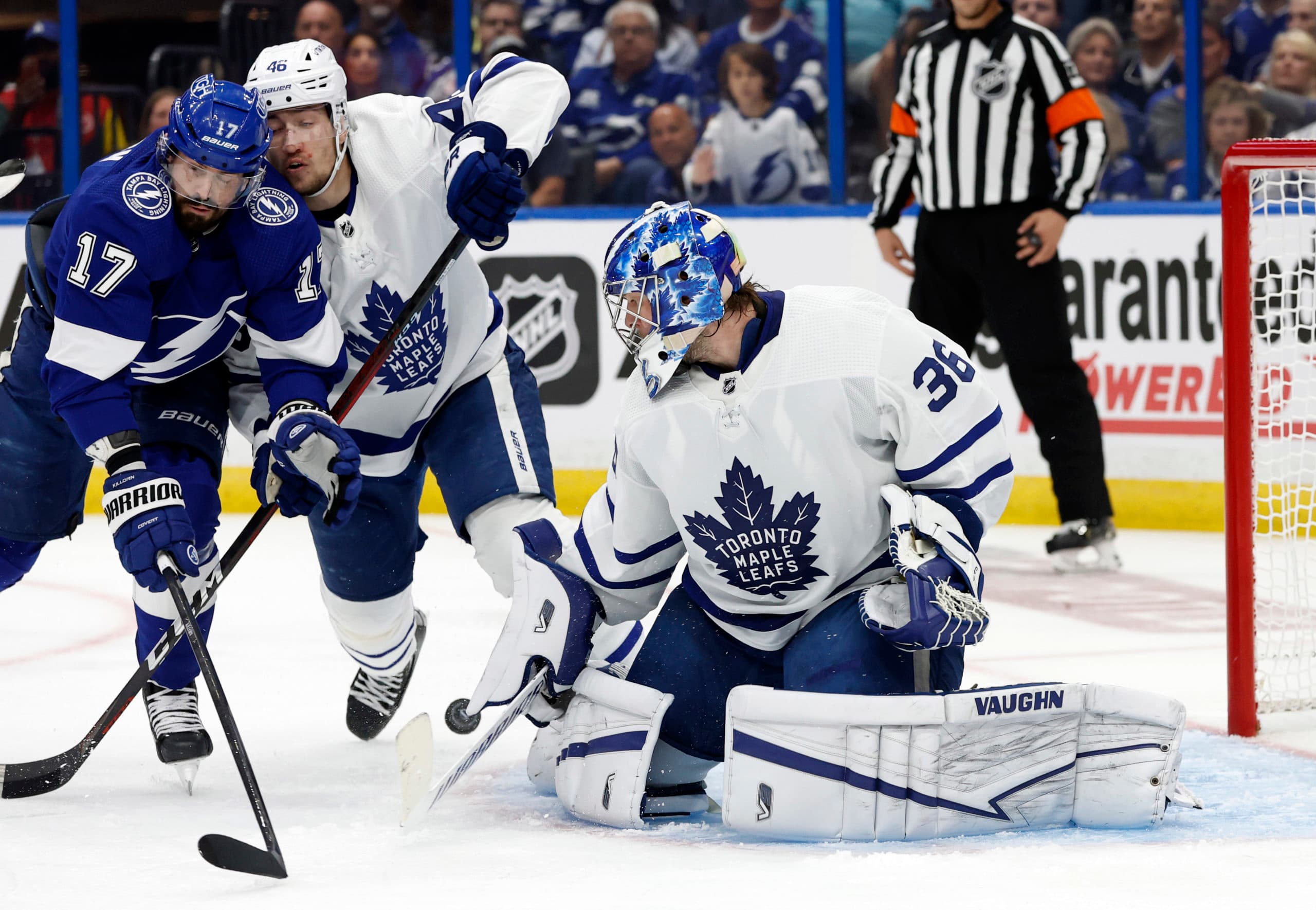 Photo credit:Kim Klement-USA TODAY Sports
TAMPA, Fla. — For all the questions the Toronto Maple Leafs faced about their goaltending heading into their first-round playoff series with the Tampa Bay Lightning, Jack Campbell is quickly putting those concerns to rest.
Toronto's starting goalie made 32 saves in a 5-2 victory against the Lightning. But the one save that will be talked about, at least for the next little while, is a third-period stop he made on Lightning star Steven Stamkos while his team was shorthanded.
"That was a pretty nice save and a pretty crucial time of the game, Auston Matthews said of his goalie. "He made a lot of saves but I think none bigger than that one at the end of the third there."
The Leafs were up 3-2 and trying to hang on to a lead after they had scored the first three goals of the game. The save was one of 13 Campbell had to make in the final 20 minutes as the Lightning attempted a late push.
The save on Stamkos occurred as the Leafs were shorthanded. Jake Muzzin was assessed a penalty for hooking when Tampa's Nick Paul drove to the net. Campbell stopped Paul with a toe save.
It was a busy night for Toronto's goaltender, who was called upon to make his first save of the game in the first 10 seconds — a slot chance from Tampa's Brayden Point that the goaltender handled with his chest.
But from there, Campbell was dialed in. And although he posted a shutout in Game 1, an argument can be made Friday's win on the road in Game 3 in the stressful situation they found themselves in was more impressive.
"There was a bit of a sense on the bench that it was going in," Maple Leafs coach Sheldon Keefe said of Campbell's save of Stamkos. "One of the great things about Jack is that he never gives up on a puck, he never feels like he's out of it, he found a way to keep it out."
When assessing the head-to-head matchup between these teams. There wasn't much debate how Toronto's skaters would hold up against Tampa.
The glaring mismatch in goal.
Andrei Vasilevskiy is not only a two-time Stanley Cup champion, but he was voted as the MVP of his team's 2021 cup run. He also won the Vezina Trophy in 2019. Meanwhile, Campbell went from Vezina consideration through the first two months of the season to a slumping three months that, at times, didn't seem to have a remedy in goal.
Right now, it's Campbell who looks like the better goaltender against Vasilevskiy, who has allowed 11 goals through three games.
"You want to be the best you can be and Vasi has proven how good he is over the course of his NHL career, it's a fun challenge," Campbell said. "I'd be lying if I said I don't want to do my best to beat him."
In addition to Campbell's effort in goal, the Leafs used special teams to help aid their first two goals against the Lightning.
Morgan Rielly kicked off the scoring in the first period with a power-play goal. He cashed int after initial shots from Matthews and Mitch Marner were stopped by Vasilevskiy.
Toronto made it 2-0 just minutes later when Ilya Lyubushkin — fresh out of the penalty box — set up Colin Blackwell to cap off a 3-on-1 scoring opportunity.
David Kampf also continued to show his unexpected scoring touch. He beat Vasilevskiy but shooting the puck through the legs of Lightning defenceman Zach Bogosian and past Campbell to make it 3-0.
Ross Colton and Ondrej Palat scored Tampa's only goals, while Ily Mikheyev scored two empty-net goals in the third period to put the game away.
It wasn't a dominant effort for the Leafs by any means. Without the advantage of the last line change. Matthews and Marner struggled for much of the game with Jon Cooper ensuring that Alex Killorn, Point and Anthony Cirelli were all on the ice for that matchup. That prompted Keefe to change things up.  He took Michael Bunting off the top line and placed Alex Kerfoot in his place.
The task for the top line won't get any easier until in Game 4,  But how many times have the Leafs had a 3-0 lead only to have it slip away in the third period?
The Leafs bent but didn't break and it helped them get home ice advantage back and in the toughest of those situations, Campbell rose to the occasion.
"I think it's a huge step," Keefe said of his team. "We're trying to be a team that wins these games and find a way to win them."
The series will continue to get physical and fewer penalties are likely to get called it moves along.
POINTSBET IS LIVE IN ONTARIO
PointsBet Canada has officially launched in Ontario! Get a $25 free bet just for 
signing up right here!