Jake Muzzin's rough start exemplifies Leafs' early struggles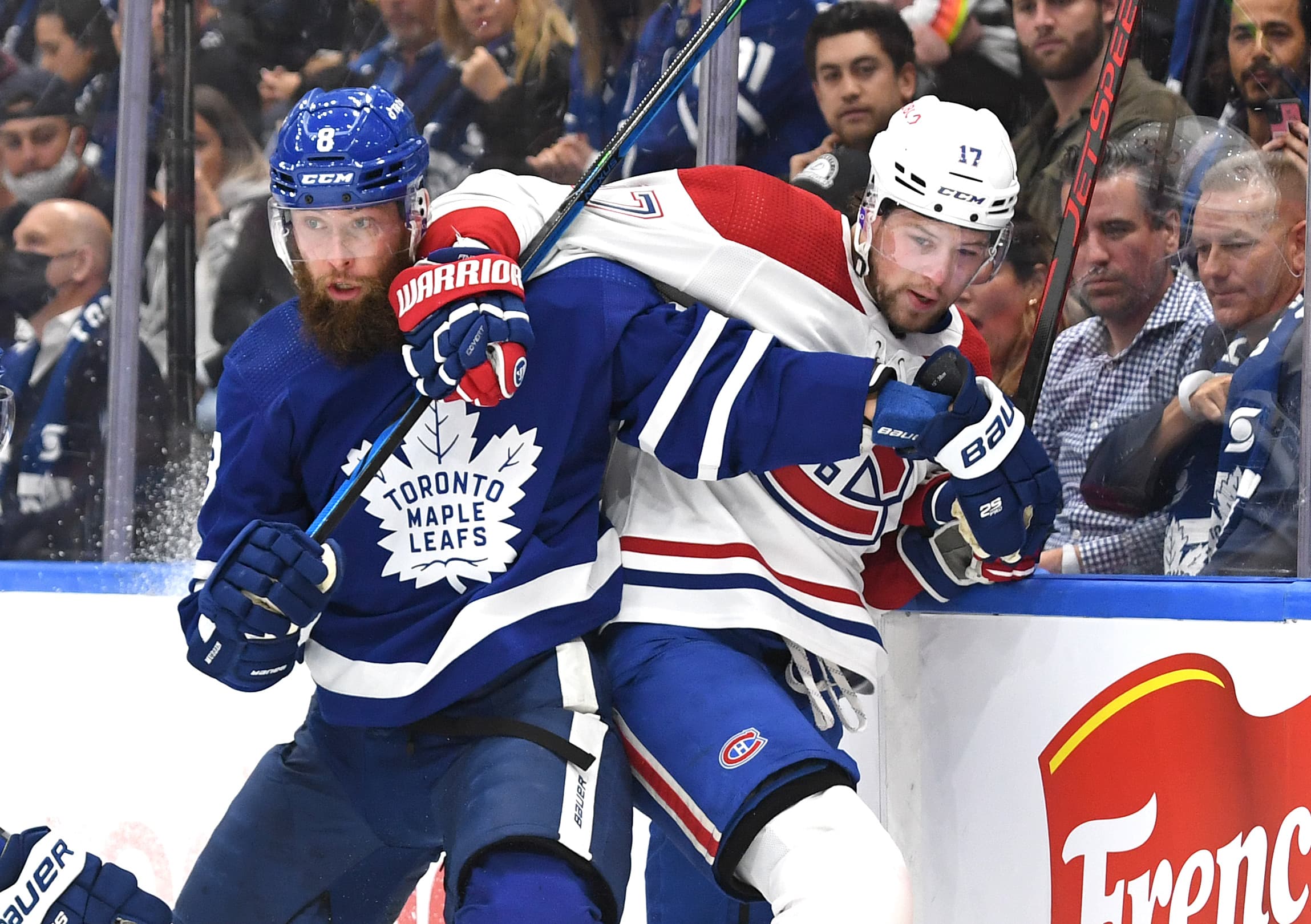 Photo credit:© Dan Hamilton-USA TODAY Sports
To say that not much has gone well for the Leafs through the early part of the season would be a massive understatement. They have dealt with injuries, their offensive stars have almost completely been held off the scoresheet and the team has struggled mightily to create offense in transition – something that has been a strength for this group in the past. The defensive unit hasn't been getting the job done either, namely the shutdown pairing of @Jake Muzzin and @Justin Holl who have excelled in that role in the last couple of seasons.
Given the team's overall struggles, it may seem unfair to point the finger in any one direction but Muzzin and Holl have stood out from the crowd so far, and for all the wrong reasons.
While Holl has found a way to complement Muzzin on that pairing in the past, it is no secret that the duo has been buoyed by Muzzin's experience and ability to handle difficult assignments against the opposition's best players night in and night out. Holl has obviously contributed to their success and they have clearly established strong chemistry together but he just hasn't looked like the same player when Muzzin has been forced to miss time.
Through the early part of this season, however, Muzzin hasn't looked even remotely capable of handling those heavy minutes – never mind propping up a partner who has been punching above his weight class for the better part of two seasons.
Now, you may recall that Muzzin got off to a slow start last year as well and that it was Holl who helped the pairing keep their heads above water. Muzzin found his game as the season wore on, and despite a bit of a dip in Holl's play, the pairing found success while shouldering a heavy workload. You could even make a convincing argument that Muzzin was their best all-around defender and their most important player on the back end last season.
That has not been the case through the Leafs' first seven games of the 2021-22 campaign. The veteran blueliner has performed poorly in just about every aspect of the game to this point.
He appears to be having trouble with the pace of play early on, regularly getting beaten to loose pucks and in battles along the wall in the defensive zone. When he does get the puck on his stick, he often looks unsure of where to go with it and has made some downright ugly pass attempts under pressure which have led to turnovers. Away from the puck, he has made a number of poor reads and is consistently losing battles for body positioning while being unable to keep attacking forwards out of dangerous scoring areas. Simply put, he has been a disaster early on.
This is not a play that Jake Muzzin gets beat on when he is on his game:
Muzzin is currently tied for the most giveaways amongst Leafs' defensemen and has yet to be credited with a single takeaway. He leads the team in hits taken by a large margin, perhaps illustrative of his difficulties moving the puck under pressure. He has been on the ice for 10 goals against at 5v5 and aside from his partner Holl who has been on for nine himself, no other defenseman on the team has been on the ice for more than five goals against while playing at 5v5. The only defensemen on the team that have a worse CF% or xGF% than Muzzin are Holl and rookie @Timothy Liljegren.
Though it may not feel like it for Leafs fans, it is still early in the season and it is understandable that head coach Sheldon Keefe wants to give his shutdown duo time to work out the kinks, but he may be forced to take action sooner than later if they don't turn it around quickly.
There isn't a clear and obvious solution to what has been ailing Muzzin and Holl – or the team as a whole for that matter – but it will be Keefe that is tasked with finding one. The Leafs' bench boss has thrown his defensive pairings into the blender a bit in recent losses to Pittsburgh and Carolina but it turned out to be too little, too late. The time to break up his pairings permanently, or at least adjust their usage, may be upon us.
Muzzin and Holl have played just over 20 minutes per game thus far and while they have been saddled with their fair share of defensive zone starts, it appears that Keefe has started to scale back his reliance on the pairing in those situations. They still aren't being given many offensive zone starts but Morgan Rielly and TJ Brodie have begun picking up some of the slack in terms of defensive zone draws. Holl leads the defensive unit with 26.2 defensive zone starts per 60 minutes played, Brodie is right behind him at 24.7, Muzzin ranks third at 23.6, and Rielly comes in fourth at 21.9. On the flipside, @Travis Dermott and @Rasmus Sandin have been given much easier minutes with 14.6 and 13.7 defensive zone starts per 60 respectively.
Sure, Dermott and Sandin have been fairly sheltered and they haven't been perfect either – Sandin in particular has had some rough moments – but for the most part, they have excelled through the early part of the season. Dermott leads the team with a 69.5 xGF% and Sandin is next best at 61.2 xGF%. Dermott is right behind Rielly for the team lead among defensemen in terms of goals against per 60 minutes at 5v5 as well. Is it time to see if Dermott or Sandin, or both, are ready to take on more responsibility?
Dermott has consistently put up strong underlying numbers on the third pair in his time with the Leafs but has only been given the opportunity to play higher in the lineup when injuries have forced the Leafs' hand. He is an exceptional skater who excels retrieving the puck and moving out of the defensive zone, he maintains strong gap control in defensive transition without putting himself in vulnerable positions very often, and he is able to disrupt plays with an active stick. Given the way that Muzzin and Holl have struggled to get the puck out or handle the speed of opposing attackers, it may be time to consider giving Dermott a look alongside Muzzin to help mitigate some of those concerns.
Even if Keefe decides to stick with the current setup, easing the burden placed on Muzzin and Holl by tasking Dermott and Sandin with some more difficult assignments would be wise. No matter how you slice it, Muzzin and Holl are not getting the job done right now and the Leafs have two younger options that have shown they deserve more responsibility or at the very least, a chance to show they are capable of more.
Set to turn 33 years old in February, it is fair to wonder if this is just another slow start or if this is the beginning of a legitimate decline in Muzzin's abilities. There are a lot of tough miles on his body and he has dealt with numerous injuries in recent years. He was limited due to injury at times during the preseason and he could very well be dealing with the lingering effects of that. If that is indeed the case, it is having a significant negative impact on his performance, and the team would be better served with him recovering while watching from the press box.
The shutdown pairing of Muzzin and Holl has been an anchor for this Leafs' team in the last couple of seasons but they haven't performed anywhere close to that level through seven games in 2021-22. A safe port in the past storms, Muzzin's early struggles have been emblematic of the Leafs' overall performance. Whichever way they approach it, getting him back to the level he has played at for most of his Leafs' tenure will be paramount in righting the ship and turning their season around. The Leafs are hoping he is still capable of being that player.
(Statistics from Evolving-Hockey & NaturalStatTrick.com)