Leafs by the Numbers: Nick Robertson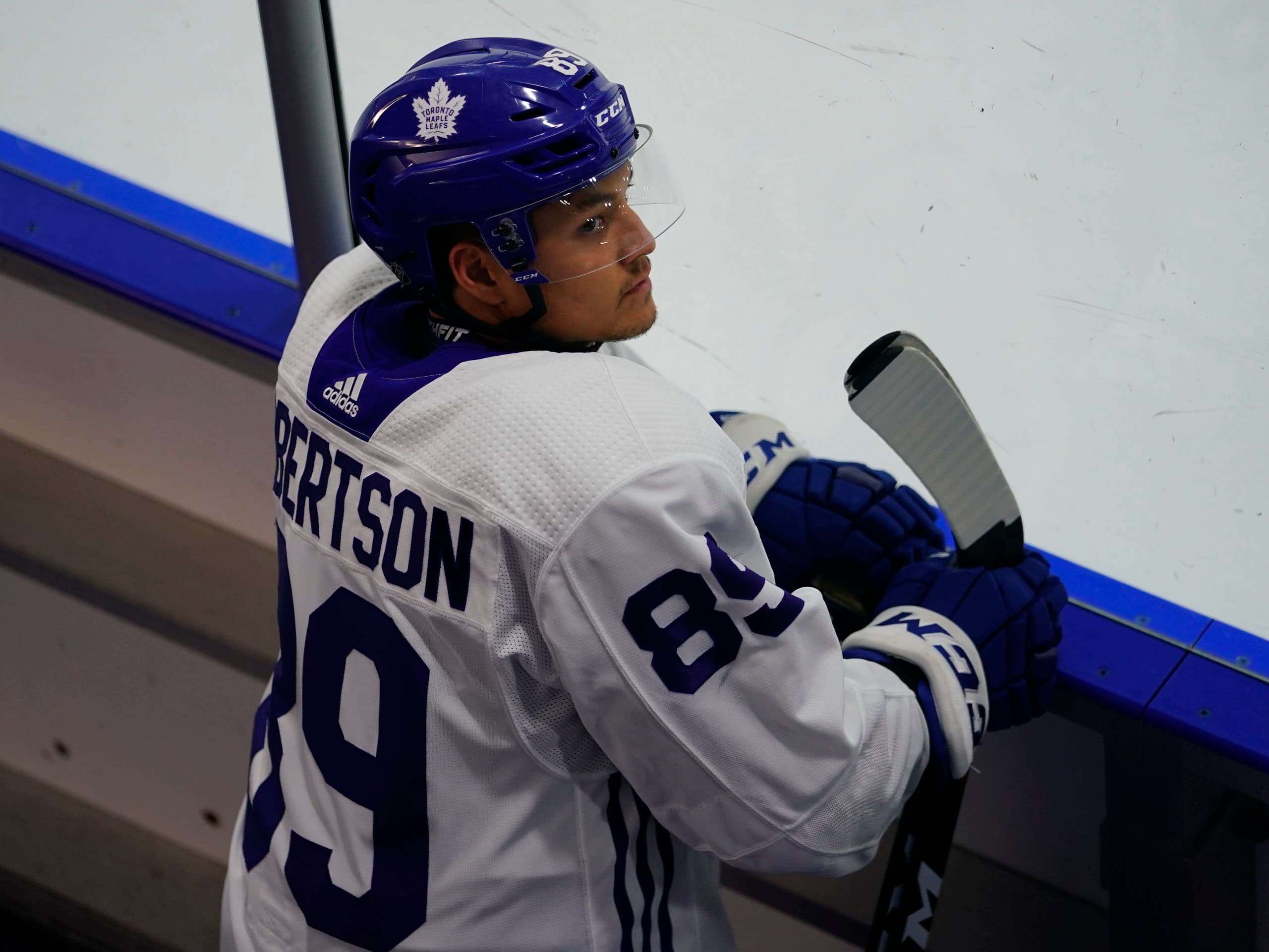 Photo credit:John E. Sokolowski-USA TODAY Sports
What can be said about Nick Robertson that hasn't already been said? He has quickly proven to be a potential draft steal following a phenomenal showing in the 2019-20 OHL season, played a big role on the US team during the 2020 World Juniors, and got to make his NHL debut in August.
All of that resulted in him being listed
number one on TLN's prospect ranking
, which is well deserved given what he's accomplished. Not bad for the second-round pick who was just days removed from the cut-off date to qualify for the 2019 NHL Draft.
It should come as no surprise that Robertson's number is 55.
They are the number of goals he scored for the Peterborough Petes prior to COVID-19 prematurely ending the season. He had scored 1.12 goals per game, meaning he could have finished with 81 goals if he kept up his pace over a 68 game OHL season.
That along with a strong work ethic is why he earned a chance to play for the Leafs in the play-in round against the Blue Jackets where he scored his first NHL goal and made history.
To put into perspective just how impressive Robertson's 2019-20 season was, consider that he finished the year with
the seventh-highest goals-per-game rate
in OHL history. That's higher than @Patrick Kane and current teammate @John Tavares. In terms of players 18 or younger, Robertson's total
was the third-best ever
, behind only Tony Tanti and Eric Lindros.
While there's no guarantee he will be a lock in the Leafs lineup for the coming season, his play in the bubble showed that
did not look out of place against NHL competition
. No one expected him to make the Leafs' playoff roster when training camp open but his work ethic and drive resulted in him willing his way into Toronto's lineup. He may have only finished with one goal in the four play-in games, but the fact he remained on the team for that long showed that he earned some trust from Sheldon Keefe.
Speaking of the goal
, Robertson's shot has already reached NHL levels in terms of its quality and execution. With more fine-tuning and a bit of luck with his linemates, there's no telling what his goal-scoring ceiling could be given that he is just 19-years-old. It will definitely give him an edge to be one of the first guys to brought off the taxi squad when the time comes for the Leafs to rotate some players in and out.
Here's the thing, Robertson has his eyes set on making the Leafs roster for the 2021 season. Since the Leafs were eliminated by the Blue Jackets,
he reportedly stayed in Toronto
to train in preparation for the season and to try and win a spot. It might explain why he wasn't invited to represent his country in Edmonton (along with quarantine delaying his earliest availability).
No matter what happens, Robertson has no doubt catapulted himself through the Leafs' farm pool to become one of the team's blue-chip prospects. It's been an amazing journey witnessing his development so far as he is inching closer to becoming a key member of the Leafs top-six. On a cap-strapped team looking to remain competitive, having Roberston as an option in their depth is nothing short of a positive boost for them.
This wouldn't have been possible were it not for his 55 goals in the previous campaign. It helped him earn a chance to play in the playoffs and now it's helping him compete for a spot in the lineup for 2021 and beyond.