Leafs Postgame: The worst piece of crap I've ever watched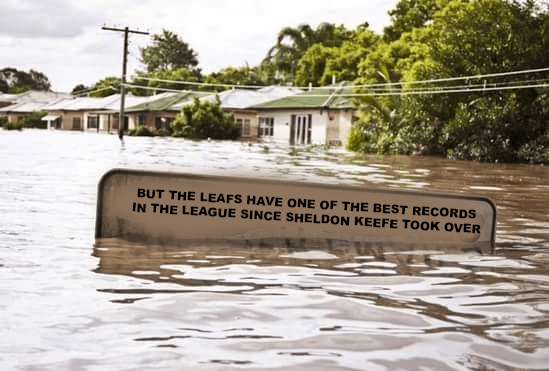 Okay, let's get through this incredibly quick. There isn't a whole lot of good to talk about. Presumably the Leafs players were able to dress themselves tonight. That's a positive. Tyson Barrie was able to return after being hurt, so he can be traded.
Asides from that, the Leafs managed to swiftly injure former Leafs James Reimer. Later, while already looking terrible they managed to injure Petr Mrazek, an incident that should have put them back into the game as they would be facing David Ayres, a goaltender who works with the Leafs and Marlies in their skills practices, and yes, as mentioned several times on the broadcast, is 42 years old and drives a zamboni.
Things looked encouraging on the first couple of shots as the Leafs quickly put the game to 4-3, but an absolute no show from Toronto in the third period resulted in a 6-3 loss, and David Ayres first win in the NHL.
Good for Ayres, and this is a special night for him, and he should enjoy every minute of it.
As for the Leafs, the amount of shame that should exist in this organization can't be measured. All they really needed to do was shoot. They didn't. All they needed to do was look like a quarter of the team they were on Thursday night, they were barely the Tuesday night Leafs. While the stakes might not have been as high, this is right up there with allowing a 4-1 comeback by the Bruins in Game 7. This is something good teams don't do. And actually, the Leafs aren't good. They can be, but work needs to be done before that happens.
Considering that we are less than 48 hours from the trade deadline, it's not a bad time to start overhauling the roster, which clearly has problems.