Leafs squander another in OT, fall 3-2 to the New York Islanders: Muzzy's Muzings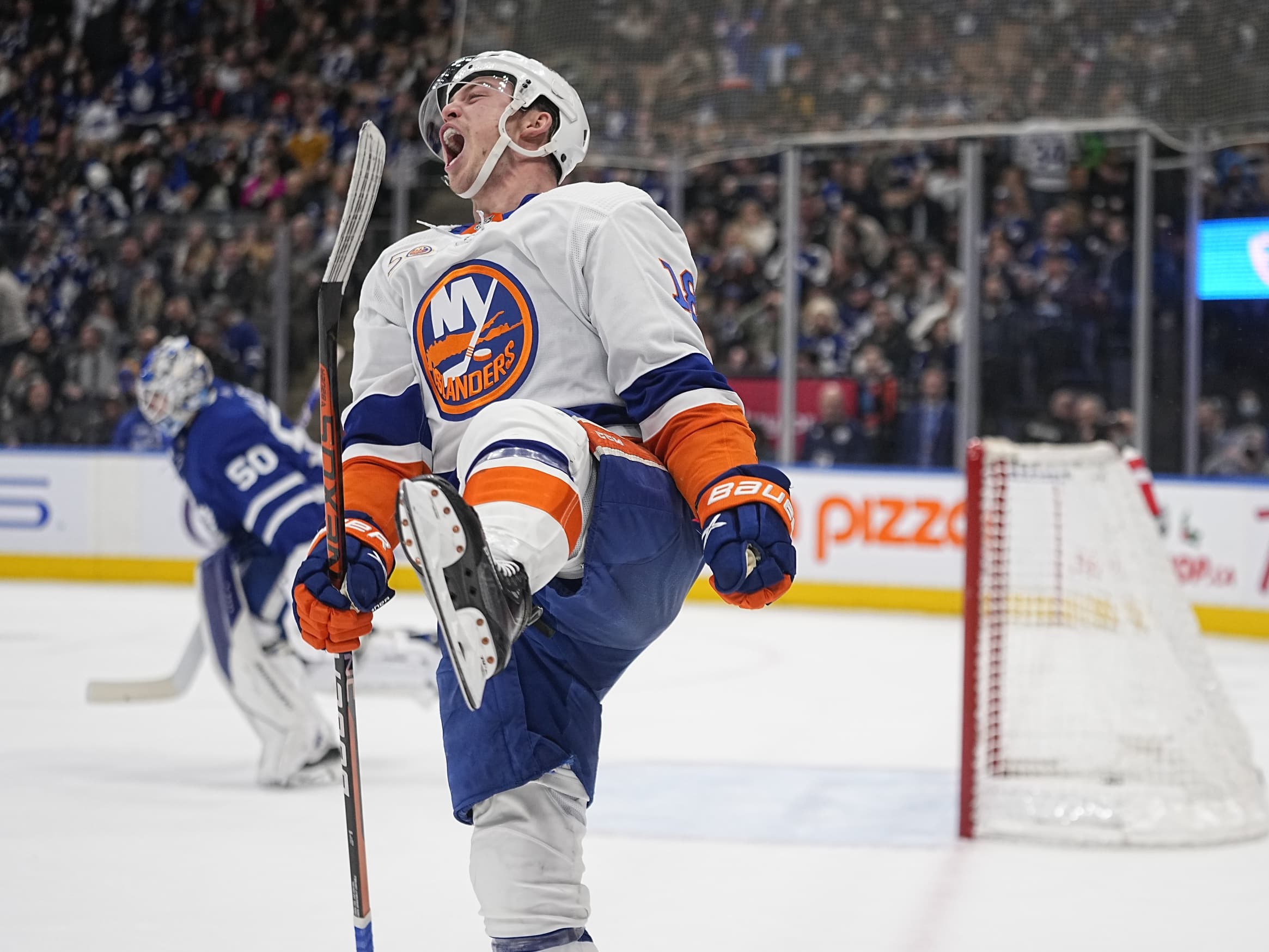 Photo credit:John E. Sokolowski-USA TODAY Sports
Another OT loss.
Lather, rinse, repeat.
Josh Bailey tied it late in regulation and Anthony Beauvillier notched the game winner 1:56 into the extra frame as the New York Islanders (12-8-0) came from behind to edge the Toronto Maple Leafs 3-2.
Furthermore, the Leafs fell to 6-1-3 in November and 10-5-5 overall. All in all, they played well enough to win, but again, they let one slip away in OT. John Tavares, who was playing in game No. 300 as a Maple Leaf, potted his 11th of the season. Meantime, Auston Matthews buried his 9th while Erik Kallgren made 21 stops in the loss. Mitch Marner extended his league-high point streak to 13 games.
The Leafs have notched at least a point in 10 of their past 11 outings.
 Muzzy's Muzings:
OT PROBLEMS
It's a comedy act at this point, no? Of course, it didn't help not having Morgan Rielly out there, they were sort of forced to trot Justin Holl out there. Honestly, for me, it makes no sense how or why a team this talented has so many problems playing 3-on-3. You think they would excel with more ice to dance. Oh well —at least this format isn't used in the playoffs.
MORGAN RIELLY INURY
Here's hoping it's nothing serious for Rielly. That said, the 28-year-old was unable to return after colliding with Kyle Palmieri in the third period. After the game, Sheldon Keefe disclosed it was an upper body issue that required further testing. BRUTAL. For what it's worth, Rielly's missed just one game since the beginning of the 2021 season.
RED HOT PP
After an ugly showing against the Devils last Thursday night, the Leafs power play has been on fire over the past few outings. They're snapping it around, and most impressively, they're not wasting any time out there. I can't believe how quickly they're executing; it's been pretty to watch.
BALANCE
Every line offered something different, it was impressive to see. The Leafs offence came in waves, the Islanders had a difficult time with their pace and speed. It's taken a while, but it really seems like Toronto is starting to find its identity. I thought the bottom-six was fantastic; they brought energy and played with purpose, that's all you can ask for if you're Sheldon Keefe. Everything's starting to fall into place. Also, Ilya Sorokin was fantastic. At this point, that's to be expected anytime you play the Islanders.
RASMUS SANDIN
Shoutout to Rasmus Sandin. The 22-year-old jumped to the aid of Auston Matthews after a cheap hit by Oliver Wahlstrom in the third period. I know he got pumped, but you love to see it. Rest assured, this type of stuff doesn't go unnoticed in the room. That's what I'm talking about. Well done, Ramsus!
Highlight of the Night:
 WHAT'S NEXT?
After falling 3-2 in OT last Thursday in Toronto, the Leafs will get another shot at the red-hot New Jersey Devils on Wednesday night, this time at the Prudential Center. The Devils have won 13 straight games, they haven't lost since Oct. 24. Six of the next seven for Toronto will be on the road.