Maple Leafs' Muzzin and Campbell 'less than 100 per cent', Kallgren to start vs. Sabres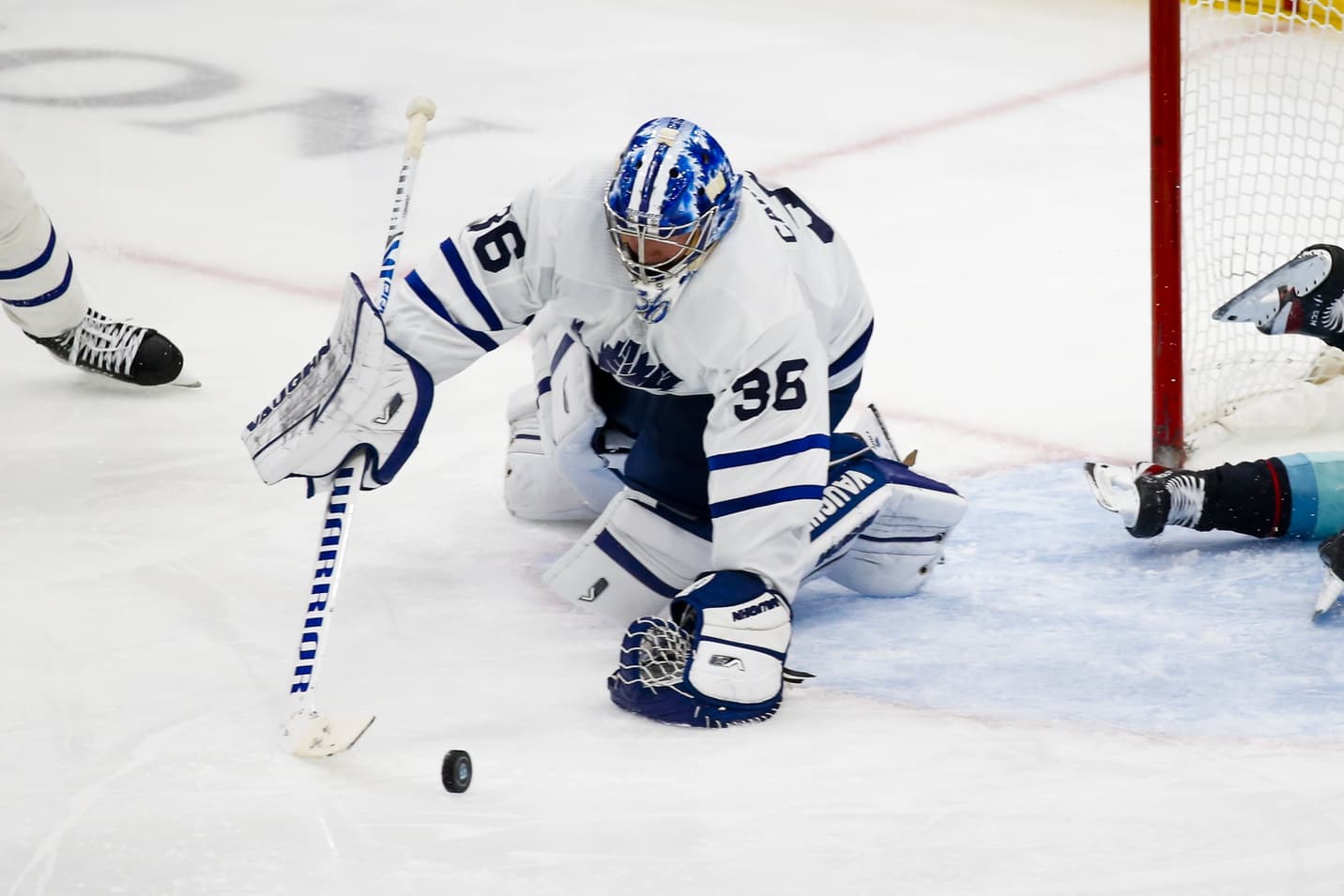 Photo credit:Joe Nicholson-USA TODAY Sports
Three games removed from his return to the ice following his second concussion of the season, Toronto Maple Leafs defenceman Jake Muzzin will sit out of the team's next game on Tuesday at home to the Buffalo Sabres.
"He's dealing with some right now not related to what he just returned from but he's dealing with something again," Maple Leafs head coach Sheldon Keefe said following practice on Monday. "He's less than 100 per cent here and needs a couple of days to settle down a little bit. He's not going to play tomorrow, but we're hopeful and expecting he'll be available after that."
Muzzin was a full participant during practice. He skated as the seventh defenceman as Toronto experimented with new defensive pairs.
Morgan Rielly skated on the top pair with Timothy Liljegren. They last skated together at the 2022 Heritage Classic on Mar. 13 against the Sabres. TJ Brodie will play with Justin Holl. The middle pair has had some success working together when Brodie was first moved off of the right side to play on the left, the same as his shooting side. Mark Giordano will skate with Ilya Lyubushkin in a newly-formed pair.
Giordano is more familiar with Lyubushkin as an opponent rather than a teammate. Both players clashed with each other in several Pacific Division matches with their former clubs.
"Not everyone knows that he's a really good playmaker," Giordano said of Lyubushkin. "He makes little plays in his own zone to break out the puck."
The Maple Leafs continue to experiment on the back end and Muzzin's absence certainly forced a bit more experimentation. With just 10 games remaining in the regular season and injuries to deal with, Keefe wasn't committed to having the ideal look on defence locked in before the playoffs begin in May.
"I
don't
know
that we'll
ever
necessarily
settle
here
in
these
final
games," Keefe said.
 "B
ut
I'm
confident
that
what
we
start
with
in the
playoffs
will be
something
that
we're
comfortable
with
and
we have
ample
time
to
play
itself
out
here."
One player who had been part of the team's top-six on defence for the majority of the season is Rasmus Sandin. He's been out with a knee injury he sustained against the Nashville Predators on Mar. 19. Sandin skated before the practice but appears to still be weeks away from a return.
"I don't know if he's going to be available before the end of the regular season or not," Keefe said of Sandin. "If anything, I suspect that it wouldn't be until that final week."
The Maple Leafs continue to monitor to the workload of goaltender Jack Campbell and he'll serve as the backup to rookie goaltender Erik Kallgren for the second consecutive game on Tuesday.
Campbell did some work before practice and left shortly after the main group started. Although not unusual for Campbell as the team has monitored the goaltender's workload after an injury-filled couple of years, there was the admission that like Muzzin, the goaltender isn't 100 per cent.
"I would say a bit below 100 per cent and nothing to do with his previous injury," Keefe said of Campbell. "But at this time of year with everything going on and Kallgren playing the way he did, just a little bit below 100 (per cent) is enough for us to give him an additional couple of days here and get him ready for Thursday."
Kallgren made 24 saves on 26 shots in a 3-2 win against the Montreal Canadiens on Saturday.
NOTES
Auston Matthews was named the NHL's first star of the week after he scored seven goals and added four assists in four games. He currently sits a franchise record 58 goals this season and leads the NHL. Matthews missed Monday's skate for maintenance.
Ondrej Kase has been officially diagnosed with a concussion. It's another setback in the Czech forward's long road back to the NHL. When he's been healthy Kase has been a product player who split time between the top and bottom six. He has 14 goals and 13 assists in 50 games this season.'
Wayne Simmonds was asbent at practice due to an illness, according to Keefe.
POINTSBET IS LIVE IN ONTARIO
PointsBet Canada has officially launched in Ontario! Get a $25 free bet just for 
signing up right here!