Michael Bunting skates but will not play this week for Maple Leafs, Jake Muzzin returns Tuesday against Red Wings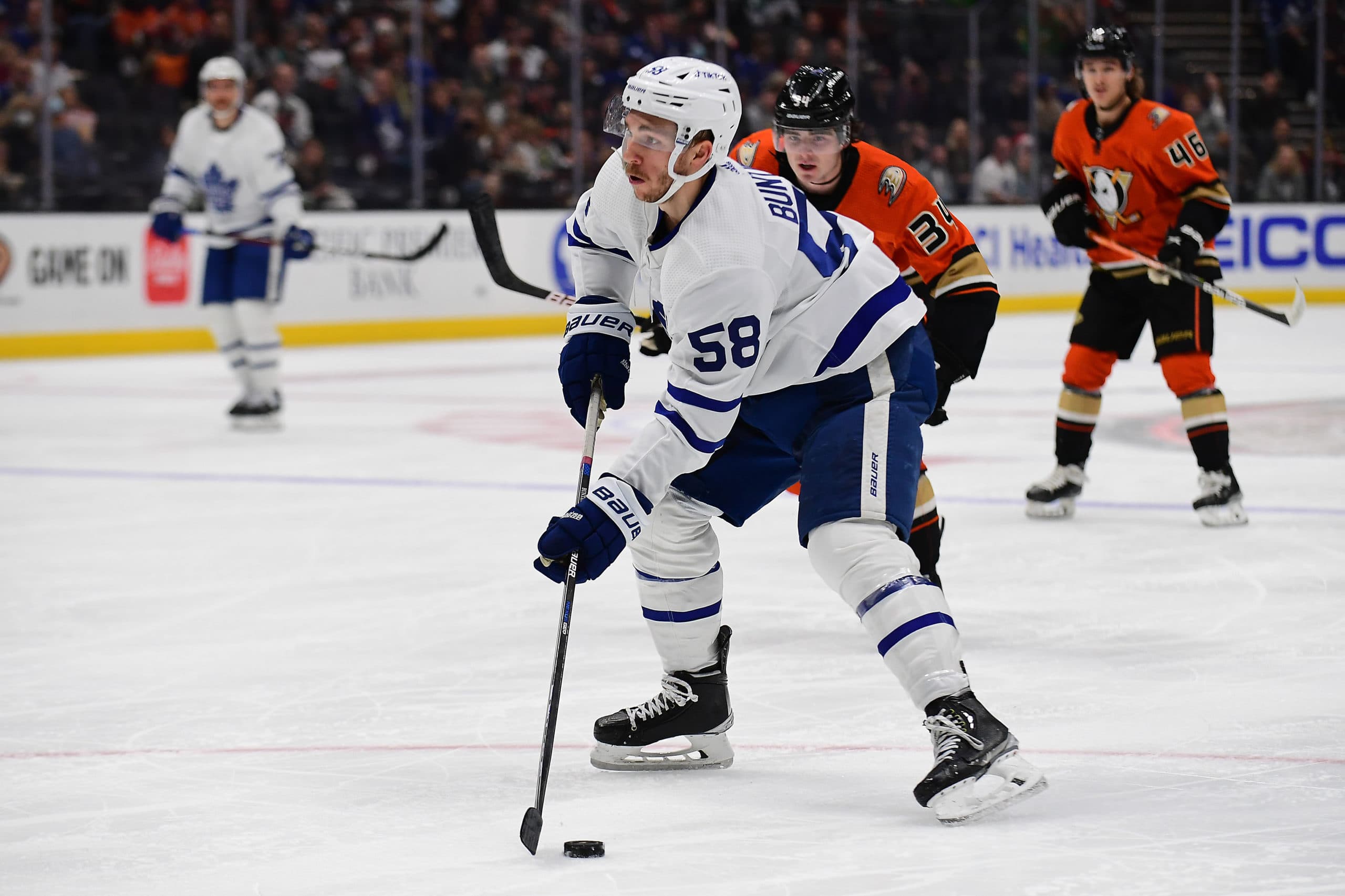 Photo credit:Gary A. Vasquez-USA TODAY Sports
Toronto Maple Leafs forward Michael Bunting has played his last game in the regular season as the team tries to preserve the forward's health ahead of the 2022 NHL Playoffs.
Bunting was on the ice skating before his team took the ice, just days after the forward came out of the lineup during the team's 3-2 overtime loss to the Florida Panthers.
"A positive sign," Maple Leafs head coach Sheldon Keefe said of Bunting skating. "He's not going to play this week and then we'll reevaluate him from there, but things are mostly positive on that front."
Bunting's injury is undisclosed and following the game where he was injured Keefe said the forward was expected to "miss some time." He'll miss Tuesday's game against the Detroit Red Wings and the regular season finale against the Boston Bruins on Sunday.
Bunting has been a good find for the Maple Leafs. Signed to a two-year, $1.9 million contract this past summer, the forward found a home on the team's top line alongside stars Auston Matthews and Mitch Marner.
The 26-year-old has 23 goals and 40 assists in 79 games.
The Maple Leafs have been using different players on the top line in Bunting's absence including William Nylander, Colin Blackwell and Nick Abruzzese.
Alex Kerfoot will skate with Matthews and Marner on Tuesday.
Jake Muzzin returns
Toronto Maple Leafs defenceman Jake Muzzin will return to the lineup after missing the last six games with an undisclosed injury.
"I think it's good for him to get the game reps and to maintain his confidence as he gets ready to go," Keefe said.
Muzzin has been limited to 45 games this season after he missed long stretches with two different concussions. Prior to his injury issues, the player had been struggling to capture the form the team had been used to his tenure in Toronto.
With decisions to be made on defence, Muzzin's performance over these next two games could hold more significance about the team's playoffs lineup than any other skater over the same period.
Rasmus Sandin closer to returning, Ondrej Kase skates with the team
Rasmus Sandin also skated with the team and it looks like his return could be closer than that off Kase.
"He's got some appointments to get through today and if that goes well I think you'll see him join our team for practice and then take it from there," Keefe said of Sandin.
The Swedish defenceman has been out with a knee injury since Mar. 19.
If the Leafs have any intention of getting Sandin for the team's final regular season game on Friday, they'd have to find some cap space to active him from long-term injured reserve.
Sandin carries a cap hit of $894,167 and the team has approximately $351k per PuckPedia.com.
The 22-year-old defenceman has five goals and 16 points in 51 games this season.
Ondrej Kase skated with the Maple Leafs in a morning skate session for the first time since suffering his latest concussion setback on Mar. 19 against the Nashville Predators.
"It's a very important step for him," Keefe said of Kase's presence.
There is no timeline for the forward's return. Kase was voted as the Maple Leafs' nominee for the Bill Masterton Trophy on Monday. The forward has battled his way back into the lineup from various setbacks in his health this season.
When healthy, Kase has been an effective player. He has 14 goals and 27 points in 50 games this season.
Petr Mrazek back on the ice
Toronto Maple Leafs goaltender Petr Mrazek skated with three different members of the team's coaching staff before morning skate on Tuesday.
Mrazek injured his groin for the third time this season on Mar. 29 in the first period of his game against the Boston Bruins.
The Czech goaltender has been skating in Toronto while the team was away on their three-game road trip.
"I don't have much of an update in terms of where he's at in terms of full health but he's progressing well."
At the time of the injury, the Leafs announced the goaltender would miss a minimum of six weeks.
If the Leafs go on a deep playoff run, he could be available in the event Toronto has to look into their depth of goaltending beyond Jack Campbell.
Signed to a three-year, $11.8 million contract in July, Mrazek is 12-6-0 with an .888 save percentage in his first season with the Maple Leafs.
POINTSBET IS LIVE IN ONTARIO
PointsBet Canada has officially launched in Ontario! Get a $25 free bet just for 
signing up right here!