Michael Hutchinson is the Leafs third string goaltender and that's fine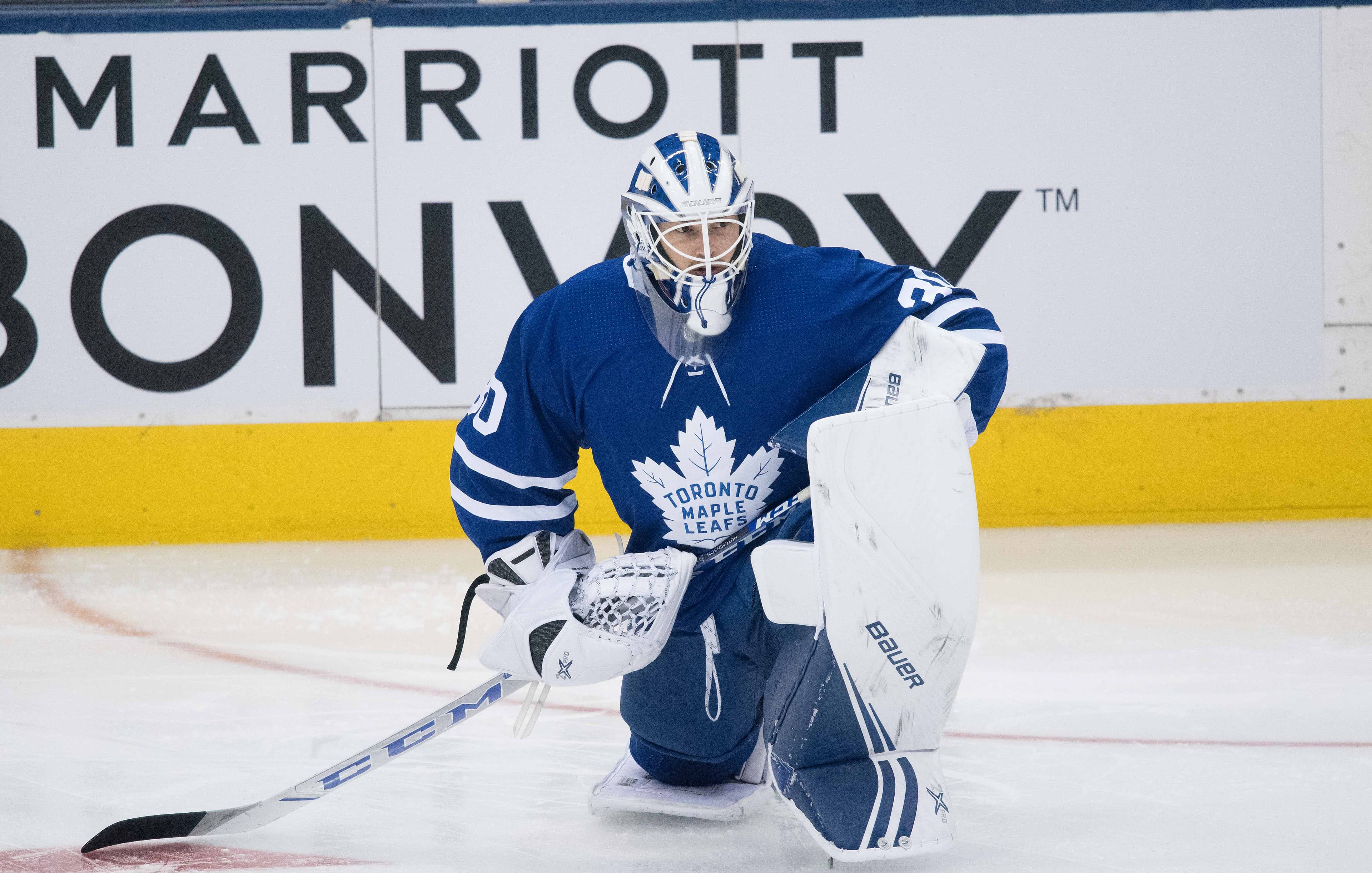 Photo credit:© Nick Turchiaro-USA TODAY Sports
Aaron Dell was going to be a very nice luxury in the right year to have goaltending depth. Combine the Leafs cap realities with the fact that New Jersey and Washington lost established goaltenders before the season even started, and it took all of a day into the season before the Oilers were without half of their tandem, in losing Mike Smith, it was clear that Aaron Dell was going to be short-lived as a Leaf, and the Plan B of Michael Hutchinson was going to be an unfortunate reality of the season.
Most of our memories of Michael Hutchinson come from last season, where he was not particularly good in his backup role to Freddie Andersen. The more the team needed to rely on him, the more he seemed to disappoint. That stems from the fact that Hutchinson isn't quite an NHL goaltender, but he has been able to thrive in the third string role.
Throughout Hutchinson's career he has bounced between the AHL and the NHL. It has been five seasons since Hutchinson spent the full year with a NHL team. Third string is his wheelhouse, and here he is. Would Dell have been better? Yes. Is he still an option? No.
Hutchinson's career averages out to be…well…average. He's a .905 save percentage goaltender, and he finished up last season with a .910 save percentage for the Colorado Avalanche in the playoffs. I wouldn't go so far as to say that he worked out well for the Avs, but considering that the third string goaltender is meant as a stop gap, the fact that he couldn't carry a team through the playoffs isn't 100% on him. Expectations need to be reasonable.
If there's a point to any of this it's that the majority of the league is in the same boat or worse off than the Leafs. Hutchinson is as good an option as anyone has, and there's always hope that Joseph Woll or Ian Scott will earn a look as well.
Looking at other options around the league, well, we can wait and see if Anton Forsberg or Eric Comrie hit waivers again. Eric Comrie is certainly an interesting option, as he was once a highly touted goaltending prospect, and still only 25 years old. There is a very real chance that he could clear waivers if he's claimed and immediately waived to get him to the taxi squad, but there is the small matter of his numbers being far worse than Hutchinson's at the NHL level. While his early career struggles may mirror those of Jack Campbell in his Dallas days, there's no guarantee that Comrie figures it out. Hutchinson is not a bad option, and perhaps the biggest reason not to panic is that the Leafs are comfortable with their options in net already sitting in the NHL, and Hutchinson wouldn't see a start outside of worse case scenarios.
Stepping all the way back for a minute and looking at the totality of the Leafs situation, the third string goaltender position doesn't even register on the radar of what needs to be addressed with this team. Freddie Andersen has helped make goaltending depth an issue to start the season with his slow start, but even considering that we are probably a month away from any serious change in who is regarded as the starter of the team. If we want to freak out about goaltending, let's start with Andersen having an .839 save percentage in his first two games. While that may force our hands in caring about third string goaltenders, right now let's focus our goaltending concerns on the 1st string.