Nick Robertson to make Maple Leafs season debut Saturday against Red Wings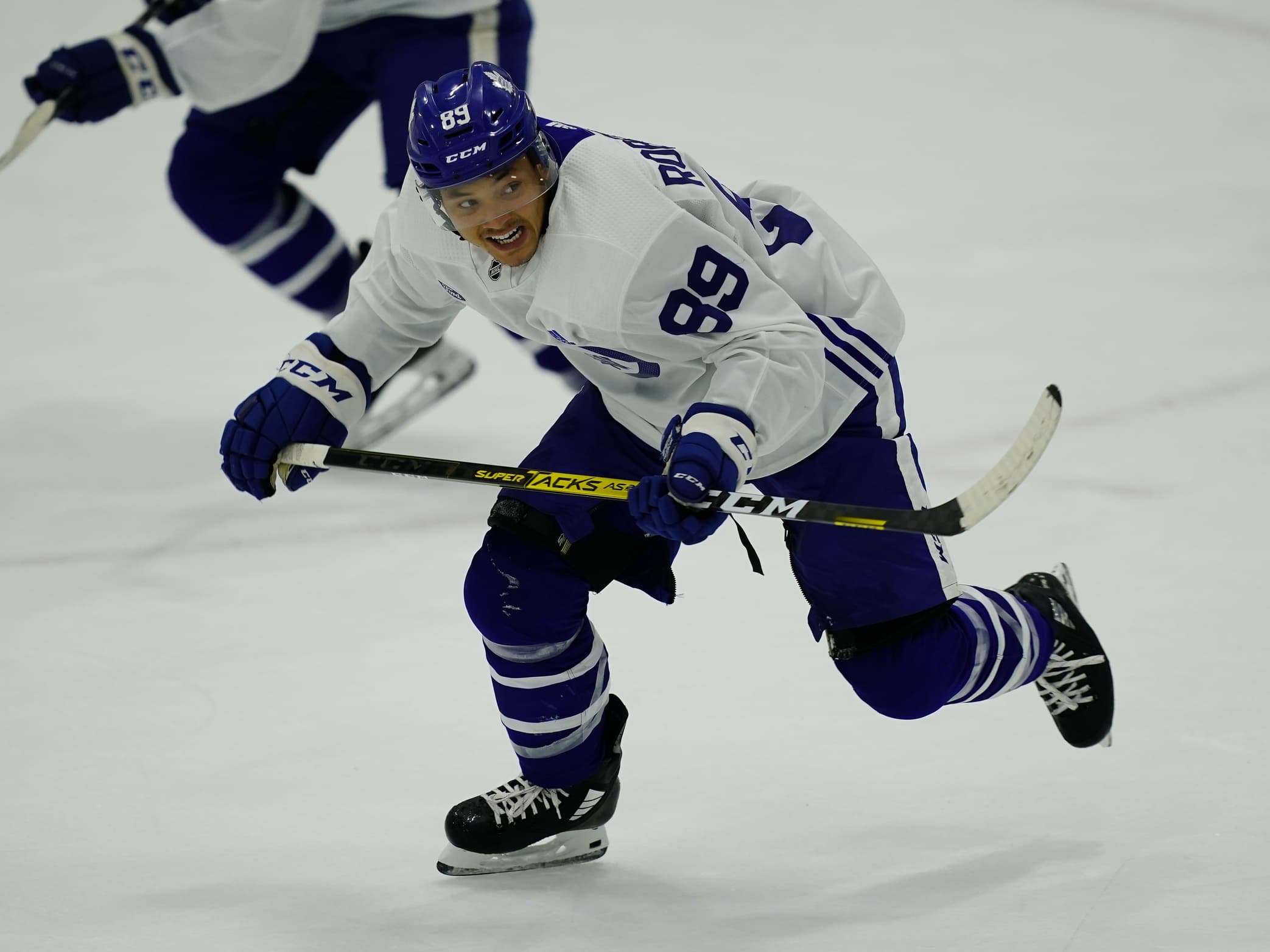 Photo credit:John E. Sokolowski-USA TODAY Sports
Nick Robertson will get his first taste of NHL action this season.
The Toronto Maple Leafs forward will be in the lineup when they visit the Detroit Red Wings on Saturday at Little Caesars Arena.
"We're going to put him in a game and adjust from there," Maple Leafs coach Sheldon Keefe said following practice on Friday. "We want to give him some more experience and an opportunity to grow."
https://www.instagram.com/tv/CaaF78zJ5R3/?utm_source=ig_web_copy_link
Robertson was called up from the Toronto Marlies earlier in the morning. That brought the club to the maximum allowable amount of players on the active roster (23) for the first time this season. Some added salary cap space and roster flexibility opened up when veteran defenceman Jake Muzzin was placed on the long-term injured reserve on Wednesday.
"The situation and circumstances that we're in, it created an opportunity for a player we believe in," Keefe said of Robertson.
Considered to be the team's No. 1 prospect, Robertson's has had an injury-plagued career. This season, the forward missed nearly four months with a broken leg.
"The whole year of 2021 was pretty much downward and upward,"
Robertson told TLN's Nick Barden
. "Now that the new year, 2022 is here, I'm trying to make this my year and move forward and kind of put the injuries past me and do what I can do."
Forwards John Tavares, Ilya Mikheyev, and Pierre Engvall all missed practice with a Non-COVID illness that made its way to the dressing room.
Mikheyev left yesterday's 3-1 victory against the Minnesota Wild with the same bug.
Defenceman Travis Dermott took the ice before practice began, but left due to the same illness.
Tavares is expected to play tomorrow, while one of Mikheyev or Engvall will sit out for Robertson, depending on availability.
At practice on Friday, Robertson skated on the team's fourth line alongside Jason Spezza and Wayne Simmonds.
With several players missing, Keefe didn't put too much stock into what the lines would look like. That included Kyle Clifford doing spot duty on the club's second line. With the Maple Leafs a forward short, assistant coach Manny Malhotra subbed in for line rushes.
Robertson played six games with the Maple Leafs last season where he registered just one assist. Toward the end of his last run with the club, they tried him on the second line alongside Tavares and William Nylander. That won't happen this time around, at least to start. But with some of the added roster flexibility afforded to them as of late, the time is now to see what Robertson can do.
Jack Campbell back in net
Despite a solid showing by Petr Mrazek on Thursday, the Leafs will go back to Jack Campbell in goal vs. the Red Wings.
"I don't want there to be too far gaps for either of our guys the rest of the way," Keefe said of the decision. "That's part of it but this one to me is just as simple as wanting to get Jack back in. Petr playing the last time against Detroit, it's Jack in his home state, it's as simple as that for me."