Notes and quotes from Day 1 of Maple Leafs development camp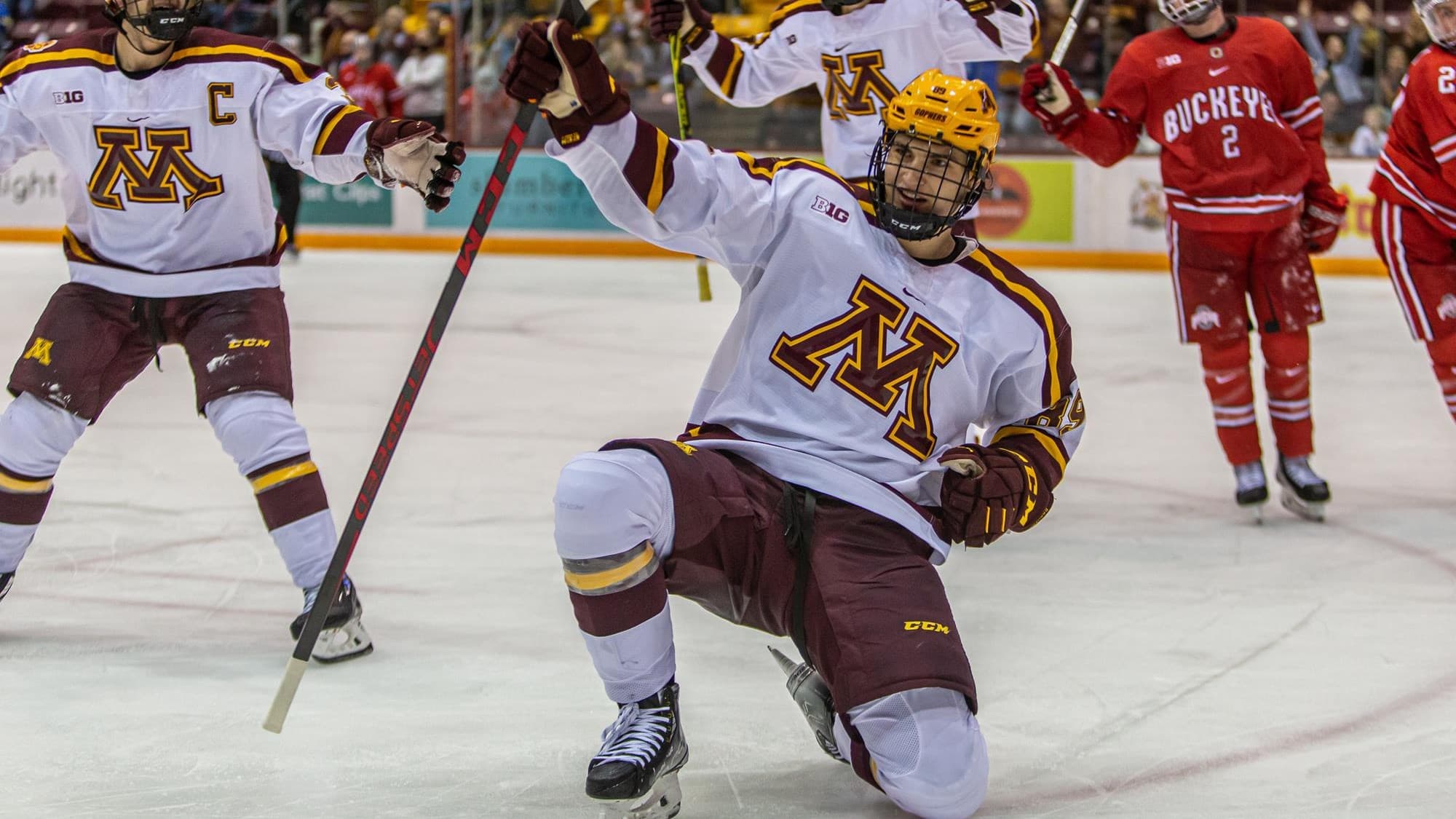 Photo credit:gophersports.com
Development camp is finally here! For the first time in three years, the Toronto Maple Leafs are hosting their development camp in the regularly slotted time frame in July with both CHL and NCAA prospects in attendance, in addition to a few others from the professional ranks.
The Leafs had multiple availabilities on a busy Day 1 of dev camp, including the head of the player development department, Dr. Hayley Wickenheiser, as well as Toronto's first picks in the 2021 and 2022 drafts in Matt Knies and Fraser Minten.
Without further delay, let's dive into things.
Dr. Hayley Wickenheiser
On her promotion to Assistant General Manager
"Nothing changes in the day-to-day of what I've been doing here the last year and a half. It's obviously a huge honour to be working here with the Leafs. I love what I do every single day, it's been great."
It's not a surprise to see that despite the promotion to Assistant General Manager, Hayley Wickenheiser's role remains essentially the same with the Maple Leafs. The promotions of Wickenheiser, Ryan Hardy, and Darryl Metcalf were less about assigning new tasks and more about re-organizing the titles in the organization.
On Matt Knies' decision to go back to the NCAA
"Physically, [Matt Knies] is a big boy. He's got all the tools. There's a lot of respect that goes to the players to understand where they are at this point in time in their career and what they might need. He fully knows where he stands in the order of where his career might go. We have no problem being patient with him, we look forward to seeing his trajectory over the course of the season."
On what they want to see from Knies this season 
"We want him to dominate every time he steps on the ice. Physically, he's very imposing. He's got a great shot. He needs to continue working on his skating and his mobility. Every time he's on the ice, he can make an impact on the game in key moments. To see his leadership at that level in the NCAA, that will set him up well for what might happen here later in the season."
To my previous point regarding Knies' return to the NCAA, he was great as a freshman but wasn't truly dominant. He was a point-per-game and controlled games more frequently as the year went along, but there is still more for him to accomplish at that level.
First impressions of @Fraser Minten
"I really like Fraser [Minten], what a smart kid. He has a very high IQ, both in hockey and away from the rink. He's a really interesting story, having started playing high level hockey at the age of 14, which is very uncommon. It's a nice story and a message to send to both parents and kids that there's not one way to do it. I find he's a very cerebral guy, he asks a lot of really good questions. He's a student of the game, he loves to watch hockey.

On the ice, what stood out to me is how smooth he is. He makes some good plays, seems to have confidence with the puck, and I know he looks relatively lean off the ice, but on the ice he uses his body well to get to the inside of the ice and seems to be not afraid to go to the tougher areas."
The Leafs have lauded Minten's hockey sense since drafting him at 38th overall. It's also interesting that Wickenheiser mentions Minten's later start in high-level hockey, as this was a point made by Kyle Dubas in his post-draft media availability as well.
In drafting Minten, the Leafs clearly believe his intelligence will result in the continued rapid growth of his current raw skills, as shown by already by his rapid ascent from first playing high-level hockey at 14 to being a top-six WHL forward at 17.
On Minten's upside and what the Leafs hope he can become
"[Fraser Minten] has the size and the frame to be able to make an impact. I think he can both play physical and make plays around the ice. We've got to work on his explosivity with his training off the ice, but he's very young at this point. [We want him] to be an impactful forward that can make plays. . . I think he can be a two-way player, a solid player up and down the ice. At this point, we expect him to go back to Kamloops next year and have a dominant season."
I dove into Fraser Minten's game last Monday.
It's not a surprise to hear Wickenheiser comment positively on his two-way game and that his skating can improve. Minten played an important role for a strong Kamloops team last season, stepping into the second-line centre position as the year went along and becoming a primary penalty killer. A quicker first step and better overall speed would allow Minten to get into space faster and become more of an individual scoring threat, an area that is currently lacking.
On the goaltenders at development camp
"We've decided, with Jon Elkin and his goalie staff, to separate them and put them on a different sheet and really give them one on one attentiveness with the different goalies that we've been able to bring this week."
If you've got the space, you might as well use it. The backup goaltenders have been used for drills as you would expect, while the affiliated goaltenders have spent individual time with the goaltending staff.
On 2022 fourth-round pick, @Dennis Hildeby
"Jon Elkin speaks very highly of [Dennis] Hildeby and his potential playing in the Swedish league last year with Farjestad. He's a very big boy out on the ice, when he's on his knees his head is over the crossbar. There's a lot to like about him, just the poise and the control that he seems to have at this point."
Hildeby was an unexpected pick in the 2022 draft, not only due to his status as a fourth-year eligible player but also due to the fact Toronto traded into the fourth round to make the selection.
As evidenced through comments made by Dubas and now Wickenheiser, the Leafs staff has entrusted Jon Elkin's opinion in the Hildeby selection. This is the second consecutive year that Elkin has vouched for a specific goaltender, after being the person in favour of Vyacheslav Peksa in the sixth round in 2021.
On 2020 seventh-round pick Ryan Tverberg's emergence
"I can't say enough about Ryan [Tverberg], he had a great season at UConn. . . The way that he has put in the time and effort over the last year, he's here every day skating in our facility. He's very dialled in to his own development, I think he was a 12th hour cut for that World Junior team last year, which speaks to how far he's come. I think the sky is the limit for him. He's got to develop a bit more agility in his game, in terms of being able to play different speeds, but he certainly has improved a lot and I give him a lot of credit, it has been all him."
There isn't much that I have in common with Hayley Wickenheiser. One thing we do share is an appreciation for Ryan Tverberg's game.
We already knew Tverberg was invited to Team Canada's World Junior camp last December, of course, but it appears he was even closer to making the final team than we anticipated. Depending on how many players from the roster are not made available in August, I wonder if Tverberg could make his way onto the team after all.
On 2020 sixth-round pick @Axel Rindell's path to success with the Marlies
"For Axel [Rindell], I think it's a combination of skating and physical development. He came here at the end of the season, didn't play any games, and spent a few weeks with us. His decision making under pressure, coming from the Finnish league where there's more space and time, and being in these tight spots within the AHL, being able to handle the pace and the physicality of the game.

Also, I think it's a confidence thing for him and for many of the European players that come over, just to believe that they can succeed and step right into the competition. The change I've seen in him from even the end of last season to development camp, he's a lot more relaxed, engaged, and I'm sure it will reflect in his performance."
Axel Rindell had a rough year in Finland, to the point where I was surprised to see Toronto commit an entry-level contract. I'm very interested to see how the Marlies use Rindell, how often he gets into games, and how he bounces back after a tough season but a vote of confidence from the organization in the form of a contract.
On 2020 sixth-round pick Veeti Miettinen's path to a bounce-back season
"[Veeti Miettinen] had a rough season. Really in all aspects, what we're trying to talk with Veeti about, is commitment on the ice to his training in the offseason. We want to get a little bit more engaged with him through the season to work on the sense of urgency in his game, on his confidence, and just the way he approaches day to day being a better pro and understanding what it takes to get to the next level."
Veeti Miettinen made a splash in his freshman year at St. Cloud State, but failed to back up that performance and stagnated. He's got an excellent shot and is a legitimate scoring threat, but needs to find ways to be effective when the puck isn't going in the back of the net, a situation he found himself in during the 2021-22 season.
Matt Knies
On his decision to return to the NCAA
"I thought I would develop a lot more [in the NCAA]. I don't think I was ready to make the step yet. Off the ice, on the ice, I don't think I was mature enough as a player and as a person.

It came down to my decision and I thought I just needed one more year to become a better player. I know it's a big step to make it to the NHL, so I'm trying to make it a much smoother transition. I think I'm going to develop a lot next year and hopefully I can join them at the end of the season."
This level of self-awareness is commendable. Could Matt Knies have signed in the spring and made the jump to pro hockey this year? Yes. Would it have been the best step for him from a developmental standpoint? In my opinion, probably not.
Knies has been a good USHL player and a good NCAA player in his young career so far. But as I said before, he has yet to dominate a level. I'm a big fan of the decision to return to the NCAA so that he can truly establish himself as a dominant force in that league, develop as a leader, and still join the Leafs at the end of the 2022-23 NCAA season.
On specific steps that he wants to take at Minnesota this year
"I want to become a two-way player, define my game, and become a complete player, playing both ends. Once I mature as a player, that's when I can make the step and give the Leafs a boost and try to make them a better team."
Fairly typical stuff here. Knies has shown an ability offensively but rounding out his game to become a two-way force would really take his potential to the next level.
Fraser Minten
On the next steps for his development
"A bit of everything. Work on getting stronger, quicker, more mature physically. I think the game well and just working on my skills and my strength is what I'm going to focus on."
Again, as mentioned earlier when Wickenheiser discussed Minten, he has a lot of raw tools and slowly started to see them blend together into a successful package late last season.
On the Leafs' long-term expectations for his potential
"They didn't want to put a ceiling on it. They said 'we see you as being a guy who is pretty safe to become a bottom-six guy and playing there, but also there is a lot of possibility for you to grow into a top six player and develop offensively as well.'"
This is in line with what a lot of public rankings saw Minten as, with the Leafs holding a fair bit more belief in his offensive upside. Many entering the draft saw Minten as a late second-round to a third-round prospect that was a safe bet to become a bottom-six forward with limited offensive potential. Toronto clearly believes that Minten's offensive game has yet to be untapped, which will be the difference between him having defensive bottom-six centre upside and unlocking that higher-end ceiling.
Dennis Hildeby
On his height
"197 centimetres, 6-foot-6 I think."
Well, technically 6-foot-5.5, Mr. Hildeby. Needless to say, the Leafs' newest goaltending prospect is big.
On his recent progression to be drafted as a fourth-year eligible prospect
"There's been a lot of stuff happening only this year. I've taken big steps from where I was only one year ago. One main reason might have been my hip surgeries that have made me more flexible. A big part is mental growth."
Hildeby is a couple of months older than 2019 draft pick Nick Robertson for some context. He took a massive step statistically this season, posting a career-high .931 save percentage in 12 games at the U20 level and matching that mark through his first seven games at the SHL level.
I wasn't aware of Hildeby's hip surgeries prior to this comment, so I was glad Joshua Kloke (I think) followed up on this. Hildeby said he had the surgeries in March and May of last year.
On where he will be playing next season
"I think we have the same idea for what is best for my development. I believe going back to Sweden for another year is a wise choice to make."
Well, I'm glad Dennis thinks it's wise because he is contractually obligated to. The NHL-SHL transfer agreement states that any Swedish player under the age of 24 that has an SHL contract must be offered back to his Swedish team prior to being assigned to the AHL, excluding first-round picks.
As a fourth-round pick with a contract with Farjestad through 2023-24, Hildeby is required to go back to the SHL for the upcoming season (unless he were to make the NHL, which isn't happening). What will be more interesting is whether Hildeby returns to Sweden in 2023-24 for the final year of his active SHL contract, or whether the Leafs look to get him out of that deal and over to North America by that point.
On his breakout success in the SHL last season
"Coming back from my two hip surgeries, I had no plans of playing in the SHL six months later. When the opportunity came, I felt no pressure. I played four and half seasons in the U20 league, which is way more than most people do, so I had the chance to develop in a calm environment where I felt good."
It's always great to see a player be drafted in their final year of eligibility. For Hildeby, the SHL seemingly wasn't even on his radar this time last year. Now, he's soon to be an SHL regular with an NHL contract already signed. I'm very interested to see how he performs next season, the Leafs staff seems very high on him as a prospect.
Ty Voit
On what he needs to do to make the next level
"It's going to be along the same lines as last summer in the gym. That's going to be the biggest thing throughout my career, getting bigger and showing that it's not going to be a problem for me to deal with anyone out there physically. That, as well as building my speed. My shot is also something I've been working on, I want to be a threat from everywhere."
@Ty Voit was one of the premier playmakers in the OHL last season, producing a mightily impressive 31 primary assists at even strength to rank third in the league. Listed at 5-foot-9 and 151 pounds on the OHL site (we haven't gotten an update at development camp), adding muscle is a critical aspect of Voit's development. Interesting to hear that he is focusing on his shot as well, if Voit can evolve into more of a dual-threat scorer, his playmaking skills will only become that much better.