Now is not Nick Robertson's time, but it will come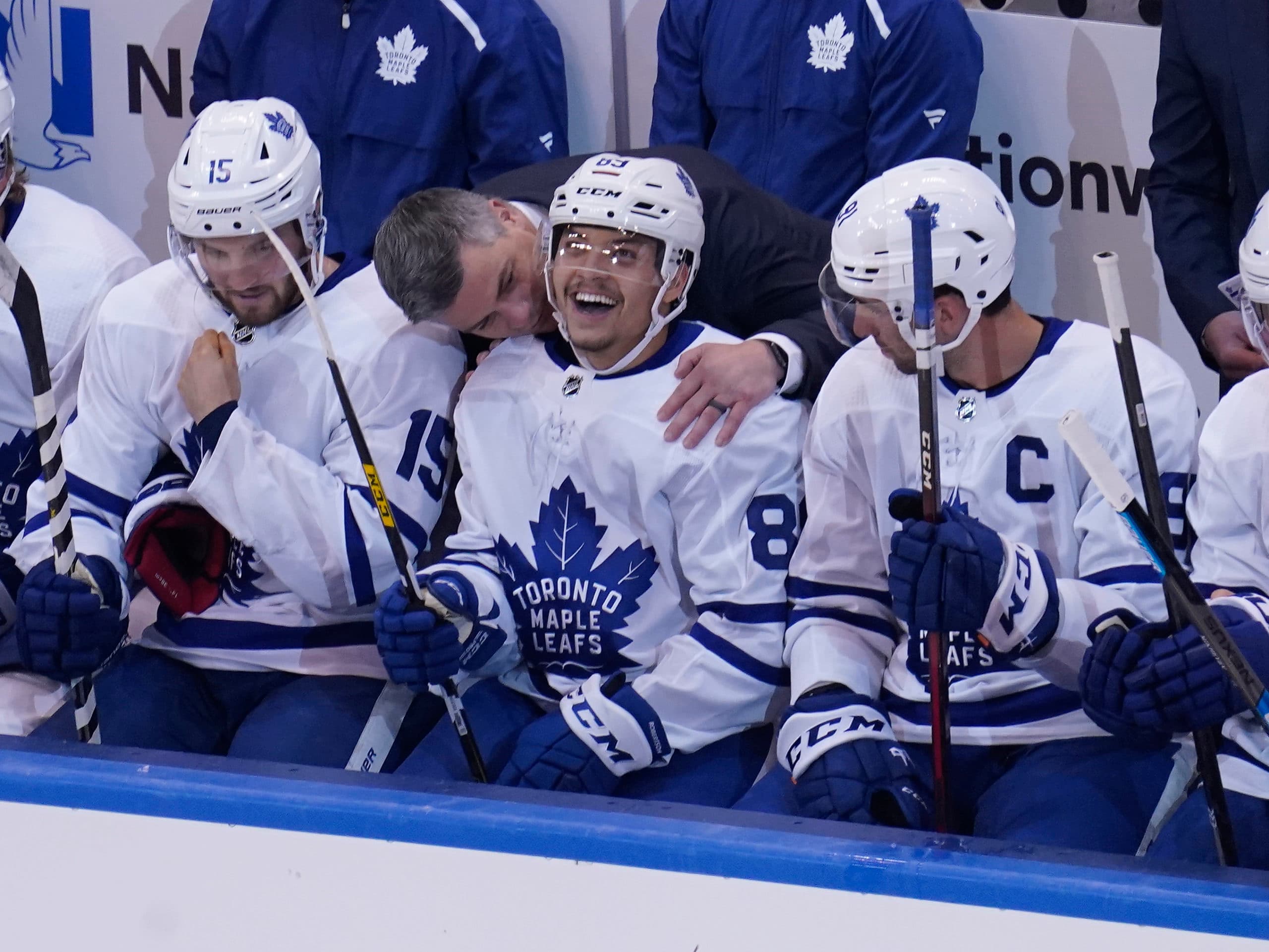 Photo credit:© John E. Sokolowski-USA TODAY Sports
If you've been paying attention to the Leafs preseason and training camp (first, congrats, you're braver than most) you've probably noticed that Nick Robertson has been a little on the underwhelming side. That's not to say he's been bad, but given his showing in the development camp preceding the Leafs camp the expectations were high, and Robertson didn't really do enough of anything to establish himself ahead of Ritchie, Bunting, Mikheyev, Kerfoot, or even Engvall or Simmonds. That's why yesterday's news didn't really come as too much of a surprise…
Now the fact that a player that just turned 20 last month failed to make a NHL team isn't going to be too shocking to most people. At this point Robertson (impressively) has only 6 regular season NHL games, 4 post season NHL games, and 21 AHL games to his name in his professional career. That's not a ton of pro experience, and him having to put in a bit more work is probably needed. I think that's a fact the Leafs tried to identify the areas of focus coming out of development camp were a great start, but his career up until now is wanting the puck and being the person who should have the puck in every situation, he needs to learn how to play without it.
Making that adjust is going to take some time, and isn't something that is best to learn on the job at the NHL level. While it's a great trait to be comfortable with the puck, and have the confidence in calling for it, Robertson is a player who needs to adjust to not being the best outlet, while at the same time knowing that he is still one of the best players on the ice. The AHL right now seems like the perfect balance of that.
The pressure on Nick Robertson making it this season isn't entirely coming from him alone. The fact that the Leafs lost Zach Hyman to free agency created a void on the left side on the ice, and a key opening for an up and coming left winger. The best case scenario was Nick Robertson to reach his full potential early and solve all the Leafs problems in the most convenient of ways. While I don't think the Leafs expected any of that from him, there is no doubt a big camp from Robertson could have been a game changer. It didn't work out. Largely because he's 20 years old and has 31 pro games to his name.
When it comes to pressure from the fans, well, we dug our own grave on that one. In his post draft season in junior it was fun to draw favourable comparisons to Cole Caufield's outputs. Considering Robertson was a mid second round pick, and Caufield a mid first rounder who would have been a top 10 guy if he was 3 inches taller, probably wasn't fair to Robertson. Nor are the comparisons to his brother, who enjoyed a stellar rookie season last year. It's certainly worth noting that Jason Robertson had a full season in the AHL and did his full tour of OHL duty before reaching the NHL as a fulltime player last season. Giving Nick another year to catch up with his brother isn't asking for much.
Nick Robertson's preseason ends with him playing three games, and only 43 minutes. For a high volume shooter, the fact that he was limited to just 6 shots (only 2 at even strength) tells a bit more of the story that work is still needed. He had 3 even strength giveaways, but had 5 hits to 3 hits taken, showing a bit of his feister side, and one that will be welcomed by the Leafs when he is ready. While his on ice shot ratios support his line moving the puck in the right direction, the fact that he was on for only one goal for and he wasn't on the scoresheet for it, show the need for more time for the developing young forward as well. After all, he just freakin' turned 20.
The Marlies represent a great opportunity for Robertson to round out his game. He's got the familiarity of Semyon Der-Arguchintsev this season, his center for Peterborough who wasn't with Toronto last season, he still has access to the Leafs development staff, which are going to be dumping a ton of resources into him to make sure he won't exclusively be a Marlie this season, and he still has the chance to be the man to some extent, as the Marlies do not have a player with his offensive upside even if some of the other players might be more well rounded than he is at this point.
I think ultimately my thoughts echo what Mark Norman said a few weeks ago during our prospect rankings:
For 2021-22, Robertson may be best served playing the bulk of the season in the AHL, receiving 20 minutes a night while being the Marlies' go-to weapon on offense. As it currently stands, the Leafs have an abundance of NHL wingers who will be battling for spots in training camp, and Robertson is one of the few who is waiver exempt, so starting the season with the big club seems unlikely. The hope is that Robertson can stay out of the infirmary and build some momentum. A point-per-game season in the AHL would not be out of the realm of possibility, and should be the goal.
To Mark's point above the waiver exemption is another key component in the Leafs decision, even if I don't think it came to point where Robertson established himself ahead of players requiring waivers. The odds of Robertson making the team were always going to be stacked against him for that reason, and to manage assets starting Robertson on the Marlies makes sense, even if it feels like he's getting that start on the Marlies a little earlier than he'd like.
Setting the bar high in the AHL is probably the best course of action and have it offset with the occasional guest appearance on the Leafs to assess where he's at. Everything about Robertson makes it seem that he will push himself to succeed, and that he wants to beat everyone's timeline for him. So while yesterday might have been a bit disappointing, It's still safe to expect big things, and possibly soon.