The Case for Alexander Barabanov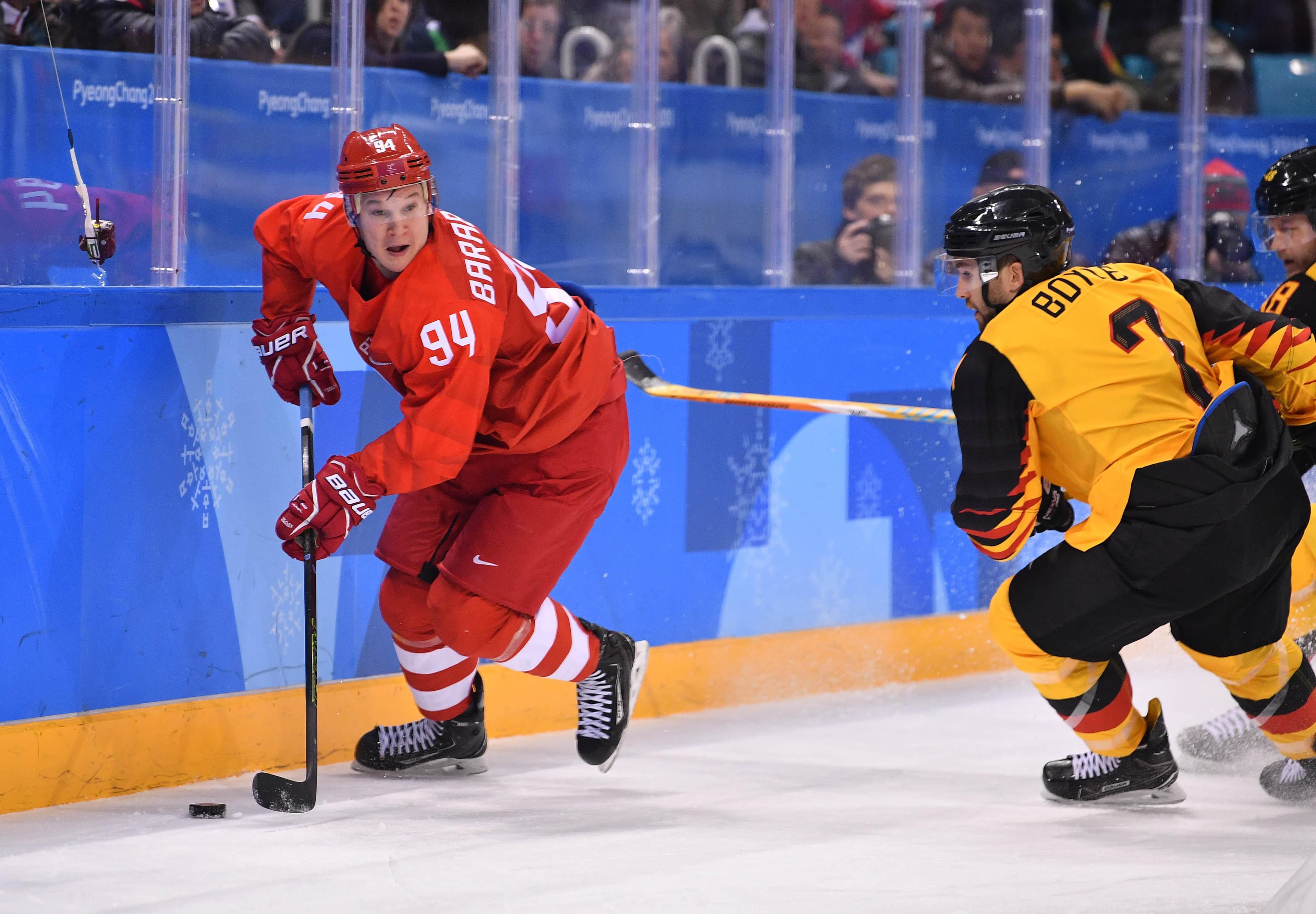 Photo credit:Andrew Nelles-USA TODAY Sports
On Monday Leafs General Manager Kyle Dubas spoke about a KHL free agent the Leafs have been rumoured to be pursuing.
It doesn't appear to be a lock for the Leafs though, with Arizona showing interest as well. Barabanov is represented by the same agent as Ilya Mikheyev and Egor Korshkov, so it will be interesting to see if that factors into the decision for Barabanov. He is only eligible for a 1 year ELC, with a maximum value of $925k.
He will also be eligible for up to $2.85m in performance bonuses, which the Leafs have been averse to handing out recently. Only three players under contract with the Leafs for next season have performance bonuses, while eligible players like Rasmus Sandin and Nicholas Robertson did not recieve any.
If the Leafs wish to outbid their competition they will likely need to offer the full $850k in schedule A performance bonuses. The implication of that would be the Leafs may experience bonus overages, but that is a problem for 2021. Keep in mind that the NHL is currently not allowing any new contracts for the current season, not that Barabanov is eligible to sign for this year anyways.
KHL contracts expire April 30, meaning Barabanov can be signed May 1st.
Who is Alexander Barabanov?
Well, I'm glad you asked.
Barabanov is a 25 year old Russian RW, listed at 5'10" and 192 lbs.
Yes, his height starts with a 5. No, he is not another undersized winger. If you'll look just slightly to the right at his weight, you'll see Barabanov is a fully grown man. His size has not been an issue at the KHL or International level, and aggressive puck pursuit has been the most proficient element of his game.
While it would be easy to compare their offensive production, Barabanov and Mikheyev play different ways to achieve the same results. Both are very fast, but Mikheyev's 5″ height advantage makes him more rangy. Barabanov punches the puck deep into the zone and skates below the goal line to find a pass, while Mikheyev is more likely to stop up and look cross ice on the rush.
They both play a good 200 foot game and pick up a trailer on the backcheck, but Mikheyev uses his skating to get to an area where his long stick can take away the pass, and Barabanov commits to one player to win the numbers battle on defence.
Barabanov has spent his entire pro career with SKA St. Petersburg. From age 21-23 he played his first 3 'full' KHL seasons, growing closer to 0.5 P/G each year. While it doesn't sound impressive, three out of four U23 KHL players to score 0.5 P/G last season were drafted by NHL teams.
He was also a member of the "Olympic Athletes from Russia" squad that took home gold at the 2018 Olympics, and has represented Russia at the World Juniors and World Championships.
In 2018-19 Barabanov blew away 0.5 P/G, with 46 points in 58 KHL games. Part of this jump would have been caused by a rise in icetime, as Barabanov went from under 14 minutes per game to 15:26. This is when he generated significant NHL interest, and teams have been after him since.
He only has 20 Points?!
An important thing to remember when evaluating any KHL player is that not all KHL teams are built the same.
If you remember Miro Aaltonen, he had 24 points in 39 games (0.62 P/G) for Vityaz Podolsk before being traded to Barabanov's team, SKA. In 11 games for SKA Aaltonen recorded just 4 points (0.36 P/G), as his icetime was reduced from 19:09 to 14:33 per game.
The KHL's top teams are loaded with top end talent, and players that would be All-Stars elsewhere are forced down to the 2nd or 3rd line. Barabanov plays on SKA's 2nd line, and that has a big impact on his production.
In 2018-19 SKA's 2nd line was centered by Los Angeles Kings prospect Nikolai Prokhorkin, who finished the season with 41 point in 41 games. In the 3 seasons leading up to that, he averaged 0.57 P/G with SKA.
This season SKA's 2nd line was centered by Jarno Koskiranta, who finished the season with 19 points in 42 games. In the 3 seasons leading up to that, he averaged 0.30 P/G with SKA.
You can see that Prokhorkin leaving for the NHL made a big impact on the production of the 2nd line, and SKA as a team was not nearly as strong as 2018-19. Another factor in Barabanov's diminished point totals is that he missed time with an injury, from what I can gather he broke his hand on this play in December;
Yes, he only had 20 points in 43 games this season, but that is not a good reflection of what Barabanov brings to the table.
NHL Impact
Remember when I said Mikheyev wasn't a good comparison for Barabanov? I am going to compare them.
Both players are 94 birthdays, born just a couple months apart. In 2018-19;
Mikheyev had 45 points in 62 games, with 16 of those being even strength goals. He took over 3 shots per game and shot 11.7% with 19:06 of icetime per game.
Barabanov had 46 points in 58 games, 14 being even strength goals. He took 2.4 shots per game and shot 12% with 15:26 TOI.
They were played in different situations, but had very comparable results with Barabanov playing 3 minutes and 40 seconds less than Mikheyev each game. In terms of points per 60 minutes played, Barabanov had a P/60 of 3.08 to Mikheyev's 2.28.
This isn't to say that Barabanov will have a seamless transition and strong NHL rookie year like MIkheyev, just to point out that both players are one year removed from a near identical season. The fact that Barabanov is unable to elevate his line when the key piece leaves shows he likely is not the one who drives play on his line. Not every player needs to drive a line though, so here are some things Barabanov can do to be effective.
First, he's a possession player. Once he gets the puck he wants to take it all the way to the opponents goal line, which is not a bad thing. He can make zone exits and entries with his speed and isn't afraid to get tight to a defender rather than driving wide.
He'll get the puck deep in the zone and look for a pass option, but Barabanov will sooner curl with the puck up the boards than cycle it back down low. He likes to put passes on the tape, which may be an adjustment for him if he is in an NHL bottom 6. The Leafs like to use the boards much more in their cycle.
Leafs Fit
While his style of play would fit well with John Tavares, getting in deep with possession and looking for your center who can shoot, Barabanov is likely more of a 3rd line player. He has the ability to play a strong two way game but he doesn't have the dynamic offensive sense that Marner or Nylander have. The majority of his focus is on the possession game, keeping the puck away from the other team, then taking shots when the opportunity is there.
Re-watching the 2018 World Championships where Barabanov played with Evgenii Dadonov and Ilya Kablukov, his speed was what created chances for the line. He has really good hands in tight on a defenceman and is not afraid to put the puck in their feet if he can get away with it. Sometimes he can be too risky with this on his zone entries, but it's a net positive. Once the puck gets in the zone he has a quick release, but from what I've seen he doesn't have the type of shot to beat a goalie clean.
I held off on a Nikita Soshnikov comparison for that reason, they both have a really aggressive puck pursuit, but Sosh's shot defined him. Without the puck Barabanov is a hard worker. He has the speed to follow guys behind the net on the forecheck and not get caught behind the play.
He tracks guys down through the neutral zone and is active about tying up sticks on the backcheck.
He has all the qualities you need for a 3rd line forward. I've never seen him listed anywhere besides RW, but he has some tough competition on the right side with Marner, Nylander, and Kapanen. On the left there's Hyman entering the final year of his deal, Johnsson, Engvall, and Mikheyev, who needs a new contract. The Leafs are flush with wingers and there's still Korshkov, Robertson, and Jeremy Bracco waiting to earn a spot. There was rumours of an extension for Kyle Clifford, too.
How do you fit Barabanov in?
You just do. The Leafs will likely need to guarantee Barabanov a roster spot if they wish to sign him, but it's a worthwhile risk. He has shown plenty of evidence to suggest he has the talent to play in the NHL, it's just a matter of upside.
With the amount of uncertainty about how the league will proceed in the wake of this pandemic, the Leafs would be glad to lock down a guy who could put up 40 points for under $1m. Since Barabanov's birthday is before June 30, he will turn 27 before the end of his 1 year ELC, and therefore become an Unrestricted Free Agent when it ends. Signing him would give the Leafs one year of production before Barabanov is free to sign wherever he wants, much like Par Lindholm. They could also negotiate an extension with him anytime after January 1, 2021.
Assuming he does sign with the Leafs, Barabanov's best fit might be beside Tavares. His ability to secure a zone entry with speed and find a teammate's tape is obviously a strength, but his puck possession style would allow his line to keep getting the puck back to JT to take the shot. On the defensive side of the puck he has the speed Tavares lacks to pick up F3 on the rush.
Realistically though, he would start on the 4th line. Rumour is Jason Spezza wants to come back for another year, so the Leafs may currently be tempting Barabanov with Spezza and Mikheyev as linemates. I haven't seen much about Barabanov playing special teams, but he has the speed to be a penalty killer if that's what the Leafs need.
Wherever Barabanov signs, he brings 7 years of pro experience, an Olympic gold medal, and 2 Gagarin Cups. He can play, and having Mikheyev in Toronto to help him transition to the North American style could make him into a possession dominant 4th liner. In the short term he has the upside to produce 30-40 points in a limited role, and he is still young enough that there would be good value on an extension. Barring any major surprises he will be playing in the NHL next season, free value for the team fortunate enough to sign him.
Recent articles from Earl Schwartz