The Jake Muzzin Situation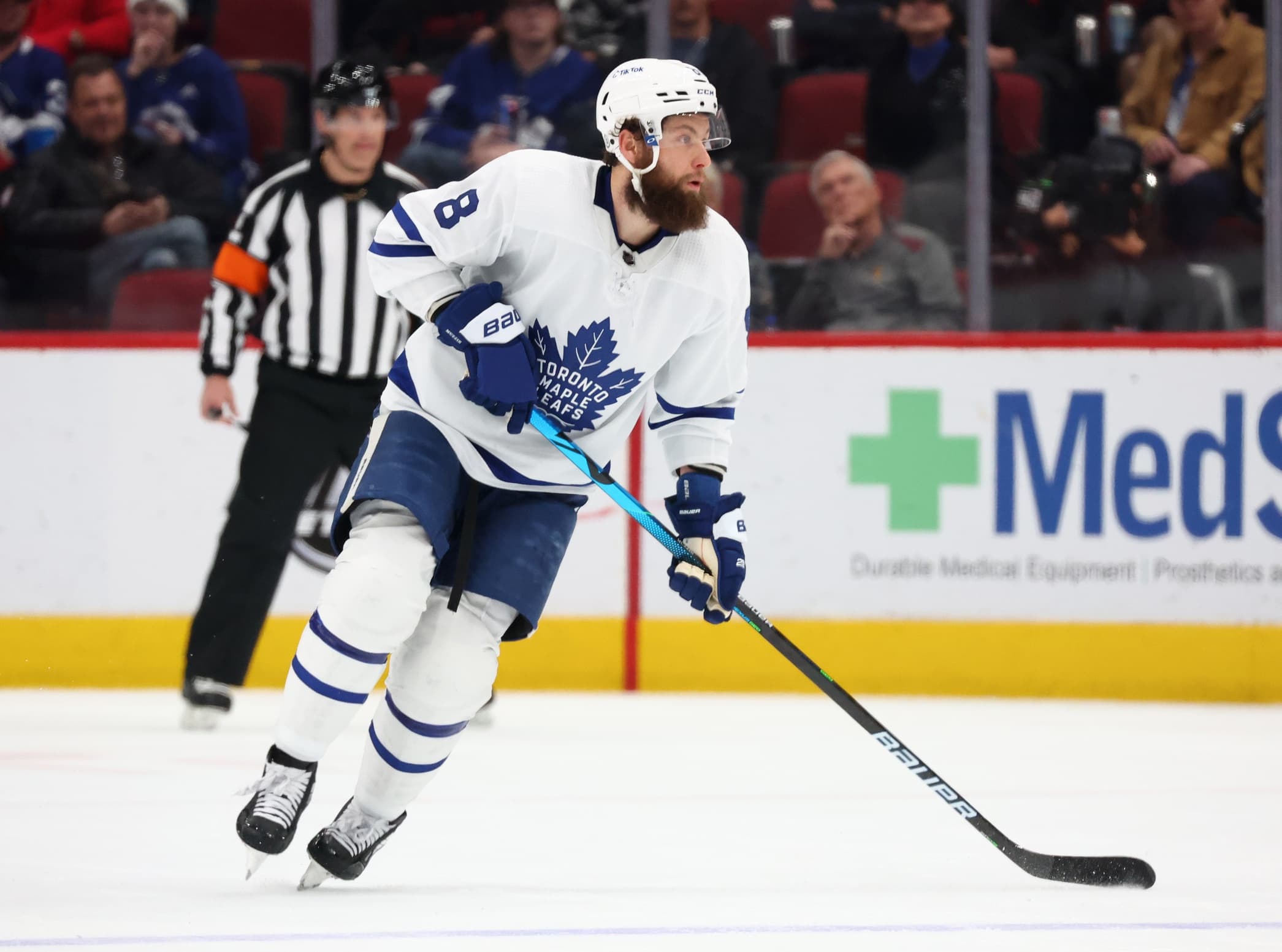 Photo credit:Mark J. Rebilas-USA TODAY Sports
I left work today with my phone at 1% battery, so I get to the car, plug my phone in, and I've got 10 notifications saying "Dance, CBA man, dance!" The people demand to know why Latvian legend Kristians Rubins and KHL stud Brennan Menell have emerged on the Leafs roster seemingly out of nowhere.
As you likely know by now, the Leafs recalled those two defencemen and subsequently loaned Rasmus Sandin to the minors. This was an attempt to get as close to the upper limit as possible before placing Jake Muzzin and his $5.625m cap hit on LTIR. In the most simple terms, teams do this because any unused cap space at the time a player is placed on LTIR is lost.
Typically this is demonstrated by saying a team has an $80m cap hit on an $81.5m upper limit. That team has a $5m player they want to put on LTIR, and no matter what, the day they place that player on LTIR they will have exactly $5m in cap space. If they make no roster moves, $1.5m is essentially lost. If they recall two players with a $750k cap hit before placing said player on LTIR, they still have $5m in cap space, but they can send those two players back down and have $6.5m in cap space.
For the most part, that's accurate enough to get the point across. What it does not take into account, is accrued cap space. The upper limit effectively changes each day based upon how much cap space a team accrued the day before. Since the Leafs have accrued just over $100k, and there's roughly 1/3rd of the season remaining, they could exceed the cap by ~$300k for the rest of the season and still be under $81.5m on the season average. That means they could effectively spend to ~$81.8m, and that is why they increased their daily cap hit to $81,773,949 today.
This is where things get tricky. From a bottom-up approach, the Leafs should be able to add $5.625m to that roster. The problem is that accrued space gets used before LTIR space, so their upper limit will quickly shrink back to $81.5m if they are using LTIR space. Remember, right now they have $300k effective accrued, with 66 days remaining. If they exceed their upper limit by $3m, that accrued space would run out in 1/10th of that time (7 days). As such, you have to look at it from the top-down. The Leafs were ~$25k under their upper limit when Muzzin was placed on LTIR, so their Accruable Cap Space Limit (ACSL) will be ~$25k under $81.5m.
It is incredibly difficult to get the exact number right for this, because you need to know the cap hit for each day's roster. One missed or incorrectly categorized transaction at any point throws the whole thing off. That's a tangent for another day though. By returning Rubins and Menell to the minors and recalling Sandin, the Leafs would have a $81,133,116 roster, which is notably below their ACSL by about $300k. That means if the Leafs place Muzzin on LTIR and return to yesterday's roster, they will continue to accrue cap space and be able to add a $1m cap hit at the trade deadline, even if Muzzin returns during the regular season. 
This means that Muzzin going on LTIR is no guarantee he is out until playoffs. It does allow the Leafs to temporarily exceed the upper limit in order to make trades before needing to waive or send someone down. It also means that Muzzin must miss 10 games and 24 days, so the earliest he can return is March 12th against Nashville. At that point there will still be 20 games remaining in the Leafs regular season. I want to make one thing clear, the Leafs cannot add more than $1m to their roster at the deadline unless Muzzin is out until the playoffs for certain. If he is out until playoffs, it's worth noting that the Leafs utilized their LTIR space last season when Andersen was out until the playoffs.
What the Leafs do in the next couple days will be a great indicator of how long they expect Muzzin to be out. If they return to yesterday's roster, they are back to accruing cap space. If they expect Muzzin to be out until playoffs, there is no reason to accrue cap space, and they might as well call up a full 23 man roster. Scenario A they can add ~$1m in cap hits at the deadline, scenario B they can add ~$6m. In either case there's no pro-rating contracts, I've already done the math on that.
I've written this under the assumption Muzzin was placed on LTIR today (February 23rd), there's no reason to spend two days with Rubins and Menell on the roster just to place Muzzin on LTIR tomorrow. I've already confirmed those roster moves were made before 5pm EST, so they could place Muzzin on LTIR today, and send Rubins and Menell back down tomorrow.
I also want to present the alternative case, where Muzzin stays on regular IR, and the Leafs keep accruing the extra $25k they lost by placing him on LTIR. There is not really a downside to this because if it becomes apparent Muzzin will be out until the playoffs, he can be placed on LTIR at any time to accommodate additional cap hits. There are two reasons to put Muzzin on LTIR so soon then: an imminent trade, or the Leafs felt this was the easiest time to set an ACSL, as other injuries could complicate the process.
Note: The reason Sandin was sent down instead of Timothy Liljegren, is because Liljegren has $400k in Performance Bonuses. If he is not on the roster when the ACSL is set, his potential PBs will be taken out of the LTIR pool. Even though his cap hit is lower and therefore sending him down instead would keep the Leafs tighter to the cap, Sandin has no PBs and therefore a lower overall cost when being added back to the roster.
Recent articles from Earl Schwartz