The Leafs are a better team now and in the future thanks to the Nick Ritchie trade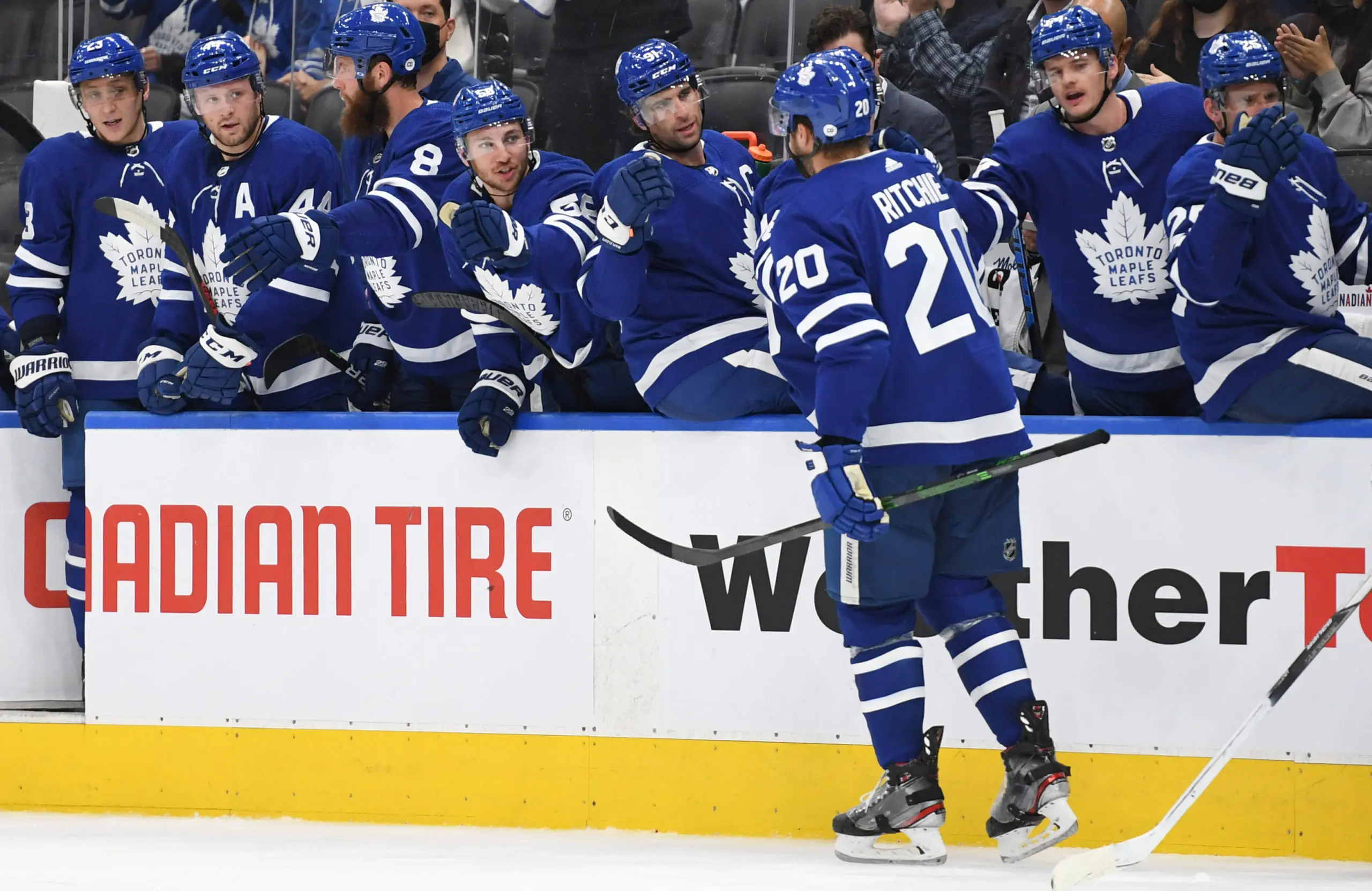 Photo credit:© Dan Hamilton-USA TODAY Sports
The Nick Ritchie era is over. It had to come to an end both for the Leafs' sake and for Nick Ritchie's sake. I remain convinced that Nick Ritchie is better than what we saw of him in Toronto, but much David Clarkson before him, he was a square peg for the Leafs. As nice as it is to have Ritchie out of the lineup, not having his $2.5M contract on the books for the 2022-23 season is also a huge win. This move probably covers Timothy Liljegren's next contract. Or he's covered the return of Ondrej Kase and Jason Spezza, or something the Leafs needed to do but looked like it could have been a challenge. If that's all the Leafs did at the cost of a 3rd round pick in 2023 (or 2nd in 2025), Dubas did good work.
Of course, that wasn't all that happened. The Leafs addressed their defensive depth by bringing in Ilya Lyubushkin. A hard-hitting, defensive first player who has been paired with Jakob Chychrun of late. By defensive measures, he's about at the same performance level as Justin Holl. He does hit more, and that's a good thing, but really Lyubushkin is another 3rd pairing right sider who on is best days is capable of spot 2nd pairing duties. And given that of Holl, Lyubushkin, and Liljegren, Liljegren is the most talent and well rounded of three, although in the most sheltered minutes, there has to be a concern for how this shakes out from his perspective.
That's when we have to revisit the fact that this season isn't meant to be about development, it's about winning and that means the defensemen that Keefe trusts the most are going to play the most. In that regard the one player we know isn't going to see a lot of icetime is Travis Dermott, or as the Leafs probably see him now, $1.5M worth of very movable cap space.
The remaining seven defensemen through injuries, or through the acknowledgement that it's okay to sit one of the three right handed defensemen on occasion, they'll make it work. They'll make it work the same way they have with Dermott, just with a better version of him. The Leafs could choose to keep Dermott in the 7th D role and make Holl the expendable defender, and likely pick up a better return in the process, but a big part of making the blueline work is the trust of the coach, and it seems Holl has Keefe's trust still.
There's no rule saying they have to part with a defenseman, and being eight deep on the blueline isn't a bad thing, but that also ignores the possibility that the Leafs might not be done when it comes to upgrading their blueline either. And the cap space could be critical to a move for the forward group.
Speaking of forwards, the Leafs brought in Ryan Dzingel. Perhaps the biggest selling point on bringing in Ryan Dzingel is that he can't play against the Leafs if he's in the Leafs organization. In his one game against Toronto this season, Dzingel had two goals (he only has two other goals this season.) In his 18 career games against Toronto, Dzingel has 16 points. Ryan Dzingel is not a 0.5 ppg player.
So outside of his Leaf killing ways, Dzingel hasn't been a bad defensive forward in his sheltered role. That might not be a bad use for him on the Leafs, and given that Dzingel can play a hard nosed, no nonsense style of hockey, he might fit in with the Leafs need for some playoff chutzpah. He's a serviceable player, but not one that I can imagine the Leafs are looking to put ahead of Mikheyev, Kase, Kampf, Spezza, Engvall or Simmonds just yet, which means Adam Brooks might not be the only NHLer to have a wild waivers weekend in Toronto.
It might not be something Dzingel wants at this point of his career, but it seems like the past three seasons have been building towards a possible waivers moment for Dzingel and that could very well be why the Coyotes included him in this deal. Dzingel is struggling to hold down a role in the Coyotes lineup, and with no takers on him around the league in trade, Dzingel being waived and the Coyotes paying someone $1.1M to play in the minors doesn't seem like something they'd want to do. The Leafs on the other hand won't think twice about putting $1.1M on the Marlies payroll, and given that there haven't been any takers on Dzingel as an asset around the league, waiving him probably also means the Leafs keep him. Not many teams are going to be looking to absorb an additional $1.1M of salary at this point, except maybe the some sellers needing warm bodies. In which case, the Leafs got away making a great trade of Ritchie for Lyubushkin at the cost of taking some risk on Dzingel.
If Dzingel does clear, that works for the Leafs too. Dzingel, like Clifford has the potential to be a helpful asset in the playoffs if they do in fact devolve into prison rules hockey and Toronto feels obligated to participate in a bit of the old ultraviolence.
Dzingel getting sent down is necessary for the Leafs to keep their blueline intact, and if he clears he should be fairly useable for the Leafs the rest of the season without having to worry about waivers. It seems Ryan would only find his way into Marlies games if the Leafs forward group has an unprecedented run of great health, and need I remind you, Ondrej Kase is in the Leafs lineup.
Here's what the post Dzingel being waived and demoted cap situation would look like.
Again, kinda points to moving on from Dermott as an important way to go to build some flexibility prior to the trade deadline.
The other interesting thing is the Ritchie move already makes it look a lot simpler to get Campbell, Sandin, and Liljegren under contract if those are the priorities. Kase, Spezza, and possibly Mikheyev certainly point to further decisions needing to be made, but looking at the Leafs cap situation without Ritchie makes me feel like I'm sitting on a beach with a calm ocean breeze hitting my face.
It's amazing to think that all of this peace of mind was purchased for a 3rd round pick two drafts from now, or a 2nd round pick four drafts away. The Leafs are in a much better place in the present and are set up nicely for the future in what looks like it will go down as one of Kyle Dubas' better trades.