TLN Three Stars: The power play? Yes, the power play!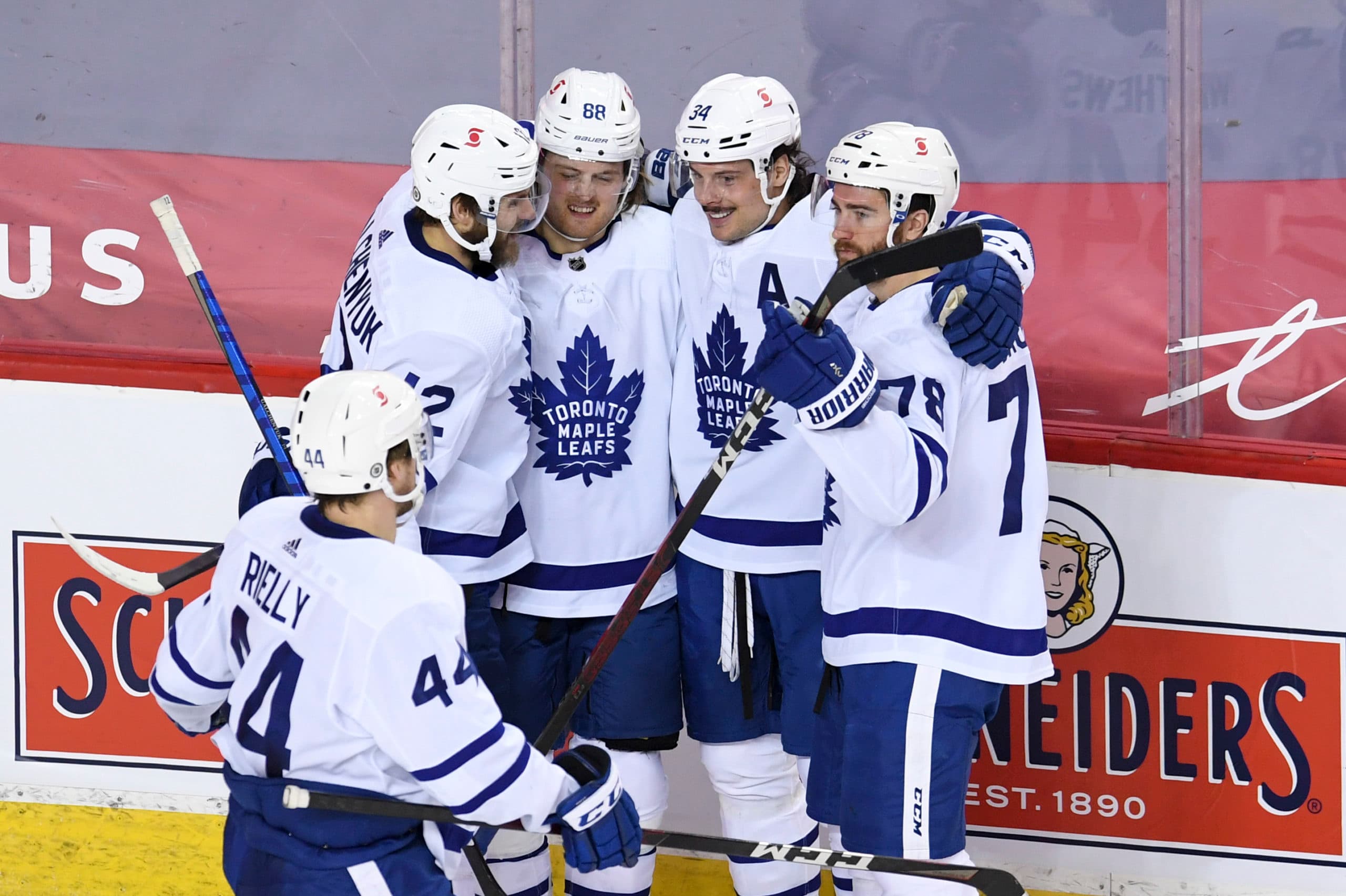 Photo credit:© Candice Ward-USA TODAY Sports
Coming off an exciting win, the Toronto Maple Leafs were looking to take it back to back against the Calgary Flames and make a clean sweep on their road trip. With tonight's 5-3 win, the Leafs remain first in the Scotia North Division with a four point lead in the standings. Tonight's game started off pretty slow and quiet, and it looked like it was going to be one of those boring, 'why did I stay up for this' type of games, but that quickly changed as the puck dropped for the second period. From a 2-0 lead, to a 3-3 tie in the third, and then a power play goal (Yes, the power play drought is over!), the Leafs managed to hold on and take the W against the Flames.
Three Stars
3rd Star: Travis Dermott
Okay, Travis Dermott's save on what would have been the first goal of the night, was quite the play. Just as the puck was about to make its way into the net, Dermott scooped it out, keeping the game at 0-0, and watching it in slow motion and in replay, I know we all took a sigh of relief. Dermott played a pretty decent game, also racked up an assist on Jason Spezza's opening goal, so overall, not a bad night.
2nd Star: Jack Campbell
I couldn't be happier for Jack Campbell. He's had a long road to get here, and as cheesy as it sounds, he's getting his chance to shine. He's calm, cool, and collected on the ice, and you can tell that the team in front of him trusts him. Campbell faced 29 shots tonight, had a few really good saves throughout the game, and is now 9-0-0, and chasing Leafs history. Will he break the record for the longest winning streak in franchise history? We'll see.
1st Star: Auston Matthews
Oh, Auston Matthews. If you read this, I hope you know how thankful we are that you're a Toronto Maple Leaf. Matthews now has 6 goals in his last 6 games, and almost had a beautiful highlight reel goal tonight. I think Spezza said it best during his interview during the second intermission, he said that Matthews is hungry and a leader for the team, that he's "just a special player and we're lucky to have him." You can see it on the ice, and the impact he has on the team is evident in every aspect of his game. With two goals, including the GWG, four SOG and playing just over 20 minutes on the ice, Auston Matthews is my 1st Star of the night.
40th Star: The Refs
We all saw it. The trip by Milan Lucic on TJ Brodie should have been called a penalty. It wasn't called, it changed puck possession, and it led to the Flames first goal. Don't tell me that the refs favour Toronto, because they don't.
Tweet of the Night:
Finally, that's all.
What's Next?
The Toronto Maple Leafs look to keep their winning streak alive as they come back home to take on the Montreal Canadiens on Wednesday, April 7th. Don't miss your favourite rivalry, and catch the game on Sportsnet at 7:30PM.