Last night, the Maple Leafs took on the Avalanche in Colorado and suffered an overtime loss. This was the second night of a back-to-back, and a road game. Generally, that's a recipe for a loss. The Avalanche as a team are lower quality than the Leafs thus far this season, as noted in last night's post game.
The biggest takeaway was that the MacKinnon line is just as dominating in person as they appear on the spreadsheets. They average 4.8 more shot attempts and 8.13 expected goals (shot attempts weighted with how likely they are to go in) than the rest of the Avs.
The Leafs were without Nazem Kadri, a huge hole against a team that really has one dominant line that Kadri would normally be tasked with shutting down.
Additionally, this was the first game of the season for both Martin Marincin and Calvin Pickard, so the debuts may have contributed to what went on.
Corsi Chart
From corsica.hockey's game report from this game.
This is a chart showing how the shot attempts racked up as the game went on. The strong black dots show when goals were scored. Some interesting things to note, like how the Leafs turned it on after the Avalanche scored the first goal and continued to control until the end of the 2nd period. You can also see the dominance at the end of the 3rd when the Leafs had the extra attacker, and in overtime when the Avalanche were on the powerplay.
All together, they came out pretty equal in this game, shot attempts wise. That definitely passes the smell test with how close this game seemed throughout.
Heat Map
From naturalstattrick.com's heat maps in last night's game report.
We can see the Leafs had a stronger control of the front of the net than the Avalanche did, which has been a constant trend for the Leafs' season. Mediocre performances in shot totals, but a stark advantage in shot locations.
Interesting that the Avalanche so heavily favoured the left point. In the game, it was noticeable how much players like Barberio and Girard liked to fire the puck on net, and it's cool that that shows up here.
Goaltending
Neither goalie really came up looking stellar in this game.
Pickard starting the game off with this rebound gift to MacKinnon is not ideal:
Additionally, Varlamov allowing this shot from the side of the net go in from Polak is not a good look:
SNIPE from Polak sending us to the second intermission all tied up at 2-2 #TMLtalk pic.twitter.com/vdddM7j1Yk

— LeafsFansUnited (@LeafsFansUnited) December 30, 2017
The goalies, by "Goals Saved Above Average", the most reliable goaltending statistic out there currently, both goaltenders failed to meet average. Varlamov was a -0.8, and Pickard was -2.33. This is to say that based on the number of shots Pickard faced, an exactly league average goalie would have stopped 2.33 more of those shots.
One game obviously isn't enough to statistically analyze, but this stat is cool when it becomes cumulative over a stretch of games, and one can see exactly how much above or below average a particular goalie has been.
Pickard didn't look bad, he looked calm as the broadcasters repeatedly noted. The 4-on-3 OT powerplay is one of the most dangerous situation for a goalie to be in and it was likely just a matter of time before something beat Pickard. All in all I think there's more to be seen from Pickard, but certainly last night was not particularly good. 
Individuals
Finally, let's look at the performance of each player individually.
Game Score
The game's 3 stars by Dom Luszczyszyn's Game Score model are:
Nathan MacKinnon (3.9)
Roman Polak (1.9)
Nikita Zadorov (1.7, tie break: 60.98 CF%)
Hon. Men.: Mikko Rantanen (1.7, tie break: 59.46 CF%)
Game Score looks at all the important elements of a player's statistical performance in a particular game and outputs a number relative to how well they did. Read more about it here.
The Leafs by Game Score is shown below. Thanks to Dom himself for this graphic.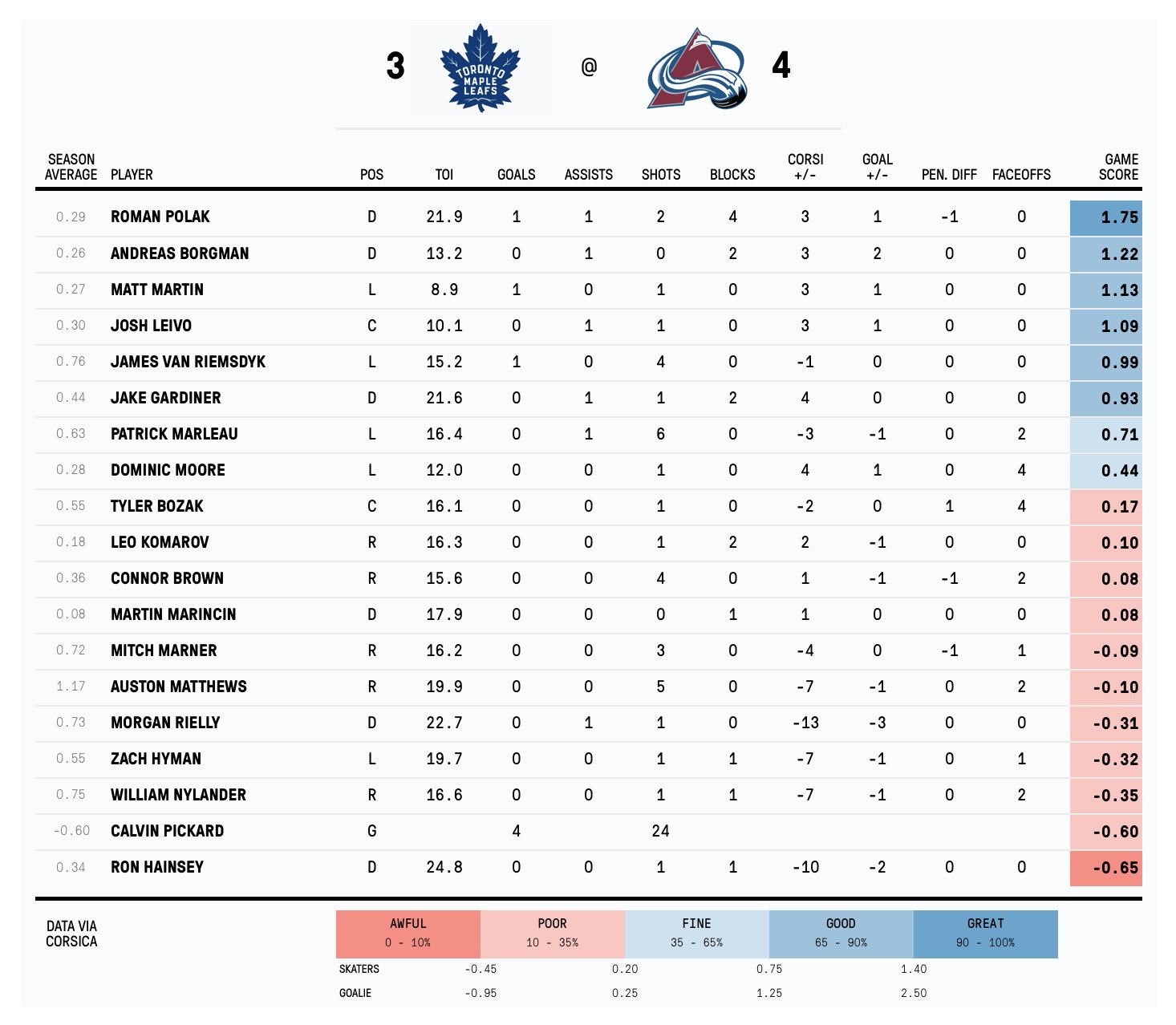 Eye Test
By the so-called eye test, I thought Roman Polak had a legitimately good game. His pinches were well-timed, and he didn't show any glaring mistakes in the defensive zone. Having a 2 point night obviously helps to highlight him, but outside of those (mostly lucky) points, he was fine tonight.
Marincin was interesting player to debut. He has always been hotly contested in Leafland. Tonight, Babcock was quoted in typical Babcock fashion saying he thought Marty was "real good". I'd agree with that. He was aggressive (too much so, with some mistimed pinches), and looked strong on the penalty kill.
Lastly, on the negative side, Auston Matthews and William Nylander didn't have an inspiring performance in this one. Matthews' best chance that comes to mind was thrown flying over the net on a backhand chance, and Nylander didn't really come into a dangerous opportunity in this one. With how good the Bozak line has been lately, this can be somewhat made up for, but no question the Leafs' stars need to be better than they were tonight.