There's no other way to put it: The Jake Gardiner situation is a weird one. The (maybe former) Leafs' defenceman, coming off a season that was derailed a bit by injury but still impressive hasn't signed a contract as an unrestricted free agent. He's just… sitting there.
But why? There have been some who've pointed to his injury this past spring as the key reason, while others believe he actually has a handshake deal with a team looking to clear up other business. Oddly enough, it's usually his hometown Minnesota Wild that get tossed around in those rumours.
As far as I can tell, however, there doesn't appear to be anything cap-wise stopping the Wild from signing Gardiner today if they want to. That's why it's always been in the back of my mind that the Leafs are still in on this for some bizarre reason, especially since I don't believe his time missed this past season is enough to scare other teams away from offering him a decent long term deal.
I just don't know how it looks if the Leafs really are still in this. Not that Gardiner shouldn't be brought back, I just can't see how they make it work with the money and to a lesser extent, the role.
But according to Lance Hornby of the Sun, the Leafs and Gardiner remain in contact about what could be another season with the blue and white. We know from various reports that Gardiner is still in Toronto, and perhaps this news relayed to Hornby comes directly from the source.
Waiting to see what unfolds is UFA defenceman Gardiner, yet to sign elsewhere in the hopes the Leafs find more extra cash, but at this stage that would mean trading a set roster piece.
Now, as I said above, I don't really know how Toronto makes this work outside a roster shakeup like Hornby pointed to. And, to beat this drum yet again, a lot depends on what Marner's contract comes in at. There's obviously a big difference between him signing a six-year deal worth 10.7-million annually and a three-year bridge at around 8.0-million (well..2.7-million AAV to be exact). Either way, even with Marner on a relatively team-friendly deal this is a tough one.
This was as close as I got to making sense of it, if the Leafs didn't swing a substantial trade: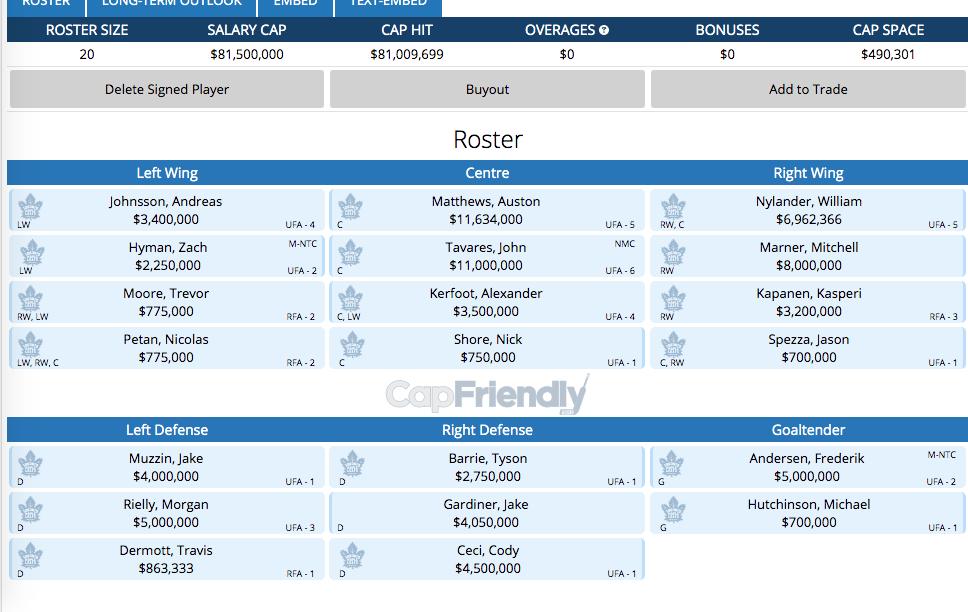 But this is a stretch if there ever was one. First off, it assumes Gardiner comes back on a deal that pays him almost surely less than what he should get on the open market. It's also premised on the Leafs going extremely lean with no additional roster players for road trips, something NHL clubs don't typically do.
Still, whether it's going down this route or making a move none of us see coming (a trade involving Muzzin or Ceci perhaps?), the rumour of Gardiner and the Leafs working to keep this relationship going isn't totally dead yet.