We're back at it. The second half (actually around 40%) of the season is in swing, and in case you haven't noticed, the Leafs are trying to fight their way into a playoff spot – not exactly a place we would've thought they'd be hanging out when things got started in October.
But it is what it is, and there's no mystery to how we got here. The team utterly quit on Mike Babcock in the opening portion of the season, skidding hard to a losing record and forcing management to make a change. A lot of damage had already been done and the hole had been dug, but with the arrival of Sheldon Keefe has come a much better on-ice product and a semi-surge in the standings. The games are also outright more fun to watch.
Still, even with the improvements, Toronto finds itself on the bubble. Truly.
As of today, the team is two points from both the second wildcard and third in the Atlantic. But things are jammed up; Tampa, Florida, and both wildcard teams are within easy striking distance. Third in the Metro (the Isles right now) has a thin hold on that spot as well. There's just so much that can change week to week, and that means things are essentially wide open for the Leafs. They need to play well, but they don't need to pull off any miracles to make the playoffs, and so their postseason destiny is really in their own hands. And, at least in my opinion, I think they just need to get there in order to make a lot of noise. Potential first round matchups against the Bruins aside, there's nothing too scary here, and the Leafs can make a run no matter what situation or side of the bracket they find themselves in.
So how confident should we be that they actually get in? When asked this same thing over the weekend when I had a chat with the guys at 590, I threw out "around 85%" for the sake of a number. But does it make sense to be that confident? Let's take a quick look at what the numbers are saying.
The Leafs are currently sitting tenth in the conference standings, but in terms of points-percentage they're actually sitting…uhh, tenth. Okay, so nothing there to make us feel too comfy, but digging deeper shows that this team is among the best in the league in the run of play, and making up the half-handful of points to at least squeak in should be in the cards.
Toronto sits sixth in the league in Corsi percentage adjusted for venue and score, and while this might not tell the whole story since some basement-dwelling teams do well by these metrics as well, it can at least give us some confidence that they likely won't be overwhelmed often going down the stretch. You can count on them to do the whelming. As for the teams they're chasing, well, it's a mixed bag in this regard.
| | | |
| --- | --- | --- |
| Team | GP | Corsi% S-V Adjusted |
| Tampa Bay | 49 | 53.8 (2nd) |
| Florida | 49 | 50.5 (13th) |
| Carolina | 50 | 55.1 (1st) |
| Columbus | 51 | 48.4 (22nd) |
| Philadelphia | 50 | 50.42 (14th) |
| Toronto | 50 | 52.9 (6th) |
At a quick glance, Columbus and Florida seem like the obvious overtake targets right now and I'd bet on the Leafs outplaying at least one of them going to the wire. Tampa might be a bridge too far, and Carolina's run of play might have them with room to grow as well, but Toronto is in fine enough shape.
The more elaborate models remain bold on them as well. MoneyPuck's win probability model currently has the Leafs in third (!) in the entire NHL in their power rankings, behind only the Lightning and Capitals. In terms of playoff chances, they currently sit at 72%, which is a strong confidence level considering they're outside looking in as of now.
Micah Blake McCurdy at HockeyViz has things a little lower at 65% probability, but that model has things looking worse for Carolina, Philadelphia, and Columbus. Again, a good sign when you're looking for good signs.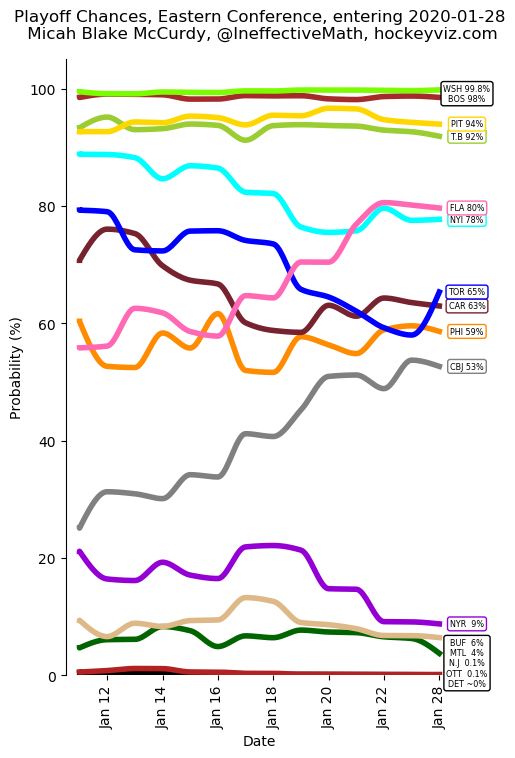 At the end of it all, I think it's fair to say anyone paying close attention to this team knows the Leafs will end up living and dying by goaltending. If not for Andersen's major dip in play the last few weeks, they would likely already be in a much more comfortable position, but this is where they are. A team scoring over 4 goals a game for a stretch running a quarter of the season should have had better results the last little while, but they've been torpedoed by an unfortunately timed cold streak in net. If Freddie can bounce back to being his above-average self – and I would think most of us believe he can – the rest should take care of itself as the Leafs march to the end of the season. Given their talent level and the improvement they can keep showing under Keefe, I'd even go as far as saying I'm 85% confident they make up the ground and get in.