10 targets for the Leafs with their second round pick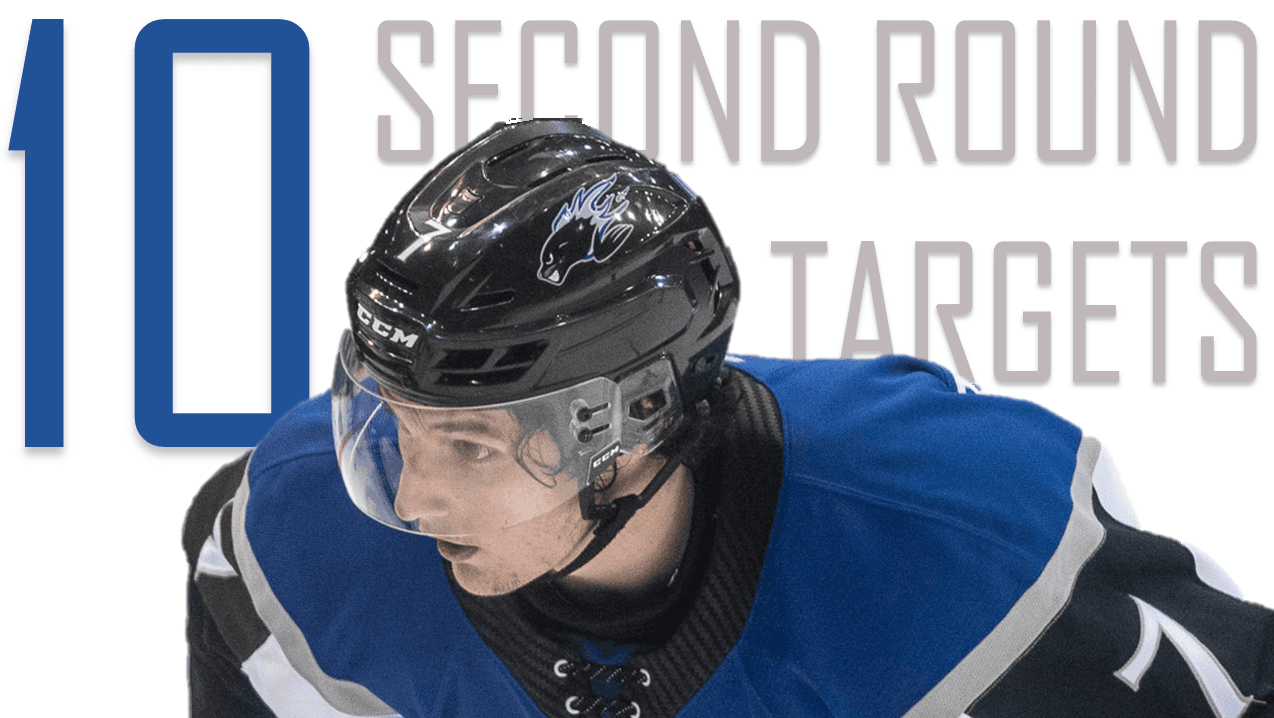 Powered by InStat Hockey
---
As it currently stands, the Leafs are without a first round pick for the second time in the last three seasons and have just three total picks heading into the draft. Even after adding 12 prospects to the system in the 2020 draft, hitting on their second round pick in this year's draft takes on a greater importance with fewer darts to throw at the board.
Though the draft class has been touted as being below average, there are still plenty of quality prospects available and there may be less separation between the end of the first round and the end of the second round than there is in most years. The Leafs are currently slated to make their first selection with the 56th overall pick in the draft and there are a number of exciting prospects that are projected to be available in that range.
Of course, it is difficult to determine exactly how the draft might fall and that is why I've leaned heavily on TLN's Top 100 Consolidated Draft Rankings which were put together by our fearless leader, Jon Steitzer, to estimate who could be available when the Leafs are on the clock in the second round.
Taking into account the Leafs' recent drafting habits, the consolidated public rankings, and the organizational needs of the franchise, here are 10 targets I have identified for Toronto's second round pick in the 2021 NHL draft:
Peter Reynolds
C | 5'10" | 167lbs | Saint John (QMJHL)
Reynolds is a player that Leafs management would have gained familiarity with while monitoring the progress of his Sea Dogs teammate and 2020 Leafs fourth rounder William Villeneuve. He fits the mold of a play-driving center with his ability to process the game at a high rate and make intelligent reads under pressure. He is more proactive than he is reactive with great off-puck movement to support play in all three zones and he has the vision to complete area passes, creating more time and space for his teammates to make a play when he finds them. Reynolds has really strong habits all over the ice and can turn an impressive defensive read into a rush chance the other way for his team in short order. He doesn't have an outstanding shot but he has a knack for getting open in scoring areas at just the right time – a skill that should translate to the next level. While he has good speed, he isn't the fastest player in the draft, but he does a good job of adjusting speeds to manipulate space and passing lanes off the rush. He still has some physical maturing to do but Reynolds possesses the high-end instincts and play-driving traits that this Leafs management group values so highly.
Jack Bar
RHD | 6'2″ | 193lbs | Chicago (USHL)
The Leafs' relationship with the Chicago Steel has been well documented and incoming Senior Director of Minor League Operations Ryan Hardy could potentially influence the selection of Bar if he is still available when the Leafs' second round pick rolls around. His combination of size and skating ability is an intriguing one. He is rather elusive for his size, able to shake oncoming forecheckers on breakouts before skating the puck out or firing a strong first pass to start the rush. He plays a well-rounded game but doesn't hesitate to activate in transition, always looking for a chance to create an odd-man situation for his team. Bar is particularly impressive when it comes to retrieving loose pucks in his own end before turning play in a positive direction. He uses his body as well as his feet to protect the puck and can spin off a check to get free or hit a teammate with an outlet pass. He has good gap control in the neutral zone and does a good job of taking away time and space from the opposition but can run into trouble with his change of direction when puck carriers attack with speed. He is far from a finished product but Bar possesses all the tools to develop into a modern day, puck moving defenseman at the NHL level.
Samu Salminen
C | 6'2″ | 186lbs | Jokerit (U20 SM-sarja)
Salminen's game is one of intelligence mixed with pure offensive skill and he has the numbers to back it up. He led Jokerit's U20 squad with 26 points in just 17 games before adding another seven goals and two assists in seven games representing Finland at the recent U18 World Championships. He has a decent shot but he is most dangerous as a scorer when he is working through traffic to position himself in space to finish off a play. Salminen is more than capable as a playmaker as well with the vision to thread the needle through layers into space, and the skill to manipulate lanes by adjusting angles and release points on his passes. His defensive game still needs work but he displays a strong work ethic and mostly good habits away from the puck as well. Salminen is still a few years away but it might be difficult to pass on his offensive skillset if he is still available when the Leafs are on the clock.
Tyler Boucher
W | 6'1″ | 205lbs | U.S. U18 (USNTDP)
Boucher missed most of his draft season due to injury but showcased his powerful game in a limited sample size, scoring three goals in just two games with the USNTDP U17 squad and adding another 11 points in 12 games with the U18 team. He plays a straight ahead, physical brand of hockey but he isn't without offensive upside. Aside from the obvious physicality he provides with big hits on the forecheck, Boucher does well using his size and strength to wreak havoc in front of the net and open up space in the middle of the ice. He does a good job of lurking around the offensive zone to make himself available in scoring areas and his release has shown improvement as well. Boucher currently plays with a bit of tunnel vision and he's unlikely to ever become a high-end playmaker, but his power game and ability to generate off the rush make him something of a unique commodity in this draft.
Ryder Korczak
C | 5'11" | 174lbs | Moose Jaw (WHL)
Korczak entered the season as a potential first round pick but was unable to affirm his draft status in the shortened WHL season, seeing his stock fall on most public draft boards. He is a skilled puck handler and creative passer with quick feet, layering dekes and fakes to manipulate defenders and open lanes. Korczak is especially dangerous on the powerplay where he is afforded more time and space to pick apart defensive coverages and create scoring opportunities with a slick feed or well placed shot. He has good defensive awareness and reads the play well, but he struggles to get inside and play in high-traffic areas at both ends of the ice. There is still lots of development to be had, both in Korczak's game and physical make-up, but there aren't likely to be many players in this range of the draft that have his offensive potential.
Brent Johnson
RHD | 5'11" | 161lbs | Sioux Falls (USHL)
Johnson is a highly skilled, offensive minded defenseman who produced well at the USHL level this season, racking up 11 goals and 21 assists in 47 games for Sioux Falls. He is elusive with the puck on his stick, able to stick handle and weave around checks on the breakout with ease – most of the time. Unfortunately, he does have a tendency to telegraph lanes and skate himself into trouble more often than you would like to see and doesn't have the explosiveness to adequately recover. Once in the offensive zone, Johnson is extremely active walking the blue line and activating into open space searching for scoring opportunities but again, the risk management can sometimes leave you wanting. Johnson is an interesting prospect in the sense that there is a lot of upside with his skillset, but also a lot of risk because of the warts in his game but he could become an impactful NHLer if he ends up in the proper development system.
Anton Olsson
LHD | 6'0″ | 198lbs | Malmö (SHL)
Where Brent Johnson could be considered a high ceiling/low floor type of prospect, Olsson is pretty much the opposite of that. He played out the year in the SHL, facing older and more mature competition than most of his peers, and performed admirably in a strictly defensive role. He doesn't give up much in the defensive zone, reading the play well to close off lanes and using his body to box out opposing players on their way to the net. He is a willing combatant in board battles and won't give up much easy ice, happy to lay a hit to free up the puck or take out his man. The issue is there isn't a whole lot of upside in Olsson's game and he is unlikely to ever become a big time offensive contributor or primary puck mover in the NHL. That said, if Olsson can continue to improve his gap control and overall transitional defense, he could have a long career in a third pairing, shutdown role.
Wyatt Johnston
C | 6'1″ | 178lbs | Windsor (OHL)
Johnston is another player that entered the year with a lot of hype but perhaps fell victim to a lack of showcase time with the OHL season never getting underway. He did suit up for Canada at the U18s, however, but was used in more of a supplementary role and wasn't really put in a position to dramatically increase his draft stock. Johnston plays a well-rounded game that features flashes of offensive skill. He is a solid skater and gives an honest effort every time out, pressuring defenders on the forecheck and taking care of his defensive responsibilities as well. He does a good job of supporting the play and making himself available for a pass but will do most of his damage from in close where he gets inside defenders to come up with rebounds or loose pucks. The offensive ceiling might be somewhat limited but Johnston does a lot of things well and could develop into a good two-way forward at the NHL level.
Victor Stjernborg
C | 5'10" | 202lbs | Växjö (SHL)
As is the case with Peter Reynolds, the Leafs would have seen plenty of Stjernborg this season while he played on a team with Leafs prospect @Pontus Holmberg. He got into 30 games at the SHL level, registering just four points, but produced well against his peers in the J20 Nationell league with 17 points in 19 games. That he played 30 regular season games for the SHL champions – never mind the fact that he was a trusted contributor throughout their run – speaks to the advanced style of hockey that Stjernborg employs. He plays with great speed, not just in his skating, but in the way he processes the game and executes smart plays with little time and space. He is a conscientious player in all three zones, actively supporting the play and pressuring the opposition into making decisions that his high motor allows him to take advantage of. His game is all about making the right play at the right time, and while there may not be a ton of offensive upside with Stjernborg, the mature and responsible nature of his game along with his pace of play project pretty safely to the NHL.
Chase Stillman
W | 6'1″ | 180lbs | Sudbury (OHL)
With the OHL season on hold, Stillman packed up and went to play in Denmark's U20 league – not exactly the greatest level of competition for a player looking to cement himself as a high-end NHL prospect. He did all he could there, though, and finished with 16 points in just eight games before adding another four points in seven games playing a checking role for Canada at the U18s. Stillman plays a high-energy game, pressuring on the forecheck and providing relentless back pressure in defensive transition. He protects the puck well in traffic areas and even if he isn't an elite passer, he does have some one-touch puck moving elements to his game that help him be effective in tight spaces. He isn't likely to be an offensive dynamo at the professional level, but Stillman's potential as a middle six energy player that can chip in with some secondary scoring will be awfully enticing at this point of the draft.
Honorable mentions: RHD Scott Morrow, W Alexander Kisakov, C Brett Harrison, C Oliver Kapanen, W Matvei Petrov, RHD Cole Jordan, G Benjamin Gaudreau, C Liam Dower Nilsson, C Andre Gasseau, C Cole Huckins
(Statistics from EliteProspects.com)