20 years later, the good and very bad moves of Maple Leafs GM John Ferguson Jr.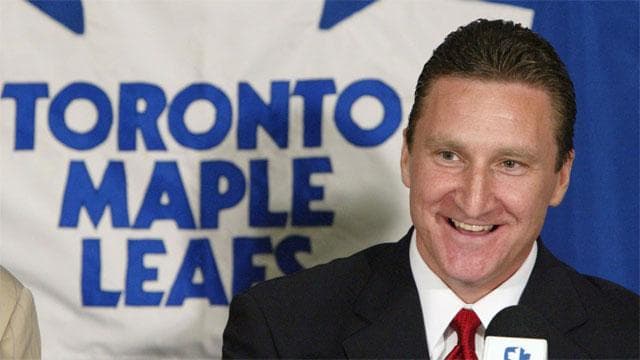 Earlier this week was the 20th anniversary of the Toronto Maple Leafs hiring John Ferguson Jr. (JFJ) as the team's 12th general manager. A youngster at the time, J
FJ was brought in
to run the show for the Leafs and let's just say he did everything but.
From bizarre trades to head-scratching signings, to rumours about how he doesn't even have full control of the roster, it was one of the worst tenure's in all of Toronto sports history. There's no way to sugar coat it, JFJ was brutal and set the Leafs back many years with some of his transactions.
Speaking of, here's a few to reminisce about as it is kind of surprising there's a couple good moves by JFJ mixed in:
Trading for Brian Leetch
While Leetch was actually have decent for the Maple Leafs, recording 15 points in 15 regular season games and another eight assists in 13 Stanley Cup Playoff games, it was the fact the team didn't even try to get him re-signed in the summer. Remind yourselves the team gave up two prospects, along with a first and second-round draft pick in 2005. While none of the players selected or prospects ended up being household names, trading that big of a package for a player who only dressed for 28 games is a fail.
Trading for Ron Francis
Yes, another absolute hockey legend but it wasn't what the team or Ron Francis needed. JFJ traded for Francis, unloading a fourth-round pick, which ended up being Jared Boll at the 2005 draft. Francis as a Leaf – dressed in 12 games, recorded 10 points, then the hall of famer retired post lockout.
Leafs Set Record in JFJ's First Season
What some people forget is the fact the Maple Leafs were lights out during JFJ's first season at the helm. The team set a team record for points with 103, with a 45-24-10-3 record. They'd go on to tough out a seven-game series win over the Ottawa Senators and ended up losing in six games to the Philadelphia Flyers.
Ed Belfour Signs in Toronto
Now some of the bad, like really bad. Ed Belfour is a legend and had a great career but there was no chance after a lockout, the Maple Leafs should have signed the 39-year-old netminder to a three-year contract. He had one great season and then one really bad one, and finished up his career with the Florida Panthers and one half season in Sweden.
JFJ Waits Too Long During Free Agency
In the summer of 2005, Ferguson decided to sit on his hands for the first three weeks of July and ends up letting all the best talent get scooped up. He then decides to trade for Jeff O'Neill, who hates the guy to this day, and JFJ then re-signs Tie Domi. While Domi was a fan favourite, the signing exposed the Leafs GM as it wasn't his move and was something ownership enforced on him.
From there, JFJ signed Jason Allison, who put up decent points but was out there skating in mud. A hand injury derailed his tenure as a Leaf and the game changed and quickly punted Allison out of it.
JFJ also gave a one-year deal to Eric Lindros. Too little too late, as Lindros couldn't overcome injuries, playing just 33 games for his home-town team.
Tomas Kaberle Re-Signed
One of JFJ's best moves was giving defenseman Tomas Kaberle a five-year deal worth $21.25 million. A very affordable contract at the time for one of the smoothest d-men in the league. Kaberle would go on to put up great numbers during his career in Toronto and was never the problem.
Leafs Miss '06 Playoffs, Fire Pat Quinn
After one of the best regular seasons in team history, the Leafs missed the playoffs and JFJ panicked and decides to fire head coach Pat Quinn. The team went 41-33-8, finishing fourth in the division but it wasn't enough. Paul Maurice would be hired as Quinn's replacement.
Worst Trade in Team History?
If it's not #1, it's certainly up there, the summer of '06 was when JFJ decided to move top goalie prospect Tuukka Rask to the Boston Bruins for Andrew Raycroft. The season before, Raycroft had gone 8-19-2 with a 3.71 goals-against average and a .879 save percentage. Rask was considered the best goalie outside the NHL at the time.
Raycroft was lights out his first season and then couldn't stop a beach ball and became the whipping boy for Leafs Nation. It felt like every time the opposing team skated into the o-zone, they were going to score.
What followed the following year you ask? After one of the worst goalie trades in history, JFJ decided to move a first-round, second-round and fourth-round pick to the
San Jose Sharks for Vesa Toskala
and Mark Bell. Yikes.
A Couple Positives to Come
It wasn't all bad during the summer of 2006, JFJ did end up buying out Domi and also declined to pick up the option on Belfour's contract. Two previous mistakes rectified. Sort of. From there, oh boy.
July 1, 2006 Was a Bad Day
After keeping Bryan McCabe and Kaberle in the fold leading up to this free agency, JFJ decides to give Hal Gill and Pavel Kubina head-scratching contracts. Gill, a depth option, was given $6.3 million over three seasons, meanwhile Kubina received $20 million over four. It wasn't smart business to say the least.
2006-2007 Season Was Forgettable
After a dismal offseason, the Maple Leafs missed the playoffs for a second consecutive year. Their record of 40-31-11 was good enough for third in the division but not good enough to advance to some meaningful hockey.
It Gets Weird From Here for JFJ
Let's circle back to May 2007. There was a lot of rumblings about MLSE wanting to find someone to advise and mentor JFJ. Scotty Bowman was someone on the Leafs' radar but it never materialized. Then, the team decides to not give their GM a contract extension, leaving him as lame duck with one year left on his deal.
This is when JFJ then decides to make the Toskala/Bell deal previously mentioned, moving three draft picks in the hail-mary type trade. Toskala was great his first season and then slowly crumbled. Bell would have to serve a 15-game suspension before even suiting up for the Leafs and then a year later was facing a six-month jail term.
A couple of weeks later,
Jason Blake was signed
to a five-year deal and ended up becoming the latest whipping boy for Leafs Nation after a couple of seasons. He'd then be moved to the Anaheim Ducks after year three.
Few months later, Leafs president Richard Peddie publicly comments that hiring Ferguson was a 'mistake' and JFJ decides to brush it off with the media, referring to it as 'background noise'.
January 22, 2008 is the End
After Cliff Fletcher was rumored to be on the Maple Leafs' radar, JFJ was fired and indeed, replaced by Fletcher.
What a ride. Thanks for nothing.