Playoff Preview: How do the Leafs match up against the Canadiens?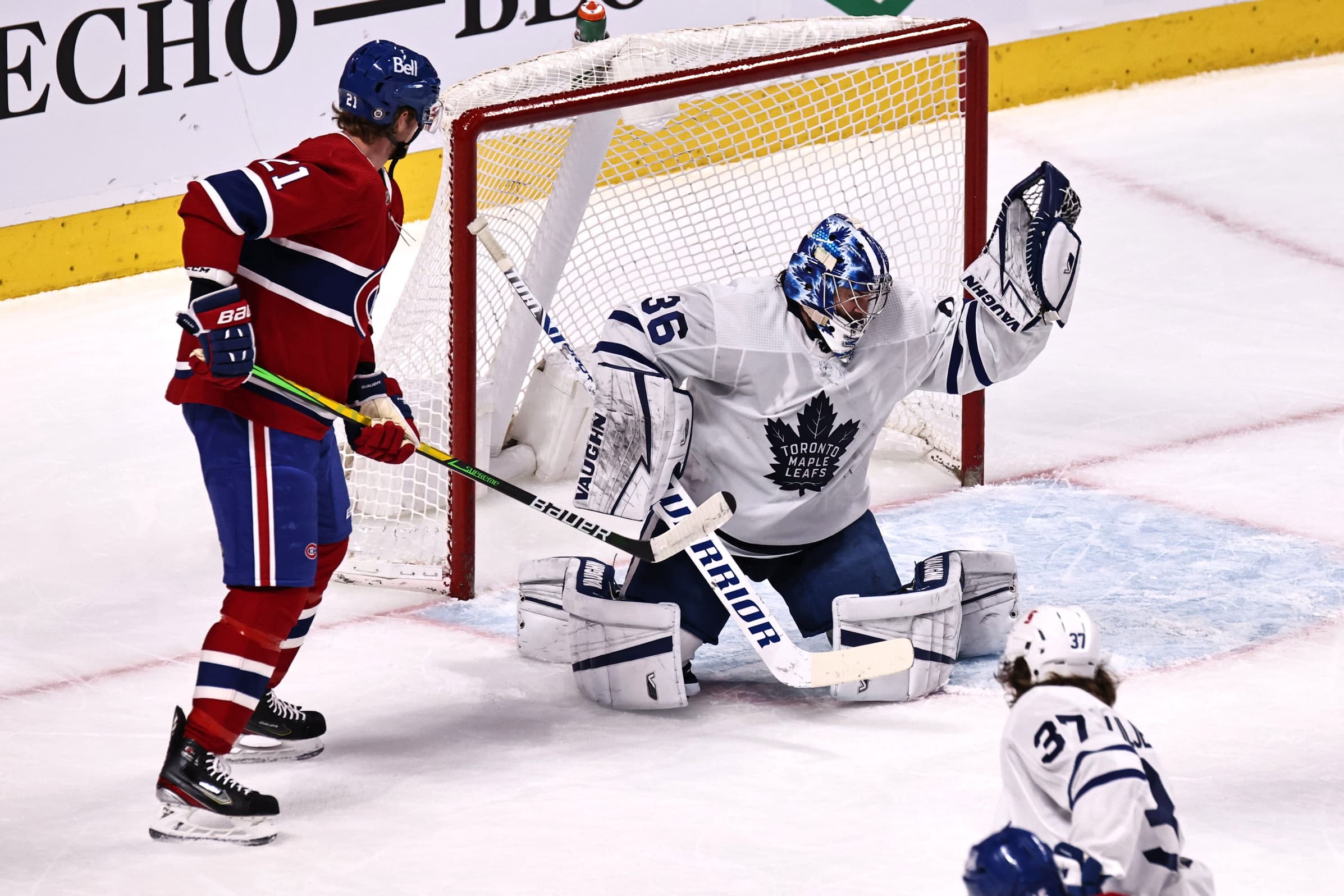 Photo credit:© Jean-Yves Ahern-USA TODAY Sports
For the first time in 42 years, the Toronto Maple Leafs will face the Montreal Canadiens in the Stanley Cup playoffs.
This series doesn't need an introduction so let's get right into it.
In this playoff preview, I'll showcase the following:
The major differences between the two teams by looking at the numbers, their lineup construction, and the systems that they implement.
The mini-battles to watch for and how both teams can be successful in each.
Series Prediction
Statistical overview:
5V5 OFFENCE
53.55 (12th)
CF/60
59.1 (3rd)
2.88 (4th)
GF/60
2.32 (18th)
2.47 (4th)
XGF/60
2.20 (11th)
9.68 (3rd)
SH%
7.50 (25th)
5V5 DEFENCE
51.44 (11th)
CA/60
49.39 (7th)
2.07 (6th)
GA/60
2.26 (13th)
2.01 (8th)
XGA/60
1.95 (5th)
SPECIAL TEAMS
20.0 (16th)
PP%
19.20 (18th)
78.50 (T22nd)
PK%
78.50 (T22nd)
The biggest difference between these two teams is their ability to turn scoring chances into goals. Toronto's elevated shooting percentage is driven by their high-end star studded forward group. They are consistently among the league's best in this regard in large samples. Montreal, on the other hand, has struggled to produce goals despite posting a high amount of shot attempts. One reason is due to their lack of shooting talent, another is the offensive scheme they tend to rely on (which will be touched upon later).
Defensively both teams have been strong this year. I'd give Toronto the upper edge in goaltending especially if Campbell can maintain his regular-season level of play. There aren't going to be many big scoring chances (especially compared to the Edmonton-Winnipeg series), so being able to capitalize on those will be vital.
Toronto's powerplay has been a talking point all season. Despite trying different combos and various strategies, their powerplay has struggled. Lately, it feels like a lot of it has been psychological. Hopefully the playoffs bring a fresh start and they are able to find their form. Montreal's powerplay hasn't been great either but having Caufield in the mix could really help. Whether they actually dress him is a question on its own.
Projected Lineup
Lines are from practice and are subject to change by Thursday. 
Toronto's star forwards are expected to be difference-makers in this series. Acquiring Foligno and getting back Hyman only bolsters that top-nine. On defense, the Leafs have improved a lot. We are only one season removed from Barrie, Marincin, and Ceci in their playoff lineup so it's quite impressive to see how much better it looks now.
The Leafs' bottom-six poses a concern. Last season against Columbus, Toronto's depth struggled to produce offense and there could be an avenue where history repeats itself. So far they have deployed their third line as a defensive shut-down line and as a result, we shouldn't expect much scoring from them in the post-season. The fourth line will have to continue producing in limited sheltered minutes. Spezza has 24 points at 5v5 but hasn't found much success with Simmonds and Thornton as his wingers. Spezza, in general, hasn't played much at center this season either. Leaving Galchenyuk's scoring talent in the press box is risky, but I do understand that Toronto values what Thornton and Simmonds bring to the table.
There's a similar veterans-based story arising in Montreal. Promising young players Jesperi Kotkaniemi and Cole Caufield were left out of the top four lines at practice. Caufield's omission, in particular, is surprising considering his hot start and the potential impact he could have on Montreal's lackluster powerplay. When asked about it, the Canadiens coach, Dominique Ducharme said he wanted to have "experience" in the lineup. Seems like both coaches are going this route. I guess time will tell which one strays from this strategy first.
The Tatar-Danault-Gallagher line has been one of the league's best in terms of driving play at even strength for the past two seasons. They will definitely see either Tavares or Matthews for the majority of this series. Nick Suzuki has assisted on ten of Tyler Toffoli's goals in 2021. The pairing has been a bright spot for Montreal and will be key in a potential Montreal series win. In a similar fashion to Toronto, I question how much offense Montreal will get from their bottom-six in their current lineup. Staal has struggled since his debut OT winner, and putting him with two shot-first wingers like Anderson and Perry doesn't seem like a recipe for success.
On defense, getting Weber back will be key for Montreal. Both the Edmundson-Petry and Weber-Chiarot pairings have been good this year. They virtually share tough deployment in terms of zone starts which gives the Habs the opportunity to shelter their bottom pairing.
Game-tape: Mini-battles to watch for
Before the Columbus series, I wrote a similar article highlighting the mini-battles to watch for. In the end, many of them were part of the reason why the Leafs ultimately lost the series and are still talked about today when the topic comes up. Each playoff matchup is different though so let's dive into this one.
Point shots vs slot chances
The Leafs and Habs couldn't be more opposite in terms of their strategy in the offensive zone. Toronto looks to get shots from the slot, while Montreal looks to shoot pucks from the point with traffic at the net. Historically, it's not that effective to revolve your "half-court" offense around low percentage shots from the point. The Habs get by as they have defensemen with effective shots, such as Weber and Petry, plus their sure volume of point shots increases the chances of one of them resulting in a goal. It's led to a ton of shot attempts but not many that are high-danger (which explains the discrepancy in MTL's Corsi-for vs their expected goals for).
How the Leafs can win this mini-battle
As of last week, Toronto ranked 2nd in cycle chances for, while Montreal ranked 19th in cycle chances against. The Leafs spend a lot of time with possession in the offensive zone, so the Habs need to improve here if they want to win this series.
Toronto uses a lot of interchanging movement in the offensive zone. When these teams played each other this season, a ton of Toronto's chances came from the cycle. Montreal hasn't been great at marking as their players tend to be a step behind the Leafs' movement. In the following example, the Leafs don't score but they receive two pucks in between the hash marks. First, Rielly steps in from the point but bobbles the pass. Next, Matthews easily spins off Ben Chiarot before finding a soft spot and firing off a shot on net.
The Leafs have found ways of finding space in the offensive zone and they need to take advantage of Montreal getting to key spots later than they should. Here they drop Nylander high and it leads to a goal from an uncontested shot.
How the Habs can win this mini-battle
On offense, it's a simple formula. Get pucks to the point, get bodies to the net, and then win 1-on-1 battles to either tip, screen the goalie or win secondary pucks. Below demonstrates a great example of it working for the Habs. They get the puck to the point, Brendan Gallagher out-muscles T.J. Brodie then he snaps the loose puck into the net.
In terms of defending, Montreal should take a page out of Columbus' playbook-which is to clog up the middle of the ice and keep Toronto to the outside. They might spend a lot of time in their own zone, but if they aren't giving up many dangerous chances, it won't matter. As we all remember, the Leafs shot 2% in the Columbus series. Partly due to bad luck and partly because they couldn't generate enough real scoring chances. If the Habs can pick off passes to the slot and turn them into counterattacks, it could lead to some rush goals the other way. After all, the Leafs have fallen victim to poor pinches from their defensemen all season.
Stealing and converting
Sometimes it's easier to walk to the store to buy a ready-made pizza than it is to make one from scratch. In hockey, stringing together consecutive clean passes and having it lead to a goal might seem ideal in theory but doesn't always work out in practice. Just ask the 2020 Leafs. This season, Toronto has diversified their offense and score much more often by forcing turnovers in the offensive zone. In addition, they have a ton of stand-out puck retrievers who win races after a dump-in like Zach Hyman, Ilya Mikheyev, and Nick Foligno.
The Habs are also very good at generating chances on the forecheck. Not only do they have big forwards who can win battles (i.e Anderson) but they also have quick wingers who can win races (i.e Gallagher, Byron). According to
Logiqbets
, both teams rank in the top five at generating forecheck chances and are in the middle of the league in terms of defending the forecheck.
How the Leafs can win this mini-battle
As per usual, the Leafs are going to need clean exits in order to limit their turnovers. They have a number of reliable puck movers and a system that utilizes east-west passes to stretch the incoming forecheck and shorter north-south passes to exit the zone safely as a five-man unit. We have seen Toronto suffer from their opposition's forecheck in the past, especially against the Bruins, but their improvement over the years in this department should really make a difference in this series.
On their own forecheck, the Leafs need to be on top of the Habs puck carrier when they are looking to move up the ice. Montreal likes to get the puck out of their zone as soon as possible. This method gets them to the neutral zone quicker, but it also makes it harder for the puck carrier if they are looking for a clean outlet pass. In the example below, Armia wins possession but both Suzuki and Toffoli have turned their back to skate to the neutral zone. Armia takes a second too long and turns it over. By the time Suzuki and Toffoli get back, Edmonton has already set up.
Matthews, Marner, and Nylander are among the league's best puck-thieves. Right when you think you are about to get out of your zone, they can steal the puck back and look to score.
How the Habs can win this mini-battle
The Habs forecheck has to make this series a bit nasty through their physicality. It sounds cliche, but there's no denying that a quick and physical forecheck can cause trouble. Montreal has the forwards who can win races vs Muzzin, Holl, and Bogosian and ones who can win puck battles vs Dermott and Rielly.
On their own breakout, while it is definitely risky, it will be beneficial to try stretching out the Leafs with longer passes. Montreal has been one of the better teams at generating offense on the rush and one reason for this is their ability to move the puck up the ice in a hurry.
First goal wins!
It's obvious that if you score first, your chances of winning the hockey game go up but how a team performs when the score changes matters. I don't think I have to convince Leaf fans that how a team defends a lead can impact a playoff series.
In general, when a team takes the lead, they tend to play more conservatively. They take fewer chances and the coach leans on his defensively strong players more than his offensive ones. For example, a player like Mikheyev would get more ice time than Galchenyuk when Toronto has the lead. This usually results in the leading team spending more time in their own zone. The opposite occurs when a team is trailing.
One of the biggest differences between the 2021 version of the Leafs and the past is their ability to defend leads. The Leafs have a better defense core overall and have a number of strong defensive forwards. This only improved when Dubas added Nick Foligno and Riley Nash at the deadline.
The Habs have also been good at driving play when leading. As a result, I don't particularly expect as many blown multi-goal leads as we saw in the Columbus series.
When tied at 5v5
When Leading at 5v5
When trailing at 5v5
Toronto
xGF%
Montreal
Toronto
xGF%
Montreal
Toronto
xGF%
Montreal
57.79 (2nd)
55.75 (4th)
51.79 (5th)
51.31 (6th)
58.35 (3rd)
51.84 (16th)
One major difference between the Montreal and Toronto is their ability to generate offense when trailing. The Habs virtually dictate play at the same rate regardless if they are losing or winning which isn't the case with many teams across the league. No lead is safe in hockey, but Toronto's ability to defend leads combined with Montreal's inability to fight back when trailing is a huge advantage for the Leafs.
How either team can win this mini-battle
Well….. Score first.
Prediction time:
As we have learned before, anything can happen in a seven-game series but Montreal will need quite a bit to go their way to win. Their best bet is to slow down Toronto's top-six forward group from scoring as I don't think Toronto's depth will provide much offense, especially if they dress both Thornton and Simmonds. With that said, I don't think Montreal will be able to do that. Matthews has had his way against them, and the Tavares-Nylander duo have been really productive in the second half of the season.
The Leafs have too many ways of scoring at 5v5, and unless Campbell's level of play drops, I can't see Montreal scoring enough goals. If the Leafs get their powerplay going, this one could be done earlier than expected. This series will be filled with close contests but it feels like this is finally Toronto's year to get over the hump.
Prediction: Leafs in six. 
Thank you for reading and enjoy the series!