2022 Olympics: Potential NHL Free Agents to Watch in Group A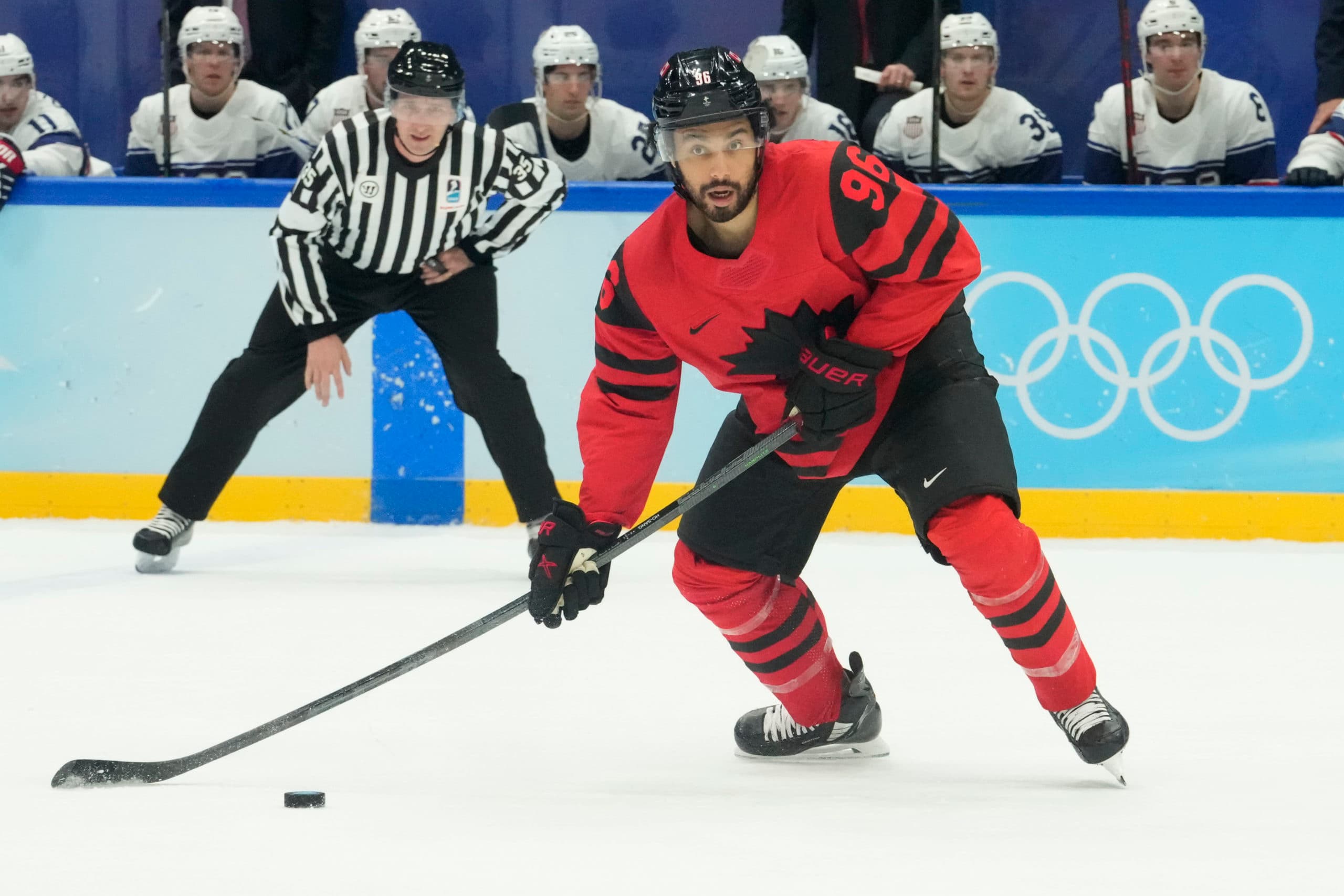 Photo credit:Rob Schumacher-USA TODAY Sports
This is part three of a three part series on u27 players at the Olympics who might have a future in the NHL. Here's where you can find parts
one
and
two
. There's 10 players I wanted to highlight in Group A, including 2 Leaf prospects. Everyone else is free to sign with any NHL club at any time, and the Olympics will be their opportunity to show those clubs why they should be signed.
The situation for USA and Canada is well documented, their best players are in the NHL and not available for the Olympics. The US drew from a wealth of talent in the NCAA, but the step up in competition is much bigger for them than players in the top European pro leagues. It will be interesting to see how quickly they adjust to the big ice too, as 14 of their players come from the NCAA. Canada has more hockey talent scattered across the globe than anyone else, but much of them are depth players for their European teams rather than first liners. One reason is that many Canadians who are just shy of NHL quality will remain in the AHL on NHL contract, and are ineligible for the Olympics. Canada still brings a strong team, but there just isn't the high end talent that we've come to expect from hockey's founding nation.
Germany won't find any easy roads to the gold medal game this time around, I feel that they brought an overall weaker roster than 2018. Much like Switzerland, Germany's roster is mostly made up of older players who went to the NHL and have since returned to German hockey. They have over 1000 games of NHL experience, collectively. There is not so much up and coming talent developed in Germany on this roster, but overall it is a deep team who should be competitive. China is in it's first ever Olympics as a men's hockey team, and they had to bend some rules to even get a full roster. I want to encourage them as a developing hockey nation, but they will not be a competitive team in this Olympics. It will still provide some great experience for players born in China and with Chinese ancestry, and that's a good thing for the game of hockey. It will also give young hockey players in China some heroes to look up to, that's the type of thing that leads to a new generation of players even more prolific than the last.
USA
The Leafs have two high end prospects on the American team in 
Matthew Knies
and 
Nick Abruzzese
, since this is already getting quite long I will refer you to Nick Richard's
#7 ranking of Knies
in the Leafs prospect pool, and Ryan Hobart's
#8 ranking of Abruzzese
. Both are very well done, as you would expect from those two.
A large portion of team USA is from the NCAA, and I have watched minimal college hockey this season. Their team will be more well covered in the hockey world than anyone else, so I'm just going to mention the names of Marc McLaughlin and Ben Meyers. Both are undrafted and eligible to sign as free agents this summer, and both are captains of their respective NCAA teams. They will almost certainly get signed to NHL deals after getting lots of attention at the Olympics. Meyers is a teammate of Knies on Minnesota, and the Leafs have been linked to him already.
I don't usually give much love to goalies, but Strauss Mann has been excellent in the SHL this season. A .921 sv% as a 23 year old, also a free agent this summer, he will probably have multiple teams to choose from. After missing out on CHL star Mack Guzda, it has been circulated that the Leafs are still looking at signing an undrafted goalie. The American net seems like anyone's for the taking, so a big performance from Mann early on could put him in a pretty big spotlight.
Canada
The Canadian team has 5 drafted players on NHL reserve lists, and 15 players age 30 or older. From the group in between there are only two guys who were under the age of 27 to start the season, and both of them have a decent chance to sign NHL deals.
First is
Josh Ho-Sang
, who has spent this season on an AHL contract with the Toronto Marlies. He has 20 points in 27 games, which is slightly over his career AHL average of 0.7 p/g. At 26 years old Ho-Sang isn't exactly a prospect anymore, but he has 1st-round draft pedigree and is incredibly exciting with the puck on his stick. TLN's David Alter wrote about how
excited the organization was
for Ho-Sang to go to the Olympics, and Michael Mazzei wrote about the
potential for him to sign
an NHL contract afterwards.
I think most Leaf fans are familiar with Ho-Sang's situation, but for fans of other teams those are two great articles to read. Technically Ho-Sang can sign with any NHL team, but as a Toronto guy it seems the Leafs have an upper hand. He's played over 50 NHL games in his career, and overflows with offensive vision and talent. I think it's a matter of when, not if Ho-Sang will be back in the NHL. Once he fights his way back, Ho-Sang seems like a middle-6 injury replacement who can fill in on the PP as well.
Second is Adam Tambellini, a 6'4″ Center who was a 3rd round pick of the Rangers in 2013. He competed a 3 year ELC with NYR, didn't receive a QO, and signed a 1 year deal with Ottawa. Tambellini was always right around 0.5 p/g in the AHL, but couldn't earn another NHL deal. He then went to Sweden and tore up Allsvenskan (on a team with Fredrik Olofsson), before signing a 1 year deal with SHL Rogle.
He has since signed a 3 year extension with Rogle, and is under contract until 2024. With that being said his 35 points in 33 games is really impressive for a big man, and Tambellini is an Alberta guy that could probably be lured back to North America with a 1-way contract. His father Steve and brother Jeff both had lengthy NHL careers, and I think Adam has enough gas in the tank to make the family a trio of NHLers. At the NHL level he is probably no more than a 4C, but his time in Sweden has proven Tambellini could be a 4C with some offensive flair.
Germany
All but 4 of the German team were selected from the DEL, and there is not a ton of data on players signing NHL contracts out of the DEL. With that being said, Frederik Tiffels' 1.23 p/g is almost unheard of in the top German league this century. He was drafted by Pittsburgh in 2015 as a 20 year old, after getting off to a hot start in the NCAA, and putting up 4 points in 6 games at the WJC. I won't claim to be an expert on him as I've only seen him in World Championships, but I'm going to be keeping an eye on him at the Olympics.
Dominik Kahun couldn't get a qualifying offer from Edmonton in 2021, they aren't exactly flush with depth either. I had high hopes for Kahun after his 37 point rookie season, but he couldn't stick in the NHL and is now under contract in Switzerland until 2024. It doesn't seem like North American hockey is in his future, but I'm still excited for him to have another chance to show he is NHL caliber. He has 41 points in 37 NL games this season.
China
Last but not least is Tyler Wong, a former Toronto Marlie now playing in the KHL for Kunlun Red Star. He was born in Alberta, and had to play 3 seasons for KRS in order to be eligible to play for the Chinese team. In those three KHL seasons, Wong is averaging just under 0.5 p/g on one of the lowest scoring teams in the league.
Watching him in the WHL with Lethbridge and in his AHL stints, the thing that stands out most is just how hard a worker Wong is. He brings tons of energy out on the ice, and never backs down from a puck battle despite being on the smaller side at 5'9″. In the WHL he was a dominant scorer because he had an excellent shot selection, but also went into the corners and got the puck for himself. NHL teams are always looking for players with a tireless work ethic, but it will take a big performance at the Olympics for a team to sign a 5'9″ depth winger.
I think Wong is a guy many NHL organizations would be willing to sign and play in the AHL. He has vastly improved since his last AHL stint, and would likely be a top scorer like he was in his last couple WHL seasons. He'll be 26 when next season starts, and an experienced player who brings energy to the lineup is a big plus for AHL clubs. Wong wears an A for KRS, I think someone like him could become a leader at the AHL level who works his way into a couple NHL call-ups.
Group A
All of the youngest players in this group are drafted to NHL teams, and most of the older guys have already had their shot at the NHL. As a Canadian I will be cheering for Canada, but it would also be nice to see Abruzzese and Knies succeed. China won't have the most competitive tournament, but I will be really interested to see who on their team makes a name for themselves on the biggest international stage in hockey.
Since so many of the potential FA's are from the NCAA I only have data on 4 players, but Tiffels is having quite a season. I'm not actually sure when his contract is up, but the German article announcing his signing made it seem like it was just for one season. The lack of DEL data means someone with a high p/g will seem like more of an outlier, but he's tearing it up like few before him. I explained this data a little better in the article for Group C, but generally a player with 1 St.Dev is likely to sign an NHL contract, and a player with a St.Dev of 0 is right on the average p/g of FAs to sign out of that league at that age.
This concludes my three part series on potential NHL Free Agents at the Olympics. I profiled 27 players under the age of 27, including 4 Leaf prospects and 4 draft eligibles. Of the 19 players who are true FAs, 15 were Forwards, 3 were Defense, and 1 was a Goalie. I expect at least 5 of those players to sign NHL contracts, and I will be giving updates on the players who do on Twitter @EarlSchwartz27. Thanks for reading!
Recent articles from Earl Schwartz