2022 Olympics: Potential NHL Free Agents to Watch in Group B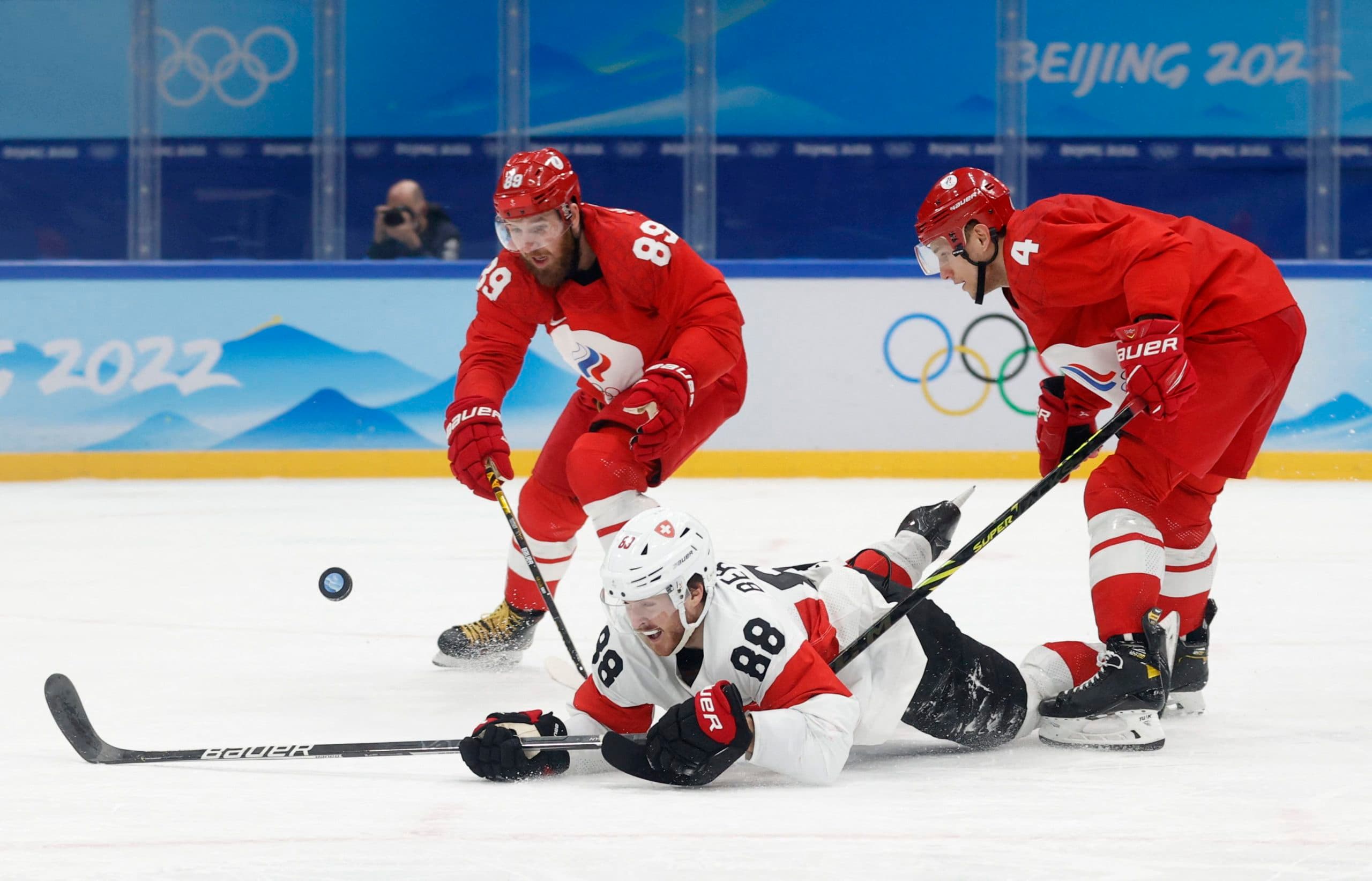 Photo credit:© Reuters-USA TODAY Sports
This is part two of a three part series on u27 players in the Olympics that might have a future in the NHL. There's 8 players in Group B I wanted to highlight, including 1 Leaf prospect and 1 draft eligible. The remaining 6 are not on the reserve list of any NHL club. My goal here is to highlight why NHL teams might be interested in these players, as there was a handful of players at the 2018 Olympics who went on to find success in the NHL. Since most u27 players are bound by the ELC system, they can be added to NHL rosters for under $1m.
Russia and Czechia are the powerhouses of the group, brining exciting teams and hoping to medal. Switzerland brought a comparatively weaker team than in past years, in my opinion. Denmark's roster has a large contingent of players from the IceHL and native Denmark league, which are a large step down from the KHL, SHL, Liiga, NLA, DEL, and Czech leagues.
Russia
As I mentioned in
yesterday's piece on Group C
, Russia brought a really young team. 13 of their players are drafted and on an NHL reserve list. 18 of their players are under the age of 27. They have one player that will get more NHL offers than anyone else in this Olympics, and that's
Andrei Kuzmenko
.
-Update: Kuzmenko has been removed from the ROC roster with an injury, but I am keeping his profile because I already wrote it-
Kuzmenko
is 2nd in the KHL in scoring, a 25 year old, 5'11" LW who shows flashes of brilliance with the puck on his stick. He was #1 on my
2022 European FA Forwards
list. To keep things succinct I'm just going to recommend you read that article to get a summary on him, and one other player in this Olympics. Kuzmenko's patience with the puck and willingness to draw defenders in will create some marvelous scoring chances against weaker competition. He employs an understanding of open space to gain the offensive zone and pass to a teammate attacking with speed. On SKA that creates many chances for Kuzmenko to make the first pass in the O-Zone, move to an opening in the slot, and catch a bump pass or a rebound.
Kuzmenko has an excellent shot, and more importantly an eye for when to use it. I've seen many of his goals where he gains the offensive zone, scans, and decides to just beat the goaltender looking. Again referring back to his patience, he often moves the puck to a dangerous area and looks off a pass before beating a goalie from in tight. He might see a wide range in talent in the opposing net, so keep an eye out when he gets the puck around the crease for some highlight reel plays. He has 20 goals and 53 points in 45 KHL games, and I could see him putting up 0.5 p/g in the NHL with some PP time.
Every single player in KHL history to have a point per game season before the age of 26 has signed in the NHL. Kuzmenko's 1.18 p/g as a 25 year old is just behind Nicklas Backstrom and Alexander Radulov at the same age. Kuzmenko's skating being on the weak side will keep him from driving play as well as those two in the NHL, but he has such elite puck skills that he could still end up in a team's top 6. There are some parallels to Evgeni Dadonov in that sense.
Kuzmenko could have signed in the NHL two years ago, but chose to sign a 2 year extension in the KHL. That allows him to sign a 1-year ELC this season that will expire UFA. That means he will be looking to sign somewhere that maximizes his exposure to other markets for when he hits FA. Kuzmenko's agent is Dan Milstein, and when Alexander Barabanov was in the same situation he chose to sign in Toronto.
Artyom Minulin is a 6'3″ RHD with 13 points in 46 KHL games this season. He just turned 23 and is a FA this offseason. If he performs well at the Olympics, there is always a market for that type of player. He played 4 seasons in the WHL and was ranked by 4 scouting services in the 2017 NHL draft, so it's not like teams are unaware of Minulin.
Sergei Telegin is in his 2nd straight season with Traktor Chelyabinsk, a 5'11 LHD. He's only 21 so he might not play much at the Olympics, but he's technically in his last year as a draft eligible. When it's getting down to the 7th round and the draft boards are getting barren, it really helps your chances to be a (potential) Olympic medalist.
Denmark
Oliver Larsen is a 23 year old RD, 6'1″ and 207lbs. He's just over half a point per game in the Finnish Liiga this season, and had some success in the SHL before that. Another player I don't know a ton about, but probably the only Denmark skater on any NHL radars. Denmark is probably going to get pushed around a bit this year, so I'm curious to see if Larsen will stand out in a good way or a bad way.
Czechia
This team is more of a mix of old and young, the 30+ section of the roster including some Czech stars. Their success will hinge on those older players, but don't sleep on Czechia. They have players that have risen to the top of leagues all across Europe, and a sneaky good D core of offensive defencemen.
Speaking of offensive blue liners, Lukas Klok is 5th in KHL scoring for D with 31 points in 44 games. At 26 years old he's not much of a prospect, but a 6'1″ LHD that produces that well in the KHL is hard to find. Unfortunately he is under KHL contract with Neftekhimik until 2024, but Klok is so talented I wanted to make note of him. Mikko Lehtonen had another year on his KHL contract when the Leafs signed him, and they have very similar KHL production.
Jiri Smejkal
is the other player from my
European FA primer
, again I will refer back to that for more info on him. Briefly, he's a 6'4″ LW with some really good hands. He was a bit of a late bloomer in the Czech Extraliga, but has taken off since signing in Finland. He's tied for 2nd most goals in Liiga, and 8th most points, with 31 in 31 games. At 25 years old he would be eligible for a 1 year ELC, and I'm confident he could step into some NHL games in 22-23 and not look out of place. He had better production than Radim Zohorna at the same age, who ended up signing with Pittsburgh. Oddly enough, Zohorna's two brothers are on the Olympic team with Smejkal.
Smejkal has all the tools to step into an NHL bottom 6 for under $1m, if he develops his game physically he can create havoc below the goal line and finish at a high rate from in tight. At the very least I think he could be an upgrade on someone like Jimmy Vesey or Alex Chiasson who still have full time NHL roles in some part due to being large.
Michael Spacek was a 2015 5th round pick of the Winnipeg Jets, who finished a 3 year ELC in the AHL before returning to Europe. He went from Finland back home to Czechia, then signed in Sweden for 21-22. The 5'11" Center has 33 points in 34 SHL games this season, mostly assisting Red Wings prospect Elmer Soderblom. Spacek is turning 25 this year and under SHL contract until 2023, which lowers his chances of signing this offseason. Since the SHL has a transfer agreement, NHL clubs could still sign Spacek but would have to compensate Frolunda.
I believe Spacek is still represented by Craig Oster, who has the most active contracts on Puckpedia's
agent list
. Since Spacek has already completed an ELC, he could be offered a 1-way contract, guaranteeing him far more than his SHL salary. If someone really likes what they see in him at the Olympics, he could be had as a cheap 4C.
Switzerland
After starting off with Russia, an average age of 26, I feel like many of the teams are comparatively old. With an average age of 30, I am once again forced to say Switzerland brought an older team. It is a consequence of many young Swiss players transitioning to the NHL early in their careers, and many of the players on the Olympic roster have had their time in the NHL and returned to the Swiss NL. In fact, they have over 1500 combined NHL GP. It's a long way of saying I only have one player of interest for Switzerland, and that's Denis Malgin.
He's still property of the Leafs, I wrote about him
late in 2020
. He just turned 25, and he's just over a point per game in the past two seasons in Switzerland. He signed a long term contract with the ZSC Lions, but again he could be lured back with a 1-way contract. He's a very small winger, crazy fast, fun to watch. Had really good transition numbers in the NHL.
Group B
Russia will be the team to watch all tournament, but with the late removal of Kuzmenko they have no big name Free Agents. As a result I am probably going to be rooting for Czechia, as they have two forwards that have really good odds to sign NHL deals. Switzerland doesn't have the most exciting roster outside of Malgin, I expect them to be middle of the pack. Denmark will be skating uphill most of the time, they're going to have a tough go of things in this group.
All 4 forwards in Group B have produced really well in their respective European leagues. Klok has been impressive on D, but his long term extension makes him unlikely to appear in North America any time soon. The two young Russian D are barely going to get any ice time, but if they win they'll get a gold medal all the same.
I explained the numbers above in the
Group C
piece. Stay tuned for Group A tomorrow, and follow me on Twitter @EarlSchwartz27 for more updates!
Recent articles from Earl Schwartz