2022 TLN Prospect Rankings: #12 Semyon Der-Arguchintsev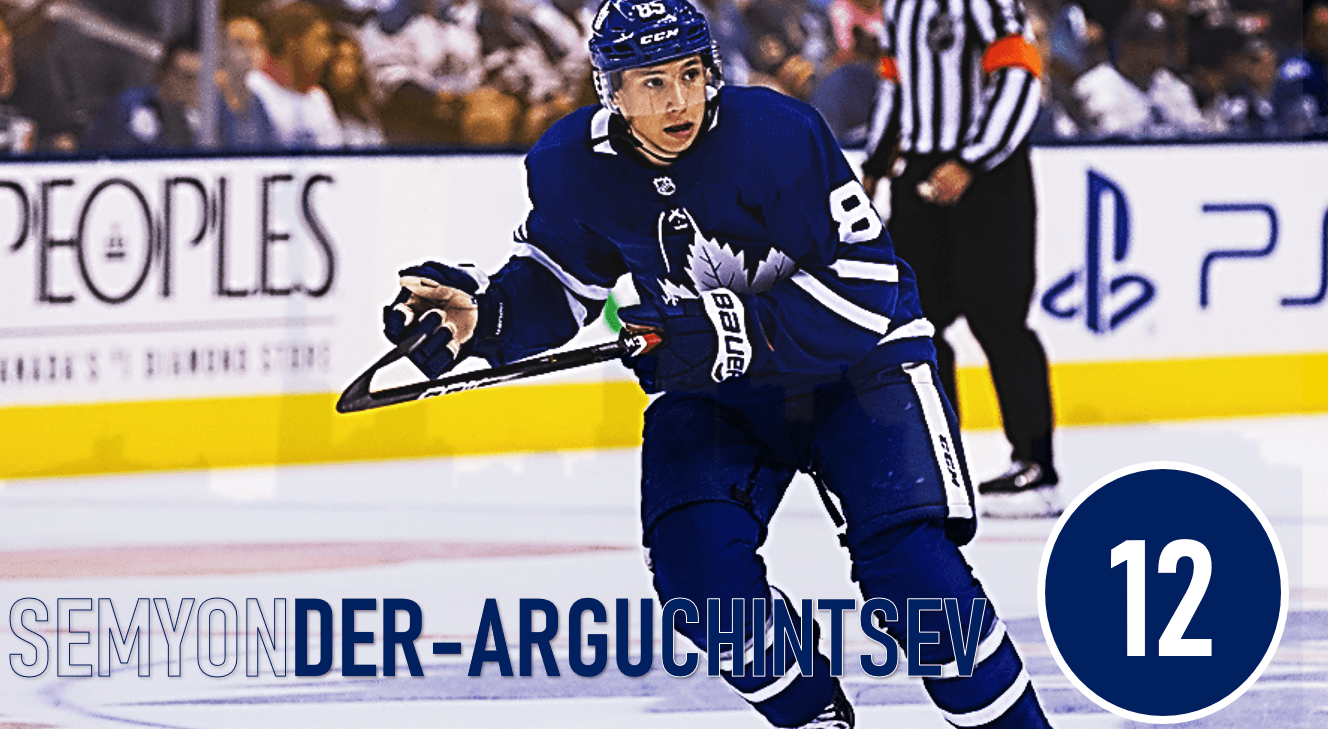 This past season was the start of something new between the Maple Leafs and Semyon Der-Arguchintsev.
Although the 21-year-old had one short stint of pro while on loan in the KHL, this would be his true taste of North American professional hockey. And it was a fascinating year to say the least.
It didn't feel like there was much riding on this season for Der-Arguchintsev, but there actually was. This was his first full season in the AHL — in a prominent role albeit. It was SDA's time to shine and to show what he could have for the organization in the future.
Semyon Der-Arguchintsev
C | Toronto (AHL) | Age: 21 | 5-foot-10 | 165 lbs | Shoots: R
Acquired: 2018 Draft, 76th Overall | 2021 Ranking: #16
Entering the 2021-22 season, the 21-year-old needed to add a few things to his toolbox to fit in well with the Toronto Marlies — gaining more weight and muscle was the biggest. Coming out of the Traverse City prospect tournament, it was evidently clear that if Der-Arguchintsev wanted success, he'd need to grow.
Over the course of the season, that happened. In his first 17 games, the 21-year-old had 13 points — four being goals and the rest coming as assists. This was the fiery start that Der-Arguchintsev needed, yet unfortunately after this huge stint at the beginning of the season, it came to a screeching halt.
In his next 14 games, Der-Arguchintsev had only four points and seemed to be a ghost during the Marlies' games. It was an interesting time for the 21-year-old — struggling wasn't something he was used to at this level — but he fought through it.
With 20 games remaining on his season, Der-Arguchintsev found himself scoring 15 points in that span. The 21-year-old scored more goals in his first season of pro (13) than he ever did in the OHL with the Peterborough Petes. And only did it in 51 games.
He had a massive season.
"[Der-Arguchintsev] was maybe one of the most improved players of the year." Marlies head coach Greg Moore said after Toronto's season came to a close. "Early in the season, I think it was getting used to the consistency, the pace of play, and the strength of the league. He started to put in a lot of work in the weight room, in practice, and the consistency of how hard he pushed himself to elevate physically and building stronger habits, which started to show up in the second half of the year. Way more competitive in game, really strong on pucks.
"And obviously when he gets the puck through the middle of the rink, he's pretty special in what he can create and what he can do, how he can think off of his teammates, how he can make his teammates look really good with getting them the puck in really tight areas. It's unfortunate that he had a couple of injuries there that took him out when he was gaining that momentum. But he put in a lot of good work this year and really excited about the progress he made and where that can lead into next season."
The 21-year-old thrives when he has the puck on his stick. Whether it's in the offensive or defensive zone, there are some plays he makes that just make you go "Wow." He can pass the puck or he can use his slick hands to get around his opponent rather easily.
While most of Der-Arguchintsev's points do in fact come from him setting someone else up, there were points where he wasn't afraid to show off his confidence either.
Throughout the year, he echoed that his goal was to be a two-dimensional player, sort of like what Mitch Marner is at the NHL level. When the opposing team knows that you can just pass the puck, it's a lot easier on them. So, Der-Arguchintsev made an effort to improve his shot down the stretch.
And it worked.
The 21-year-old found himself open for more shot attempts as the season went on — being more aware with what he has in his toolkit. Similar to what I said earlier though, he got stronger in the gym. When that came into effect, his shot became much harder too.
When you put everything together, Der-Arguchintsev looks like he could be a player with a lot of upside in a couple of years. He's incredibly smooth on his feet and you're going to need that for a centre at the professional level. Add that with a shot that's improving, a stronger/heavier player, his slick hands, and his passing abilities — you have a scary player on your hands.
It can't be understated, though, that he improved a lot throughout the season all while going through injuries. The 21-year-old made a conscious effort to improve, and he did just that.
(He also did this too.)
One aspect of his game that I'd say needs improving is his decision-making. There doesn't seem to be a problem in the offensive zone, but at times when Der-Arguchintsev was trying to breakout of his own zone, he struggled. It could've been a giveaway or just mishandling the puck, but it's something he needs to be better at.
Predicting a player like this is incredibly tough for me. We've only seen 57 games of him at the AHL level — still technically not a full season. However, the 21-year-old has played very well. Similar to Mikhail Abramov, this next year is going to be massive for him.
I believe if everything pans out for Der-Arguchintsev, he could be a bottom-six centre at the NHL level. Though even that could be pushing it to some extent. Again, it's just so difficult to judge because of how little he's played in pro hockey.
But if history tells us anything, it's that a player who was drafted four years ago needs to start getting everything together. I think Der-Arguchintsev is doing just that and has more to show next year.