2022 TLN Prospect Rankings: #14 Mikhail Abramov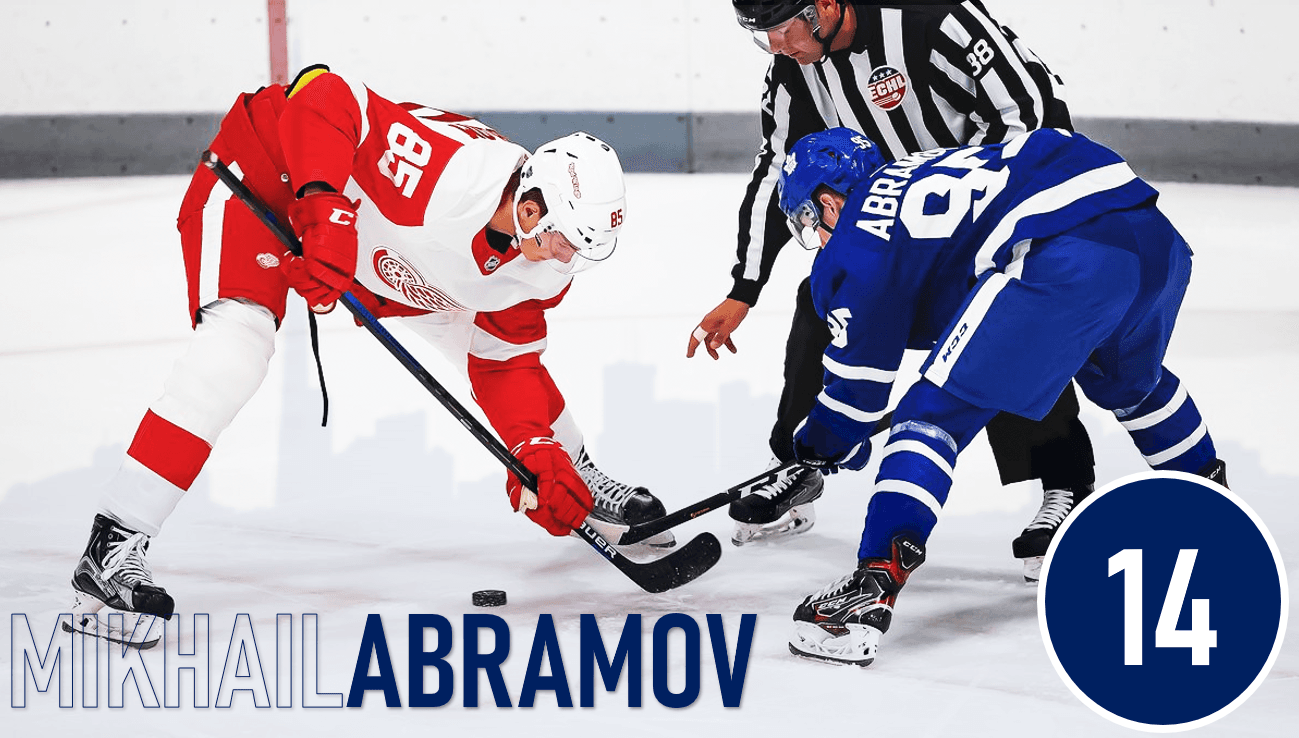 When Mikhail Abramov entered the Maple Leafs organization full time, there were plenty of question marks.
The 21-year-old seemed like the perfect pick for Toronto in the fourth round back in 2019. A six-foot tall centreman who was able to be dominant with the Victoriaville Tigres in the QMJHL — he was someone the Maple Leafs needed to pounce on.
One of the unfortunate parts for him, and for plenty of other NHL prospects, was the pandemic which slowed his development down. In his final season in the QMJHL, Abramov was the captain in Victoriaville but only wore the 'C' for 25 games.
And now, the 21-year-old is in the AHL, where plenty hope his game will evolve.
Mikhail Abramov
C | Toronto (AHL) | Age: 21 | 6-foot-0 | 161 lbs | Shoots: L
Acquired: 2019 4th Round, 115th Overall | 2021 Ranking: 9
At the beginning of his first AHL season, many had question marks about whether Abramov would fit in the AHL right away. Obviously, he had the skillset, but did he have the ability to deal with the physicality of the AHL?
Short answer — yes. Long answer, we'll see.
It was mostly an up and down season for the 21-year-old. When entering your first season of pro after having spent a few years in junior, there's a lot to figure out. The biggest learning point for him was the physical players in the bottom-half of AHL lineups.
There were points in the season where Abramov showed what kind of player he can be at the pro level. His vision, his shot, and his playmaking abilities all came to the forefront at times. However, at other moments, he seemed to be invisible.
The 21-year-old finished with 28 points across 66 games last season, mostly commanding the third-line centre role. That's a pretty decent total playing that far down the lineup, all things considered. He began the season strong, scoring 17 points in his first 33 games, and only had 11 points in his final 33.
There was even a point in January where it felt like Abramov was finding his confidence in the AHL — scoring ten points in as many games.
Being invisible, though, wasn't always a bad thing. It was obvious that in year one, there were going to be points where the 21-year-old struggled. He's human — it was destined to happen. But for myself, there weren't a lot of plays he made that had me questioning his abilities.
Abramov thrives in the offensive zone, and when he's confident on the ice, he's a very dangerous player for Toronto. One of the biggest aspects he needs to put together over the course of a full season of pro is consistency. Like I said, his first year in the AHL was going to be tough, however I expect a more offensively consistent Abramov in 2022.
That, and gaining muscle are probably the only two things I'd like for him to have in his toolkit this upcoming season. The stronger he gets, the better he'll be at pushing players off the puck and keeping it for himself. It's a fast game, though sometimes I'd like to see Abramov hold onto the puck for a longer period of time.
This was one play late in the season where the 21-year-old had a lot of confidence with the puck. You can see how good his puck protection is. If he's able to have more of this next season, again, he's going to be a massive player for the Marlies.
But there's more than just his puck protection that shines during this play. Abramov's foot movement allows him to weave in and out like that very quickly, losing the defender quite easily. His vision also stands out when he finds Nick Robertson in the slot, extending and wrapping his stick to get the pass into the slot.
His playmaking abilities are all highlighted in that clip and there'll likely be a lot more of that next season.
When it comes to other strong suits in his game, his hands come to mind. The moves I've seen Abramov make in practice, but more importantly in games, has at times made me tilt my head in awe.
He was also the player most likely to try the lacrosse goal in-game, some of the Marlies said earlier this year.
The 21-year-old's agility and balance is incredibly strong, especially when he's able to pull of moves like that. This is a complete player who has all the makings of being an NHLer one day. Everything just needs to come together.
Whenever the Marlies went into a shootout, Abramov was one of the players who wasn't afraid of shooting. He wanted to take the shots at those moments, Marlies head coach Greg Moore said last season. Abramov has a lot of confidence in that area.
And when he can pull off moves like this, why wouldn't you want him to go up?
One final box that's left to tick off is his shot. Abramov has a shot that can come off of his stick incredibly quick. It's not the hardest of shots, but it's one that can sometimes leave goalies stunned if it beats them. I'd like to see him improve more on that over the summer.
Doing so will make him more of a two-dimensional player — one who is dangerous while passing the puck or shooting it.
If I had to predict what Abramov might be in the future, I'd say it's a bottom-six centre at the NHL level. However, he could also end up being a player who bounces between the AHL and NHL. This next season is going to be a big one for the 21-year-old. He has the experience of his first year pro, and now it's just a matter of building off of that.
Abramov has a fascinating future ahead of himself.