2022 TLN Prospect Rankings: #18 Veeti Miettinen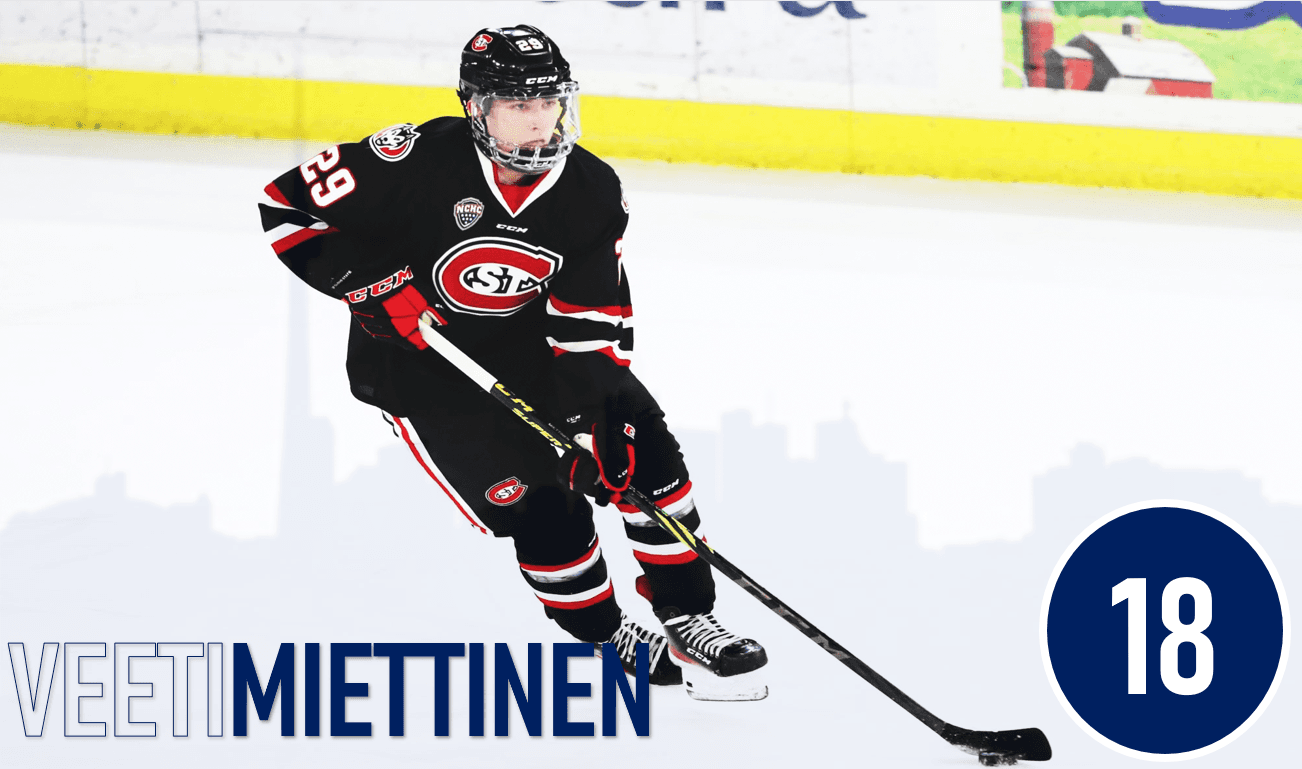 This time last year, Veeti Miettinen was on an upward trajectory following a strong freshman season in the NCAA.
Less than a year removed from being a sixth-round pick for the Toronto Maple Leafs, Miettinen tied for the most points on St. Cloud State, won Rookie of the Year and landed on the Second All-Star Team in his NCAA conference, and rose from an honourable mention on the TLN Prospect Rankings all the way up to 12th.
One year later, Miettinen drops six positions on the TLN Prospect Rankings after an uninspiring sophomore season. A stagnant offensive year with a lack of progression in the deficiencies in his game has cooled some of the Miettinen hype, but there are still skills to get excited about.
Veeti Miettinen
LW | St. Cloud State (NCHC) | Age: 20 | 5-foot-9 | 160 lbs | Shoots: L
Acquired: 2020 6th Round, 168th Overall | 2021 Ranking: 12th
On the surface, it would appear that Veeti Miettinen had a similar season to his freshman year. He scored 10 goals and 23 points in 37 games as a sophomore, compared to 11 goals and 24 points in 31 games as a freshman. His scoring rate took a slight dip, but nothing overly drastic?
For starters, St. Cloud State took a slight step offensively, going from 3.26 goals per game in 2020-21 to 3.56 goals per game in 2021-22. The top end of their lineup became much more productive, dropping Miettinen from a tie for first in scoring in 2020-21 with 24 points in 31 games all the way down to seventh in team scoring with 23 points in 37 games.
Where Miettinen remained strong was on the powerplay. On the top-ranked powerplay in the NCAA, clicking at a mighty 31 percent, Miettinen led the Huskies in primary powerplay points with 12, ranking fourth in the entire NCAA. While those are promising results, it also means his even strength production was lacklustre with just 23 total points on the year. Miettinen scored just five goals and 11 points all season at even strength.
Now we get to the strange: Miettinen scored zero secondary assists all year. All 23 of his points were primary. An emphasis is put on primary point production as it is much more repeatable year over year, but not even one secondary point?
This stat could be a symptom of Miettinen's lack of involvement for St. Cloud State this year. Often, it seemed that Miettinen was a passenger for the Huskies, not particularly involved defensively, not as active in transition as I would've hoped, and looking for open space in the offensive zone rather than controlling the puck himself.
This lack of direct involvement meant that when Miettinen did touch the puck, at least in the offensive zone, he was usually in a position to shoot, as evidenced by his high individual shot generation.
The biggest thing lacking from Miettinen's game this season was dynamic, "take over the game" shifts. Early in his freshman year, Miettinen had plenty of highlights with St. Cloud State, controlling the puck in the zone and generating quality looks for himself. Let's just say, I didn't see much of this in 2021-22.
In last year's TLN Prospect Ranking article, Nick DeSouza noted that Miettinen had 23 points in his first 24 games before going down with a knee injury. He didn't miss a game, returning to action later that week, but he was limited to just one point in the remaining seven games of the season.
I don't know if there is a legitimate correlation between that hit and Miettinen's dip in play, but it is certainly interesting to see the difference in production before and after.
Let's get into the tape.
Beginning with the positive, Miettinen is a legitimate weapon on the powerplay. Often working from the right flank, but also spending some time as the bumper, Miettinen's shot threat must be respected by defenders. He isn't just a shooter on the man advantage, though, as Miettinen surveys the ice and utilizes his teammates through the passing lanes that open up when he has the puck. That being said, he still has a shoot-first mentality.
Miettinen picked up points on the powerplay in multiple ways. One-timer, wrist shot, pass down low, shooting for a teammate's stick, even a fake one-timer pass across the zone. Miettinen's powerplay skills will be an asset throughout his time in the NCAA and should carry over once he turns pro.
Speaking of those skills that make him so good on the powerplay, much of Miettinen's success revolves around his shot. He's a goal threat from all around the ice. It's not just one style either, he's got a one-timer, curl and drag, and catch and release all in his bag of tricks.
An area where Miettinen clearly has the tools, but hasn't seemed to put them together, is in his transition play. He's a good skater, but was often passive in transition with St. Cloud State, deferring to his teammates or settling to dump the puck in for his linemate to chase.
Here, Miettinen approaches the North Dakota blueline with speed. Instead of looking to creatively get around the defenceman or pass the puck into space for his teammate who is also coming with speed, Miettinen opts for the simple play: dump and chase.
His teammate is unable to make a play on the puck as he is taken out by the defender and the puck continues around the net as Miettinen also wasn't able to get there quick enough to support. Miettinen has a good second effort to knock the puck off of the defender for a moment, but ultimately a potential rush chance turns into a clean exit for the Fighting Hawks a few seconds later.
With the limited creation of rush chances for himself, Miettinen's even strength results suffer. His best offensive threat at even strength should be his arsenal of shots off the rush, but a lack of transition game has prevented him from garnering rush chances at a high enough rate.
Take this chance against North Dakota, for example. Miettinen grabs the puck from the boards and immediately turns it into a 2-on-1 chance, outskating the North Dakota forward down the ice and getting a dangerous shot off. While an odd-man rush is the extreme end of this, the point remains. More confidence in his own talents moving up the ice and more chances will come.
Miettinen's lack of physical strength is a major area to build upon, as you would anticipate for a player listed at 5-foot-9 and 160 pounds. He was regularly knocked off the puck when he would try to buy time and skate around the zone.
In this next clip, Miettinen receives a pass from his defenceman with room to skate into the neutral zone or pass to a teammate on the opposite wing. He overhandles to his left, putting himself in the path of North Dakota forward Riese Gaber. Gaber, who is only listed at 5-foot-8 and 160 pounds as well, lifts Miettinen's stick, engages physically, and forces Miettinen to just shovel the puck towards the North Dakota defenceman.
Defensively, Miettinen isn't much of a factor. He gets caught puck-watching at times and due to his size, he struggles to win puck battles. This clip is a bit unfortunate, as Miettinen covers the attacking forward coming down the middle lane, but overcommits to the North Dakota defenceman, @Jake Sanderson, upon receiving support and gets absolutely danced by for a goal against.
Hayley Wickenheiser, the head of the Leafs player development department, had this to say during last week's development camp regarding Miettinen.
"[Veeti Miettinen] had a rough season. Really in all aspects, what we're trying to talk with Veeti about is a commitment on the ice to his training in the offseason. We want to get a little bit more engaged with him through the season to work on the sense of urgency in his game, on his confidence, and just the way he approaches day-to-day being a better pro and understanding what it takes to get to the next level." – Hayley Wickenheiser
There were some games where Miettinen was practically invisible, not making an impact defensively, not especially involved in transition, and not touching the puck in the offensive zone as he looked for open space. Then there were games where he was quick on defenders, pressuring and forcing them to make rushed decisions with the puck, making an impact even if he wasn't scoring. This is the urgency Wickenheiser is referring to that can take his game to the next level. Just take a look at this clip from the opening two minutes of a St. Cloud State playoff game against Minnesota Duluth.
Miettinen doesn't beat his man to the puck with speed, but engages physically and uses body positioning to get the puck. As the second defender commits to Miettinen behind the net, he slips a quick, dangerous pass to the slot for his teammate. More of that will result in him becoming a much more effective player at even strength, even if the puck isn't going into the back of the net.
As it stands, Miettinen's high-end NHL projection would be in line with someone like Buffalo's @Victor Olofsson. Olofsson has been a great powerplay threat for the Sabres but has consistently had subpar results at even strength, both offensively and defensively. If Miettinen can't add more of an even-strength element to his game, an NHL future will be limited as a sheltered bottom-six, powerplay threat.
This season, Miettinen will head back to St. Cloud State for his junior season, looking to rebound and find the form that landed him on the Second All-Star Team as a freshman. Rebuilt confidence in his game, as well as more consistent effort from shift to shift, will lead to more chances at even strength.
Where St. Cloud State has been able to be less reliant on Miettinen at 5v5 with a veteran-heavy squad the past two years, that is no longer the case. Five of the seven skaters that scored more per game than Miettinen this year are not returning to the Huskies. The two that are, Jami Krannila and Zach Okabe, were Miettinen's primary linemates last year.
St. Cloud State is adding the likes of Nashville third-round pick Adam Ingram and Minnesota transfer Grant Cruikshank, so there will be some support incoming, but Miettinen will be leaned upon in a much bigger way at even strength than he has been in his first two seasons. There will be a massive opportunity for him to take the next step that many were hoping he would take this past year.
Veeti Miettinen still possesses the high-end tools that made him such an exciting late-round swing in 2020 and breakout collegiate player in 2021. With refinement to his game, consistent engagement at even strength, and confidence to try more in transition himself, Miettinen could bounce right back up the TLN Prospect Rankings next summer.