TLN Prospect #9: Leafs betting on Nick Moldenhauer to be the latest steal out of Chicago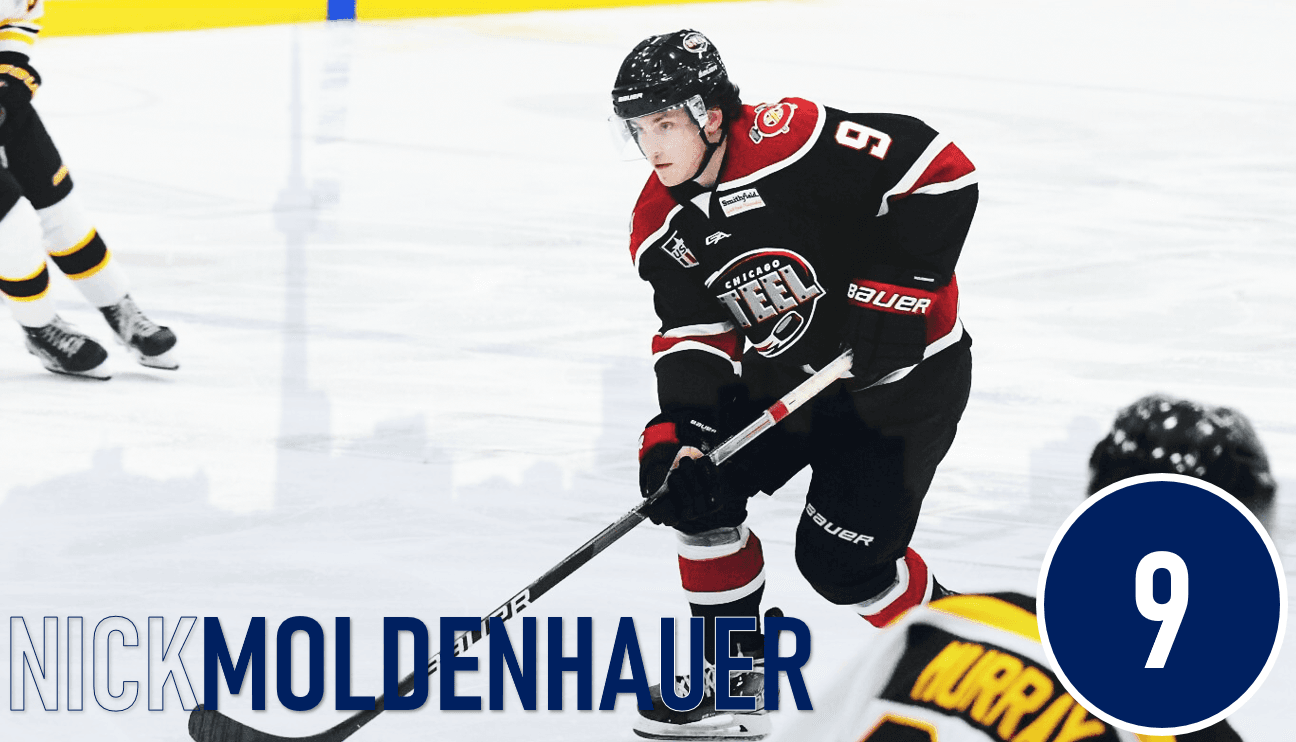 Selected in the third round of the 2022 NHL Draft out of Chicago in the USHL, Nick Moldenhauer is a player who Toronto's front office was plenty familiar with even before they drafted him. The Leafs' connection to the Chicago Steel has been well documented; they drafted Nick Abruzzese out of that program in 2019, 2020 sixth-rounder Joe Miller has spent the last two seasons with the club, former Leafs scout Noelle Needham is now an associate GM for the Steel, and Toronto's assistant GM Ryan Hardy honed his craft as Chicago's general manager for three seasons before joining the Leafs.
That familiarity likely played a big part in the organization's comfort level in selecting a player who had a productive but difficult season. Moldenhauer missed the beginning of the season with a "mono-like" virus that forced him to spend time in the hospital, leading to significant weight loss. Already behind the eight ball following his recovery from that illness, the Mississauga native was dealt another devastating and nearly life altering blow. On his first shift of the season, he was clipped up high with a skate blade and suffered a gash that ran from his chin to his ear. He underwent surgery, and though it took around 175 stitches to seal the wound, it could have been even worse.
After another strenuous recovery process, Moldenhauer returned a few weeks later and stepped right into a prominent role in Chicago's lineup. As the season wore on, he became one of the Steel's most important players as well as one of their most productive. Making his debut at #9 on the TLN Prospect Rankings, Moldenhauer is a player who is primed for a breakout season, and Leafs fans should quickly become familiar with him too.
Nick Moldenhauer
W | Chicago (USHL) | Age: 18 | 5-foot-11 | 170 lbs | Shoots: R
Acquired: 2022 3rd Round, 95th Overall | 2021 Ranking: N/A
Moldenhauer's raw production was respectable, albeit unspectacular at first glance. He finished the regular season with 18 goals and 25 assists in 41 games, good enough for the fifth highest points per game mark on the club behind already drafted NHL prospects Jackson Blake, Samuel Lipkin, and Joe Miller, as well as star 2023 draft prospect Adam Fantilli.
He was solid from the time he returned, but Moldenhauer really turned it on down the stretch when he was fully up to speed with the rest of the league. He tallied 24 of his 43 points in his last 14 games, including an eye-popping 15 points in his last six games of the regular season. In the end, his 1.02 points per game led all USHL draft-eligible skaters – not counting players from the U.S National Team Development Program who play games against USHL and NCAA opponents.
Moldenhauer was especially dangerous at even strength, finishing the season as one of the USHL's best offensive drivers and even strength producers. He was consistently involved and in the middle of creating offense for himself and his teammates, with approximately 79% of his points on the season being either a goal or primary assist.
Moldenhauer missed Chicago's final five contests of the regular season while he was away representing Canada at the U18 World Championships, where he finished tied for fourth in team scoring behind Connor Bedard, Adam Fantilli, and Rieger Lorenz. It was a disappointing showing for the team overall as they were eliminated in the quarterfinals by Finland, but Moldenhauer performed well and proved capable of producing against more difficult competition.
He returned to the Steel in time for their first playoff matchup, but it was another disappointing ending as Chicago was eliminated in the second round by the Madison Capitals despite finishing the regular season atop the Eastern Conference standings and earning a first-round bye.
Moldenhauer is a player with a well-rounded offensive skill set – he has a quality release with good shooting mechanics, he can pull off slick moves under pressure, he is a skilled distributor who moves the puck quickly, and he displays strong spacial awareness, but it is the way he is able to connect all of those skills that makes him a threat in the offensive zone.
This play against Green Bay is a great example as he makes himself available in the high slot, receives the pass and makes a skilled play around the defender in one motion, then pushes towards the net before making a slick backhand cross-crease feed to his teammate:
Check out this play against Youngstown where Moldenhauer picks up the puck in the neutral zone and walks the defender on the entry. He makes a couple of quick handles to get the puck to his outside hip and completes a perfect pass to a streaking teammate to finish the play.
Moldenhauer also has a knack for finding holes in coverage, drifting in and out of space to open up lanes and create room for himself around the net. He isn't the most physically imposing player, but he consistently uses his body to establish advantageous positioning.
This is a subtle play but watch as he slips behind the defender to establish body position at the net front, forcing the defender to take an alternate route to close out on the point shot. Moldenhauer then gets his body turned around to keep the defender on his back while holding his ground in front of the net before pouncing on the rebound and putting it home.
One of Moldenhauer's greatest attributes is his playmaking ability. He has plenty of creativity and great vision in the offensive zone to find teammates in scoring areas with difficult passes. Watch how quickly he is able to complete this perfect pass through layers of coverage after picking up the puck:
Moldenhauer is constantly scanning the ice and hunting for space to make himself available and spread out the defense. On this play, he gains entry to the offensive zone and dishes to a teammate before darting down low for a return feed which he quickly turns into a perfect pass into the slot:
Check out this gorgeous backhand assist from below the goal line, where Moldenhauer sees his teammate curling back to the net front as he goes to retrieve the loose puck down low:
While Moldenhauer is adept at setting up his teammates, he also has the puck skills to create and finish his own scoring chances. He has great hands and mobility, but he is also strong on his feet and is able to play through contact.
This is a fantastic shift where he almost scores on a rebound chance, maintains possession of a contested puck, and spins away from pressure to find a teammate in the slot with a great backhand feed. He then chases down the loose puck, once again spins away from pressure before taking a bump that he is able to continue playing through, regains possession, and makes a fantastic move to the net for a beautiful goal:
There is room for improvement in Moldenhauer's rush attack in terms of refining his decision-making, but his speed can present problems for opposing defenders. He has the ability to change gears and manipulate gaps as he attacks the opposition, rather than just relying on pure speed on his frequent net drive plays.
Watch as he slows down to receive the pass on the entry before quickly accelerating around the defender to the outside and finishing with a pretty wraparound for the overtime winner:
Added size and strength will make Moldenhauer an even more difficult player to handle down low and along the boards, but diversifying his transition game will be a focal point as he continues to develop. He is still a bit straight-line focused and can sometimes try to do too much on his own, but his solid base of skating ability, puck skills, and vision provide reason to believe he can improve in those areas.
Another area of focus will be his defensive play, and while it isn't a huge issue for him currently, there is definite room for growth on that side of the puck. Where it often feels like he is dictating play with the puck on his stick, it can sometimes appear as though he is chasing on the defensive side. Moldenhauer has the hockey sense and work ethic to be a solid defensive player, it is just a matter of combining those attributes and finding a balance between pressuring the opposition and scrambling around the defensive zone.
Even with those slight deficiencies in his game, he presents enticing potential as a two-way middle six forward who can help drive offense.
There is plenty of reason to be excited about Moldenhauer's set of offensive skills and assuming his health issues are behind him, he should be in line for a big season as he gets set to return to Chicago this fall. Several of the Steel's other top players from last season, such as Fantilli, Blake, Lipkin, and Miller, are off to the NCAA this coming season, and Moldenhauer will be relied upon as a key figure for head coach Brock Sheahan. All the changes to Chicago's roster could even facilitate a move back to center for Moldenhauer, where he was used sparingly this past season.
An Ontario native and lifelong Leafs fan who was perhaps more of a known quantity for Toronto's front office than others around the league, the club made the calculated decision to move down in the draft, confident that Moldenhauer would still be available at the end of the third round. Given his obvious skill and the difficult circumstances he faced in his draft year, Moldenhauer is a prime candidate to outperform that draft position, as well as his place on TLN's Prospect Rankings.
(Statistics from EliteProspects.com)
PointsBet is live in Ontario. 
Get started here
.