2023-24 Maple Leafs Predictions: Joseph Woll wins the backup competition and appears in 30 games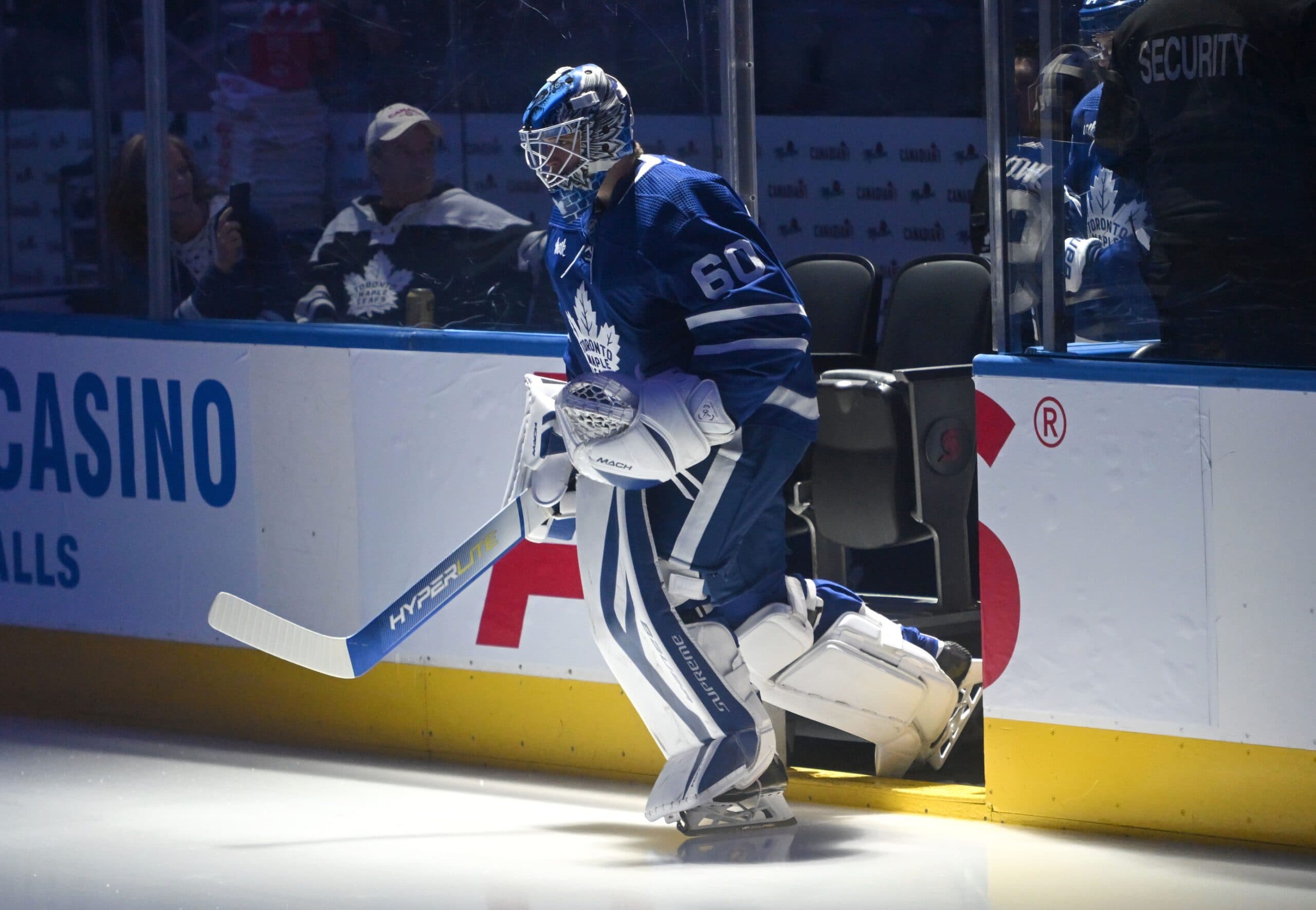 Photo credit:Dan Hamilton-USA TODAY Sports
Welcome to another rendition of Toronto Maple Leafs predictions for the 2023-24 season. We've gone through a
bunch of players
and scenarios throughout the past couple of weeks and you can expect much of the same as we creep closer to dropping the puck on opening night.
For today's piece, we make our way back to the Leafs' crease and zero in on Joseph Woll. It's a big year for the third round pick from 2016, who is going to have to battle through some internal competition to make an impact on this season's Maple Leaf squad.
Woll's Coming Off Fantastic 2022-23 Season
To know where you're going it's always important to understand where you came from. The 25-year-old goaltender is no different. He had himself a fantastic season last year, split between the Toronto Marlies of the American Hockey League and with the Leafs. In total he appeared in 28 games between to two leagues, posting a combined 22-5-1 record to go along with a dazzling 2.16 goals-against average (GAA) and .932 save percentage (Sv.%) in the show.
Woll even won the confidence
of the coaching staff down the stretch. While veteran two-time Stanley Cup champion Matt Murray was healthy and ready for the later stages of the playoffs, the young buck was the one called upon when the Leafs ran into some crease issues. Now, Murray is headed for a mysterious stint on the team's injured reserve while Woll is heading into training camp looking to build off a great season.
Newcomer Makes Things Interesting
When the Leafs announced they signed
Martin Jones a couple of weeks ago,
many questioned the move just based on the fact Woll had looked so good last season and only makes $766,667 against the cap. Brad Treliving signed Jones to a one-year deal at $875,000, and now it would appear there will be some actual competition for the backup job.
Jones played last season with the Seattle Kraken and while he may have won 27 games last season, his individual numbers weren't great, posting a 2.95 GAA and .887 Sv.%. It's going to take all of training camp and some preseason action to see how the chips may fall in the Leafs crease this season.
PREDICTION: Woll wins the battle in camp, appears in 3o games for the Leafs
Even though Treliving wasn't around when the Maple Leafs drafted the 6-foot-3 goaltender in the third round of the 2016 NHL draft and doesn't really have any connection to him, Woll's game is going to stand out at camp and in the preseason.
I'm predicting he ends up playing a significant amount this season for a couple of reasons. Ilya Samsonov has never played more than 44 games in a season, coach Sheldon Keefe has a soft spot for Woll as we've seen from the recent playoffs and I can't see Jones coming into Leafs' camp and blowing the doors off.
Look for each netminder to get a look during the preseason. As much as the battle will come down to who outperforms who, both Jones and Woll being on one-way contracts, meaning the waiver situation will be dicey to start the season. There's a very good chance Woll gets scooped up by another team considering his recent success, his contract and his age. Meanwhile, Jones went the entire summer without a contract for this season and wasn't receiving a ton of interest from onlooking teams.
The Maple Leafs will be smart to keep Woll in the fold and move on from Jones after camp. Sure, an injury can derail the plans at camp or in the preseason and keep all of them in the mix via an IR spot, but don't expect the Leafs to carry three goalies on the cap. They can hardly afford enough forwards to ice four full lines.
As for Woll's 2023-24 season, with his precision to his craft, his ability to stay in the moment and not get distracted about playing a very important position in the biggest hockey market in the world, he's going to be just fine and build off a great season. Considering he doesn't have social media, Woll may be surprised when he gets to training camp and sees a crowded Maple Leafs' crease.