2023-24 Maple Leafs predictions: Auston Matthews scores 60 goals & finishes top 10 in Selke voting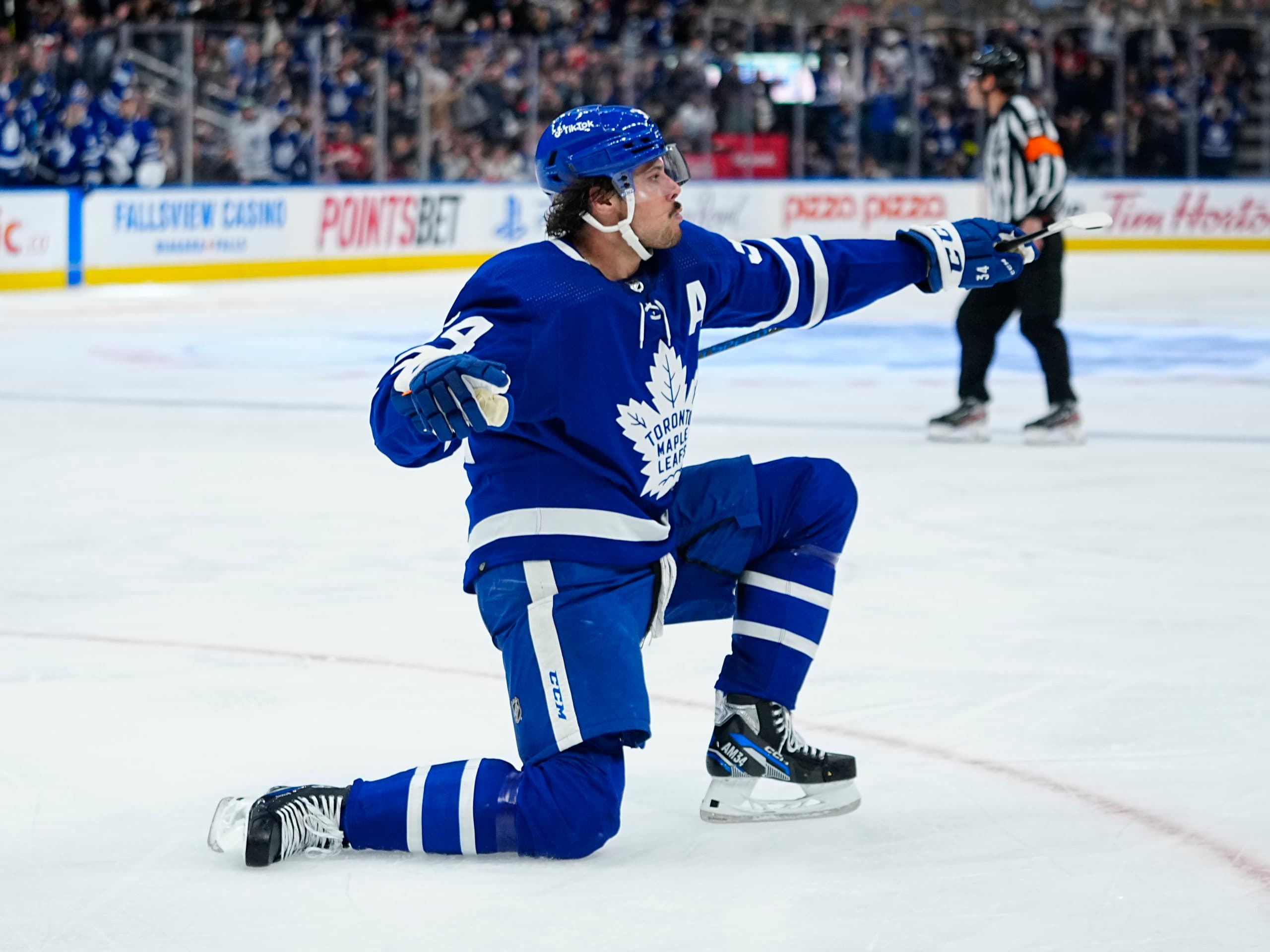 Photo credit:John E. Sokolowski-USA TODAY Sports
Welcome to our new predictions series where we will dive into a number of predictions surrounding your favourite Maple Leafs for the 2023-24 season. First up, 'the Franchise', Auston Matthews. To me, the Leafs only go as far as Matthews can take them and next season it could be very very deep into the Spring.
Prediction: Auston Matthews scores 60 goals and finishes top-10 in Selke voting
Let's start with the goal scoring. Matthews has had a whole summer of being healthy and is no longer dealing with a lingering wrist injury. He's been able to meet with general manager Brad Treliving on numerous occasions and the sense is the contract extension is complete and will be announced in the coming days leading up to training camp. Matthews will be able to play distraction-and-injury free to start the season and expect to see the red light lit up, early and often.
After posting 60 snipes in 2021-22, the Arizona native recorded 40 in 74 games last season. His wrist flared up at times throughout the season and it didn't help his cause by starting the year with just one goal in his first seven games. Don't expect the same results this season. He's going to come out flying, he's in the best shape of his life and having Mitch Marner on his line once again could do wonders.
Matthews is expected to have Marner and Tyler Bertuzzi accompany him on the Leafs' top line. While Marner and him have uncanny chemistry, it may take some time to get accustomed to Bertuzzi, but frankly, I don't see that taking very long. Bertuzzi is a bang-and-crash type of winger who loves to mix it up in the dirty areas of the ice and isn't afraid to get his hands dirty and do the little things that will benefit his trio. With Michael Bunting having some success with the two big guns in the past, it's likely a seamless transition for Bertuzzi to do much of the same and more.
Remember a couple of seasons ago when it felt like every time #34 touched the puck he was going to score. Expect the feeling to return this October and beyond.
Matthews will elevate his defensive game
With Patrice Bergeron retiring the Selke trophy for the league's most defensive forward is now wide open. Matthews finished 14th in voting in 2022-23 with 22 points, only 14 points behind 10th place Elias Lindholm of the Calgary Flames. It's top-10 next season, book it!
Matthews will elevate his game even more come puck drop on opening night. He's had the ability to add to his game each and every summer and after a year where he led the entire NHL forward group in shot blocks, expect to see him pounce on pucks, stick check like we know he can, and move up the ranks when it comes to takeaways. While Marner led all forwards last season, Matthews ranked 9th. Having a combination of top-5 in blocks and takeaways will certainly help his chances of getting into the top-10 overall for Selke votes.
There we have it Leafs Nation, the first prediction is in the books. Matthews pots 60 goals and is one of the best defensive forwards in the entire NHL. Does it translate to Stanley Cup Playoff success? Well, that's a story for another day.