2023-24 Maple Leafs Predictions: Matthew Knies scores 20 goals and finishes top-3 in Calder voting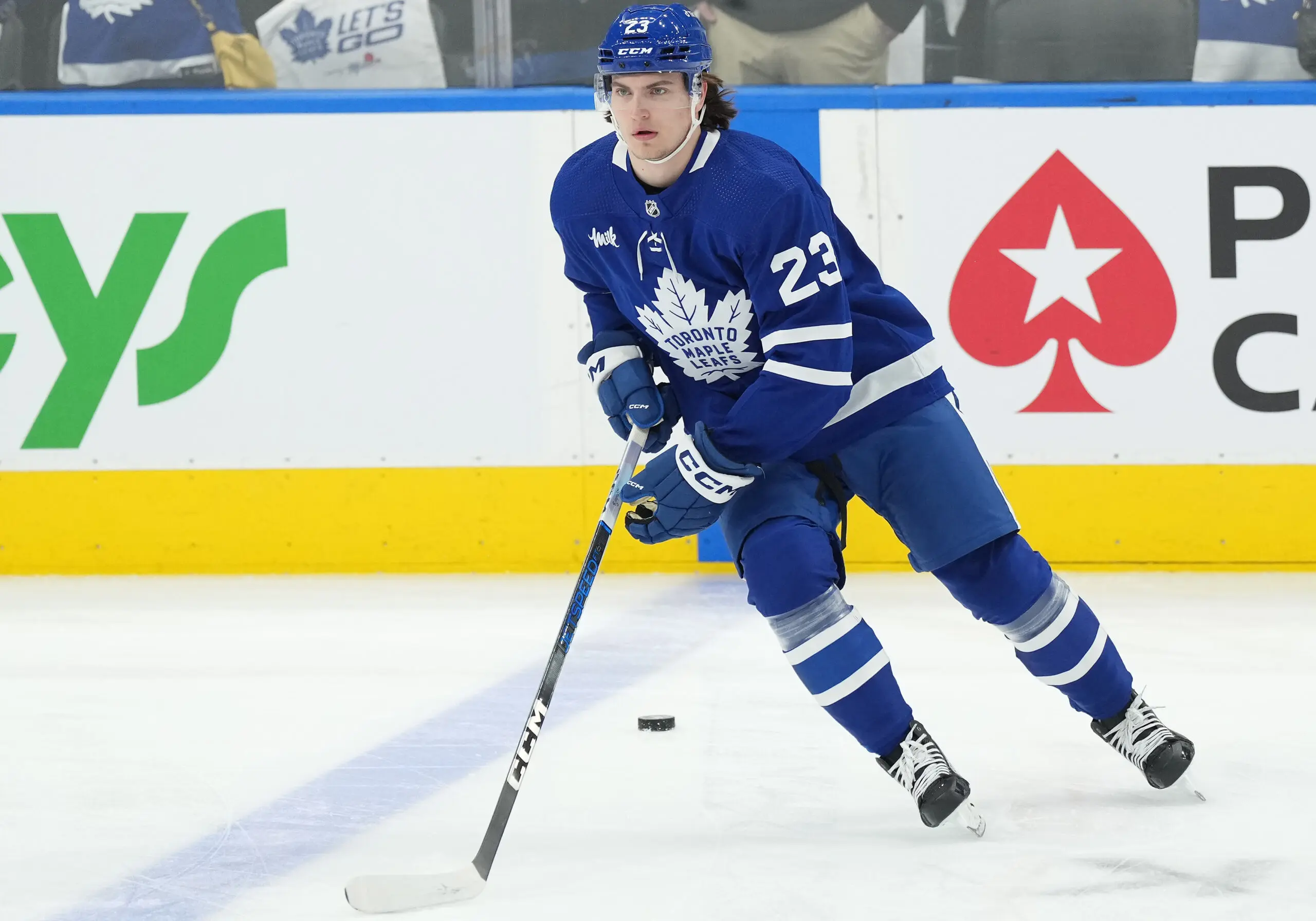 Photo credit:Nick Turchiaro-USA TODAY Sports
Welcome back to another rendition of 2023-24 Maple Leafs predictions. We've been busy going through Toronto's lineup trying to predict how each player will perform this season. While the likes of
Auston Matthews
, William Nylander and
Mitch Marner
are all poised for big campaigns, the biggest x-factor on the Leafs could actually be rookie winger Matthew Knies.
Prediction: Knies scores 20-goals and finishes top-3 in Calder voting for rookie of the year.
Knies burst onto the scene in the late stages of last season after a tremendous finish to his college career at the University of Minnesota, where he was named a finalist for the Hobey Baker award as the top player in college.
The former second-round pick jumped straight from the NCAA and into the Leafs lineup to finish the year, recording one point in three regular season games and another four points in seven Stanley Cup Playoff games.
The way Knies was able to handle the speed of the NHL game, the physicality of the playoffs and his ability to pounce on pucks and create chances was unlike anything Leafs Nation had seen out of a rookie since Matthews burst onto the scene in Ottawa seven years ago. Knies' game compares so much to his mentor Matthews, although it also helps that they are both 6-foot-3 and 210 pounds and train together throughout the summer months.
Knies Has Golden Top-6 Oppourtunity
The expectation this season is the 20-year-old winger, who turns 21 in early October, will be given some major minutes among the Maple Leafs' top six. It's going to be between Tyler Bertuzzi and Knies on who plays the left side on the top two lines.
So that means Knies will either be playing with Matthews and Marner or Nylander and John Tavares. Head coach Sheldon Keefe has some pondering to do. Put
Knies with his mentor
and one of the best playmakers on the planet? Or, slot him in with Nylander, who calms things down and controls the puck and the captain of the team, Knies' landlord Tavares, who he's become close with.
The oppourtunity to play some major minutes is going to be right in front of Knies. He saw just over 13 minutes a game in the playoffs, and if he snatches that job in the top-six, expect to see his 2023-24 numbers much closer to 16-17 minutes of ice a night.
Knies Will Pot 20 Goals & Get Calder Votes
Something Leafs Nation will enjoy this season is watching Knies in front of the net or around the net, picking up garbage and stirring up lots. He loves to score most of his goals in tight as you can see from the graph below.
Matthew Knies' scoring positions in 2022-23 (Data via instat)
Regardless of how they're scored, goals are goals, and Knies will score 20 of them in 2023-24. If we look back at the last three NHL seasons, the top-five goal-scoring rookies averaged 21 goals per game. Knies will be a top-five rookie in the league this season, there's no doubt in my mind. He's not built like a 'normal' soon-to-be 21-year-old. His game is much further along development wise than most rookies. And not many rookies are essentially set in stone among their team's top-two lines and second power-play units.
Besides
Kirill Kaprizov of the Minnesota Wild
, no other rookie has scored more than 25 goals in the last three seasons. Can Knies push the needle up to 25? Don't rule it out, but it will all depend on how things go early on this season and how much confidence coach Keefe has when it comes to keeping him among the top-six and not in checking role on the team's third line.
Let's make one thing clear – if the hype translates to the NHL, Connor Bedard is going to be nearly impossible to beat in the race for the Calder Trophy. That said, Knies is going to give him a run for his money. Finishing as a finalist for the rookie of the year will be a nice accomplishment for the Maple Leafs rookie and something that is well within reach.
Get ready Leafs Nation, there's a long career ahead for 'Kniesy'. The Phoenix, Arizona native is as ready as he'll ever be to make an impact on this season's Maple Leafs. He will get top-six minutes and some time on the second power-play unit. He'll score more than 20 goals this season and most of them will remind you of Zach Hyman and how he used to score a lot of goals in tight.
There's a new wave of talent coming for the Leafs and Knies is leading the charge.