23 names to know for the 2023 NHL Draft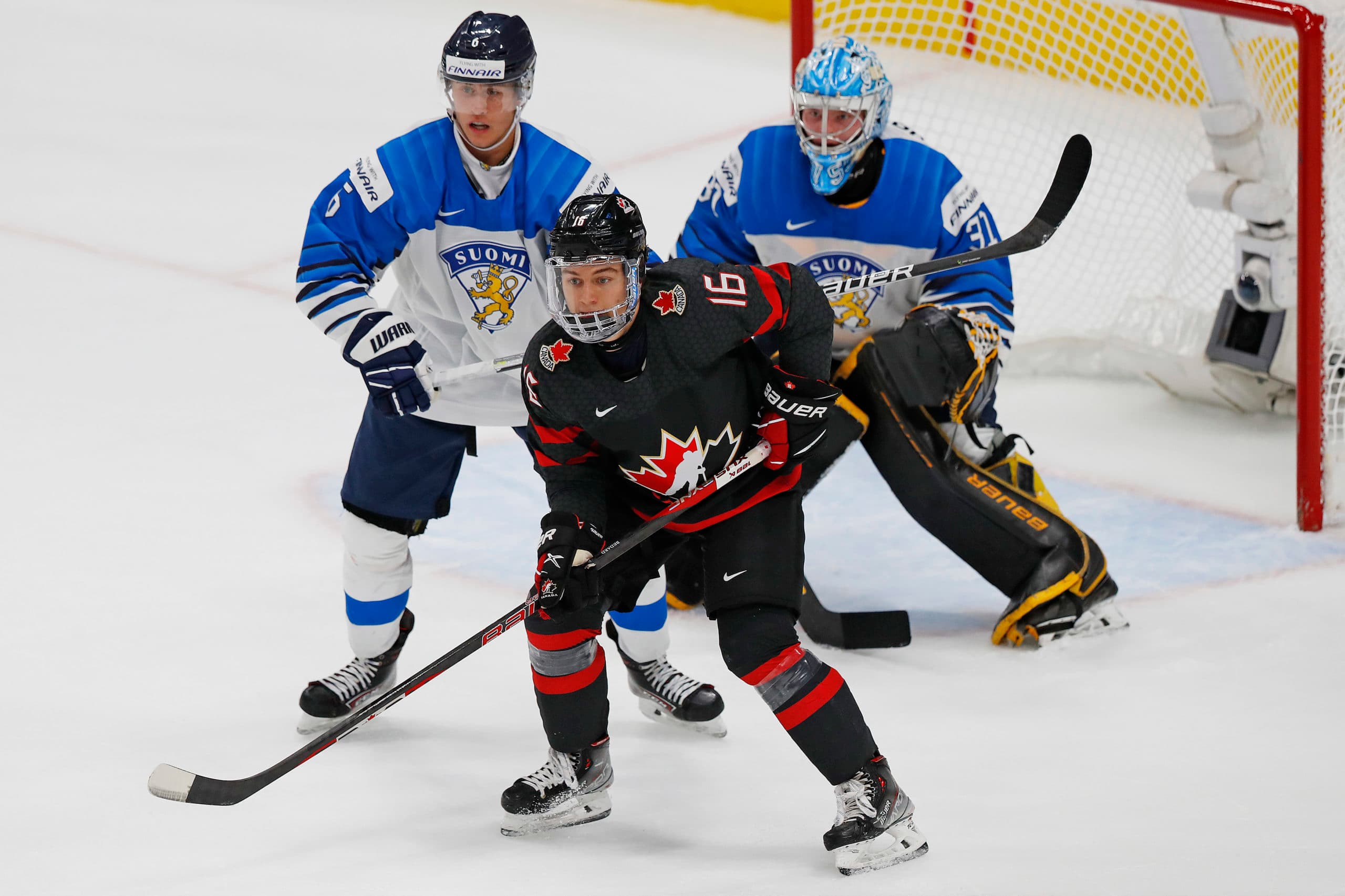 Photo credit:© Perry Nelson-USA TODAY Sports
The dog days of summer are almost behind us, and fall is in the air, meaning it's time to take a look ahead to next summer and the 2023 NHL Draft.
All of this comes with the caveat that it is still very early in the process, but the 2023 draft crop looks like one of the deepest and most talented classes in recent memory. There is a trio of players at the top who figure to be franchise cornerstones and NHL superstars, but there are plenty of exciting prospects beyond that as well. More defensemen will almost surely emerge as the season goes on but the top of this draft is littered with high-end forwards, with a particularly strong Canadian contingent relative to recent years.
The following list isn't a ranking but more of a watch list, and the strength of the class actually made for some difficult omissions, even at this early stage. Here are 23 of the top names to know for the 2023 draft:
Connor Bedard
C | Regina (WHL) | 5'10" | 185 lbs
If you've been following hockey with even a passing glance in the last couple of years, you're likely plenty familiar with Connor Bedard. He's the next one, a true generational talent who will forever alter the fortunes of whichever franchise ends up selecting him. Even at just 17 years of age and standing only 5'10", Bedard is already a world-class shooter who can make netminders look foolish from distance, and he has a competitive edge that keeps him active and engaged at all times. His puck skills, skating ability, and hockey sense are all elite, and he layers those skills on top of one another with consistency and composure to create offense on practically every shift. His combination of high-end skills separates him from the rest of the class in just about every facet of the game. Bedard put up a staggering 51 goals and 49 assists in 62 games for Regina last season, and it's going to be exciting to see what he does for an encore in his draft year.
Matvei Michkov
W | SKA St. Petersburg (KHL) | 5'10" | 159 lbs
Like Bedard, Michkov is a superstar talent who figures to take the NHL by storm immediately upon arrival. The difference is there is far more uncertainty regarding when that will be for the Russian phenom. He is under contract with SKA until the end of the 2025-26 season and that could impact his draft stock, especially in a draft class as deep as this one, but he is closer to Bedard than he is to the rest of the class based purely on talent. Michkov reads and attacks in a tactical, efficient manner, and he is a scoring threat from all over the offensive zone. He is creative and composed, almost as if the game is moving slower for him than it is for everyone else. With practically zero deficiencies in his game, Michkov will be a star in the NHL whenever he arrives.
Adam Fantilli
C | Michigan (NCAA) | 6'2″ | 188 lbs
Fantilli is the complete package down the middle of the ice and would be more than worthy of consideration as the first overall pick in most draft classes. He's got good size at 6'2″ and 188 pounds, he's a powerful and fluid skater who can make plays with the puck on his stick, his shot can score from range, and he is a handful to defend coming off the wall. He often looked like a man against boys at the USHL level last season, tallying 37 goals and 37 assists in just 54 games, but he will face a significant step up in competition as he heads to the University of Michigan for his draft year. Picking his spots and better utilizing his teammates will be the main areas of focus as he continues to develop, but he has all the makings of a number one center at the NHL level.
Zach Benson
C/W | Winnipeg (WHL) | 5'10" | 159 lbs
Winnipeg was a dominant force in the WHL last year and featured two high first-round picks in the 2022 draft in Matthew Savoie and Conor Geekie, but Benson was their best player on many nights. He finished the regular season with 25 goals and 38 assists in 58 games before exploding in the playoffs, leading the Ice in postseason scoring with nine goals and 14 assists in just 15 games. Benson is a quick and shifty forward with great anticipation on both sides of the puck, he can set up his teammates with his fantastic vision and quick decision-making, he has great hands in traffic, and he can finish scoring plays in tight or with a quick release from mid-range. He will have to continue to add strength as he matures physically, but he has learned how to be effective at his size, and I don't see it being much of an impediment to his eventual NHL success.
Leo Carlsson
C/W | Örebro (SHL) | 6'3″ | 185 lbs
The fact that Carlsson played 35 games in the SHL for a playoff team as a draft-1 player speaks to his maturity, both physically and mentally. His nine points in those 35 games is impressive production for such a young player in a professional league, and he was dominant at the junior level, racking up 10 goals and 17 assists in only 14 contests. Carlsson blends great size with elite skill and hockey sense to drive play for his team. He draws defenders to him and can shake them with a quick deke or change of direction, creating space for himself as well as his linemates. Carlsson has mostly been used as a winger at Sweden's top level but his combination of power and finesse profile well down the middle moving forward.
Dalibor Dvorsky
C | AIK (HockeyAllsvenskan) | 6'1″ | 190 lbs
Dvorsky staked his claim as one of the top 2005-born players at the 2021 Hlinka Gretzky Cup as a 16-year-old, recording eight goals and four assists in just five games to help Slovakia claim silver. He carried that into the regular season, torching Sweden's U20 league to the tune of 40 points in just 33 games, and even earned a look at the pro level, where he picked up three points in 17 games. That Dvorsky has consistently been able to put up such impressive numbers against much older and more experienced competition is no accident. He is a dynamic offensive threat with an attacking mindset who can pick apart coverages with his puck skills and vision. Whether he's executing difficult passes through coverage or finding soft spots around the net, his processing speed stands out in a positive way. With his skillset and projectable frame, Dvorsky projects as an impactful top-six forward at the NHL level.
Brayden Yager
C | Moose Jaw (WHL) | 6'0″ | 166 lbs
Yager had an extremely productive draft-1 season on a talented Moose Jaw team, scoring 34 goals and 25 assists in 63 games and earning the CHL's Rookie of the Year award, but really popped at the recent Hlinka Gretzky Cup. He finished the tournament with five goals and four assists in five games to help lead Canada to a gold medal finish and was a dynamic force throughout their run. Yager is a pure goal scorer with an extensive arsenal of deadly releases at his disposal, and he knows how to make himself available in scoring areas. He processes the game at a high rate and times his off-puck movements well, spreading out the defense and getting lost in coverage. He could stand to add some quickness to his game, but his offensive toolkit is legitimate, and he gives an honest defensive effort as well.
Cameron Allen
RHD | Guelph (OHL) | 5'11" | 190 lbs
In what looks to be a forward-heavy draft near the top, Allen is the early favorite to be the first defenseman off the board next summer. He had a fantastic 2021-22 season with Guelph, tallying 13 goals and 24 assists in 65 games on his way to being named the OHL's rookie of the year. He also captained Team Canada to a gold medal finish at this summer's Hlinka Gretzky Cup, picking up seven points in five games. Allen is a solid two-way blueliner who can make a positive impact on both sides of the puck. He is a strong skater who will activate offensively and attack from the point, but he can also act as a distributor to help sustain possessions. On the defensive side, he is active and engaged, playing a tight gap in transition and finishing his checks with a purpose. With clear top-four potential, Allen is a player I expect will climb the ranks leading up to the 2023 draft.
Calum Ritchie
C | Oshawa (OHL) | 6'2″ | 187 lbs
The second overall pick from the 2021 OHL draft, Ritchie had a strong rookie campaign for Oshawa in 2021-22. His 19 goals and 26 assists in 65 games were good enough for the fourth highest point total on the team, and he tied for the team lead in playoff scoring with seven points in six postseason contests. He went on to lead the 2022 Hlinka Gretzky Cup in scoring with four goals and six assists in five games, playing a prominent role in Canada's gold medal win. Ritchie drives possession at a high rate with a middle-driven mindset, and he will engage physically to impose his will on opposing defenders. He is a dextrous handler who can manipulate defenders to create space for himself or open passing lanes, and he shows creativity as a distributor. Ritchie appears poised for a big season and looks like a future top-six offensive driver in the NHL.
Matthew Wood
W | UConn (NCAA) | 6'3″ | 190 lbs
Wood had a monster season for Victoria in the BCHL in 2021-22, putting up a stellar 45 goals and 40 assists in 46 games to lead the league in scoring. He represented Canada at the U18 World Championships last spring, picking up a pair of goals through four games, and again at this summer's Hlinka Gretzky Cup, where he scored two goals and three assists in five games. As the numbers show, Wood is a pure goal-scorer. He has a deadly repertoire of shots, including a heavy curl-and-drag wrist shot and a violent one-timer. He has good hands in tight, making him equally dangerous around the net as he is from range, and he can play through traffic due to his size. Wood will have to add some pace to his game as he makes the jump to the NCAA in his draft year, but his talent as a goal-scorer is undeniable.
Eduard Sale
W | Kometa Brno (Tipsport Extraliga) | 6'1″ | 168 lbs
Sale dominated in the Czech junior league last season, finishing with a ridiculous 42 goals and 47 assists in 39 games. Any concerns about his level of competition were put on the back burner after he put up nine points in eight games at the U18 Worlds and added six more in five contests at the Hlinka Gretzky Cup. After seeing limited action at the pro level as a 16-year-old, he is expected to earn a larger opportunity with Kometa Brno's men's team this season. Sale is a smooth skating player who can weave through checks in transition, and he is extra dangerous on quick change of possession plays. He has great vision with the ability to manipulate defenders and find teammates through layers of coverage, and he has slick hands around the net to finish the chances he creates for himself. He needs to round out his game, but his raw talent could make him a top-10 pick in the 2023 draft.
Andrew Cristall
W | Kelowna (WHL) | 5'10" | 165 lbs
Cristall is an undersized but extremely skilled and intelligent playmaker who had a fantastic first full season in the WHL. His 69 points in 61 games were more than any other 2023 draft-eligible player in the CHL, save for Connor Bedard, and he tacked on another goal and five assists in five games at the Hlinka Gretzky Cup. Despite his lack of size, Cristall is a tough player to get the puck from. He sees the ice incredibly well and has a knack for drawing in defenders before hitting an open teammate in space. Things will get tougher for him at his size as he climbs the ranks, but his vision and overall processing speed should make him a productive NHL player down the road.
Mikhail Gulyayev
LHD | Omskie Krylia (VHL) | 5'10" | 170 lbs
Gulyayev spent the entire 2021-22 season playing in the Russian junior league, amassing 35 points in 54 games for Omskie Yastreby, but he has already suited up for a pair of games in the VHL this season and could be in line for a full-time role in Russia's second-tier pro league during his draft year. Gulyayev doesn't have the physical profile most teams covet when drafting defensemen, but he has the skill, mobility, and hockey sense to drive play from the back end. He controls the offensive blue line with poise and attacks open lanes from the point, shrinking the offensive zone and forcing the opposition into tough decisions. He can lead the breakout, either with a great pass or by shaking an oncoming forechecker, and he defends well for his size. The Russian factor could be more impactful than ever in this coming draft but Gulyayev is a clear first-round talent at this stage.
Nate Danielson
C | Brandon (WHL) | 6'1″ | 185 lbs
Danielson, who just missed being eligible for last year's draft, enjoyed a strong season for Brandon in the WHL with 23 goals and 34 assists in 53 games. He has good size and mobility down the middle and competes hard on every shift. He has a quality release and good vision, but he is more efficient than he is flashy in the way that he creates offense for himself and his teammates. Danielson plays a responsible game, maintaining positioning above the puck and supporting his defensemen in his own zone. He might not have many standout attributes, but there aren't many holes in his game either, and he should eventually carve out a role as a two-way, play-driving pivot in the NHL.
Charlie Stramel
C | Wisconsin (NCAA) | 6'3″ | 216 lbs
Stramel is also one of the older first-year draft-eligibles in the 2023 class and spent most of last season with the USNTDP's U18 team, tallying 10 goals and 12 assists in 26 games. He also competed in the U18 World Championships, where he picked up a pair of goals to go along with three assists in five games as Team USA came away with a silver medal and he picked up an assist in his lone appearance at the rebooted World Juniors this summer. Stramel is a big, powerful kid, and that should help as he makes the adjustment to college hockey this season. He makes life difficult on the opposition with his hard forechecking, middle-driven style of play, and he has a heavy wrist shot from the top of the circles in. I would like to see him add some creativity and quickness, but Stramel's physical toolkit should translate to the NHL in some capacity.
Kasper Halttunen
W | HIFK U20 (U20 SM-sarja) | 6'3″ | 207 lbs
Halttunen was productive at the U20 level last season, scoring 24 goals and 14 assists in 41 games, and he won't turn 18 until next June. Though he is one of the younger players in his first year of draft eligibility, he is also one of the most physically mature and uses his large frame to play a forceful style of hockey. He finishes his checks and is tough to handle along the boards, with the skill to take pucks off the wall and into the middle of the ice. Halttunen has good hands around the net and a heavy shot, but he isn't overly dynamic and could wind up as more of a complementary player rather than a pure offensive driver. That said, his tendency to play a heavy game and his base of skills should be enticing to plenty of teams on draft day.
Otto Stenberg
C/W | Frölunda J20 (J20 Nationell) | 5'11" | 172 lbs
Stenberg is an active and creative offensive forward who had a solid season in the J20 Nationell last season, notching 16 goals and 19 assists in 35 games for Frölunda. He exploded at the Hlinka Gretzky Cup as Sweden's captain, finishing in a tie for second in tournament scoring with five goals and four assists in five contests. Stenberg is a well-rounded and dynamic offensive threat who can create with his puck skills and vision, and he has a deadly release that comes off his blade with both power and accuracy. He has shown the versatility to play both wing and center at the junior level, but I see him as more of a winger as he continues to climb the ranks. Stenberg could see action at the SHL level this coming season and should put up big numbers when he's in junior.
Riley Heidt
C | Prince George (WHL) | 5'11" | 179 lbs
Heidt led the Cougars in scoring during his first full WHL season with 21 goals and 37 assists in 65 games, taking on a prominent role as a young player, and he added six points in five games at the Hlinka Gretzky Cup. He is an energetic and creative playmaker who can carry the puck in transition, and his speed presents problems for opposing defenses. Heidt reads the play at a high rate and has the skill to execute with pace, chaining receptions into dekes and return passes with regularity. He and fellow 2023 draft-eligible Koehn Ziemmer are expected to lead Prince George's offensive attack once again this season and both players could hear their names called during the first round of the 2023 NHL Draft.
Will Smith
C/W | NTDP U18 (USNTDP) | 6'0″ | 172 lbs
Smith's 37 points in 35 games gave him the highest points-per-game mark on the NTDP's U17 team last season, and he likely would have led the team in total scoring had he not spent so much time playing up with the U18s. Impressively, he also hovered around the point-per-game mark with the U18 squad, tallying 14 goals and 13 assists in 28 games. Smith is a calculated and hardworking forward with great puck skills that allow him to manufacture lanes and play through traffic. He is most dangerous when he is attacking towards the net, but he is also proficient as a shooter and as a passer, and he plays a solid two-way game, giving him a relatively safe floor as an NHL-caliber player.
Alex Ciernik
W | Södertälje J20 (J20 Nationell) | 5'10" | 172 lbs
Another Slovak import playing in Sweden, Ciernik scored 20 goals and 27 assists in 43 games to lead all 2023 draft eligibles in J20 scoring, and he is already off to a hot start with five goals and two assists in his first three games this season. He also played for Slovakia's silver medal winning team at the 2021-22 Hlinka Gretzky Cup, finishing the tournament with seven points in five games. Ciernik is a fantastic skater who keeps the opposition on their heels with his speed and agility, able to beat defenders wide or cut into open space in the middle of the ice. He is able to handle the puck and complete difficult passes at full speed, but I would like to see him rely less on creating off the rush and more on using his skill and processing speed to sustain offensive zone possessions.
Quentin Musty
W | Sudbury (OHL) | 6'2″ | 203 lbs
Musty had a decent first season with Sudbury but didn't quite produce at the rate expected after being chosen first overall in the 2021 OHL draft. He scored 12 goals and 19 assists for 31 points in 50 games, finishing fifth in team scoring. With great size and an athletic build, he is able to make plays in the difficult areas in the middle of the ice and along the wall. He has a heavy release and shows flashes of high-end skill, but he can also make you scratch your head with his decision-making at times. Musty has plenty of tools to develop into an impactful NHLer, and putting them together more consistently this season will boost his draft stock.
Oliver Moore
C | NTDP U18 (USNTDP) | 5'11" | 176 lbs
Like Will Smith, Moore split time between the NTDP's U17 and U18 teams last year, but he missed time with an injury at the end of the season. Between both clubs, he got into 54 games and registered 46 points. The first thing that stands out about Moore when you watch him is his straight-line speed and elusiveness in tight spaces. He accelerates through crossovers to navigate through congested areas and get to loose pucks, and he works well to hunt space around the net. Moore is one of my early favorites in this class and I think he projects well as an energetic, two-way center in the NHL.
Theo Lindstein
LHD | Brynäs J20 (J20 Nationell) | 6'0″ | 176 lbs
Lindstein didn't put up big-time numbers in junior last season, but he was an anchor for Brynäs' J20 team and even got into 12 SHL games, making his pro debut at just 16 years of age. You have to watch Lindstein for a while to truly appreciate his game – he isn't a flashy offensive defenseman, but he has good mobility and moves the puck intelligently from the back end. The main reason he was trusted with SHL games last season is his defensive maturity. He is solid positionally, has a good stick to break up passes or shot attempts, and he will use his body to shut down the cycle. Lindstein might never grow into an offensive dynamo but he has the potential to be a solid two-way blueliner at the NHL level someday.
(Statistics from EliteProspects.com)