3 Maple Leafs who are on the bubble to make the 2023-24 roster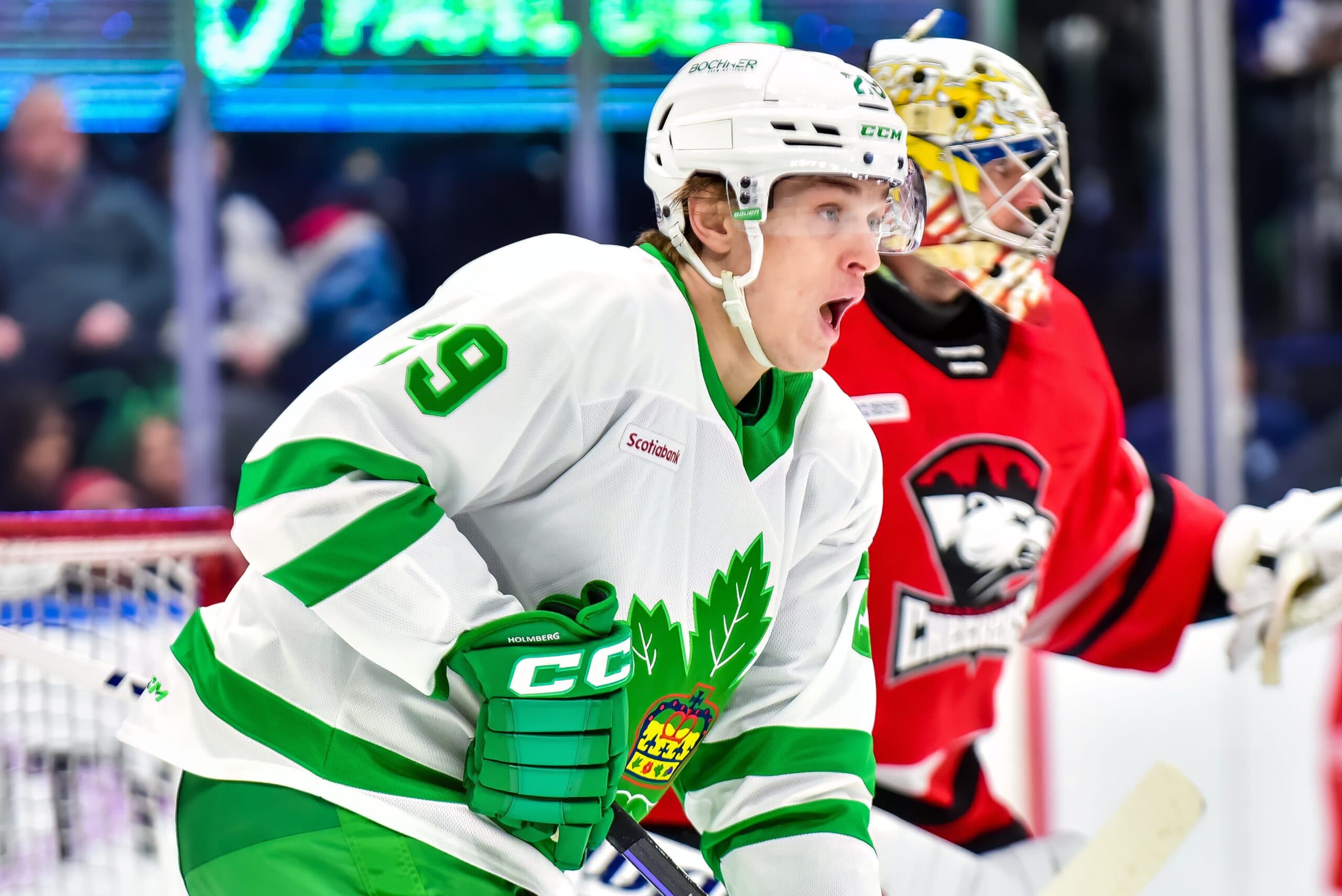 Photo credit:(Photo by Steven Ellis/Daily Faceoff)
The 2023-24 NHL season is upon us as the Toronto Maple Leafs open training camp this week. The summer has flown by and the Leafs head into this season looking to build off of finally winning a first-round Stanley Cup Playoff series.
You heard a lot of the same messaging from several of the fresh faces on Monday at a charity golf tournament as the likes of
Max Domi, Tyler Bertuzzi and Ryan Reaves
all referenced having a chance to win the Cup in Toronto as something that appealed to them to sign here.
Can't blame them, as all three forwards will play specific roles on the Leafs this season and could be exactly what the doctor ordered to propel this team even further. Meanwhile, there's also a few players who are on the bubble come training camp and they'll have to impress the coaching staff to make the team out of camp.
Nick Robertson
Is this finally the season where Nick Robertson can stay healthy and make a lasting impact? It's certainly
make or break territory
for the former second-round pick. He has been chirped his entire career over his size and strength, and unfortunately it's played a bit of a part in the lack of chances he's gotten with the big club. He's suffered some bad injuries on more than one occasion that have seen him miss significant time.
The 22-year-old California native is ready to once again leave it all on the ice during camp and into the preseason. Robertson showed last preseason how much he can produce if given the option, and all of that happened after was he was sent down due to the fact the Leafs couldn't afford him on their opening night roster. That shouldn't be the case this season.
Robertson is in a battle for a left-wing job among Toronto's bottom six. Bertuzzi and Matthew Knies are very likely going to be 1-2 in the top six and Robertson needs to show he can provide some consistent secondary scoring to stick. If he can't stay on the ice this season there's certainly a chance he's finished as a Maple Leaf. Seven points in 31 NHL games over the course of four seasons isn't good math.
Pontus Holmberg
Depending on how the forwards shape up, Pontus Holmberg could find himself centering the Leafs fourth line this season. He has a big fan in head coach Sheldon Keefe and now it's time for Holmberg to show the coach and the rest of the staff that he can be a reliable defensive-first centre who has the speed to keep up to the NHL game.
So far in his short career, the native of Vasteras, Sweden has recorded 13 points in 37 NHL games after being selected in the sixth round of the 2018 draft. The one thing that is on Holmberg's side is the fact Brad Treliving must like what he's seen and heard as the new Leafs GM signed him to a
two-year contract extension
over the course of the summer. At $800,000 against the cap, it's the type of contract the Leafs need on the books as they are a well documented top-heavy team financially.
Holmberg has a legit shot to make the 2023-24 team. He'll be in a battle against Dylan Gambrell at camp for the last centre spot, and if Holmberg can show he's capable of winning the majority of his faceoffs, it may be enough for him to edge Gambrell, who is not strong at the dot but does have the advantage being a right-handed centre, something the Leafs don't currently have. Prediction, Holmberg in, Gambrell out.
Conor Timmins
After last season, which was basically used as a development year, Conor Timmins looks to make the Maple Leafs roster as the extra defenseman. The good news for him is the fact coach Keefe loves to roll with 11 forwards and seven d-men, so there's a decent chance he sticks around.
At 25 years old, the former second-round pick is at a point where he needs to produce on a consistent basis to stick in the big leagues. Timmins has shown a nice offensive touch since joining the Leafs, recording 14 points in 25 games last season, but after the Maple Leafs loaded up their defensive corps at the deadline, his ice-time took a massive hit, without a single appearance in the playoffs.
Timmins is under contract at decent value at $1.1 million this season and next and with Mark Giordano sniffing retirement after this season, it'd be a wise move for Timmins to make a lasting impressing at training camp, make the team, and he'd be basically a lock for next season as well considering his contract. He'll need to step up his physical play during the preseason in a couple of weeks to show the organization his game has become more well rounded. Treliving isn't a fan of a soft blue line and will be quick to make more changes if need be.
There we have it folks, Timmins, Holmberg and Robertson are three Maple Leafs who are on the bubble to make the team this year. All three have a legit chance to stick around the organization long term; it all starts now.