3 standouts from Maple Leafs development camp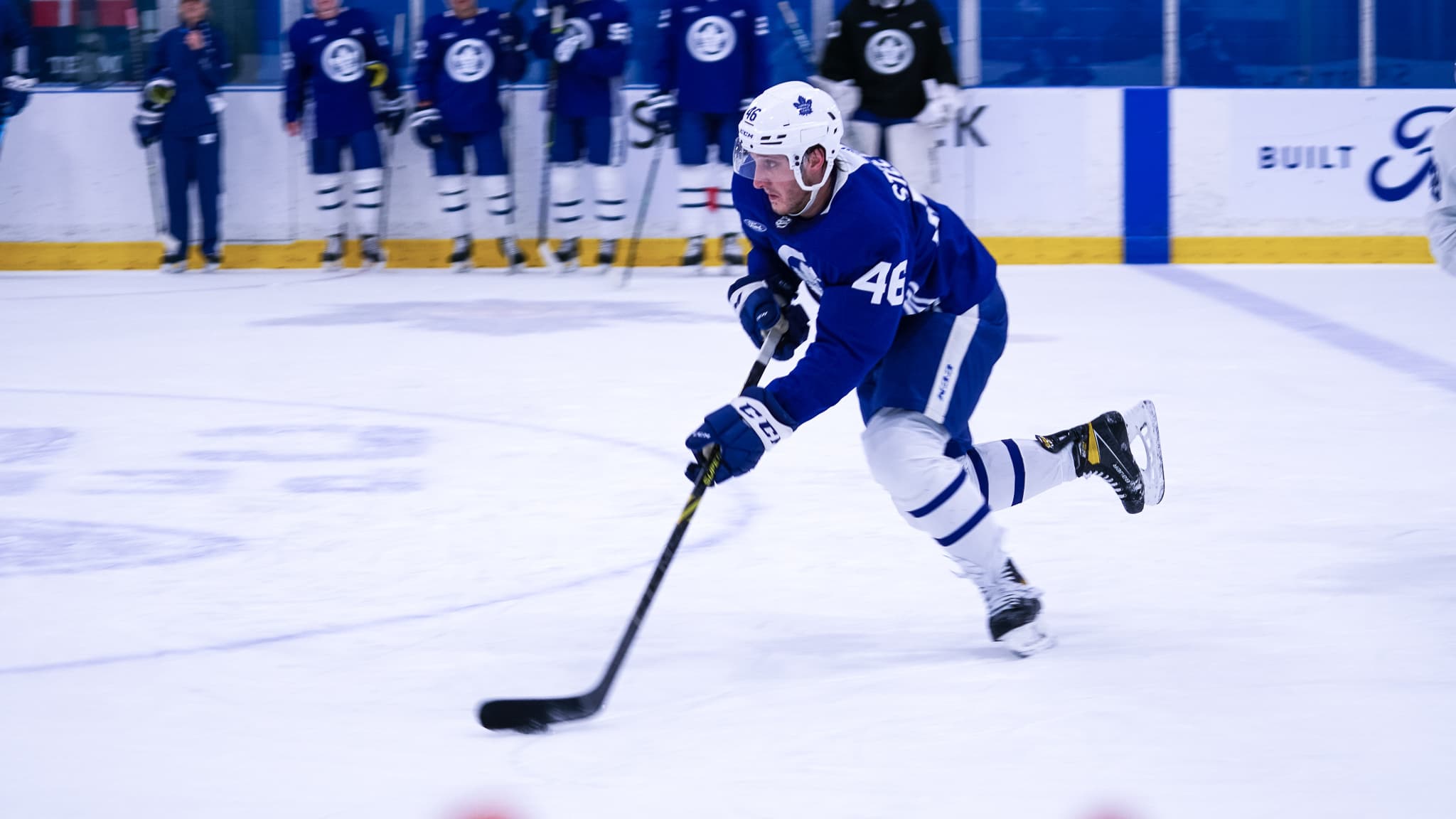 Photo credit:@MapleLeafs
Just like that, development camp is all wrapped up. The abbreviated four-day event saw three practices and two scrimmages take place. Though none were live-streamed to the public, we did get to see some highlights on the Maple Leafs Twitter feed, helping to give us some insights into who performed well.
The Leafs development staff will cut the 39 man development camp roster down to 15 forwards, 10 defencemen, and 3 goaltenders for this week's Traverse City rookie tournament. This will give us a much better view into which prospects are performing well heading into the main training camp and which invites could be worthy of an entry-level contract, but there are still some standout performances from the past few days that are worth noting.
It was no surprise that @Nicholas Robertson stole the show at development camp. Most thought he wouldn't attend the event given the expectation for him to compete for an NHL job, but Robertson clarified in his media availability the importance of development camp for himself.
"I'm trying to use [development camp] as much as possible. It's kind of a conditioning camp for myself, getting back into game shape, getting back into the rhythm. Given what happened last year, it's valuable to come to something like this. I dealt with injuries, my momentum was up and down. I wouldn't want to go into camp cold and not get a lot of reps. Going to development camp and Traverse City will give me a lot of reps and maybe give me an advantage over last year." – Nick Robertson
And yeah, it looked like a walk in the park for Robertson. Four goals in two scrimmages, including a hat trick on his birthday, the Leafs saw just about all they could have hoped for from Robertson. After an injury-filled year, it's vital for Robertson to get consistent ice-time and find the rhythm he lacked a season ago. The four goals don't mean much in all actuality, but it's good to see Robertson back on the ice and playing with confidence ahead of his first "normal" professional campaign.
Robertson grabbed the hat trick in the first scrimmage, but it was his new linemate Alex Steeves that stole the show in the second scrimmage on Monday. A four-goal performance in that second scrimmage gave Steeves the most goals at development camp with five for a very promising start to his career in the Leafs organization.
A young NCAA free agent signing at 21 years of age, the Notre Dame star showed off the talent that made him the Fighting Irish leading scorer in back to back seasons. All a prospect can really do at a development camp is leave a good impression on the staff, and that's exactly what Steeves accomplished. NCAA signings have a spotty track record, to say the least, but there was a lot to like in what Steeves displayed the past four days.
Steeves was able to consistently find open ice, both as the puck carrier and when off the puck in the offensive zone. Upon finding that open space, he then converted on those chances with his impressive shot. These are the tools that made Steeves one of the most productive even-strength players in the Big 10 the past two seasons.
2020/21 Big 10 Even Strength Scoring Leaders
NAME
NHL RIGHTS
GP
EV PTS
EV INV%
Sampo Ranta
Colorado
31
25
28.13%
Cole Caufield
Montreal
30
23
32.53%
Alex Steeves
Toronto
28
22
36.23%
Matthew Beniers
Seattle
24
17
26.39%
Dylan Holloway
Edmonton
22
16
28.13%
Linus Weissbach
Buffalo
30
16
24.10%
Samuel Walker
Tampa Bay
31
16
22.92%
Ben Meyers
N/A
31
16
21.88%
Blake McLaughlin
Anaheim
31
16
21.88%
Scott Reedy
San Jose
28
15
23.60%
Steeves was third in even-strength scoring in the Big 10 a year ago, but first in even-strength involvement percentage (per cent of team goals at even strength a player scored a point on). His ability to score at even strength was a primary skill in college and will hopefully translate to the next level, as Steeves looked impressive playing alongside both Semyon Der-Arguchintsev and Pavel Gogolev on Saturday, plus Robertson and Mikhail Abramov on Monday.
The final standout I'll take a look at is your current clubhouse favourite among the invites to receive an entry-level contract in Braeden Kressler.
A 2021 draft-eligible that did not have a chance to play in his draft year as an OHL player, Kressler quickly impressed the Leafs staff. He played the Saturday scrimmage on a line with Robertson and Abramov before swapping places with the aforementioned Steeves for Monday's scrimmage. Kressler (#26 in the highlights below) took advantage of his position in that first scrimmage too, assisting on two Robertson goals.
Kressler will almost certainly stay with the Leafs group for the Traverse City rookie tournament, where any aspirations of an ELC will truly be made or broken. Following a small draft class with just three selections, Toronto would be wise to supplement the lack of picks by signing an undrafted free agent while they have the opportunity to before the CHL season begins.
Playing with Flint in his Draft -1 season, Kressler's 18 points in 46 games were fine, but nothing incredible for a player listed at 5-foot-9, 165 pounds. Still, the underlying numbers show some promise in a potential defensive gem.
2019/20 OHL EV GF% Leaders
NAME
Draft Class
NHL RIGHTS
GP
EV GF%
EV GF%Rel
Graeme Clarke
DY+1
New Jersey
16
82.61
22.99
Marco Rossi
DY
Minnesota
56
74.64
16.55
Austen Keating
DY+3
N/A
58
71.21
11.21
Liam Foudy
DY+2
Columbus
45
70.97
12.9
Braeden Kressler
DY-1
N/A
46
70.73
15.93
Cole Perfetti
DY
Winnipeg
61
69.72
18.29
Mitchell Hoelscher
DY+2
N/A
62
69.57
7.88
Jack Quinn
DY
Buffalo
62
69.37
7.44
Joseph Garreffa
DY+3
N/A
52
69.29
4.29
Liam Hawel
DY+3
N/A
54
65.69
12.19
Kressler ranked in the top five in EV GF% in his Draft -1 season, on-ice for 29 goals for and just 12 against. The defensive responsibility at such a young age is an intriguing trait and if the offence continues to flow later this week in Traverse City, Kressler may find himself with an ELC in short order.
The Leafs prospects will be back for the Traverse City rookie tournament beginning Thursday. Games will almost certainly be live-streamed with the following anticipated schedule:
| | | |
| --- | --- | --- |
| Opponent | Date | Time |
| COLUMBUS BLUE JACKETS | September 16 | 3:00 PM EST |
| ST. LOUIS BLUES | September 17 | 3:00 PM EST |
| DALLAS STARS | September 19 | 2:00PM EST |
| COLUMBUS BLUE JACKETS | September 20 | 1:00PM EST |
Stats via Pick224.com