3 storylines to follow once the Maple Leafs open training camp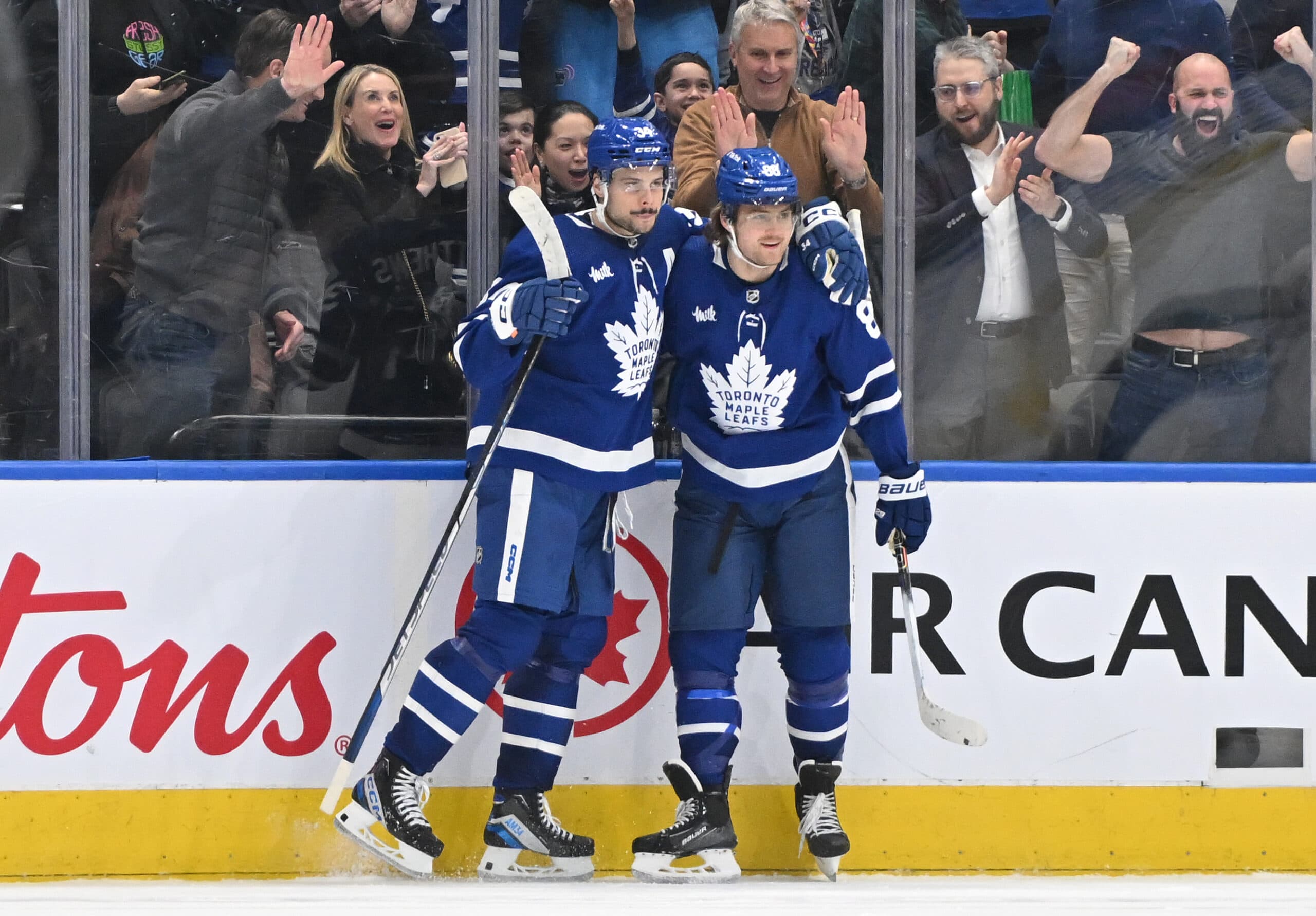 Photo credit:Dan Hamilton-USA TODAY Sports
The Toronto Maple Leafs are just over five weeks out from their first preseason game of the 2023-24 season and needless to say, there's lots to follow once training camp opens in September. The Leafs enter next season with lofty expectations, new leadership, and a bench boss looking to take his team to the next level.
While there's certainly been a storyline or two to follow throughout the summer months in Toronto, here are three more storylines to follow once camp opens up:
Martin Jones vs Joseph Woll
When the Maple Leafs
signed the 33-year-old Jones,
it caught a few people by surprise. The team appeared set in goal with Ilya Samsonov running the show and Woll as his co-pilot. Turns out Brad Treliving wasn't happy with the depth and added the veteran Jones, on a one-year contract for $875,000.
The Leafs won't carry three goalies next season so watch for Jones and Woll to battle it out during camp. Both netminders are signed for next season on the cheap as Woll is set to make $766,667 himself. Toronto's goalie depth chart of Jones, Woll and Samsonov is strong, but it's also affordable, as combined they only make up a $5.19-million cap hit. Some tidy business to say the least considering how much money is being spent up front.
Jones heads into Toronto's camp with something to prove. Although his first-and-only season in Seattle included a record of 27-13-3, his save percentage (Sv.%) ended up at .887, unacceptably lower than the league average. He'll need to be closer to .915-920 during the preseason if he's going to want to stick around in blue and white to open the 2023-24 campaign.
Woll, on the other hand, is coming off a strong finish to the season in Toronto, which included starting in the Stanley Cup Playoffs. He finished the year with a 6-1-0 record (22-5-1 if we include AHL numbers), to go along with a tidy 2.16 goals-against average and a .932 Sv.%. With these types of numbers and being just 25 years old, there's likely zero chance Woll passes through waivers at any point next season.
Put it this way, Jones is going to have to be lights out to make the team out of training camp. This is going to be a fun storyline to follow heading into next season.
Where Do Domi & Bertuzzi Slot In?
Treliving wanted some more piss and vinegar in the Maple Leafs lineup as he could see from afar the team needed more sandpaper.
Tyler Bertuzzi
and
Max Domi
were both brought in on one-year contracts with something to prove and it will be fun to watch where both players slot in on the Maple Leafs next season.
It feels like Bertuzzi will get first crack on the top line, alongside Mitch Marner and Auston Matthews. He's the perfect 'replacement' for Michael Bunting and can bring much of the same elements to the ice and hopefully more. Bertuzzi's the type of player to drag his linemates into the fight and it will be fun to watch the kind of chemistry he can create with Matthews and Marner. Expect some career-high numbers offensively.
Domi, on the other hand, has some options. There's potential he could play down the middle and slot in as the third-line centre. And, there's also a chance he plays the wing on either the second or third line. His fate will depend on a few things, including his play of course, but also how well Pontus Holmberg shines at camp.
If Holmberg impresses Sheldon Keefe to the point he's comfortable with him as the every day fourth-line centre, then look for Domi to be moved to the wing and David Kampf promoted to the third line. Line combos will a hot topic during the later stages of the preseason.
William Nylander's Contract Extension
The sense around the Maple Leafs right now is that the Auston Matthews contract extension will be officially announced before the start of training camp, meanwhile, it's as clear as mud for William Nylander.
Will something get done before the middle of September? Will Nylander address the matter and ask for no more questions in-season? What about if an extension isn't signed before the trade deadline?
While there's certainly a strong chance Nylander wears a Maple Leafs' uniform for the entire 2023-24 season, if the negotiations are still worlds apart, Brad Treliving may decide to dangle #88 before the deadline to ensure himself of some team-controlled assets moving forward.
Nylander is prime for a massive season, he'll want to perform well in a contract year and with his development these past couple of seasons, he's turning into the game-breaking forward everyone thought he'd be when he was drafted in the first round back in 2014.
Will the overhanging contract extension be a distraction? Time will tell.
There we have it folks, some storylines to consider as the days continue to slowly creep by in August. Maple Leaf preseason action in just over a month. Get your popcorn ready.