3 Toronto Maple Leafs poised for career seasons in 2023-24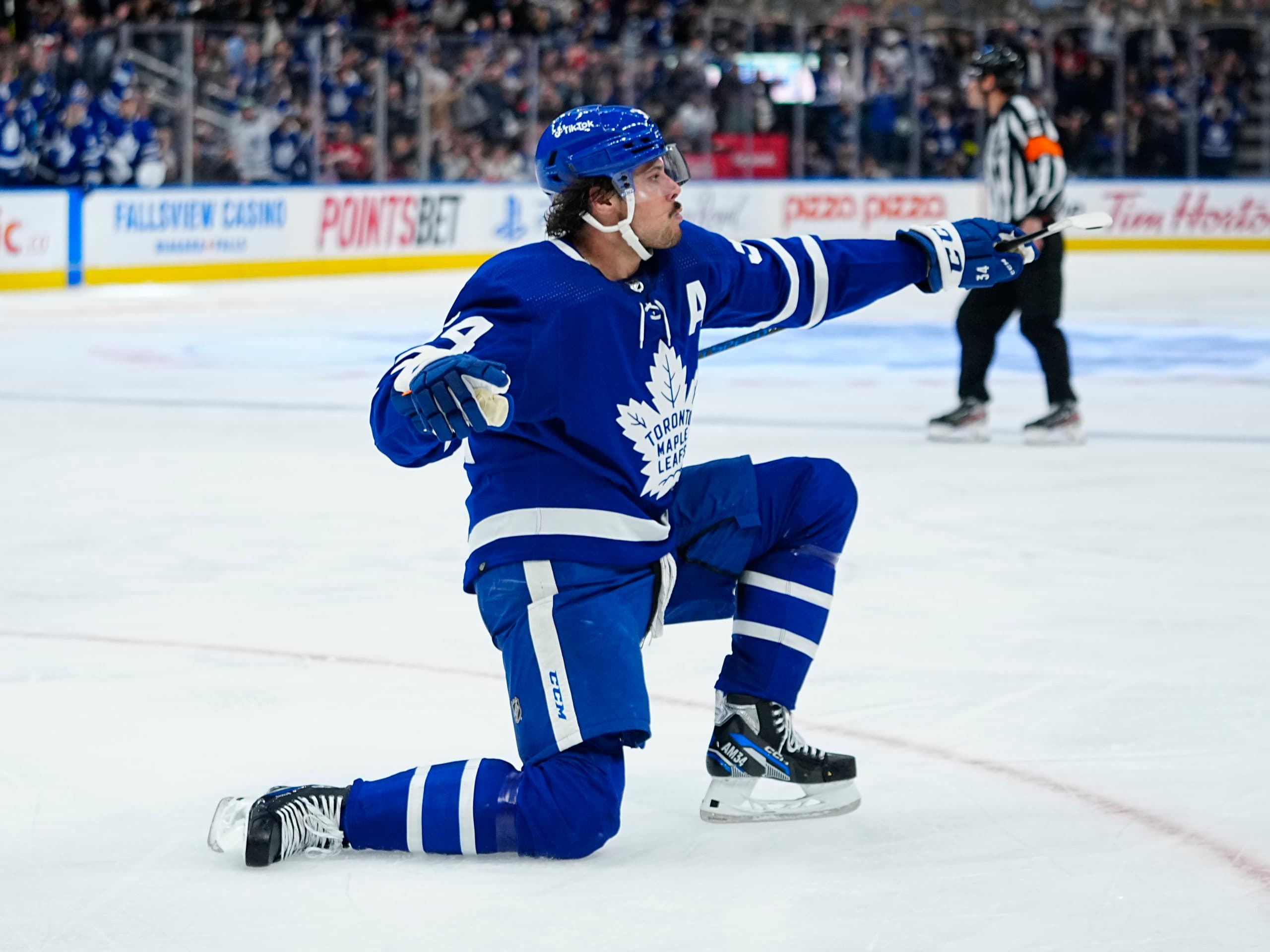 Photo credit:John E. Sokolowski-USA TODAY Sports
There was a lot to be proud of when it came to individual accomplishments last season for the Toronto Maple Leafs. From the rookies like Matthew Knies and Joseph Woll, who came on late in the season and showed they belong. To Mitch Marner, who recorded a career-high 99 points or Calle Jarnkrok, who reached the 20-goal mark for the first time in his career.
Let's stay within this lens and focus in on three Leafs who are poised to have career seasons in 2023-24. They include:
Auston Matthews
'Big Tone' is absolutely a candidate to have a massive season next year as he's enjoying a healthy offseason for once, where he can ramp up his on and off ice training as much as possible. The nagging wrist injury appears to be behind him and Matthews has been busy training with Matthew Knies and many other NHLers in Arizona.
The overhanging contract extension is very likely getting signed over the course of the next few weeks and Matthews will be able to start the 2023-24 campaign with a mind free of all distractions. He's going to be locked in and that's bad news bears for NHL goalies.
Matthews finished last season with 40 goals, and 85 points in 74 games. He's going to have a lot to prove after likely becoming the highest paid player in the league later this offseason. What was most impressive, looking back on last season, may have been Matthews' Stanley Cup Playoff performance. It was his best output of his career in the postseason and this is something he's surely going to build on next season.
With Tyler Bertuzzi joining the fold and likely another season of Mitch Marner on his wing, this line could do wonders for the Maple Leafs. Matthews is going to be motivated as ever, he's going to be as healthy as he's been in years and there's going to be a newfound excitement over some fresh faces and a brand new contract extension.
Selke trophy votes? Likely; don't be surprised if he finishes in the top-5 in voting. Meanwhile fully expect to see Matthews in the conversation when it comes to the Rocket Richard trophy for most goals and the Hart trophy for league MVP. Bet on #34 next season, he's going to have a massive year.
Tyler Bertuzzi
After putting up 10 points in seven Stanley Cup Playoff games with the Boston Bruins, Bertuzzi pulled off the unthinkable and signed on with the rival Leafs. He was an absolute beast in Bean Town down the stretch and when the team traded Taylor Hall, it was expected Bertuzzi was staying put.
That wasn't the case at all and now he heads to Toronto to likely land on the top line alongside Matthews and Marner. This set up for Bertuzzi is going to pad his stats in a major way and with an uptick in power-play ice time, expect to see the pesky winger surpass his career-high of 62 points next season.
His style of play fits in perfectly and his compete level is going to push teammates to match his energy. Bertuzzi couldn't have been a better add for the Maple Leafs and it's going to be fun to watch him work his tail off all season long.
Bertuzzi's also on a one-year deal so there's going to be a ton of motivation to shine. If he gets off to a great start early, Leafs general manager Brad Treliving could offer the 28-year-old a contract extension and get things cemented for the future.
With a golden oppourtunity to shine alongside a couple of extremely skilled forwards, watch Bertuzzi take his game to another level in 2023-24. He's poised for a career season and it could solidify him in blue and white for the foreseeable future.
Timothy Liljegren
With Justin Holl and Luke Schenn out of the way and Connor Timmins in the rearview mirror, Leafs defenceman Timothy Liljegren is in prime position to have a breakout season. Yes, John Klingberg has arrived and will take any available power-play time off Liljegren's hands, but fully expect to see these two become very close over the course of next season.
After last season Liljegren represented Sweden at the World Championships and was easily their best defenceman. He was a threat on both side of the puck and expect to see his game reach new heights in 2023-24.
He's coming off a year where he put up 18 points in 67 games and yes, there were some stretches that were concerning last season, but not enough for the Leafs to give up on the former first-round pick. Liljegren's going to be a massive piece to the Maple Leafs back end this season and it's likely he'll start on the top pairing alongside Morgan Rielly. This opportunity is a golden chance for the Swedish blueliner to take a giant step forward in his development and come into his own as a top-four defenceman.
Expect to see Liljegren surpass his career high of 23 points next season and look for him to average more ice time this season with more responsibility on the penalty kill. It's going to be more Liljegren and no Holl next season and that's great news for Leafs Nation.
The Maple Leafs are bound for the playoffs next season. The roster is deep up front, solid on the back end and yes, still a few questions in goal. Regardless, fully expect to see some career years in 2023-24 and the likes of Matthews, Bertuzzi and Liljegren will be leading the charge.