3 UFAs the Maple Leafs shouldn't pursue this off-season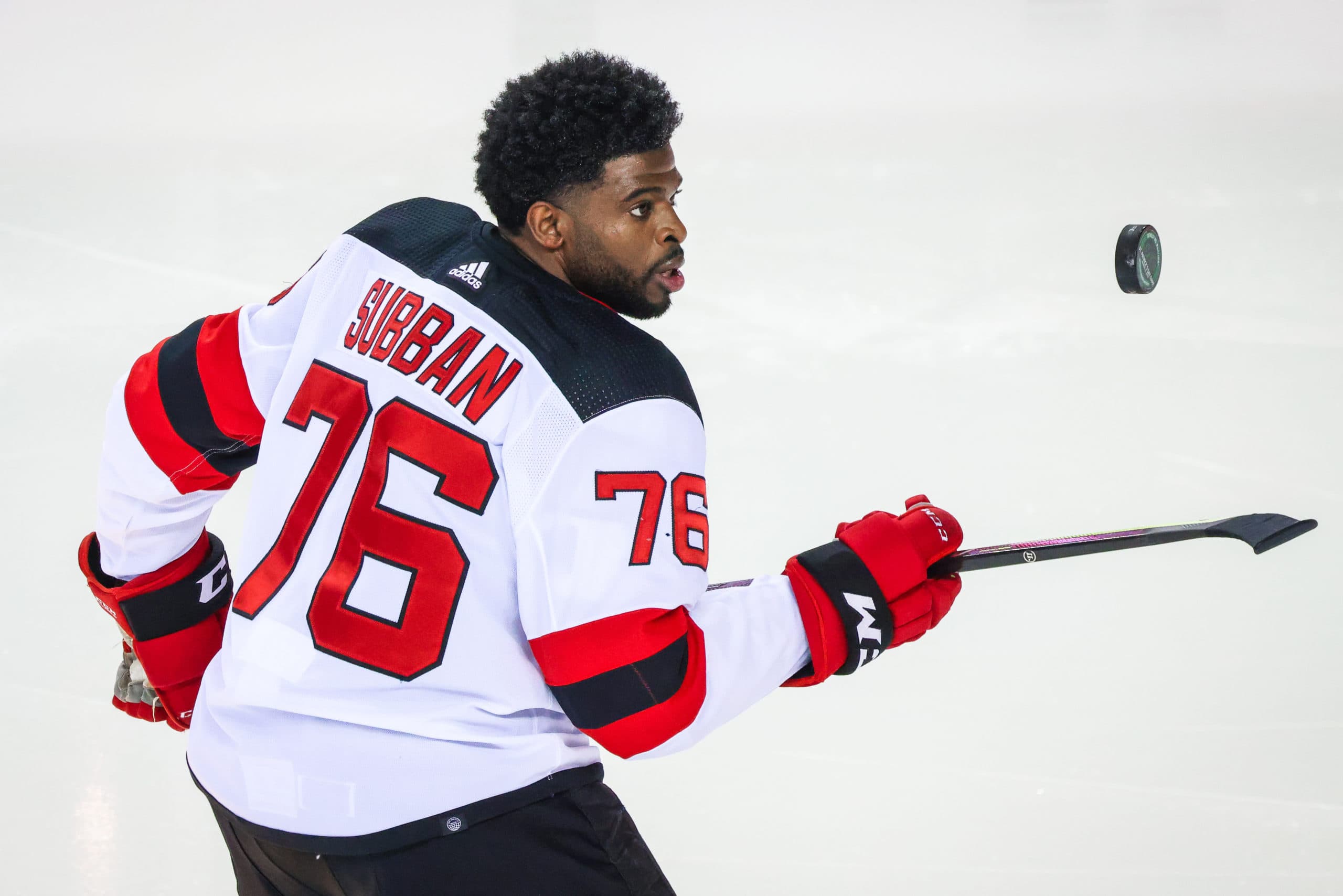 Photo credit:Sergei Belski-USA TODAY Sports
Looking at the number of signings the Maple Leafs could make this off-season, there's a lot of interesting ways this summer could go.
If Toronto wanted to, they could move on from Jake Muzzin and Petr Mrazek to create a considerable amount of cap space. While a chunk of it might go to a goaltender or two, there still could be a bit left to play around with after.
Muzzin's situation is tougher at the moment because he has a no-trade clause until July 1, 2023. So, if Maple Leafs GM Kyle Dubas found a suitor for a trade, the 33-year-old would have to say "yes" for it to happen.
But let's say it becomes a reality — Toronto moves Muzzin and they buyout Petr Mrazek — which UFAs should the Maple Leafs avoid?
1. Marc-Andre Fleury
Going into the trade deadline earlier this season, there was a situation that might have seen
Fleury in the blue-and-white
. It ultimately fell through before talks became serious, but the 37-year-old is now a UFA.
Fleury, this past season, was 14th in save percentage this season (.908 in 56GP) and had the most expensive cap hit among all goaltenders becoming a UFA on July 13th. And in what might be his final season in the NHL, the 37-year-old might go for one more payday.
What makes me turn away from him is his age and his durability. At 37, there can be a lot of wear and tear on the body and he won't be as fast as he once was. Pair that with the amount of money he might ask for this off-season, it's just not worth it for the Maple Leafs.
Toronto will likely need two goaltenders this off-season if they buyout/trade Mrazek, and I don't believe Fleury should be one of the netminders brought in.
Fleury also said he's open to a return to Minnesota, so weighing that in, too, it's unlikely we see him come to Toronto.
2. Phil Kessel
Some seem to like the idea of a Phil Kessel reunion with the Maple Leafs, but I'm not sure I do.
The 34-year-old had a great season in Arizona scoring 52 points across 82 games this year. And while it would be an exciting time to see Kessel back in Toronto, I just don't believe it'll work.
Part of the reason is his lack of goal-scoring throughout the last few seasons. During his three years in Arizona, Kessel only managed to score 20 goals once. This past season, he only scored eight times.
The Maple Leafs' problem in this year's playoffs, although it was incredibly close, was depth scoring. It seemed like every chance that the third and fourth line players had, they just couldn't find the back of the net.
I can appreciate that he's still a consistent playmaker, but with the scoring not there, I don't think this is a path the Maple Leafs should go down.
Plus, it's likely he'll demand a high AAV since he's still producing and Toronto won't have anything close to what he might want if they need a few other players.
(I would love to see him break the iron man streak in a Maple Leafs jersey, so there's always that.)
1. P.K. Subban
This one hurt to write but I just had to do it.
While I really, really love the idea of Subban coming home on a league-minimum deal, or something close to that, this just doesn't make sense to me.
The Maple Leafs right side is already backed up with Timothy Liljegren needing a full-time spot next season. If the were to sign Subban, he'd have to be willing to sit out for a majority of games because there's no openings.
It would be really cool to see the 33-year-old come home and be able to quarterback the second power play unit, too. However, what about Rasmus Sandin?
Subban isn't the same player he used to be and to me, he's not an every day player on the Maple Leafs next season. And with Toronto almost strapped to the cap ceiling, there could be a scenario where the 33-year-old would need to clear waivers for space.
I don't believe anyone would want that situation.
One thing we can agree on, though, is that Subban fits the type of person needed by the Maple Leafs. A Toronto-born player with tons of personality and drive to be an important piece of the puzzle.
I just don't believe he deserves to come to a team where he could be out of the lineup for a considerable amount of the season. It's just not a fit for either one of the Maple Leafs or Subban.
(Contract values via PuckPedia.com)
POINTSBET IS LIVE IN ONTARIO
PointsBet Canada has officially launched in Ontario! Get a $25 free bet just for 
signing up right here!