4 potential trades involving Maple Leafs forward William Nylander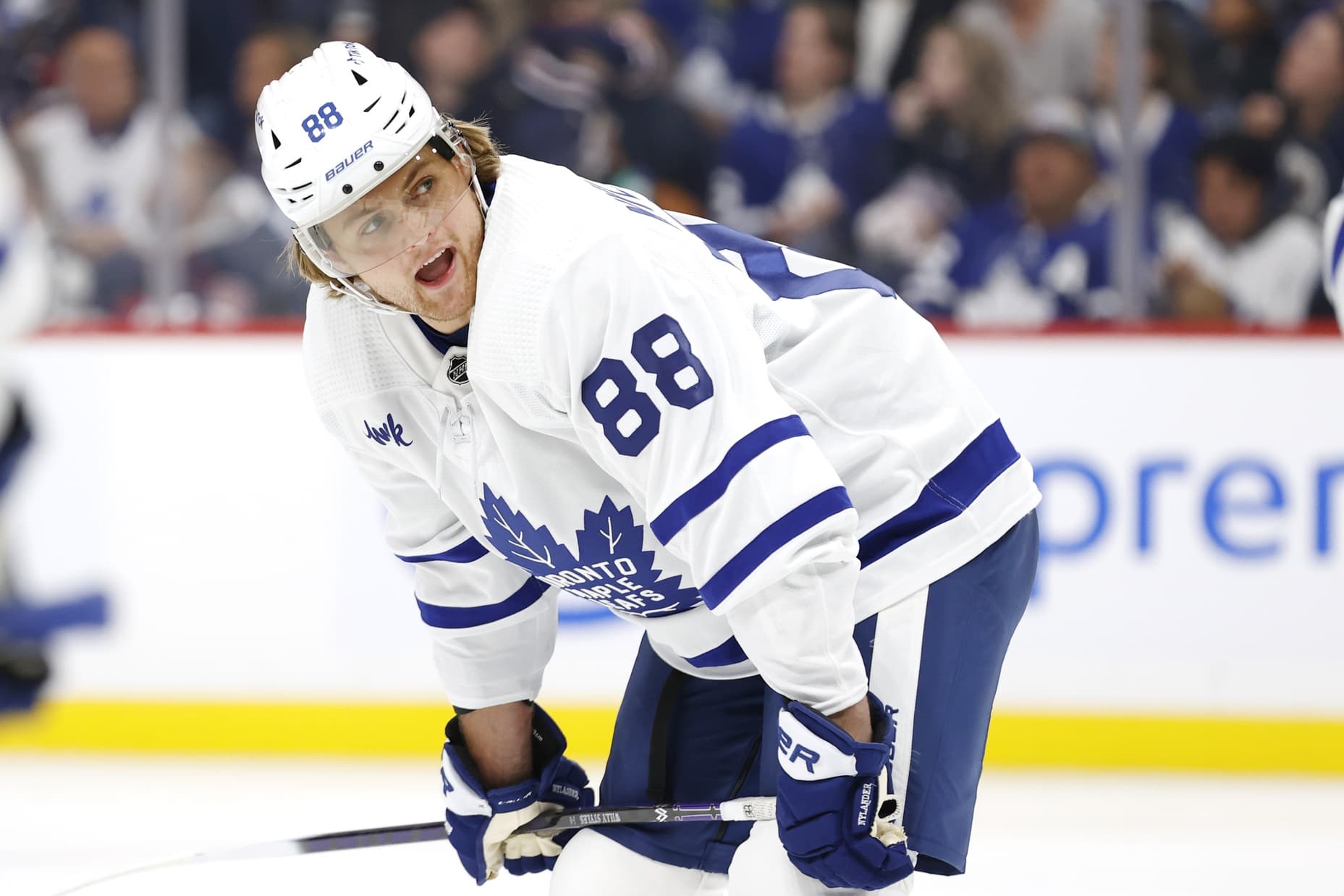 Photo credit:James Carey Lauder-USA TODAY Sports
It's been the summer of back and forth regarding the future of the Toronto Maple Leafs 'core four' and it appears the uncertainty will continue as we creep closer to the pivotal July 1. Leafs general manager Brad Treliving will begin his first free agency period calling the shots in Toronto, however it's also a big date for
William Nylander
and Auston Matthews, who become eligible to sign a contract extension with the Leafs.
While Matthews has a full no-movement clause that kicks in when the calendar turns, Nylander on the other hand, has protection from 10 teams of his choice. He's our focus for today.
Hockey insider Elliotte Friedman mentioned via
32 Thoughts
to keep an eye on Nylander, as
he's curious to see what happens
with the Maple Leafs forward should a contract extension not be agreed upon before July 1. Let the trade rumors commence as Treliving has major decisions to make this summer. Talk about getting your feet wet at the new gig.
While Nylander has made it clear
he'd prefer to stay a Maple Leaf
, it's a business and if the money doesn't make sense, both sides are going to need to do what's best for each other. As far as potential deals, here's four trades to consider involving Nylander being shipped out of Toronto:
Maple Leafs trade Nylander to the Calgary Flames for Elias Lindholm
While the Maple Leafs have some issues to work through, the Flames are a complete dumpster fire.
Daily Faceoff's Frank Seravalli dropped a few bombs
of late stating the roster in Calgary is about to go through massive changes as the likes of Lindholm, Noah Hanifin, Tyler Toffoli and Mikael Backlund all don't intend to re-sign.
Insert Treliving and Nylander. Could Calgary's general manager Craig Conroy convince Nylander to sign a contract extension with a team who appear unable to keep players? Is the arena that bad? Appears so. This would be a very complex deal where an extension could be worked out by both sides, something very rare in the NHL.
Lindholm would give the Maple Leafs one of the best number two centers in the league. He'd allow for John Tavares to permanently move the left-wing or, head coach Sheldon Keefe could keep Lindholm down the middle on the third line and use him more of a defensive pivot. Matthews, Tavares and Lindholm would be the best trio in the league.
Lindholm does it all and can play in all situations including both sides of special teams. In 2022-23 he posted 64 points in 80 games and has shown finishing abilities with 42 goals back in 2021-22. Not only has Treliving traded for Lindholm once before, he's also signed him to a six-year contract extension which happens to be one of the best contracts value wise in the entire league. Round two upcoming?
Maple Leafs trade Nylander to the Flames for Tyler Toffoli and Nikita Zadorov
If Nylander is indeed dealt to Calgary, the return could be Toffoli and Zadorov. By keeping Lindholm in the fold and adding one of his close friends, perhaps Conroy could convince both to stick it out with the Flames.
This deal would benefit the Maple Leafs as they instantly replace Nylander with a very productive veteran winger who has a winning pedigree. The 31-year-old Toffoli is a home-town kid and would likely be interested in signing a contract extension in Toronto. He recorded 34 goals and 73 points in 82 games last season and can still find the back of the net.
Treliving wouldn't want to deal Nylander without some certainty and security the players coming to Toronto want to stick around, so again, a contract extension could be in order here to complete the transaction.
As for Zadorov, the Maple Leafs' blueline needs to be refreshed and Treliving is looking to add toughness. The Flames blueliner is towering at 6-foot-6 and intimidating as ever with his willingness to muck it up in the dirty areas of the ice. Zadorov would help the Leafs penalty kill and help with some much needed security on the ice.
The Maple Leafs got pushed around last season and that needs to stop immediately. Treliving wants to add nasty and Zadorov checks this box and more. Toffoli gives them an instant replacement in their top six and this is the type of return where you could kill two birds with one stone. If the Flames want a draft pick, Connor Timmins or a prospect included, have at 'er.
Maple Leafs move Nylander to the Colorado Avalanche for Artturi Lehkonen
Two players who have no-trade protection kicking in July 1, could we see a potential one-for-one swap between the Avalanche and Maple Leafs involving Nylander and Lehkonen? This is certainly a deal which would turn some heads around the league.
Even though Nylander had 36 more points than Lehkonen, this would be a tough pill to swallow for the Avalanche as the dressing room absolutely loves what Lehkonen's brought to the team since day of arriving via a trade with the Montreal Canadiens.
Nylander gives them more offense and someone who can fill in down the middle, when needed. Gabriel Landeskog is expected to miss next season, so the Avalanche will be open to at least kicking tires at some major moves and this would certainly classify.
For the Leafs, they would be getting an absolute warrior in Lehkonen and someone who is best suited for left-wing but also has some experience playing on the right side. He kills penalties unlike Nylander and would provide some more depth for special teams. Versatility, work ethic, timely production, Toronto would have it all here.
Lehkonen posted 51 points in 64 games last season and has 75-point potential in his bag. He does it all and has a motor on him that drags teammates into the fight. He leads by example and works his tail off. Which as Leafs Nation know, is sometimes one of Nylander's biggest faults.
The biggest appeal on Lehkonen may not be his production or work ethic but his contract. He's owed a very reasonable $4.5 million annually through the 2026-27 season. If Treliving wants to hit a home run when moving Nylander, he needs to land a player with contract certainty. Done and done with this deal.
This would undoubtedly be a very risky move for Colorado, but it feels like Nathan MacKinnon could whip Nylander into shape should he frustrate the team with some of his 'lazy' shifts. From the Leafs perspective, Lehkonen couldn't be more of a perfect trade candidate this summer.
Maple Leafs deal Nylander to the Vancouver Canucks for Brock Boeser
Likely not the favorite out of these proposed deals, however a move that can help out Treliving with his salary-cap navigation. It gives Boeser a change of scenery he'd likely benefit from and it gives Nylander a chance to play alongside countryman Elias Pettersson.
Boeser and Nylander do play a similar game, however the Maple Leafs would be benefiting from the extra year on Boeser's contract at $6.6 million. Sure, the Canucks may have to fork over a draft pick or a prospect in this deal, as it could propel into something a bit bigger between the two clubs. Treliving has seen a lot of Boeser in the past and could plug and play him into the Leafs top six for at least the next two seasons.
In 2022-23 the 26-year-old Canucks' winger recorded 18 goals and 55 points in 74 games. A. inconsistent season for Boeser, he had to deal with a ton of drama in Vancouver and he could easily get back to the 30-35 goal pace he's played at before. Another potential trade to ponder, but one which may not move the needle in Toronto.
Treliving and the Maple Leafs are a team to watch this summer. There's a ton of business to complete with upcoming contract extensions, re-signing pending free agents and of course adding to the roster once free agency opens. Nylander is someone to keep a close eye on based on Friedman's recent comments. Don't blink, Leafs Nation, the NHL's silly season is upon us.